If your cat spends a lot of time sleeping on the windowsill, napping in a sunny spot on the floor, or lounging on a piece of furniture in front of a window to watch the outside world, they would probably enjoy a window perch. A window perch gives your cat a great view of everything happening outside, but it gives them a space of their own to watch everything happening inside, too. After all, window perches are only for cats, so unless there are multiple cats in your home, or a small dog who's alarmingly good at jumping, your cat won't have to share the space with anyone. Window perches come in different shapes, sizes, and have various installation requirements—you just need to figure out which type works best for you and your cat.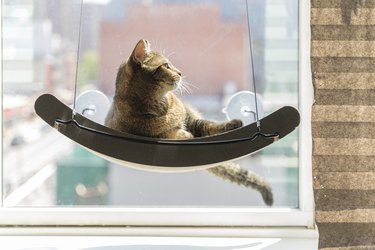 What to Consider When Purchasing a Window Perch for Your Cat
​Size:​ Small or medium-sized cats will fit on any window perch, but if your cat is large, or if you have more than one cat, you'll need to make sure the perch is wide enough to comfortably fit them. It's no secret that if cats aren't comfortable, they'll move on and never look back. It's also important to take the measurements of your window or windowsill and compare them to the perch's width requirements before making your purchase.
​Type:​ The most common types of window perches consist of a simple base that either suctions to a window or sits on a windowsill, also known as a hammock. Hammocks are great because they allow your cat to fully stretch out. Some perches come with a plush cover to make it cozier for your cat, and others are covered in scratching material like sisal rope, which provides your cat with something to do while also saving your furniture from destruction. Perch beds are another type of popular window perch that have raised sides and a cozy mat. Covered perches are also an option and can help cats feel more secure. In addition to there being a cozy spot for your cat to rest inside the condo-like perch, there's usually a spot on top for a second cat or to use as another lounge option.
​Installation:​ Determine whether you want to mount the perch to a window or wall. The latter option usually entails drilling, but if you prefer a quick installation, using suction cups is an easy, less permanent option. The suction cups that come attached to window perches are generally sturdy enough to hold the weight of one or two cats, but you should check out the weight limit before making your decision.
Here we've put together a list of the best cat window perches of 2022—take a look.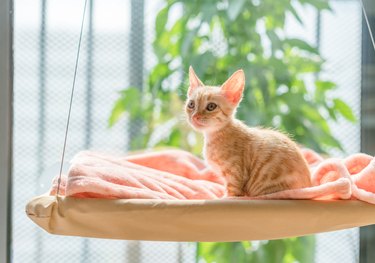 The Best Budget-Friendly Window Hammock for Cats
Tempcore's Window Hammock is a great budget-friendly option that's perfect for any cat new to a window perch. It's inexpensive, so there shouldn't be too much disappointment if your cat shows absolutely no interest in it. (Cats, amirite?) Made of breathable mesh, this window perch can give your cat some airflow in the summer. It can hold up to 20 pounds, and it sticks to the window via suction cups. You will need to periodically check the suction cups to make sure they're fully attached—but that's true for all suction perches.
Dimensions: 23" x 12" x 1"
Weight Limit: 20 lbs.
Materials: Mesh
Installation: Suction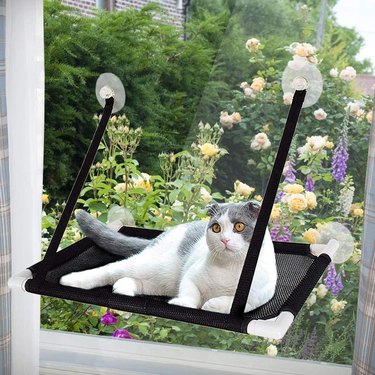 The Best No-Drill Window Perch for Cats
If you have two cats who like to cuddle with each other, the Zakkart Window Perch is sturdy enough to fit both of them as long as their combined weight is under 40 pounds. With a sherpa-covered pad, this window perch is definitely not lacking in comfort. It attaches to the window with suction cups and sits on sturdy metal bars. The perch can also be flipped over to use as a bed, that way it's lower to the ground and easier for older cats to access.
Dimensions: 23" x 13" x 12.5"
Weight Limit: 40 lbs.
Materials: Sherpa covered pad, metal support
Installation: Suction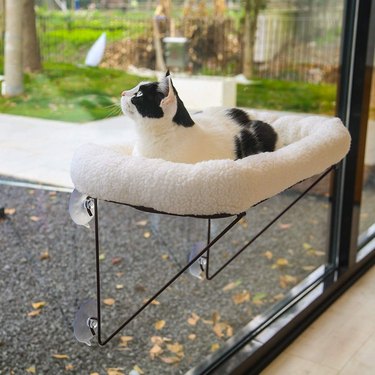 The Best Covered Window Perch for Cats
K&H Pet Products EZ Mount Penthouse
If your cat tends to hide in boxes or enjoys spending time in a cat condo, this penthouse from K&H will get a lot of use. The covered window perch features several windows to give your cat a view of the world around them while providing them with a feeling of safety. Your cat might also find the window to be fun for games of hide-and-seek. The perch also features a removable microfleece bed, as well as a microfleece roof perch as an additional lounge area. It can hold up to 50 pounds with plenty of room for multiple cats.
Dimensions: 23" x 19" x 9.5"
Weight Limit: 50 lbs.
Materials: Microfleece liner, nylon
Installation: Suction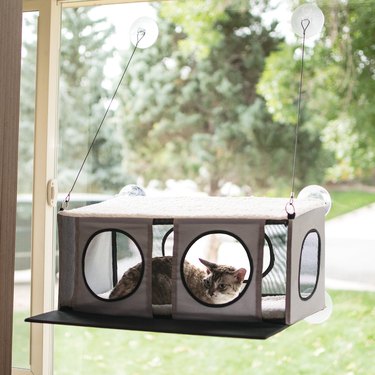 The Best Window Perch for Large Cats
Your cat will have the best sunny seat in the house with Topmart's Window Seat. It has a foam cushion base, which is a comfortable spot for your cat to relax, nap, or watch the world go by. The cushion is machine washable, making life a little easier (and cleaner). You have two installation options: velcro, which is quick and easy, but can only hold up to 20 pounds; or a screw mount, which requires a screwdriver and a bit more time, but can hold up to 35 pounds.
Dimensions: 23.6" x 12" x 1.2"
Weight Limit: 20 lbs. (velcro mount), 35 lbs. (screw mount)
Materials: Foam cushion
Installation: Velcro or screw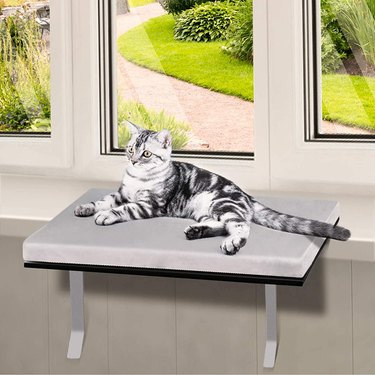 The Best Window Bed for Cats
K&H Pet Products EZ Mount Window Bed
Is there anything cuter than a cat bed with a kitty face design? This window perch from K&H gives your cat the space they deserve. It's the perfect blend of a window perch and an actual cat bed as it suctions to any window and has a raised back and a cozy pad for long naps. The machine-washable pad is designed to attract dander and hair to help cut down on the hair floating around your house. The bed is sturdy, does a great job at staying in place, and can hold multiple cats up to 50 pounds.
Dimensions: 27" x 6" x 11"
Weight Limit: 50 lbs.
Materials: Polyester
Installation: Suction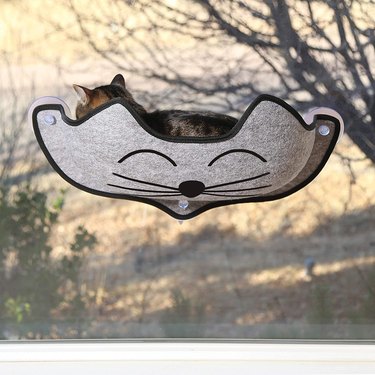 The Best Window Perch with Scratchers for Cats
The highlight of this window perch by Angela&Alex is the sisal scratching pad. While it might not be as cozy as a plush pad, it gives cats a place to scratch and something to do when they're bored. The shape of the perch is also a bonus—the ends are raised, which is supposed to make it a safer place for cats to sleep. Another feature worth noting is the lack of ropes or bars on top of the perch holding it in place (those are below). This is a good move for cats who tend to chew on things.
Dimensions: 16.9" x 10.6" x 10.2"
Weight Limit: 40 lbs.
Materials: Wood, sisal, metal
Installation: Suction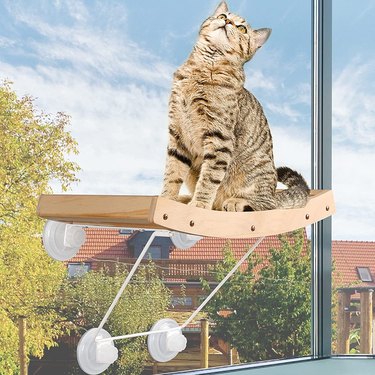 The Best Climbing Window Perch for Cats
PetFusion Ultimate Cat Climbing Perch
PetFusion's Ultimate Climbing Perch gives cats a little more than just a place to relax. It's a cross between a window perch and a cat tree. It rests on a sturdy floor base and suctions to any window for added support. While it takes up more space than the average window perch, it provides your cat with entertainment and exercise. It has a sisal scratching post that gives your cat a scratching alternative to furniture, as well as an organic, U.S.-grown catnip leaf to entice your cat to jump. The perch includes a sleeping pad and a base big enough for one cat.
Dimensions: 21" x 16" x 45"
Weight Limit: N/A
Materials: Wood, MDF, sisal
Installation: Suction