Cats can be pretty picky about where they sleep. Actually, they can be pretty picky about most things, but if they don't like their bed, they're going to either end up in bed with you at night (likely on your head) or find another random place in the house where you might not want them. So your best bet is to buy them a bed they can't refuse. (Will they end up sleeping in the box it came in for a while? Probably.)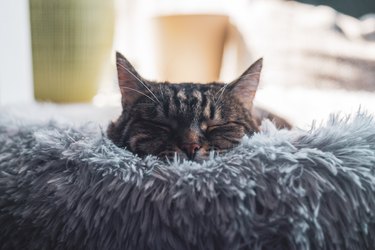 To really understand the type of bed your cat will like best, pay attention to where they spend a lot of their time. After all, cats sleep up to 16 to 20 hours a day. If they nap in tight spaces or tend to have nervous energy, consider getting them a covered bed where they can feel safe. If they like to rest in the sun or on top of a heated vent, try a heated bed or a window perch. If your cat lounges in different areas of the house and not in one specific type of spot, a regular cozy bed might be all they need. Older cats might prefer an orthopedic bed to help with osteoarthritis or general body aches.
What to consider when purchasing a bed for your cat
‌Size:‌ Even though cats might sometimes prefer an extra-large dog bed or a human-size bed over their own bed, cats really do need to fit appropriately in their beds. The bed should be big enough for them to move around and get comfortable, but small enough so they feel safe, secure, and warm. If you're buying a bed for a kitten, try to buy one that they can grow into.
‌Comfort:‌ If your cat isn't comfortable in their bed, they aren't going to sleep in it. Cats certainly don't need anything too luxurious, although it's totally fine if you want that for them, but the bed should definitely be cozy and made of soft materials like polyester, wool, fleece, or faux fur. Some cats prefer covered beds or ones with high sides to help them feel safe.
‌Washability:‌ Washing your cat's bed will help keep it clean and reduce the spread of bacteria or fleas, and it'll also cut down on any odors. Beds that have removable covers make it easy to wash the areas your cat touches, but you'll also find that some beds without removable covers can also be machine washed.
You know you've succeeded in finding the right bed for your cat if they actually sleep in it. Check out the best cat beds below.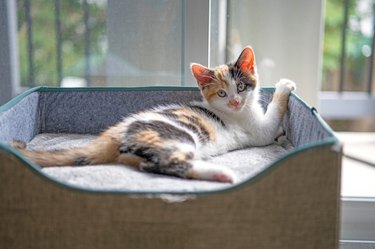 Perhaps the coziest option on our list (you'd technically need to refer to your cat for verification though), the Rabbitgoo bed is so soft, it basically feels like an extension of your cat's fur. In fact, you'll probably want to sleep on it too. The bed has a non-slip bottom, so if it's placed on a hardwood floor, it won't slip and slide all over the place. To wash, simply pop it in the washing machine and dry on low heat.
‌Dimensions:‌ 19.69" x 19.69" x 4.72" (medium), 23.62" x 23.62" x 5.71" (large)
‌Materials:‌ Polyester
‌Washability:‌ Hand-wash or machine-wash on gentle cycle
‌Color Options:‌ Light gray, dark gray, pink
Perfect for cats who are shy and need to feel secure in their bed, this cave bed helps cats feel warm in the winter and cool in the summer. It's eco-friendly, chemical-free, and handmade from 100% merino wool, which is soft, smooth to the touch, and durable. Cats won't just enjoy sleeping or resting inside the cave, they'll also love resting or playing on top of it.
‌Dimensions:‌ 16" x 16" x 10"
‌Materials:‌ Wool
‌Washability:‌ Spot clean, pet roller, or vacuum hair and debris
‌Color Options:‌ Light gray, aquamarine, black/aqua, dark gray, slate gray
A heated bed is ideal if your home is a little too chilly for your cat's liking. This leopard print, electric thermo-kitty bed features a removable hood (and a removable heater) to give your cat a sense of security if they need it and a cozy pillow base. The bed is energy efficient at 4 watts, and the thermostat automatically turns on to a comfortable 102 degrees when your cat is using it, and it rests in eco-mode when it's not in use.
‌Dimensions:‌ 16" x 16" x 14" (small), 20" x 20" x 14" (large)
‌Materials:‌ Polyester
‌Washability:‌ Removable cover is machine-washable
‌Color Options:‌ Mocha, tan
Here's a cozy bed that can transform into four different types of beds. It can be used as a cat cave, similar to a sleeping bag that feels like a snug little hideout for your cat; as a cup, perfect for naps; as a pop, which works well for a cooler nap; or it can be laid flat and used as a mattress. If set up properly, the cave should be roomy enough for your cat to stand and turn around. The bed is easy to fold and it's lightweight, making it a great option for travel.
‌Dimensions:‌ 22" x 14" x 10"
‌Materials:‌ Faux fur, microfiber, faux suede, fleece
‌Washability:‌ Removable cover is machine-washable
‌Color Options:‌ Sage green, brown, burgundy, gray
If you have a cat who has been diagnosed with osteoarthritis, or if you've noticed them slowing down and having a hard time walking or jumping, an orthopedic bed can help your cat sleep more comfortably and relieve joint pressure. The inside of Frisco's orthopedic bed is made of memory foam and orthopedic foam for maximum coziness. The wrap-around bolster provides a sense of security, and the bed is large enough for your cat to spread out.
‌Dimensions:‌ 25" x 21" x 7"
‌Materials:‌ Polyester, memory foam, polyfill, orthopedic foam
‌Washability:‌ Removable cover is machine-washable
‌Color Options:‌ Gray, beige
While technically not an actual bed, this window perch can absolutely be used as one—especially if your cat loves looking out windows. The perch is made of iron and features a machine-washable bolster bed covered in gray or white sherpa fabric. The four suction cups that stick the perch to the window are sturdy and can hold up to 40 pounds. The minimum window size required is 22 by 12.5 inches, as the perch measures 23 inches long, 13 inches wide, and 12.5 inches high.
‌Dimensions:‌ 23" x 13" x 12.5"
‌Materials:‌ Iron, sherpa cushion
‌Washability:‌ Bed is machine-washable
‌Color Options:‌ White, gray
The Hepper Pod offers contemporary style and ultimate comfort and security for outdoor or indoor cats. It's raised off the ground and covered so your cat isn't exposed to the elements. The inside of the cave is lined with thick sherpa fleece, which is machine-washable for easy cleanup. The bed certainly isn't inexpensive but perhaps worth the price for the aesthetics, comfort, and security it'll give your cat as they spend their time outdoors.
‌Dimensions:‌ 17" x 21.5" x 18.5"
‌Materials:‌ Microfiber, fleece, fabric
‌Washability:‌ Fleece blanket is machine-washable
‌Color Options:‌ Gray