Cats love the outdoors. Of course, it isn't safe for an indoor cat to go outside—they could run away, get lost, or get injured by a predatory animal they didn't even know existed. But cats don't care, they gaze through windows from the safety of their cozy homes, probably longingly wishing they could spend time basking in the sunlight, feeling the breeze in their fur, and roaming freely as they explore and hunt. Perhaps the time has come for your cat to have their very own outdoor cat enclosure. An outdoor cat enclosure, also known as a cat patio or catio, is an enclosed structure designed to be placed outside so indoor cats can safely spend time outdoors.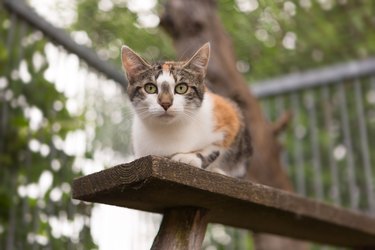 What to Consider When Purchasing an Outdoor Cat Enclosure
​Location:​ The first thing to think about is where you'll put an outdoor cat enclosure. Will it be on a porch, balcony, or another small area? Will you place it in your backyard where there's plenty of room? Or will it attach to your home? Your decision will help determine the type of enclosure that will work best.
​Type:​ Cat enclosures come in various sizes, shapes, and styles. Some are tall while others are low to the ground. Some are made of breathable mesh and others are made of wood. Some fit on balconies and some attach to windows in your home, although those are typically DIY or custom-built. Cat runs can take up a decent amount of space in a yard, and they're typically the most fun for cats who like to run around and play. Playpens generally stand tall and don't give cats as much room to run, but they do allow for jumping, resting, and playing.
​Size:​ The size you choose will depend on how much space you have and the type of enclosure you think your cat will enjoy most. It should be big enough, however, to give your cat enough room to play and get some good old-fashioned outdoor exercise.
There are lots of outdoor cat enclosures to choose from, so take a look below to help narrow things down.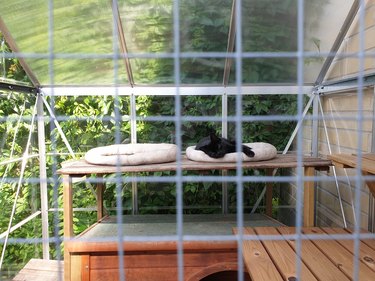 1. Outback Jack Cat Enclosure
The portability of this Outback Jack Cat Enclosure is a highlight if you travel with your cat. Even if you don't, it's a great way to give your cat space to run free (well, almost free) in the yard. Made of breathable mesh, it consists of a see-through tunnel that attaches to a tent. You can place toys inside the tent for added fun or even a cat tree for lounging. This enclosure is also a good option to use inside the house if you have a pet that needs to be separated from other animals or if you have a new pet who needs time to acclimate.
Dimensions: 34" x 21.5" x 6.5"
Materials: Nylon, mesh
Portable: Yes
Color options: Black/yellow
Indoor Usage: Yes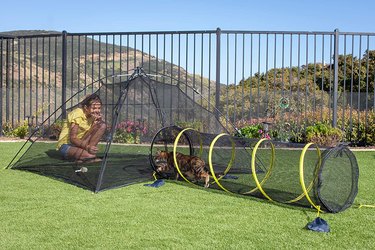 2. PawHut Large Wooden Outdoor Catio Enclosure
It's definitely on the large side, but this PawHut cat enclosure will give your cat so much space to live their best, very safe outdoor life. It's made of sturdy wood that has been sealed with a non-toxic, animal-friendly sealant, as well as durable wire mesh that your cat won't be able to chew through. The flat roof has an asphalt cover to help protect against weather. The enclosure features six large platforms your cat can play or rest on. It's big enough for multiple cats to hang out in without impeding on each other's space. When it's time to bring your cat inside, a large front door allows you to step inside and close the door behind you to safely pick up your cat so they don't run off.
Dimensions: 38.5" x 71" x 71"
Materials: Wood, asphalt, wire mesh
Portable: No
Color Options: Natural, gray
Indoor Usage: No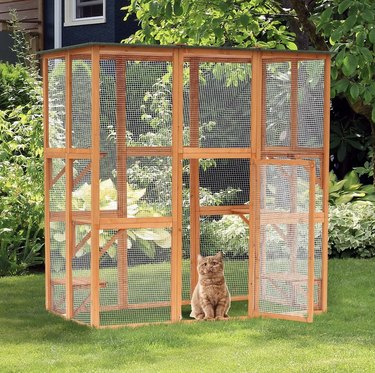 3. Aivituvin Outdoor Cat House
If portability is an important factor, this cat house is a great option. It has the perks of being a durable and stable cat house, but it sits on four wheels, so it can be moved to give your cat some different scenery. Two of those wheels are brake casters, so you don't need to worry about it rolling away. The house has three platforms and a small condo on the top floor for lounging and naps. It also has a removable PVC layer on the bottom for easy cleanup. The enclosure fits two to four cats up to around 18 pounds each and has several accessibility options. It can even be set up to connect a window in your home so your cat can go in and out as they please.
Dimensions: 31.5" x 31.5" x 70.9"
Materials: Fir wood, wire mesh
Portable: Yes
Color Options: Gray
Indoor Usage: No
4. Archie & Oscar Lindquist Outdoor Playpen
This basic outdoor playpen is a big enough space for multiple cats (and maybe one or two other small animals as well). Made of galvanized steel, your cat definitely won't be able to plan an escape by chewing through it. There are two doors that close with a latch. Weighing just 47 pounds, it's relatively easy (with someone's help) to move around your yard so your cat can enjoy different views or be under shelter when it rains. An included cloth canopy provides protection from the weather on a portion of the enclosure, but if it rains, you might want to consider just bringing your cat inside. The pen disassembles and folds flat for relatively easy storage.
Dimensions: 40.5" x 40.5" x 86.5"
Materials: Galvanized steel
Portable: Yes
Color Options: Black, silver
Indoor Usage: Yes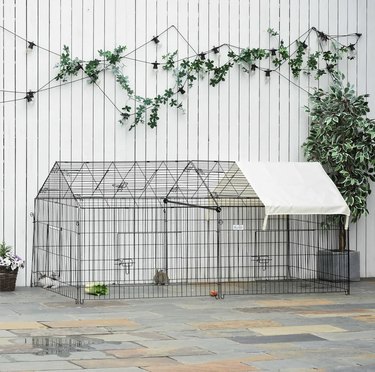 5. Betyman Outdoor Cat Enclosure
Give your cat the gift of enjoying time in the sun and breathing fresh air while also being able to run and pounce around through a fun tunnel. The inside consists of about 15 square feet of play space. The entire enclosure is very easy to set up and can be done in seconds—you can even secure it to the ground with the included tent stakes if you're worried about it blowing away. If you have the space inside your home, the enclosure adds an element of excitement to any living room. It's made of high-strength nylon netting, meaning it's resistant to your cat's scratching and biting. You can also fold the enclosure up into a convenient carrying bag and take it with you to the park or a friend's house.
Dimensions: 55" x 35" (tent), 110" x 17.7" x 10" (tunnel)
Materials: Nylon, mesh
Portable: Yes
Color Options: Black
Indoor Usage: Yes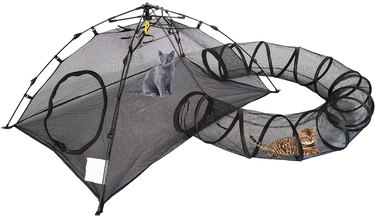 6. Dapu 5-in-1 Compound Pet Play Enclosure
Dapu's Compound Play Enclosure basically has enough room for all the neighborhood cats. As the company puts it, it's bigger than a car. Your cat will have fun running through the four tunnels into four different tents. If you want to make the experience even more thrilling for your cat, you can place food and water in one tent, a cat tree in another, a bed in the third tent, and toys in the fourth. The entire enclosure collapses into a carrying case that can easily be stored.
Dimensions: 31.5"x 31.5" x 31.5" (square tent), 39.5" x 39.5" x 35.5" (hexagon tent), 47" x 28" x 28" (triangle tent), 40" x 22.6" (oval tent), 63" x 19.6" (tunnels)
Materials: Mesh, plastic
Portable: Yes
Color Options: Black/red
Indoor Usage: Yes