While some cats love a road trip, most cats have anxiety when traveling and would much rather stay home. Whether you're going on vacation, moving, or taking your can to the vet, cats don't have an option—they have to get in a carrier and head out the door with you. That is if you can convince them to get into the carrier.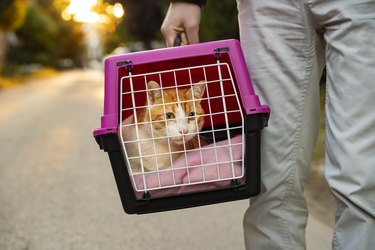 Ultimately, the more comfortable your cat is in a carrier, the easier it'll be to get them inside. It's important to buy a carrier that feels like a safe space for your cat. Cats tend to prefer tight, dark, cozy spaces like cardboard boxes, cabinets, or really any small space where they don't belong. So, even though getting your cat to feel comfortable inside a carrier might seem impossible, it can actually be a place they enjoy spending time—you know, like that one shoebox in the back of your closet.
Transporting a cat without a carrier can be dangerous for both you and your cat. A cat that's loose in the car can climb anywhere they want, including on the pedals, on the steering wheel, on the dashboard, and on your lap, which can prevent you from driving safely. They can also jump out of the car when the door is opened and get lost or hurt.
What to consider when purchasing a cat carrier
‌Size:‌ The appropriate size of a carrier is big enough to allow your cat to stand, sit, lay down, turn around, and stretch out. It should be small enough for your cat to feel secure and actually ‌be‌ secure without sliding around the carrier when on the move. Most cat crates are designed for small to medium pets.
‌Type of Carrier:‌ There are several types of cat carriers to choose from, including soft-sided, hard-sided, backpacks, TSA-approved, and cardboard carriers. Carriers with removable tops come in handy for veterinary visits, as it's a way for your cat to feel comfortable inside their own space while giving the veterinarian access for an examination.
‌Ease of Use:‌ Taking a cat out of the house can be stressful, so it's best to find a carrier that's easy to use to keep the stress level of both you and your cat at a minimum. Carriers with multiple entry points make it easier to get your cat in and out, especially if there's coaxing involved. One that is washable is ideal if your cat tends to get nauseous in the car or urinates or defecates when they're nervous.
Take a look at some of the best cat carriers below.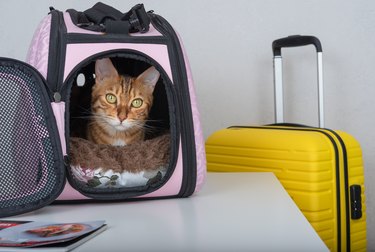 The best budget-friendly cat carrier
Even if you aren't specifically looking for an airline-approved cat carrier, it doesn't hurt to have one. This easy-to-use bag is one of the most affordable options on our list, and it can be used on most major airlines. It has everything you and your cat need in a carrier, including anti-scratch mesh all on sides for proper ventilation, a machine-washable fleece blanket, a padded shoulder strap, and storage compartments for treats and other essentials. It's also seatbelt compatible, has an interior safety tether, and has multiple windows that open to reach your cat.
Dimensions: 17.5" x 10" x 11"
Materials: Water-resistant 60D Oxford cloth
Weight Limit: 14 lbs.
Carrier Weight: 2.3 lbs.
Color Options: Gray, black, green, pink, purple, blue
Airline-Approved: Yes
The best soft-sided cat carrier
It's hard for cats to pass up the cozy plush mat that comes with this cat carrier. And since it's one of the highest-rated soft-sided cat carriers on Amazon, it also might be hard for you to pass up. The carrier is comfortable to hold, budget-friendly, has lots of zippers and windows for accessibility and ventilation, and it works well for large cats or two cats. The bag is airline-approved, but the company notes that it's not compliant with Southwest or Alaska Airlines' regulations.
Dimensions: 15" x 9" x 9"
Materials: Polyester
Weight Limit: 15 lbs.
Carrier Weight: 2 lbs.
Color Options: Gray, green, pink, purple, blue, black
Airline-Approved: Yes
The best hard-sided cat carrier
Being able to load and unload your cat through the top of a carrier makes traveling with a fussy cat a lot easier. This carrier has two points of entry—a top door and a front door. It's made of sturdy plastic and can accommodate cats weighing up to 20 pounds. The carrier also has windows on five sides, ensuring proper ventilation and allowing your cat to take in her surroundings. There's a convenient top handle for carrying and side clips for easy assembly.
Dimensions: 22" x 14.8" x 12"
Materials: Plastic
Weight Limit: 20 lbs.
Carrier Weight: Unlisted
Color Options: Gray
Airline-Approved: No
The best backpack cat carrier
Backpack carriers are ideal if you plan on going for walks with your cat or if you prefer a hands-free experience when making your way through the airport. Due to their upright design, your cat won't have enough room to lay down while on the go in a backpack, but in this Jespet backpack, they should be able to sit, stand up, and turn around comfortably. Once you place it on the floor, it turns into a regular carrier with both top and front accessibility. It's well-ventilated, has a removable pad, an interior leash, pockets, and padded shoulder straps. Even though the weight limit is 16 pounds, cat owners say it tends to work better for smaller cats.
Dimensions: 17" x 13" x 12"
Materials: Polyester
Weight Limit: 16 lbs.
Carrier Weight: 2.4 lbs.
Color Options: Blue, smoke gray
Airline-Approved: Yes
The best expandable cat carrier
If you're planning a long trip with your cat in tow, you might want to consider an expandable carrier. The Siivton Expandable Carrier comes in large, extra-large, and as a backpack—all with expansion capabilities to give your cat extra room to move around and stretch out. The bag is airline-approved, features four different ways to be carried, comes with a fleece pad, and can be expanded in four places. It can basically turn into a cat condo.
Dimensions: 18" x 11" x 11" (large), 20" x 11.4" x 12.4" (extra large), 10.8" x 13" x 16.5" (backpack)
Materials: Polyester
Weight Limit: 14 lbs. (large), 20 lbs. (extra large), 15 lbs. (backpack)
Carrier Weight: 3.5 lbs. (large), 4.1 lbs. (extra large), 3.7 lbs. (backpack)
Color Options: Gray
Airline-Approved: Yes
The best cardboard cat carrier
Petco's cardboard carrier is designed to transport your cat from point A to point B—ideally to go to the vet or to transport them home for the first time. It's not meant to be used in place of a travel carrier for long trips, as there aren't any windows and it just isn't very cozy. While you'll need to put this box together yourself, it's quick and easy to do. It has several holes for built-in ventilation and a carrying handle that offers a secure way to pick it up.
Dimensions: 18.5" x 9" x 12"
Materials: Cardboard
Weight Limit: 25 lbs.
Carrier Weight: 1.15 lbs.
Color Options: Brown
Airline-Approved: No
The best carrier for two cats
It's best to give cats their own carriers, but that isn't always possible. So, if you have two cats and you need to carry them together, this Pet Gear carrier is a great option for cats that aren't too husky. It comes with a machine-washable fleece pad cover and includes two storage pouches. Front and top zippered mesh windows keep the interior ventilated and give you two options for accessibility. As a bonus, the carrier also works as a car seat.
Dimensions: 19" x 12.5" x 12"
Materials: Mesh
Weight Limit: 20 lbs.
Carrier Weight: 13 lbs.
Color Options: Aqua, black
Airline-Approved: No