Cats are great at improvising and finding things to play with, but for fun-loving cats and kittens, interactive toys can take play to the next level. Interactive toys may have moving pieces or compartments that hold treats. Some interactive toys include battery-operated components that move balls, wands, or other teasers to encourage cats to play. There are also mazes and puzzles where cats have to master a task or reach inside to access toys or treats. The goal of interactive toys should be to inspire cats to play and stay engaged for longer periods of time.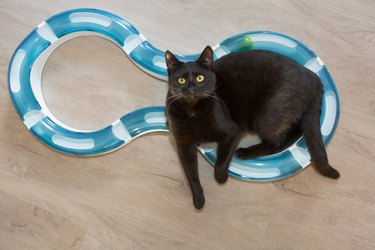 What To Consider When Purchasing an Interactive Cat Toy
​Avoid Lasers:​ Unfortunately, many interactive cat toys include laser functions. These are toys that you want to avoid purchasing. Lasers are aversive to cats because they are unable to 'catch' the beam of light, which leaves them feeling teased instead of satisfied after play.
​Play Preferences:​ When purchasing interactive cat toys, consider how your cat prefers to play. Some cats like games where they can run and chase after toys, while others want to pounce and bite their toys. There are also food-motivated cats that prefer games involving treats or their meals.
​Toy Size:​ No matter which interactive toy you choose, it's important to supervise all engagement and play with the toy. Cats come become frustrated with the toy, and over time, small pieces could be broken off and possibly consumed by your cat, which would be harmful. Be sure to select an interactive toy that will work well in areas of your home where you can supervise.
The Best Interactive Cat Ball Toy
Automatic Interactive Ball Toy
This interactive cat ball responds to engagement from your cat including nosing or pawing at the toy. The ball has three different modes including active, normal, and gentle to accommodate different cat play styles. During play, the ball emits sparkling light, low sound, and rolls and jumps when your cat touches it. The toy includes built-in obstacle avoidance sensors to prevent the toy from running into walls and furniture. If the toy does run into something, it will reverse and move in another direction. The ball charges completely in just one hour via USB cable. The surface of the toy is plush and furry to entice your cat to play and engage with it.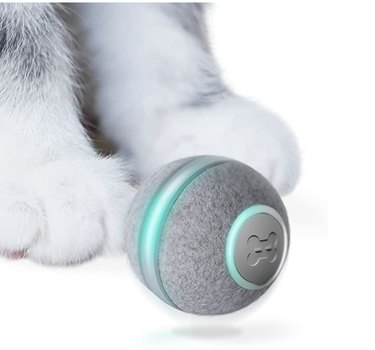 Fluttering Butterfly Interactive Cat Toy
This interactive toy features a sturdy base and three suspended butterfly-shaped teasers with ribbon tails. The butterflies rotate 360-degrees and even glow in the dark. If your cat tends to play rough, fear not, because every purchase includes two replacement butterflies. The interactive toy operates with three AA batteries—this controls the butterflies' spinning motion, although there's only one speed. The base is heavy to prevent it from tipping over when cats are playing and boasts non-skid rubber grips to keep it from slipping and sliding.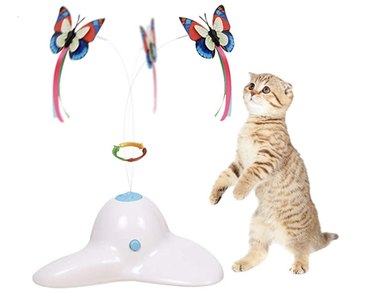 The Best Interactive Feather Cat Toy
PetFusion Ambush Interactive Electronic Cat Toy
Designed to tap into your cat's natural instincts, this interactive feather toy recreates a dynamic hunting experience in your living room. While your cat plays, a feather pops out at random from one of six holes, allowing your cat to pounce and catch it. The toy also features LED colored lights to mesmerize your cat. The toy has anti-skid feet to keep it in place while your cat plays, and the feather is replaceable if it gets worn out from play. The interactive toy uses four AA batteries, and after eight minutes of inactivity, it will shut off to help preserve battery life.
The Best Interactive Fabric Cat Toy
Petlinks Mystery Motion Concealed Electronic Motion Cat Toy
For cats who enjoy pouncing, this interactive toy is sure to inspire play. It has an exterior skirt layer that covers a motion wand with a feather on it. Similar to how a cat might enjoy pouncing on things under a blanket, as the toy moves, the skirt rustles and attracts cats and encourages them to pounce. This toy offers four speeds, and the movement of the toy is unpredictable to keep cats engaged by swatting, pouncing, and chasing.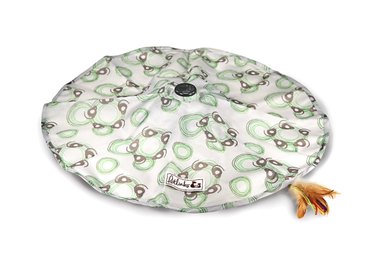 The Best Interactive Puzzle Toy for Cats
Petstages Interactive Cat Puzzles
Stimulating cats both physically and mentally, this puzzle can be filled with treats and/or dry food. The puzzle toy can even be used to make mealtime interactive. Instead of feeding your cat in a bowl, you can put up to 1/4 cup of food into the puzzle. The puzzle has 14 different treat compartments and a variety of tasks to challenge cats. As your cat gets used to the puzzle, you can adjust the difficulty level to keep her interested. The puzzle is BPA-, PVC-, and phthalate-free and made with food-safe materials so you can feel good about giving it to your cat. The puzzle has movable parts, but none of them are removable, which makes for safer play and easier clean-up.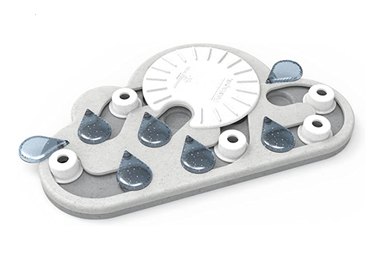 The Best Treat Maze for Cats
Interactive Cat Toy and Puzzle Feeder
Made with industrial-strength corrugated cardboard, this cat maze encourages cats and kittens to scratch, paw, and explore the interactive cube. The cube has different shaped holes that cats can reach through. It's designed to work with other toys and treats your cat already has. You can also place dry cat food inside the maze to turn mealtime into playtime. The cube's double-layered cardboard features a plant-based gloss coating, which makes the toy long-lasting and durable.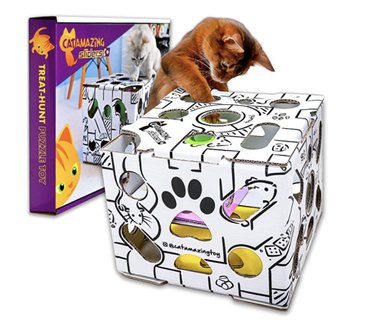 The Best Interactive Racetrack Toy for Cats
Catit Design Senses Circuit Cat Toy
If you have limited space and a cat who loves to chase, this racetrack gives your cat the opportunity to dart after toys without the risk of those toys getting lost. The peek-a-boo track inspires your cat's inner hunter, and the large openings along the track allow him to pounce and grab at the ball. The ball runs on batteries, although if it dies you can purchase replacements from the company. The track has high and low sections that allow the ball to slow down and speed up. If you have the space, this particular track can be connected to other circuit tracks to create an even large game for your cat.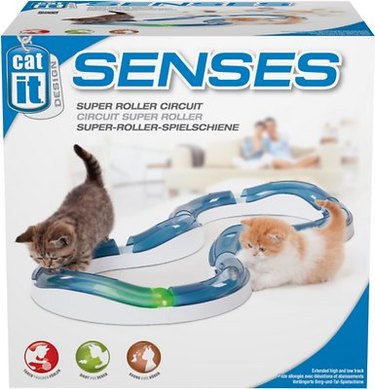 The Best Interactive Digger Cat Toy
Designed to be used as both a toy and a slow feeder, this interactive cat puzzle can be used with dry food and/or treats. The digger toy features five tubes that cats can dip their paws into. Channeling their natural fishing and pawing instincts, this puzzle keeps cats engaged, and if used at mealtime, prevents them from eating too quickly. The puzzle is made of BPA-free materials and can be disassembled for washing. The puzzle also comes with a rubber mat that captures spills and prevents it from slipping or tipping while your cat is playing.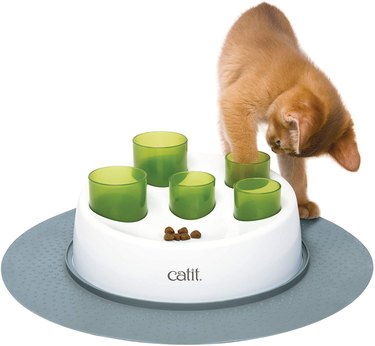 The Best Realistic Interactive Cat Toy
Petstages Grass Patch Hunting Box Cat Toy
Bring a little bit of nature inside for your cat with this faux-grass puzzle game. The puzzle is a cardboard box with five rectangular openings and three jingle bells inside that your cat can paw at and chase via the holes. The faux-grass is designed to encourage scratching while your cat is playing, which can help protect your furniture. Some cats even enjoy napping on the box once they're all tuckered out. It's a simple game, but one that will keep your cat entertained for hours as they "hunt" and bat at the balls through the puzzle openings.