Cat wands and teaser toys are favorites of most cats and kittens. Cat wands are designed for cats and people to play with together, while teasers can take a variety of forms including electronic and surface-mounted toys. However, these terms are often used interchangeably. Both types of toys are a great way to get cats of all ages up and moving with active play. Wands allow owners to safely channel their cat's natural instincts to chase, pounce, and hunt. Although some are intended for independent play, it's important not to leave your cat unattended with teaser toys. If left unsupervised, cats can become injured by getting tangled in strings, or accidentally break or bite off pieces of the toy, which could be dangerous if ingested.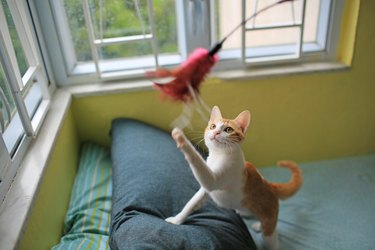 Before we dive into the best cat wands and teaser toys on the market, there are a few things you should keep in mind when making a purchase.
​Behavior:​ Think about your cat's behavior and their preferred styles of toys. Nervous cats may be more comfortable playing with wand toys controlled by their people, whereas bold cats may enjoy some of the robotic or battery-operated teaser toys.
​Durability:​ Cat wands and teaser toys are made from a variety of materials including plush fabrics, feathers, plastic, faux fur, and many others. It's important to consider the durability of the toy, especially if you have a cat who plays rough, or if you have a multi-cat home. Some wands and teasers come with replacement strings or feathers, which can be convenient, whereas others are made with faux fur or fabric materials that are more hardwearing for cats who play rough.
​Size:​ When selecting a wand or teaser toy for your cat, you'll want to consider the size of the space that you have to play in. If you live in a small apartment, a wand with a long extendable handle and an even longer string may be more toy than you have space to play with. It's important to make sure that your cat will be able to play safely with the toy without knocking over breakables in your home.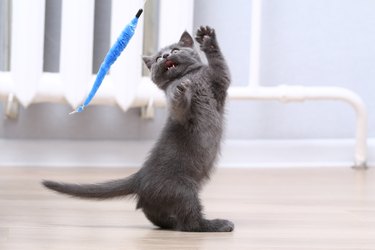 Designed to encourage your cat to swat, pounce, and stalk, this 19-inch feather boa cat teaser is sure to grab your cat's attention. The toy features a brightly-colored feathered end with added crinkles and bells. The main flexible aspect of the teaser is made of a feather boa, which makes for added excitement for your cat.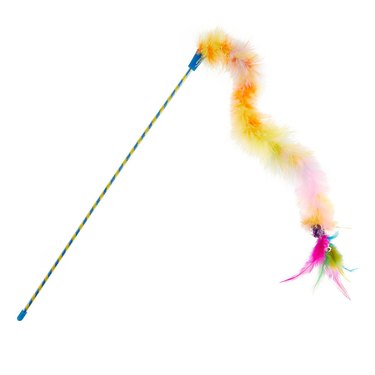 2. FAYOGOO Floppy Fish Cat Toy
For a cat who likes a lot of options when playing, this "fishing" set includes plush and feather or ribbon-adorned teasers, as well as a battery-operated fish that can flop realistically at the end of the "fishing" pole. In total, there are five teasing options to attach to the wand, each with its own distinct weight and material construction to make your cat jump and move differently during playtime. The wand is extendable from 15 inches to 37 inches, and the flopping fish toy can be recharged with a USB cable.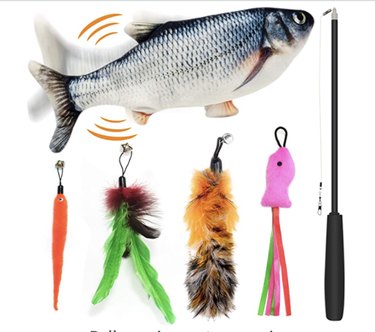 Designed for interactive play, this toy is made of enticing faux-fur with both a ball and a feather teaser at the end of the wand. The ball attachment is infused with Silverfrenzy, described as an "herbal blend" made with silvervine that's more potent than catnip. The soft faux-fur of the teaser encourages your cat to pounce, not just at the end of the rope, but also the entire length of the teaser toy—keeping your cat engaged and interested.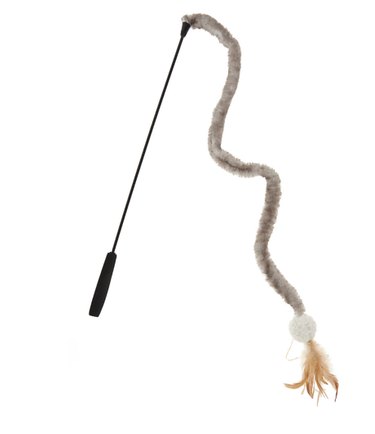 4. Hartz Just For Cats Interactive Feather Cat Wand Toy
This 24-inch plastic wand has a fan of natural feathers at the end. The flexible wand allows your cat to stalk, swat, and stalk the multi-colored feathers and dangling pompoms. Although it's a simple toy, it will tap into your cat's hunting instincts. It's available in an assortment of feather colors and is an especially great toy for playing with cats in small spaces. While it's not the most durable option on this list, it's affordable enough that you could buy multiples and replace them when the feathers begin to fall off.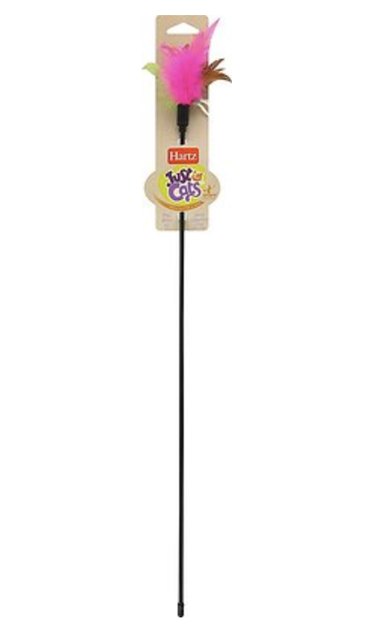 This toy features neutral colors and natural textures, making it a great choice for small homes where you don't want bright cat toys on display. The teaser toy has a plush fish at the end of the wand that's covered in a burlap-like material. The fish encourages cats to pounce and grab. The fish's "tail" is made from feathers and dangling strings with beads and bells for extra enrichment.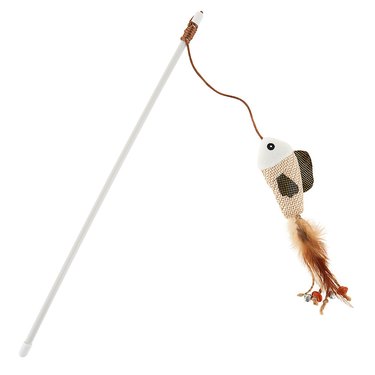 6. PetDroid Boltz Robotic Cat Toy
This high-tech teaser toy with an attached wand features two independent motors that prompt it to move in circles, rotate, and go forward and backward. With USB charging capabilities, the toy can be recharged between play sessions. There are speed modes for play on hard floors or carpet, and the toy automatically turns off after 10 minutes of inactivity to preserve battery life. When set to default, Boltz can hold a charge for 8 hours. Perfect for busy cat owners, the teaser toy allows your cat to chase and pounce while you sit back and watch them play. Boltz's irregular movements keep cats interested and physically active as they chase the moving wand through the house—there are even built-in sensors so the toy doesn't crash into your furniture. Three different wand attachments are included and you can purchase replacements if your cat destroys them.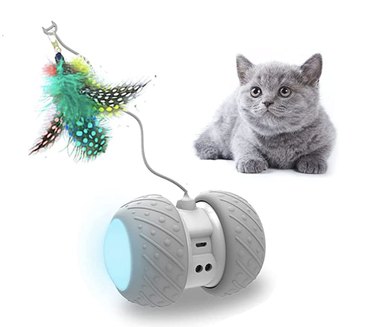 7. MeoHui Interactive Cat Feather Toys
For the busy kitty, this interactive toy comes with two telescoping cat wands, five natural feather teasers, and four squiggly worm teasers. If you're worried about your cat playing too rough with the toy, the kit includes two extra strings and clasps to attach the teasers to the wands. The telescoping wands resemble fishing poles with ergonomic foam handles. When collapsed, the wands are 15 inches long but can extend to 38.9 inches. The lines have easy-to-open clasps, allowing you to switch out the different feather and worm teasers when one gets worn out or your cat starts to get bored.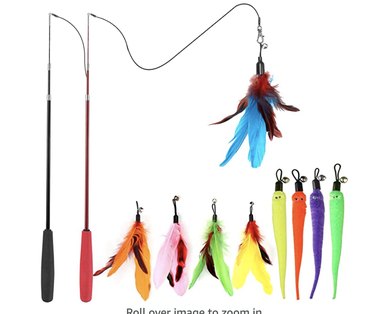 8. 3-in-1 Automatic Interactive Cat Toy
This multi-activity cat toy includes a battery-operated teaser wand that rotates erratically. It has fast or slow speed modes for different styles of cat play and features a chasing puzzle in the base with a plastic ball and a fluffy puff. The backing is non-slip to prevent the toy from sliding around as your cat plays with it. The feather on the wand is detachable and can be replaced with other feather toys when it gets dirty or worn from play. There's also a backup ribbon attachment if your cat doesn't care much for feathers. The toy takes three AA batteries, which are included with the toy.