Scratching is a natural and important activity for cats. Cats scratch for a variety of reasons including self-soothing, stress relief, and to mark territory. It's important to provide cats with access to safe and appropriate places to scratch. If not given their own scratching surfaces, cats will find other things to scratch like your furniture or carpets. You can introduce cats to the places you want them to scratch by bringing your cat to the scratcher and praising and rewarding them for engaging with it—especially when they scratch the intended surface. You can also give your cat toys and treats while in the scratching area to encourage your cat to engage with it.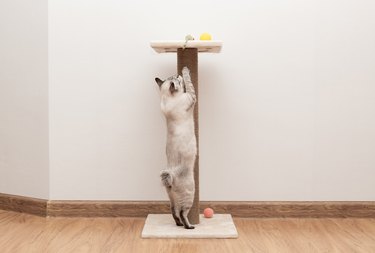 What to consider when purchasing a cat scratcher
‌Shape:‌ Cat scratchers come in a variety of shapes and sizes. Some are designed for cats to get into or climb while others sit on the ground. Many cats enjoy scratching vertical objects, so if you know your cat has a habit of scratching the sides of your upholstered furniture, consider a cat scratcher that has a component designed to allow your cat to reach up to scratch.
‌Durability:‌ When selecting a cat scratching post, the material it's made of will be the primary determinant for how durable the scratcher will be. Cardboard scratchers are designed to be recycled after they have been scratched up and replaced regularly. These are a great option for cats who also are known to urine mark as they can be inexpensively replaced if urinated on. If you're looking for a longer-lasting solution, cat scratchers with carpet and/or sisal scratching areas hold up well to repeated scratching and playing. Cat trees with scratching areas tend to be more durable and have a longer lifespan.
‌Material:‌ Cat scratchers are made from a variety of materials. Some have structures that are made of wood or plastic to support the scratching surfaces. To encourage cats to scratch, most scratchable areas are made of cardboard, sisal rope, or carpet. Cat scratchers made with carpet are the easiest to clean. Cardboard scratchers can't easily be cleaned but are designed to be disposable and traded out if they get soiled or damaged.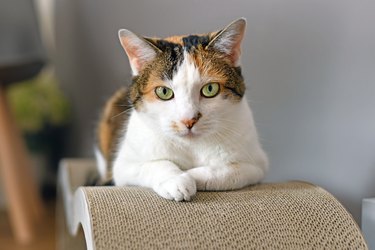 The best cat scratcher with a built-in toy
This interactive cat scratcher not only provides an opportunity for your cat to scratch but also to play. The exterior plastic track and ball keep cats entertained and engaged, and the interior cardboard scratcher can be replaced when it begins to break down or becomes soiled. This fun toy also comes with catnip that can be sprinkled into the cardboard scratcher area to entice your cat. It's quite compact at 15.75 inches in diameter and 2 inches high.
The most whimsical cat scratcher
If you want to treat your cat as a prince or princess, consider this whimsical cat tree with built-in scratching posts. The castle-like structure includes a condo at the base for your cat to nap in, as well as a hideaway tower and multiple vertical scratching areas and crawl spaces. The royal scratching area includes vertical scratch posts covered in carpet and sisal, as well as a ball for your cat to swat at. The dimensions are 27.5 inches long, 14.75 inches wide, and 35.25 inches high.
The best cardboard cat scratcher
This tower is made entirely of scratchable cardboard. The cardboard building is customizable and can be built in the way that is most interesting to your cat. The cardboard the building is made of is corrugated, meaning it has a bark-like texture and provides a satisfying place for your cat to scratch. The cardboard is double-walled to provide an ultimately recyclable, yet durable scratching opportunity for your cat. With four levels of scratchable surfaces connected by peepholes, windows, and passages, this cardboard scratcher can also be decorated to match your cat's personality or your household decor. When fully assembled, the tower measures 29.5 inches long, 20 inches wide, and 55.75 inches high.
The best cat tower with scratchers
This cat tower provides cats with the ultimate scratching experience. At 72 inches tall, the cat tower provides opportunities for cats to scratch at multiple levels and surfaces. It has sisal-covered poles to attract cats to vertically scratch and carpet-covered ledges, ladders, and condos to encourage even more scratching. Climbing is naturally enjoyable for cats, and many cats seek height when they are nervous or uncertain, making this tower an attractive option for cats that crave their own space to scratch and play.
The best design-forward cat scratching tree
The unique and natural design of this scratching tree makes it attractive to cats and humans alike. It consists of two wooden tree trunks (the tallest one measures 46 inches high), which provide opportunities for vertical scratching. The nesting areas of the scratching tree are made of hand-woven wicker baskets that provide yet another textured scratching surface. The lower-level condo has removable, washable bedding and gives cats a softer surface to sink their claws into. The scratching tree also blends in seamlessly with most home decor styles.
The best self-grooming cat scratcher
This cardboard scratcher features a raised grooming brush to allow cats to self-groom and scratch at the same time. The brush inspires cats to rub up against it, which is soothing for them and can help remove cat fur that is ready to shed—assisting with your cat's regular grooming. The cardboard area of the scratcher has dried catnip, which helps to attract cats to the scratching surface.
The best playhouse cat scratcher
This adorable greenhouse gives your cat the opportunity to scratch all of its surfaces, while also providing a private area for your cat to sleep or play. Featuring images of potted plants, ornate glass, and tropical plants, the faux-greenhouse touts cut-out windows on the sides and roof. There are large openings on either end and the corrugated cardboard scratch pad can be sprinkled with catnip to get your cat to engage with the greenhouse. It measures 15 inches long, 15 inches wide, and 15.5 inches high.
The best interactive cat scratcher
The unique shape of the ripple rug will entice cats to play and scratch. It offers endless opportunities for scratching, stalking, hiding, and pouncing. The activity mat is made with carpet, and it has built-in holes and folds that inspire stalking play while your cat scratches. The rippled scratching area attaches to a solid, scratchable carpet base to prevent cats from getting tangled. As an added bonus, it's made from recycled plastic bottles.
The best cat scratcher for small spaces
Perfect for small spaces, this cat scratch mat is designed to hang on the back of a door. This provides cats with easy access to a vertical scratcher but it doesn't take up any valuable floor space. The scratching area is made of natural sisal and has a built-in feather toy. The scratcher features a colorful, cat-themed fabric border that's perfect for any cat lover. The scratcher hangs by a fabric loop that can go over any shaped doorknob, allowing you to hang it just about anywhere in your home.