Play is a natural activity for cats, and it's important for them to have access to a variety of toys. Balls are a fun way to engage cats of all ages in play. Especially for cats who enjoy chasing, batting, and pouncing, different types of balls can provide a great outlet for these natural urges. Giving cats opportunities to play can also help prevent boredom, which is a major cause of behavioral issues with cats.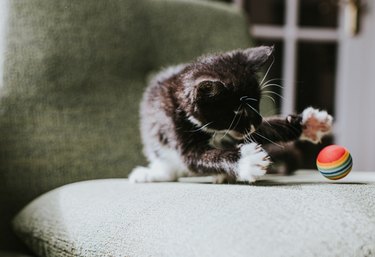 What To Consider When Purchasing a Ball Toy for Your Cat
​Play Style:​ When selecting a ball toy for your cat, consider how your cat likes to play. For example, if you have a cat who enjoys biting toys while playing, be sure to select a durable ball that's designed for that.
​Materials:​ It's important to take the material into account when purchasing a ball for your cat. Some cat balls are made of hard plastic, while others are plush. When selecting a new ball, think about what you know about your cat's toy preferences. Also consider if your cat tends to play rough with toys, and if they do, opt for cat balls that aren't made of materials that can be easily split apart.
​Sounds:​ Some balls come with sound-making possibilities. These toys may have jingling bells inside the ball or may be battery-powered and make noises when your cat plays with them. Although sounds can be very enticing to some cats, those that are sensitive or nervous may find the sounds frightening.
​Treat-Dispensing:​ A popular variety of cat toys involve treat dispensing. These toys function as slow feeders and can be used instead of bowls at mealtime for giving cats dry food. Food dispensing balls allow mealtimes to be more enriching for cats by turning meals into a game.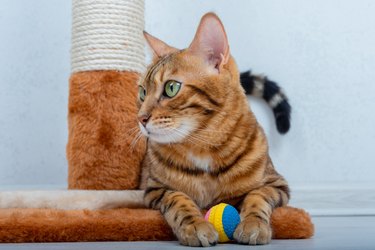 1. Ethical Pet Sponge Soccer Ball Cat Toy, 4-pack
Simple and fun, these multi-colored foam soccer balls are lightweight, making them exciting for cats to chase. Each toy measures approximately 1.25 inches in diameter. The soft foam material is attractive to cats because they can sink their claws and teeth into the ball when they catch them. The balls also bounce well for an added challenge when playing on their own or with you.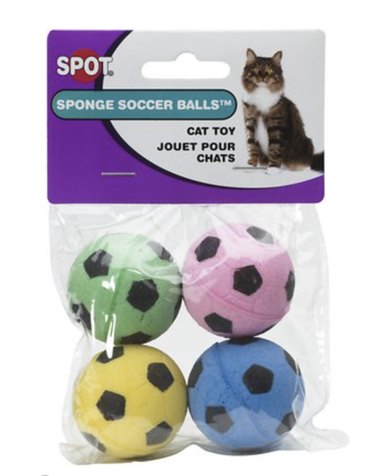 2. PetSafe Slimcat Feeder Ball
​​Designed to keep cats engaged with play, this toy ball can be filled with dry cat food and/or cat treats. The top of the ball twists off, allowing you to easily fill it with food or treats. The treat-dispensing opening is adjustable, allowing most kibbles and treats to fit and giving you the power to control how easily they tumble out. Once closed, give the ball to your cat and allow them to start playing. When your cat paws, pushes, and bats at the ball, treats are released at random. This toy allows you to make mealtime more enriching for your cat, helps them get more exercise, and prevents boredom. It's also top-rack dishwasher safe for cleaning in between uses.
3. Frisco Moppy Ball Cat Toy
The unique "mop-like" texture of this floppy ball encourages cats to play. This lightweight ball is perfect for tossing in the house for cats to chase. It feels soft and plush, ideal for cats who enjoy snuggling and napping with toys after play. Available in blue or pink, this ball's unique texture motivates cats to chase, bat, and toss the ball—either while playing on their own or with you.
4. Catit Design Senses Circuit Motion Activated Illuminated Balls Cat Toy, 2 count
Activated by motion, this ball lights up whenever it's rolled or moved. The balls come in a two-pack, so if you misplace one under the couch it's no big deal. The balls are made of smooth plastic and can move very quickly when your cat is playing with them on hard flooring, or if you roll the ball for your cat to chase. This ball is ideal for cats who enjoy chasing and pouncing on toys. The light-up feature also makes it a fun toy for you and your cats to play with at night.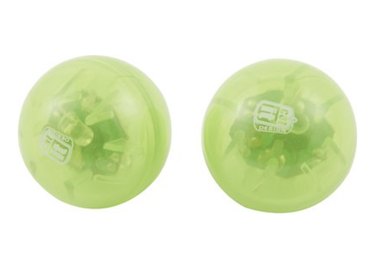 5. Catit Treat Ball Cat Toy
Designed to be filled with your cat's favorite dry food and/or treats, this ball will slowly dispense goodies as your cat plays with it. Instead of feeding with a bowl, giving your cat their meals in a treat ball makes dinnertime an interactive game and can reduce boredom. Available with either a blue or pink base and an internal spiral to dispense treats, this ball has a clear plastic top half, which allows you to see how much food remains and whether it's time to refill.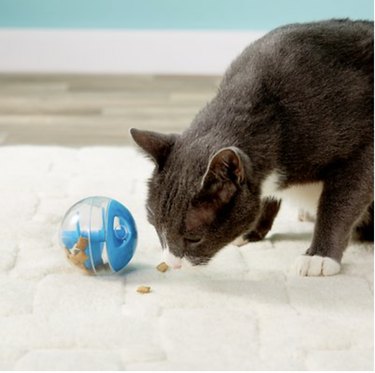 6. Whisker City Mini Tennis Ball with Bell Cat Toy
Simple but fun, this miniature tennis ball is the perfect size for cats to play with. The miniature tennis ball has a bell inside of it to make the toy extra engaging for cats as they play. The ball is blue, green, and white, making it easy for owners to spot if your cat misplaces the ball while playing. The miniature tennis ball is perfect for cats who enjoy swatting, pouncing, and chasing toys.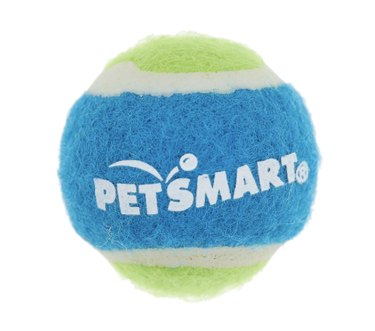 7. Whisker City Connected Wellness Ball Cat Toys - 4 Pack
Not sure what kind of ball your cat would find most appealing? With this four-ball set, you don't have to choose! The pack comes with four different balls: a plush ball, a hard plastic ball with a bell inside, a pompom ball, and a rope-wrapped ball. The set comes in coordinating blue and green colors and is the perfect place to start when figuring out what kind of balls your cat likes. This set has something to attract the interest of almost any cat.
8. Potaroma 3 Pack Fluffy Plush Cat Ball Toys
These three fluffy toys are made of durable EVA and plush materials to withstand lots of playtime with your cat. The balls come in mint, yellow and pink hues, and each ball emits a different life-like animal chirping sound. The sounds include frog (mint), cricket (yellow), and bird (pink). Motion-activated, the balls chirp each time your cat chases, bites, or kicks at them. The balls have built-in batteries that last for 10,000 chirps. For added fun, the balls come with a fresh catnip pouch to encourage cats to begin exploring and playing with the balls.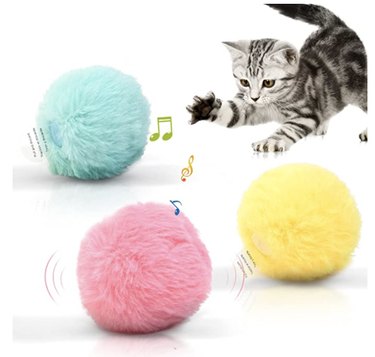 9. SmartyKat Catnip Kiss Compressed Catnip Ball Cat Toy
For cats who enjoy catnip, these balls are a perfect option. Made of compressed, high-potency catnip, it's designed to encourage cats to play. The compressed catnip ball is made with catnip, rice flour, and water, which is then "baked like a cookie." Loose catnip can be chaotic, but this compressed ball gives the excitement of catnip without all the mess. The hard catnip ball is appealing to cats who like to chase and pounce.