Most people who have spent time with cats are familiar with the number one rule of feline interaction: proceed with caution. A cat that comes up to you purring and asking for pets can quickly turn around to swipe or bite at your hand. Some cat owners have noticed their pet will gently nibble at them while being petted, a behavior often termed "love bites." We tend to view biting as a behavioral problem in dogs, but can the same be said for cats? Why do cats give love bites?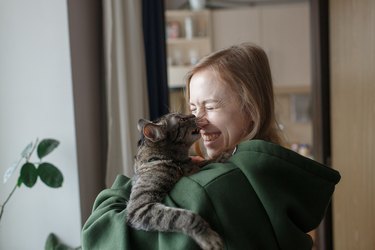 Evolution has equipped domestic cats with a set of sharp teeth that are capable of puncturing skin, causing pain and bleeding. Cats usually bite when they feel threatened. Love bites, however, occur during or after a petting session and consist of nibbles or gentle biting that doesn't break the skin. It can sometimes start out as licking that progresses to more intense grooming and, ultimately, biting. Unlike aggressive biting, a cat is not likely to hiss, growl, or claw when giving love bites.
Cats will bite for a number of different reasons: fear, defensiveness, and acting territorially are the most common motivators for a cat delivering a bite. Aggressive biting is usually preceded by tense body language: flattened ears, a twitching tail, and a tense body can be signs that a cat is stressed and may be preparing to bite.
There hasn't been much research done on love biting, and most of what we know is based on observation and the insights of animal behaviorists. Since this behavior occurs most frequently during petting, some people interpret love bites as a sign of affection. As kittens are frequently groomed by their mothers, which includes both licking and nibbling, it's thought that cats use love bites to communicate affection — or even as a way to say "don't stop petting me!" You may be familiar with the term "making biscuits" to describe the cat behavior of kneading claws, sometimes directly on your lap. Clawing releases stress, and the act of kneading can be a sign of relaxation and contentedness.
It may seem logical to draw the conclusion that if cats use their claws to communicate happiness, then they use biting in the same way, but behaviorists tend to agree that this isn't the case. In fact, what is colloquially referred to as "love biting" has a technical term in the veterinary world — petting-induced aggression (or overstimulation).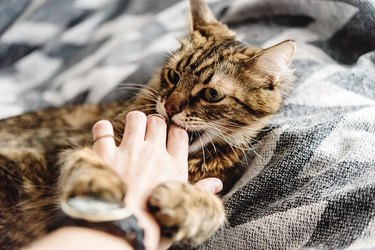 Cats have sensitive hair follicles and can get easily overstimulated by petting. They may enjoy being petted at first, but as they reach their sensitivity threshold, the sensation stops feeling good and begins to feel irritating. The social structure of domestic cat ancestors, as well as modern wild cats, doesn't include much physical contact between members of the species. It's thought that, since cats aren't naturally physically affectionate with each other, they're not particularly inclined to receive affection from humans either. Some domestic cats enjoy being petted more than others, but many will respond to overstimulation with a signal to stop — usually by biting or scratching.
How to respond to love biting
Those little nips from your cat during a cuddle session might not hurt much, but should still be interpreted appropriately by paying close attention to your cat's body language. Watch for signs of stress - flattened ears, tense body, and biting — and stop petting them if you notice discomfort. Sensitivity thresholds are different for each cat, and one might enjoy several minutes of full-body petting while another may prefer a brief number of pats on a specific part of their body before they have had enough.
You can minimize the number of love bites you get by watching how your cat responds to affection and backing off at signs of overstimulation. If you get an unwanted love bite, try to avoid pulling your hand away quickly as this could startle your cat into reacting defensively. Instead, stop petting them until the biting stops, then move your hand away. If you get startled by a bite, don't react by yelling, swatting, or shoving them off your lap. If your cat has a favorite toy, keep it nearby while petting them and try redirecting their attention to the toy when they bite. If your cat is treat-motivated, keep treats on hand and reward them for appropriate behavior.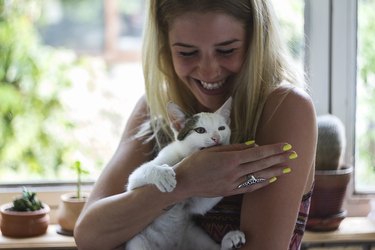 Love bites might seem like your cat's way of expressing affection, but they are a common sign that a cat is overstimulated by petting. These little nibbles are different from aggressive biting but should be interpreted appropriately. If your kitty starts giving love bites, take it as a sign to stop petting until the biting ceases.