For many people, cat friends are family, and that also applies to outdoor kitties who may not officially have homes to call their own. Feral, semi-feral, and free-roaming cats, known widely as community cats, can be found living in neighborhoods all over, and while certainly independent in a number of ways, these felines thrive with some form of care from their human neighbors. In addition to regular feeding and providing clean sources of water, keeping a cat house for outdoor cats to use can be lifesaving. Shelter on cold nights, protection from predators, and a safe, quiet space away from the stresses of semi-feral life are all benefits of offering a cat house to your outdoor friends.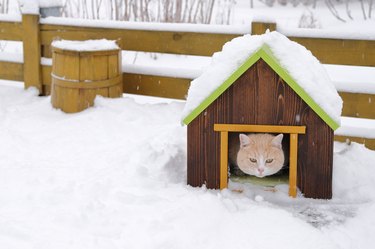 What to consider when purchasing an outdoor cat house
‌Outdoor Temperature:‌ The temperatures an outdoor cat has to contend with will depend on the area in which they live and the time of year, and both should be considered when looking for a cat house. A house with a heat source is ideal for cats who live in an area where temps consistently drop below freezing, while felines who reside in places with milder winters may not need the added amenity.
‌Moisture Levels:‌ Even the warmest home won't make for a very comfortable dwelling if it's constantly leaking moisture inside of it, so considering precipitation levels is important when searching for a home. Water-resistant structures are great for areas with consistent rain and snow, especially if low temperatures are common. Additionally, houses with built-in carpet or pillows will only harbor wetness, so if your community cats are exposed to rain and snow, it's best to opt for a house you can insulate with straw over one fitted with fabric.
‌Size:‌ Ideally, a cat house should only be large enough to fit one or two cats in at a time, which helps retain heat. If you're purchasing a cat house to keep near a colony where multiple cats may be coming and going, something on the larger end may work better for everyone.
‌Durability:‌ Of course, we want whatever cat house we buy to last, but not all houses need to be as heavy-duty as others. If you're planning to keep a cat house protected from the elements inside of an existing structure, like a barn or under a porch, you may be able to opt for a more lightweight, less expensive option than one meant to withstand inclement weather, day in and out.
‌Cost:‌ In an ideal world, all of our free-roaming feline friends would be afforded the same luxuries as an indoor housecat, but the truth is, money matters, and we can't offer what we don't have. Fortunately, there is a wide variety of options when searching for a home for outdoor cats. If a heated house with a pillow liner isn't something you'll be able to launder or keep dry on a regular basis, it might be best to look toward a less luxurious model that you can outfit with straw and hose down when needed. On the other hand, if opting for a low-cost option that you'll have to replace or repair every year is more trouble than you're realistically willing to put up with, it may be best to spend more money upfront, if you're willing and able.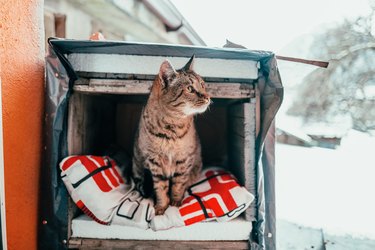 The best water-resistant cat house
Maintaining a safe, dry space is essential when housing outdoor cats and this house promises both. Made with recycled ecoFLEX material, the house is designed for free-roaming felines and promises to withstand the elements over time—meaning it won't splinter, warp, rot, or even fade. Double-paneled walls keep it insulated, ensuring a comfortable space inside and out, and with two entry and exit doors installed, cats can easily come and go, even if they're forced to flee in the event of an emergency. Weighing in at 15 pounds, this little house is light enough to lift up onto pallets or blocks to keep it up off the ground and that much dryer when it rains or snows.
‌Water-Resistant:‌ Yes
‌Heated:‌ No
‌Insulated:‌ Yes
‌Multiple Doors:‌ Yes
‌Tools Required to Assemble:‌ No
The best heated cat house
For cats who are forced to brave near or below-freezing temperatures all winter long, there is little more coveted than a home with heat. Already water-resistant thanks to its durable denier polyester material, this little home also comes fitted with a MET safety-certified fleece heating pad that only warms up when it feels the weight of a cat on it. Because the heating pad is fabric, however, it's recommended that this shelter be used for added comfort in an existing enclosure, like a barn or under a protected porch, to keep it from becoming too wet to keep the cat warm. This house does snap together using hook and loop fasteners, so no tools are required for assembly. It also comes with a one-year manufacturer's limited warranty.
‌Water-Resistant:‌ Yes
‌Heated‌: Yes
‌Insulated:‌ Yes
‌Multiple Doors:‌ Yes
‌Tools Required to Assemble:‌ No
The best house for multiple cats
Cat houses should be on the smaller side to help retain heat, but sometimes, a colony or outdoor area sees multiple cats in need of a safe, warm spot to sleep. This extra-wide option is over two-feet wide at 26.5 inches, providing more room for the multiple outside cats in need of care. While this house does come with a machine-washable cushioned floor pad, the roof is detachable, making it easy to line with water-resistant straw. Straw is recommended as insulation over any other material as it doesn't retain water and won't rot, creating a safer and longer-lasting environment for your feral friends. If you have larger cats in your care who may not fit in or appreciate a smaller home, this extra-wide style makes a great option as well. No tools are required to assemble this house.
‌Water-Resistant:‌ Yes
‌Heated:‌ No
‌Insulated:‌ No
‌Multiple Doors:‌ Yes
‌Tools Required to Assemble:‌ No
The best insulated cat house
There are cat houses, and then there are cat structures—this one qualifies as both, and despite its unconventional appearance, it delivers on creating an insulated space to keep cats warm in the winter and cool in the summer. Water-resistant and insulated with a high R-value foam, this house is also designed to expel any moisture or condensation through a layer of flow-through foam. The house has an elevated floor within the structure to keep cats warmer by lifting them off the cold or wet ground, and a removable lid for easy cleaning. Unlike many other cat houses, however, this tube only features one door, which could trap a cat in the event that a predator enters the domain, although the door design is created to prevent this from occurring.
‌Water-Resistant:‌ Yes
‌Heated:‌ No
‌Insulated:‌ Yes
‌Multiple Doors:‌ No
‌Tools Required to Assemble:‌ No
The best budget cat house
When it comes to volunteering your time, resources, and care to the outdoor feline friends who live in your area, any house is a good cat house, so if you can't drop a lot of money on a home for them you shouldn't feel defeated—your efforts are literally life-saving. Fortunately, there are a number of lower-cost options out there, like the TRIXIE. This house, to put it simply, is designed with functionality in mind. It's made from weather-treated pine, is already elevated for airflow and added dryness, and comes with a folding front door that doubles as a walking ramp. This humble abode isn't heated or insulated and does require some assembly (with tools included) but if you have a feline friend who doesn't have brutal winter weather to contend with, this is a great choice for the money.
‌Water-Resistant:‌ No
‌Heated:‌ No
‌Insulated:‌ No
‌Multiple Doors:‌ No
‌Tools Required to Assemble:‌ Yes