Dogs aren't easy on their leashes. They get dragged around, stepped on, chewed, and exposed to all types of elements. But every dog needs a leash—you just have to find the one that works best for your dog ... and for you. When it comes to buying a leash, it's equally about your needs and your dog's needs. A leash is used to restrain your dog while out and about, but it's also a way to communicate with your dog and guide them away from excitedly putting themselves in danger.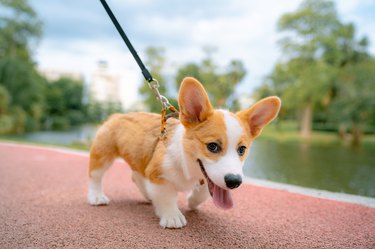 There are many different types of leashes to choose from. You'll want one that's comfortable to hold and has a secure clasp to keep your dog safe. Some leashes are designed for training and to help your dog not to pull while on walks, while others are longer for more relaxed walks. You might want to consider a leash that has a loophole for waste bags so you don't need to worry about getting caught somewhere with a pile of poop and no way to clean it. (We've all been there, it isn't fun.)
Keep in mind that in many public places, laws require owners to have their dog on leash, so you might even want to have a backup leash available just in case.
What to consider when purchasing a dog leash
‌Type:‌ There are several different types of dog leashes. Ones that are proven to be safest are standard leashes, which are the most common and are used for everyday walking, as well as adjustable leashes that give you the ability to shorten or lengthen the leash without pulling on your dog. A hands-free leash is also safe and ideal if you prefer walking or running without holding a leash, and multiple dog leashes allow for more than one dog to be attached to the same leash. If you go on nighttime or early morning walks, a reflective leash helps with visibility, and a martingale leash can help with training a dog who pulls.
‌Length:‌ It's important to choose the right length and width for your dog based on their size, weight, and temperament. Of course, small leashes are suitable for small dogs and large leashes are suitable for large dogs. A small dog could get overwhelmed with a long and wide leash, while a short and thin leash would be risky to use with a medium or large dog as it could easily be snapped.
‌Material:‌ Nylon, leather, and rope are usually solid material options. In many cases, your dog's leash is the only thing protecting them from imminent danger (that and your brute strength), so the material should be strong, long-lasting, and comfortable for you to hold. If you're worried about it getting dirty or stinky, choose one that's odor-resistant and easy to clean. And sure, the most important aspect of a dog leash is for it to get the job done, but considering it's something you will see every day, the material should also be a style you enjoy.
‌Durability:‌ Your dog needs a leash that can withstand the wear and tear of everyday dog life. The more durable the leash, the longer it will last and the better it'll protect your dog. The hardware on a leash that connects to a harness or collar should also be durable and made of a material like nickel or brass that won't rust or corrode.
OK, now that you're well-versed in dog leashes, check out some excellent options below.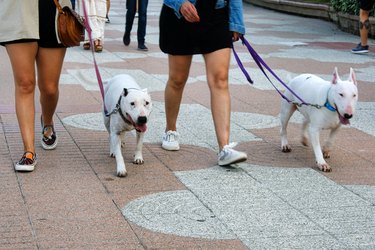 The best leash for large dogs
Guiding Star Braided Leather Dog Leash
When it comes to durability, you can't go wrong with leather. This brown leather braided dog leash is strong enough to hold medium and large dog breeds like German shepherds, Shetland sheepdogs, beagles, and dachshunds. It has a durable, rustproof copper clasp and the leather is soft on the hands. The leash is available in sizes small and large—both are the same length but the widths vary. The small is 0.5 inches wide, while the large is 0.8 inches wide.
‌Length:‌ 10' (small), 10' (large)
The best leash for small dogs
The Foggy Dog Flax Marine Top Dog Leash
This beauty of a dog leash is a splurge, but it's perfect for small and petite dogs. Made of double-braided nylon, the leash is weatherproof and won't mildew or fray. It feels soft on your hands, even when your dog pulls. It has clamped solid brass hardware on both ends, along with an O-ring for waste bags or keys. It comes in sizes petite and standard and is available in 16 stunning colors.
‌Length:‌ 4' (petite), 6' (standard)
‌Weight Limit:‌ 8 - 30 lbs. (petite), 35 - 200 lbs. (standard)
The best leash for two dogs
If you have two dogs, this bungee leash will make it much easier to walk them together. The rope leash can be used to walk one dog, and when you're walking both, attach the double bungee extension. The bungee has a no-tangle design that gives each dog room to walk while also acting as a shock absorber for you in case one or both dogs suddenly pull. A padded handle provides a comfortable grip, which you'll definitely need when walking two dogs. The leash comes with a waste bag ring, a sturdy metal clip, and it has reflective threads for nighttime walking. The bungee can be extended from 20 inches to 35 inches and it comes in six color options.
‌Length:‌ 2'9" rope (medium and large), 1'6" - 2'9" bungee (medium and large)
‌Weight Limit:‌ 8 - 35 lbs. (medium), 25 - 150 lbs. (large)
The best waterproof dog leash
This stylish, adjustable leash is made with a flex-poly-coated webbing strap, zinc alloy snap hooks, and coated carbon steel D-rings that prevent metal rattling. In other words, it's waterproof, odor-proof, durable with a high pull tolerance, and it won't rust. The leash is available in 10 fun colors in sizes standard and small. You can also separately purchase a matching poop bag carrier, collar, and harness.
‌Length:‌ 4'2" and can be adjusted to 3' (small), 5'5" and can be adjusted to 3'2" (standard)
The best reflective dog leash
Vibrant Life Reflective Comfort Dog Leash
This standard reflective leash is great for everyday dog walking. A padded hand loop makes it comfortable to hold. While the weight limits aren't listed, the company notes that the large size is ideal for labradors, golden retrievers, and boxers. The leash is currently available in two colors, purple or teal.
The best leash for dogs who pull
ThunderLeash No-Pull Dog Leash
No matter how much training you do, some dogs just pull. From the makers of the popular Thundershirt for dogs, this 2-in-1 harness leash is an effective way to offer consistent, safe, and gentle guidance while walking your dog. Although it may look complicated, the straps are actually very easy to put on. Just clip the leash to a collar and wrap it around your dog's torso. The handle is padded for your comfort. The leash is available in five colors and three sizes: extra-small, small, and large.
‌Length:‌ 5' (extra-small), 6' (small), 7' (large)
‌Weight Limit:‌ 0 - 12 lbs. (extra-small), 12 - 25 lbs. (small), over 25 lbs. (large)
The best hands-free dog leash
Tuff Mutt Hands-Free Bungee Leash
A hands-free leash essentially allows you to walk your dog while doing other things with your hands. With a shock-absorbing lead and two control handles, this Tuff Mutt leash is a great hands-free option for walking, running, hiking, and talking on the phone. The leash attaches to the included waist belt, which has a heavy-duty clip and a comfortable fit. A side belt clip gives your dog the space to move from side to side without getting tangled or tripped. The leash comes in multiple colors and one size.
‌Length:‌ 4' with an extension to 5'
‌Weight Limit:‌ 12 - 25 lbs. (small), over 25 lbs. (large)