If it's sweater weather for humans, it's sweater weather for dogs. Not all dogs need or want to wear a sweater, but when it's cold outside, it tends to be chilly inside, and some dogs can really benefit from a warm and cozy sweater—like small dogs, dogs with slender body types, short-haired breeds, dogs with medical issues, puppies, and older dogs.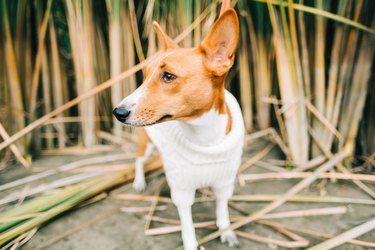 Dog sweaters vary from light pullovers to fleece to thick wool. The density of your dog's fur and the temperature outside will determine the thickness you should go for. A dog with thick fur won't need a thick sweater, and they may not even need a sweater at all. If your dog already has a warm jacket for outside, you might want to consider something lighter for inside the house. You also might want to choose a sweater that has a hole for your dog's leash to make walks easier, but it shouldn't be a deal-breaker if it doesn't, as you can always pull the top of the sweater down to attach the leash to the collar.
Whichever sweater you choose, you know it's going to be adorable, because a dog wearing a sweater is the absolute cutest.
What to consider when purchasing a dog sweater
‌Size:‌ The sweater your dog wears should fully cover their back, chest, and belly. It should be snug enough to not get in the way when your dog walks, plays, and goes outside to urinate, but it shouldn't be uncomfortably tight. To determine your dog's size, use a soft measuring tape to measure their body length, their chest at the widest point, and their neck circumference.
‌Material:‌ If your dog doesn't have a thick coat or a lot of body fat, you should choose a sweater with warmer material. While wool is a warm option for a sweater, it can be itchy for dogs and it isn't always easy to wash. Other materials like acrylic, fleece, and wool blends provide warmth while being soft, cozy, and easy to care for.
‌Style:‌ You wouldn't wear an ugly sweater (holiday ugly sweater parties not included), so why would you put your dog in one? Not all dog sweaters are going to be your style, but we promise there's at least one on this list that you'll like and won't mind looking at all day long.
Sweaters are a great way to keep dogs warm, but they're also super cute and snuggly. Check out our list of the coziest, most stylish sweaters below.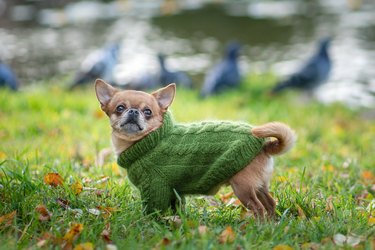 The best sweater for large dogs
Here's a sweater that would make Mr. Rogers proud. This classic turtleneck cable knit sweater is soft, cozy, and warm. It's easy to put on and take off, and it has a hole for the leash, making it efficient for walks. The back of the sweater is longer than the belly side, so you don't have to worry about it getting soaked with urine.
‌Sizing:‌ XS - L
‌Material:‌ Terylene
‌Color Options:‌ 7
‌Leash Hole:‌ Yes
‌Care:‌ Machine-wash
The best sweater for small dogs
It can be hard to find a sweater to fit a small dog, especially an extra-small dog, but this hoodie is made specifically for small breeds. While this one's more of a sweatshirt than a sweater, it gets the job done and looks extra cute while doing it. It's warm and has a snug fit—you just have to make sure you order the correct size according to your dog's measurements.
‌Size:‌ XXS - M
‌Material:‌ Woolen
‌Color Options:‌ 8
‌Leash Hole:‌ No
‌Care:‌ Hand-wash

The best budget-friendly dog sweater
This knit hoodie is made of 100% acrylic and features a functional pocket on the back. It's available in five sizes, ranging from extra-extra-small to large and there's even a maroon option if forest green isn't your fave. The pullover design makes it easy to put on and take off when your dog is over it. The sweater features a comfortable sleeveless fit and a keyhole for attaching a leash.
‌Size:‌ XXS - L
‌Material:‌ Acrylic
‌Color Options:‌ 2
‌Leash Hole:‌ Yes
‌Care:‌ Machine-wash
The best fashion-forward dog sweater
If you have a bit more money to spend, this fuzzy Christian Cowan X Maxbone jumper is sure to make a statement. Not only is the sweater chic and stylish with bold color options—hot pink, lavender, mint, and light blue—but it's also functional in cool weather. The Insta-famous jumper is made of acrylic and can be hand-washed using cold water.
‌Size:‌ S - XXL
‌Material:‌ Acrylic
‌Color Options‌: 4
‌Leash Hole:‌ No
‌Care:‌ Hand-wash
The best trendy dog sweater
You and your dog will both love this hoodie with a modern, asymmetrical three-color design. It's made of breathable polyester to keep your dog as warm and comfortable as possible. A higher-cut belly ensures that your dog will be able to wear it on walks, but in the event that it does get dirty, it's machine-washable.
‌Size:‌ XS - XL
‌Material:‌ Polyester, fleece
‌Color Options:‌ 3
‌Leash Hole:‌ Yes
‌Care:‌ Machine-wash
The best reflective dog sweater
This sweater won't just keep your dog warm while hanging out at home or on walks, it's also reflective for better nighttime visibility. The reflective threads are woven into the knit sweater, which is made with recycled materials. It's more of a midweight sweater, so it's best for dogs with thicker fur or to use in temperatures that aren't freezing.
‌Size:‌ XS - XXL
‌Materials:‌ Recycled materials
‌Color Options:‌ 1
‌Leash Hole:‌ Yes
‌Care:‌ Machine-wash
The best fleece dog sweater
This is a great go-to sweater when it's cold outside. Made of stretchy fleece, this sweater retains heat to keep your dog warm whether they're on a walk outside or lounging around inside. It has an extra-long design that even works for long dog breeds like Dachshunds. The 10 size options make it easy to find the size that perfectly fits your dog. There are 19 colors to choose from, so you're bound to find something that works.
‌Size:‌ XS - 6XL
‌Material:‌ Fleece
‌Color Options:‌ 19
‌Leash Hole:‌ No
‌Care:‌ Machine-wash
The best full-coverage dog sweater
Your dog will be kept extra warm in this ultra-plush hoodie with front pant legs that make it feel like a full-blown sweatsuit. The dog may get mistaken for Rocky Balboa, but that's to be expected. The hood can be adjusted by tightening the strings, and the cut on the belly leaves room for potty breaks.
‌Size:‌ XS - L
‌Material:‌ Plush cotton
‌Color Options:‌ 5
‌Leash Hole:‌ Yes
‌Care:‌ Machine-wash
This sweater is special. Not only is it adorable and stylish, but it's also hand-knit by artisan knitters from the highlands of South America. It's made of 100% natural, renewable, and non-allergenic organic wool to keep your dog extra warm. In fact, the sweater's eco-friendly design uses only plant-sourced, natural dyes and Fair Trade wool sourced from small Andean farms.
‌Size:‌ XXS - XXXL
‌Material:‌ Wool
‌Color Options:‌ 1
‌Leash Hole:‌ No
‌Care:‌ Machine-wash