Freeze-dried dog treats are a healthy and delicious way to reward your dog. They can help with training, provide added nutrients to your dog's diet, and offer mental stimulation. Most freeze-dried dog treats are made from humanely raised, cage-free, grass-fed, or wild-caught animals. They can be given whole or crumbled over dog food, and they can even be rehydrated as a tasty incentive.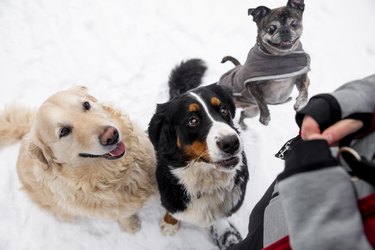 The process of freeze-drying removes water and preserves nutrients, which doesn't have any significant effect on the texture, taste, and smell of the meat. Even though the treats will smell good to your dog, just know that the more repulsed you are from the odor when you open the bag, the more your dog will love them. Dog noses are funny that way.
Some freeze-dried dog treats are made from raw meat while others are made from cooked meat. Dehydrated meat holds onto nutrients and natural enzymes better than other processed dog treats and food. With all the water evaporated, the shelf life of freeze-dried is longer than regular treats. If they are stored in a room with little to no humidity, the treats can stay fresh up to a year after being opened or up to 18 months unopened.
What to Consider When Purchasing Freeze-Dried Dog Treats
​Ingredients:​ The most common ingredients in freeze-dried dog treats are beef, turkey, chicken, salmon, lamb, and occasionally some vegetables. The freeze-drying process doesn't involve adding chemicals or preservatives, so you know the treats are safe and natural. In fact, the healthiest freeze-dried treats only have one ingredient: the meat itself.
​Flavor:​ Since the freeze-drying process enhances the flavor of the meat, your dog shouldn't have a problem with the taste. You just need to make sure you buy a flavor that your dog enjoys. A dog who has no interest in salmon kibble is likely not going to be up for eating salmon treats.
​Allergies:​ The majority of freeze-dried foods are grain-free, but some are not. If your dog is allergic to grains, chicken, or any other type of food, be sure to check the list of ingredients (which usually consists of just the meat) to make sure it isn't present in the treats. Dog treats that have artificial flavors, colors, or additives can cause allergies or irritations.
We rounded up the very best freeze-dried dog treats of 2022. Check them out below.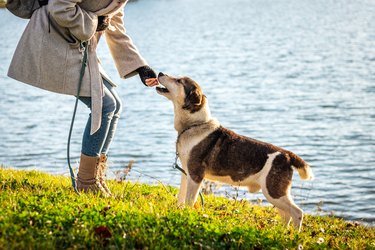 Halo Liv-A-Littles Chicken Dog Treats
Made in the U.S., these chicken treats are sustainably sourced and free from artificial ingredients or preservatives. The entire chicken breast is freeze-dried t prevent shrinking and toughening. They're packed in a portable jar with an easy-to-close lid that keeps the treats flavorful and fresh.
​Flavor Options:​ Chicken, salmon, beef
​Sizes:​ 1.7 oz., 2.2 oz., 3.0 oz., 3.7 oz.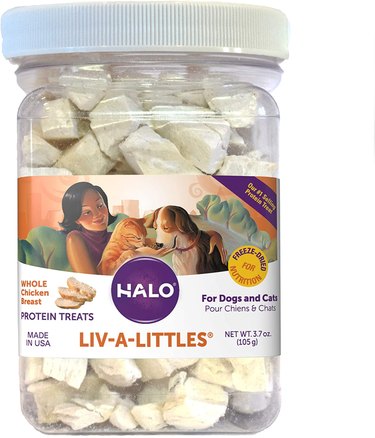 Life Essentials Freeze-Dried Chicken
These freeze-dried chicken treats are pure and savory. They're made in the U.S. with only one ingredient: chicken breast. It's been sliced into chunks and freeze-dried without the use of chemicals, additives, or preservatives. The treats are high-protein and low-calorie.
​Flavor Options:​ Chicken, salmon, beef
​Sizes:​ 2 oz. bag, 5 oz. bag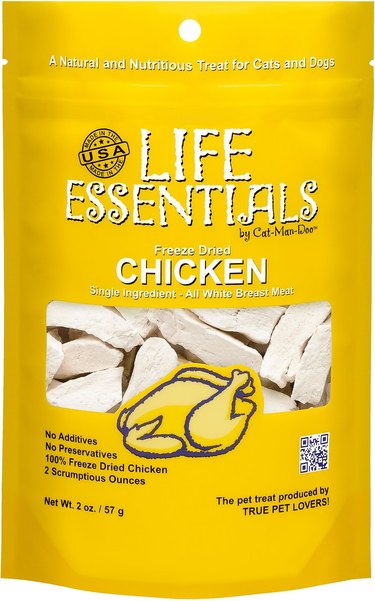 WholeHearted Chicken Breast
Chicken is the only ingredient in this bag of treats. Each strip of protein is flash frozen and dehydrated to create a flavorful snack that's free from preservatives but still manages to have a long shelf life.
​Flavor Options:​ Chicken
​Sizes:​ 3 oz. bag, 7 oz. bag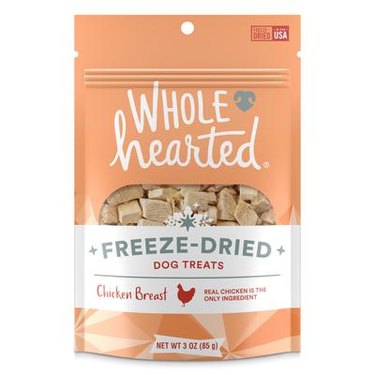 A Better Treat Wild Caught Salmon
Your dog will love these salmon treats. They're made in the U.S. from wild-caught Alaskan salmon. They are high in protein, gluten-free, grain-free, diabetic-friendly, and contain natural fish oil without being greasy. The treats are bite-sized and great for small, medium, or large dogs.
​Flavor Options:​ Salmon
​Sizes:​ 3 oz. bag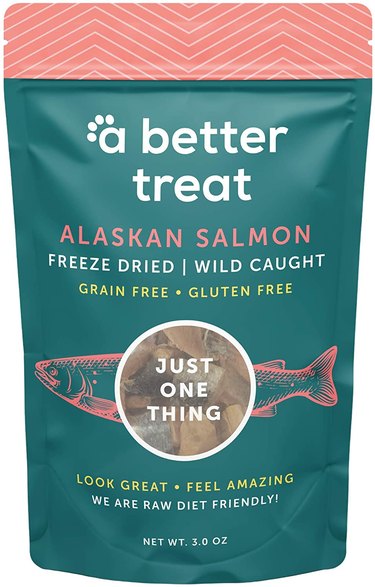 Tylee's Freeze-Dried Salmon
Technically, you could eat these human-grade freeze-dried salmon treats—not that you'd want to. But your dog will definitely want to because these treats are full of salmon flavor. They have no artificial preservatives, are 100% grain-free, and have full nutritional value. The treats can be served as they are, or you can rehydrate them with water and use them as a tasty meal topper.
​Flavor options:​ Salmon
​Sizes:​ 3.5 oz. bag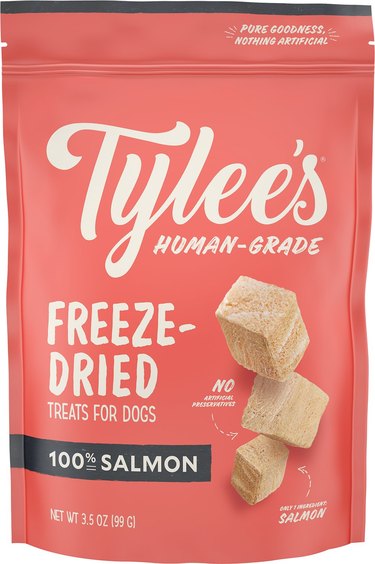 Made of pure raw beef liver, these freeze-dried snacks are rich in nutrients and high in protein with an average of 5 calories per treat. The company recommends these treats for dogs who have health issues, especially those that are overweight, diabetic, suffer from allergies or gastrointestinal disorders, or who are on a restricted diet.
​Flavor Options:​ Beef liver
​Sizes:​ 6.98 oz. bag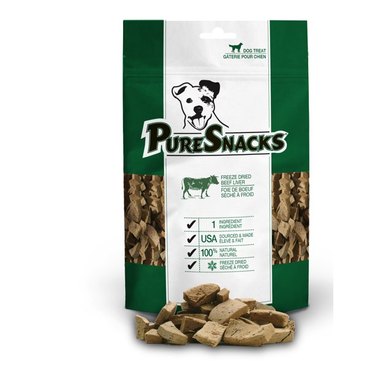 Steward Pro Treat Raw Beef Liver
These savory, high-quality beef liver treats are made from 100% raw liver and have a meaty flavor your dog will love. The treats are bite-sized, making them perfect for training and rewards. They are made in the U.S. and are free of preservatives and additives.
​Flavor Options:​ Beef liver
​Sizes:​ 2 oz. tub, 4 oz. tub, 12 oz. tub, 14 oz. tub, 21 oz. tub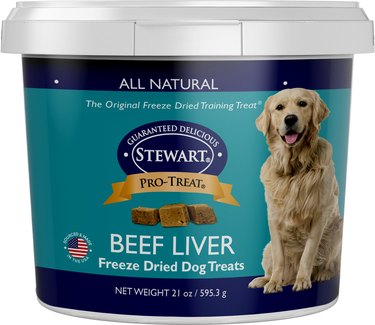 Primal Freeze-Dried Beef Nuggets
These USDA-certified organic beef nuggets are freeze-dried, but they can easily be rehydrated to mix it up a bit. Simply portion, crumble, and add warm water, bone broth, or raw goat's milk, and mix and serve.
​Flavor Options:​ Beef
​Sizes:​ 5.5 oz. bag, 14 oz. bag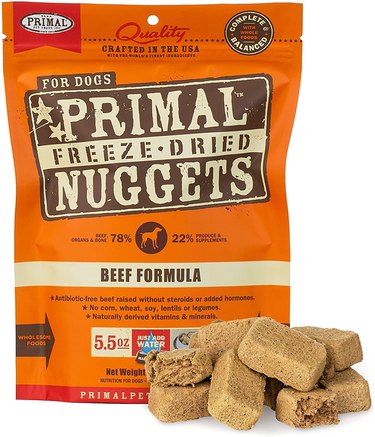 Sojos Simply Freeze-Dried Turkey
If your dog enjoys the taste and smell of turkey, they'll love these 100% raw, freeze-dried, bite-sized treats. Like most freeze-dried treats, they're free of preservatives, artificial flavors, and artificial colors. Their small size makes them ideal for training dogs of all sizes.
​Flavor Options:​ Turkey
​Sizes:​ 4 oz. bag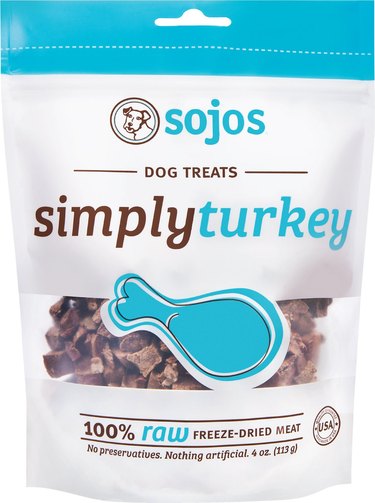 Stewart Freeze-Dried Turkey Liver
These single-ingredient dog treats are USDA-certified and made from human-grade meat. They're natural, gluten-free, soy-free, grain-free, and corn-free with no artificial anything. The selection is huge, so you're bound to find something that works for your dog.
​Flavor Options:​ Turkey liver, chicken liver, chicken, beef liver, pork liver, salmon, duck liver, lamb liver, cheddar cheese
​Sizes:​ 15 options, ranging from 1.5 oz. to 1.31 lbs.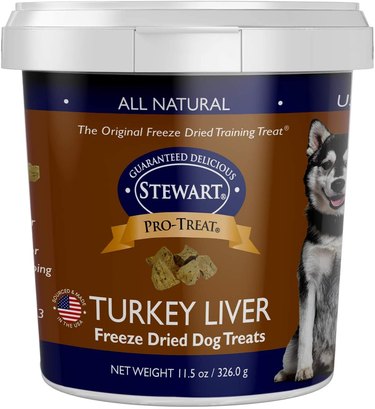 Stella & Chewy's Freeze-Dried Lamb Liver
There's one ingredient in this pack of raw freeze-dried treats. There are several types of meat to choose from, including lamb liver, which is poultry-free, grain-free, and gluten-free. These treats are made from raw meat, which can support healthy digestion, strong teeth and gums, and help develop clear skin and a shiny coat.
​Flavor Options:​ Lamb liver, lamb heart, chicken, chicken heart, beef heart, beef liver
​Sizes:​ 2.75 oz. bag, 3 oz. bag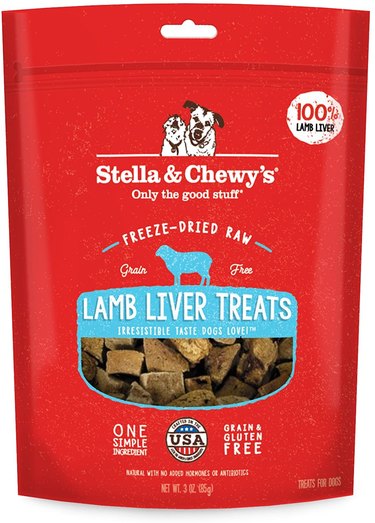 Northwest Naturals Lamb Liver Raw Rewards
These raw lamb liver treats are chewy, savory, and likely right up your dog's alley. They're full of flavor and made with natural ingredients with no added hormones or antibiotics.
​Flavor options:​ Lamb liver, minnow, shrimp, green-lipped mussels, white fish, salmon, chicken, beef liver, bison liver, chicken liver, pork liver
​Sizes:​ 12 options, ranging from 1 oz. to 10 oz.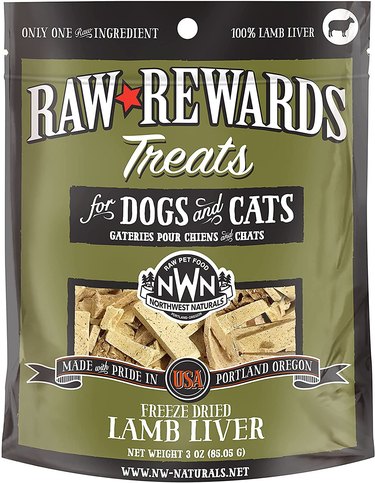 PureBites Mini Lamb Liver Trainers
New Zealand-sourced, human-grade lamb liver is the only ingredient in these treats. Each piece is high in protein and has an average of only 1 calorie. They are the perfect size for training puppies and small dogs, as well as ideal for dogs who are overweight or diabetic, have allergies or gastrointestinal disorders, or who are on a restricted diet. Each bag contains around 250 treats.
​Flavor options:​ Lamb liver
​Sizes:​ 2.4 oz. bag