Dogs love treats, but they can be picky about the texture. Some dogs enjoy hard, crunchy treats, some prefer the toughness of jerky, and others like treats that are soft and easy to chew. Even if soft treats aren't your dog's preference (or maybe they don't have a preference at all and take the "a treat's a treat, just give it to me" stance), they can be beneficial for dogs with dental problems, puppies, and senior dogs who aren't able to chew anything hard.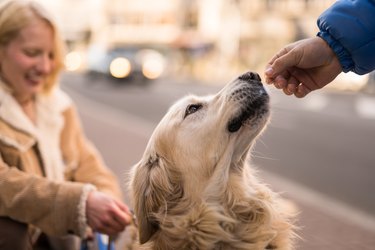 Soft treats consist of chewy or freeze-dried treats. They typically have a stronger odor than a crunchy treat, so they work well for puppy training and as rewards for dogs of all ages and sizes.
It can be easy to give your dog all the treats they want (hello, puppy dog eyes), but according to the American Kennel Club (AKC), treats should only account for 10% or less of your dog's daily calories. That's something to keep in mind when your dog wants all the treats all the time.
What to Consider When Purchasing Soft Dog Treats
​Ingredients:​ The best soft dog treats will be a tasty snack for your dog, but they should also be full of nutrition and minimal ingredients. The fewer ingredients, the healthier and easier to digest they'll be for your dog. Look for treats that are free of grains, soy, and corn. While it's ideal to purchase treats that are made with only natural ingredients, many soft dog treats are made with preservatives like vegetable glycerin, a type of preservative that keeps treats moist, but it's also high in sugar. If your dog is diabetic or has weight issues, it's best to choose an alternative treat with little to no sugar.
​Flavor:​ Treats come in all types of flavors that dogs like, including meat, poultry, fish, peanut butter, cheese, and vegetables. If you know your dog is drawn to a certain flavor, it's a safe move to stick with what works.
​Calories:​ The best soft dog treats aren't just made with high-quality ingredients, they should also be low in calories so you can offer them as rewards while also supporting your dog's health. Few treats are made with the appropriate balance of nutrition that your dog needs, so a high-calorie treat might add up to too many calories per day. Not all dog treat manufacturers include the caloric content on the packaging, but if your dog is overweight or has been recommended by a veterinarian to watch their calories, you might need to consider limiting the number of treats given to them per day.
There are an overwhelming amount of soft dog treat products available on the internet, so we rounded up the best ones of 2022.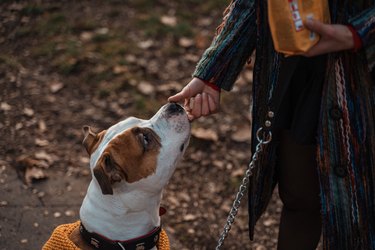 1. Buddy Biscuits Training-Size Soft Treats
Buddy Biscuits are soft and chewy and made in the U.S. Flavor options include peanut butter, bacon and cheese, and chicken—all made without corn, soy, yeast, sugar, salt, fillers, artificial flavors, or additives. The size of the treats is great for small, medium, and large dogs. Choose from a single 6-ounce bag, a four-pack of 6-ounce bags, or a 1.25-pound bag.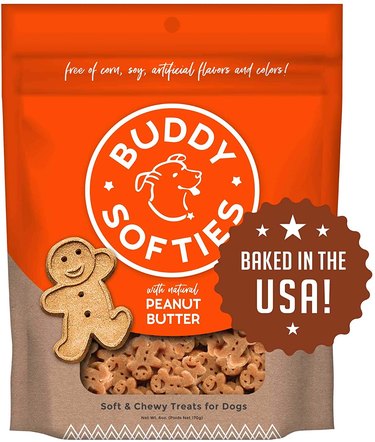 2. Zuke's Mini Naturals Chicken Recipe
Reward your dog with one of these mini chicken treats. Since they're mini and only 3 calories per bite, they are ideal for training. The number one ingredient is real chicken, along with other natural ingredients like whole food berries. These soft treats are free from corn, wheat, and soy, and they come in a resealable pouch. They are available in a 6-ounce or 1-pound bag.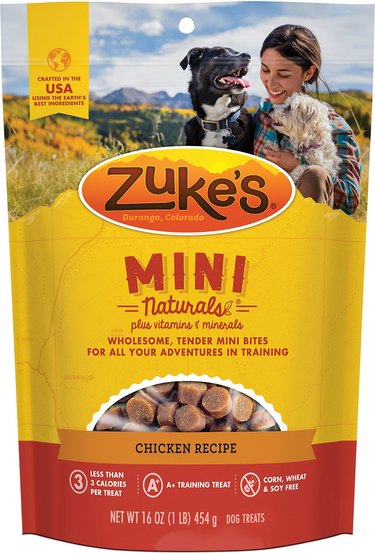 3. Merrick Power Bites Real Texas Beef
Your dog will love these grain-free and gluten-free bites. They're made from 100% natural ingredients, with real, deboned beef ranking at the top, and are free from artificial flavors and colors. They're also full of protein and omega fatty acids to help build and maintain healthy muscle tissue and healthy skin and coat. This 6-ounce bag is U.S.-made.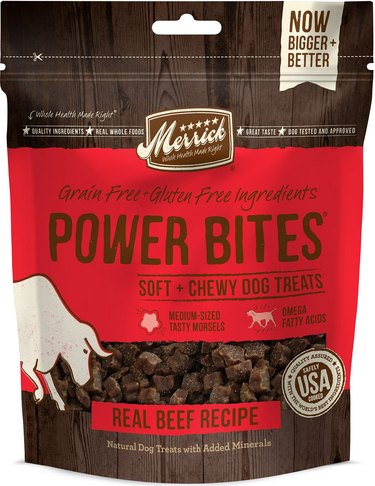 4. Hill's Grain-Free Soft-Baked Naturals Dog Treats
These U.S.-made, grain-free treats are soft and made with real meat. They don't have any preservatives or artificial flavoring. If your dog doesn't like them or if you aren't satisfied with the product, you can return them for a full refund—even if the bag is half empty. The treats are available in an 8-ounce bag in three flavors: beef and sweet potatoes, chicken and carrots, and duck and pumpkin.
5. American Journey Turkey Recipe
Made with real turkey and vegetables, these treats look, smell, and taste like they're right out of the oven. They are all natural and crafted with simple ingredients that are full of nutrition. You can even see chunks of carrots and peas inside. The 8-ounce bags are made in the U.S. and free of grains, wheat, corn, soy, poultry by-products, and artificial preservatives, flavors, and colors.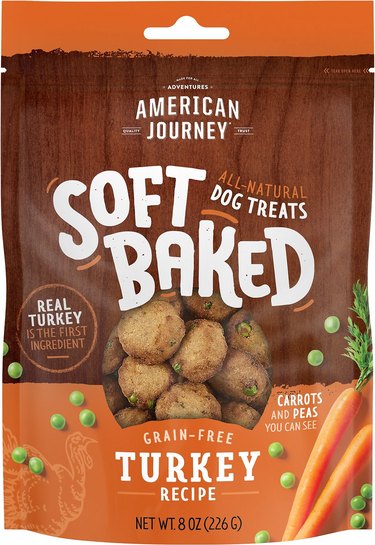 6. Bil-Jac VetDogs Veteran's K-9 Corps Chicken Dog Treats
The first ingredient in these soft dog treats is chicken, so you know your dog is getting a healthy dose of protein. The treats also contain naturally sourced linoleic acid to help support healthy skin and coats. The purchase of this affordable 10-ounce bag helps provide assistance dogs to disabled veterans.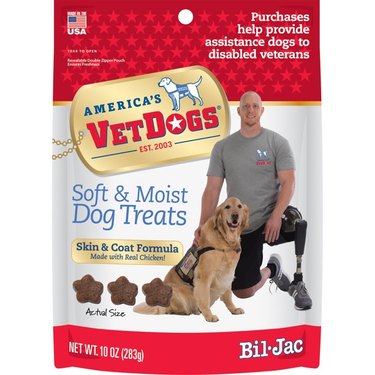 7. Milo's Kitchen Chicken Meatballs
The only thing better than a regular dog treat is a homestyle dog treat that looks, tastes, and feels like real food. These chicken meatballs don't just look like meatballs, they're actually meatballs, and they're packed full of irresistible flavor. All dog breeds will enjoy these, but smaller dogs might need to have them broken apart to avoid choking. Choose from a 10-ounce or 18-ounce bag.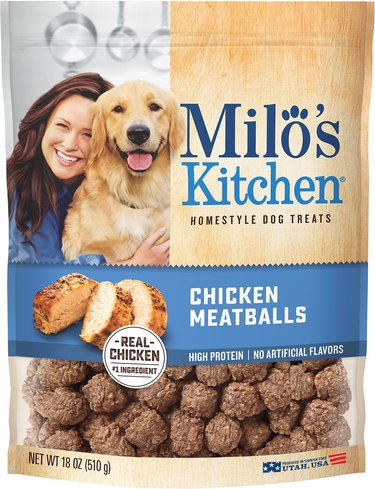 8. Blue Buffalo Blue Bits Natural Dog Treats
Real beef or real chicken is the first ingredient in these chewy morsels. The heart-shaped treats are the perfect size for training and contain just 3.5 calories each. They're enhanced with Omega-6 fatty acids, contributing to healthy skin and coat, as well as DHA to support cognitive functions in young pups. Blue Bits are made without animal by-products, corn, wheat, soy, or artificial preservatives and colors. They're available in two other flavors, salmon or turkey, and bag sizes that range from 4 ounces to 19 ounces.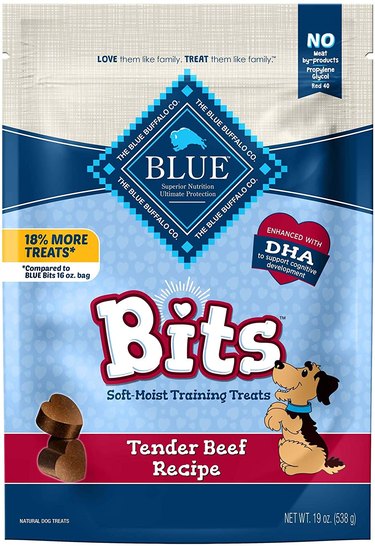 9. Rachael Ray Nutrish Meatballs
Rachael Ray is a world-renowned chef, so you know her food for dogs is going to be delicious. This line of treats offers several options, including beef with bison burger bites, meatballs, hickory-smoked turkey bacon, roasted chicken, oven browned chicken, and chicken 'n waffle bites. There are no corn, wheat, gluten, artificial flavors, or meat by-products. The treats come in 3-ounce, 5-ounce, or 12-ounce bags.
If your dog is open to unique flavors, they'll love these soft dog treats from Smart Cookie. The flavors include rabbit and pumpkin, duck and squash, wild boar and sweet potato, and trout and apple. They are made in the U.S. with wholesome, human-grade ingredients that are sourced from farms and ranches. The treats are jam-packed with protein and are excellent for dogs with allergies or sensitive stomachs. They come in 5-ounce bags and are grain-free with no wheat, corn, or soy.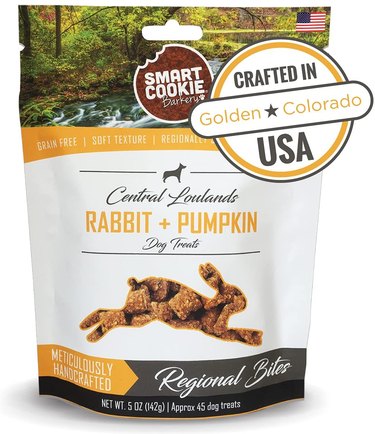 11. Milk-Bone Soft and Chewy Dog Treats
Your dog has probably eaten at least one Milk-Bone in their lifetime, but these aren't the crunchy ones they might be used to. They're soft and chewy, made with real beef or chicken breast, and fortified with 12 vitamins and minerals. The treats are ideal for dogs of all sizes, although they're easy to break into smaller pieces if that's what your dog prefers. Choose from beef or chicken in a 5.6-ounce pack or a 25-ounce pack.
12. Jiminy's Cricket Soft and Chewy Training Treats
These fun and unique soft treats are made in the U.S., and they're gluten-free, hypoallergenic, and contain limited ingredients. They are made with sweet potatoes, peas, oats, and crickets. Yes, crickets. Crickets might sound like a weird thing to put in dog treats, but they're actually full of protein, iron, vitamin B12, all essential amino acids, omegas, and a prebiotic that feeds the good bacteria in your dog's gut. They come in a 6-ounce bag.