A pill pocket is a dog treat designed to hold a dog's medication or supplement—either in pill or powder form. Its purpose is to hide the taste, texture, look, and smell of medication your dog might otherwise spit out or refuse to eat altogether. Pill pockets are tricky, and that's exactly the point. Dogs who need to take pills for important health reasons don't understand the benefits. They just know that pills aren't delicious, so why would they eat them? So, yes, you're tricking your dog who refuses to take a pill by placing a pill inside a treat, but it's a win/win—your dog takes their medicine and they eat a treat. No harm no foul.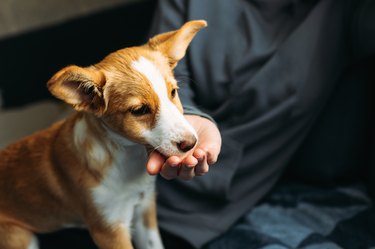 While there are a few different tricks you can try to entice your dog to take pills (including peanut butter and cheese, which can be higher in calories and messy), the most efficient and least stressful way to get it done (for both you and your dog) is by using pill pockets.
What to Consider When Purchasing Pill Pockets for Your Dog
​Pill Size:​ The pill needs to completely fit inside the pill pocket to adequately disguise it. Pill pockets tend to be soft enough to place the pill inside and pinch the top of the pocket together to hide the pill. Other types of medication can also be placed or sprinkled in a pill pocket. Most pill pockets are recommended for dogs of all sizes.
​Flavor:​ Choose the flavor your dog will enjoy most. If your dog doesn't like peanut butter, they're not going to eat a peanut butter-flavored pill pocket with a pill inside that they also don't want to eat. The most popular pill pockets come in chicken, bacon, or salmon flavors, and of course, peanut butter. Not only should your dog find the flavor appetizing, but they should also be attracted to the scent as that's typically a dog's initial way of deciding whether or not to try something.
​Quantity:​ If your dog needs to take a pill every day, you should consider a value size pack. If you're buying pill pockets for once-a-month flea pill or medication to be taken as-needed, a bag with a smaller quantity makes the most sense so they don't dry out.
​Ingredients:​ It's important to look at the ingredients of a pill pocket if your dog has food sensitivities or is dealing with weight issues. Limited ingredients are generally your best bet, and you should try to avoid artificial preservatives.
Alright, now it's time for the fun part. Check out our top picks for the best pill pockets for dogs below.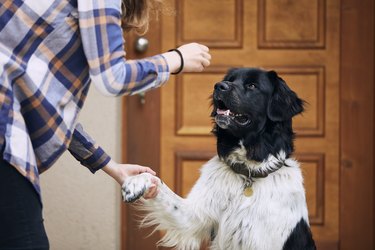 The most popular pill pockets come from Greenies, a well-known company that makes dog and cat treats. They are veterinarian recommended and the perfect size to fit a capsule inside. All you need to do is place the pill inside, pinch the top, and give it to your dog. Choose from 30 or 60 of these peanut butter flavored pill pockets, as well as a case of six packages of 30 pill pockets.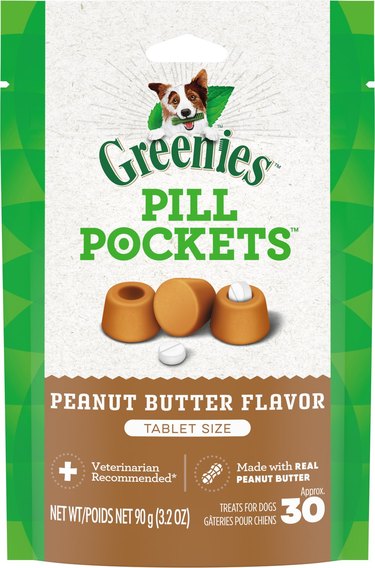 2. VetIQ Chicken Flavored Pill Dog Treats
These chicken-flavored pill treats can be used with capsules or tablets for all dog sizes. The veterinarian recommended pack comes with 30 chews. The cylindrical shape of these pill pockets means they are the right size for many different types of medications. The "tubes" are open at both ends to make it easier to enclose your dog's pill or tablet. The texture, however, tends to be a little firmer than Greenies.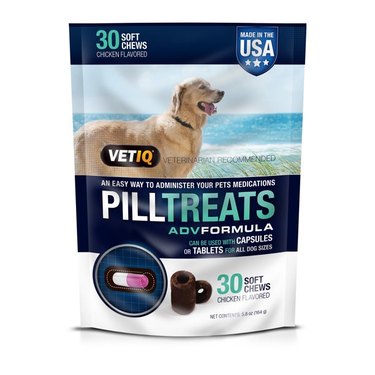 3. Presido Pill Buddy Naturals
Your dog will get nothing but the best natural ingredients with these pill pockets from Presido. They are free of corn, wheat, soy, and anything artificial. They're perfect for dogs of all sizes who need an easy pill delivery system. The pill pockets are wrapped in pairs to preserve freshness and to prevent drying or cracking. There are six flavors to choose from: chicken, grilled duck, hickory-smoked beef, peanut butter and apple, peanut butter and banana, and peanut butter and honey.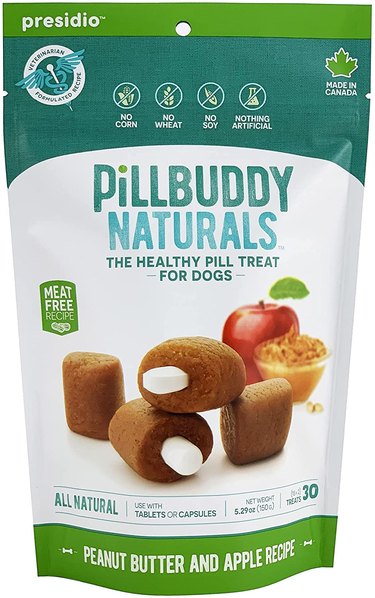 4. Milk-Bone Pill Pouches
If you aren't sure if pill pockets will work for your dog, this Milk-Bone pack is a good way to test them. There are only 25 chews inside and the pack is very budget-friendly. These pill pockets don't have any by-products or artificial flavors, and they fit most capsules or tablets. If your dog likes chicken flavor, they'll love these.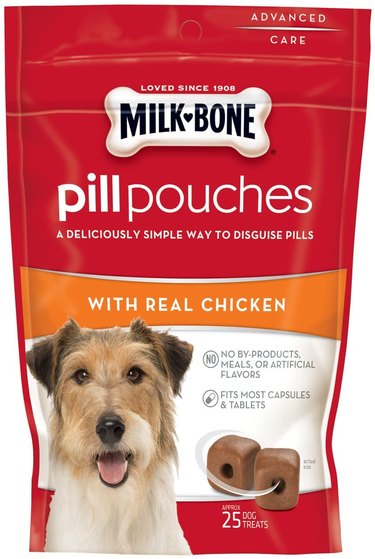 5. Pet MD Wrap A Pill Paste
Pet MD's version of pill pockets is actually a paste, which gives you more leeway with the sizing. Simply scoop out however much paste you need and wrap it around a pill or capsule. This veterinarian recommended paste won't dry out or crumble, which would make it impossible to wrap a pill inside. It comes in a cheese and bacon flavor that most dogs have a hard time turning down. The paste comes in a 4.2-ounce or an 8-ounce pack.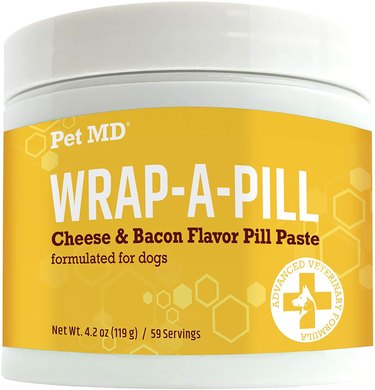 6. Treatibles Happy Joints Mobility Pill Wrap
In addition to being a pill wrap, these salmon-flavored Treatible chewables have glucosamine, green-lipped mussel, Boswellia, and CBD-free omega 3 rich hemp seed oil, providing joint support for both dogs and cats. So, while they're ideal for administering pills, they're also great for helping to ease joint discomfort.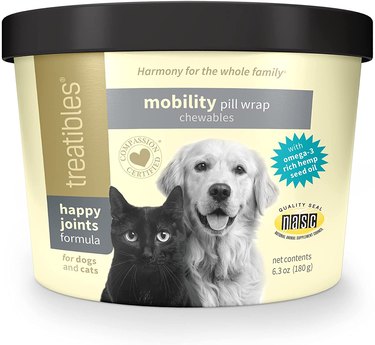 Zoë Pill Pops are wrapped in pairs for maximum freshness, and they're made of 100% natural ingredients with no corn, wheat, soy, or artificial flavors or preservatives. The flavor choices are a bit more unique than other options, including butter and honey, roasted chicken with rosemary, and grilled beef with ginger. So, if your dog is open to any and all flavors, these might be a hit.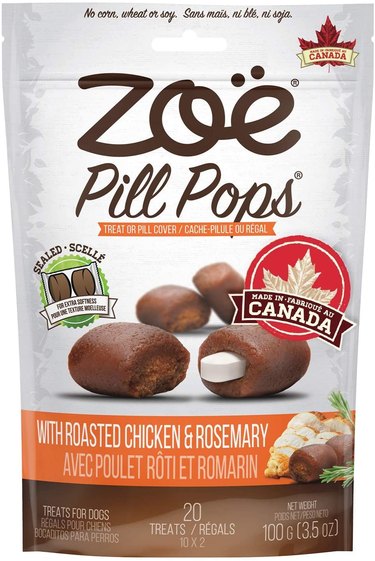 8. Medi-Crunch Pill Pouch
Medi-Crunch's pill pockets look like tiny, adorable ice cream cones. The inside has a soft, creamy peanut butter center that adheres to the pill or capsule when placed inside. It's small enough to be a low-calorie treat, but large enough to hold up to two pills. They are veterinarian recommended and dog approved.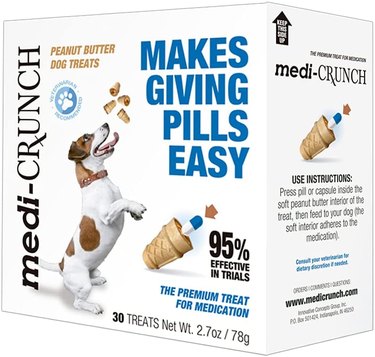 9. Vetriscience Pinchers Probiotic Pill Pockets
These pinchers aren't just helpful with administering your dog's medication, they also contain probiotics that support digestive and immune health. They're made with organic peanut butter to mask the scent of the pills, and they don't contain wheat, soy, or corn. They're sold in a two-pack and each bag contains 45 treats.