Agility is a fast-paced sport for dogs and handlers. Setting up an agility course can be an enjoyable way to give your dog exercise and mental stimulation in your home or yard. When setting up an agility course for your dog at home, go at your dog's pace. Higher doesn't equal better and the goal shouldn't be to see how high your dog can jump. Instead, focus on making sure your dog is confident with everything you are doing. Use treats to introduce obstacles to your dog and have fun setting up different courses to lead your dog through.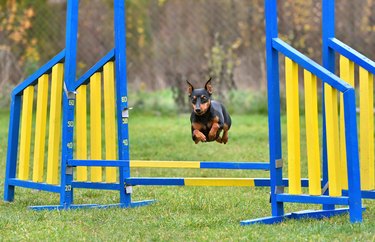 What To Consider When Purchasing Dog Agility Equipment
​Space:​ When creating a home agility course for your dog, consider how much space you have to work with. If you live in a small apartment, you might want to opt for collapsible equipment that can be tucked away in a closet when not in use. Also, make sure that any equipment you purchase fits into the space you have and doesn't cause your dog to run into a wall or fence while completing the course.
​Goals:​ If you have dreams of someday competing with your dog in agility, it's a good idea to purchase the best equipment you can afford that is closest to what your dog will experience in an actual agility class or competition. For example, purchasing a tunnel that is the same diameter as an actual agility tunnel, and jumps that look like what your dog will encounter in a class or competition.
​Footing:​ If you are going to be setting up a home agility course for your dog, it's important to consider the flooring or ground surface. Dogs should not be asked to run or jump on hard or slick surfaces such as hardwood, tile, or concrete. These surfaces don't provide support for dogs as they land, and could lead to them slipping or suffering orthopedic injuries. Instead, soft surfaces like grass or carpet are better because they provide traction and cushioning for dogs as they run and jump. Before making a purchase, ensure that you have appropriate flooring in the area where you want to put the agility obstacles.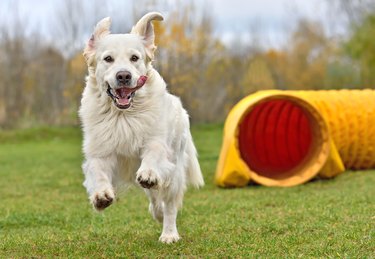 The Best Agility Weave Poles
These poles can be used indoors or outdoors and are ideal for teaching dogs to weave. They are designed for at-home use but are competition-grade—perfect for practicing between agility classes. The flat metal base is comparable to what dogs will see in agility competitions. The heavy-duty blue and yellow poles are regulation size at 3.25 feet long and can be adjusted up to 25 inches apart. Stakes are included to secure the base to the ground but are not necessary if you intend to use the poles indoors or on artificial turf. Everything is collapsible and folds up neatly into a carrying case. The adjustable spacing of the poles works well for teaching weaving via the channel method, in which the handler moves the poles closer together slowly.
Metal base consists of 5, 25.5-inch-long sections
Support feet are 11 inches long
Pole distance can be adjusted up to 25 inches apart
Poles are 3.25 feet long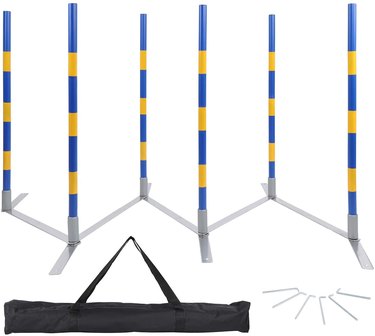 The Best Collapsible Agility Tunnel
Houseables Dog Tunnel,18 Ft Long, 24" Opening
This collapsible tunnel is made with waterproof, tear-resistant 600D Dacron Oxford fabric. The tunnel is 18 feet long with a 24-inch opening, which is the same diameter as tunnels used in agility competitions. It's best suited for small to medium dogs but has a weight limit of 90 pounds. The tunnel comes with a zipped carrying case and seven zinc-plated metal stakes that can be inserted through grommet tabs on the tunnel to keep it in place during outdoor play. When in use, the tunnel can be positioned in a straight or curving line. The tunnel is easy to set up or collapse—it's akin to a children's pop-up tent—and folds up tightly for storage and transportation.
24-inch diameter opening
18 feet long
Collapsible with carrying case
Includes rust-resistant metal stakes
The Best Heavy-Duty Agility Tunnel
Cool Runners Agility Tuff Tunnel, 10' Long, 24" Opening
If you're looking for a sturdier tunnel option, this 10-foot tunnel is made from tough, 16-ounce PVC. The tunnel is designed for large, fast, and strong dogs to practice their agility skills at home. The tunnel is 24 inches in diameter and the same size used in actual competition. The tunnel can be positioned in a straight line or curved into a "C" shape. Although designed for large and fast dogs, this tunnel is still easy to move and store when not in use. The tunnel is a close replica of the tunnels dogs will see on an actual agility course or in a class.
24-inch diameter opening
16-ounce PVC construction
10 feet long
Folds up for storage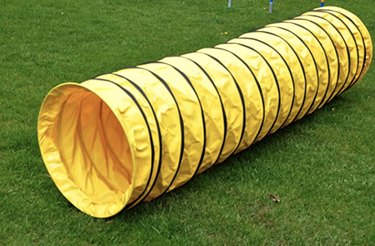 The Best Confidence Builder
FitPAWS Dog Balancing Wobble Board
A great way to introduce your dog to unstable surfaces under their feet (like the agility teeter) is to get them a wobble board. The board rotates 360 degrees and provides multi-directional balance challenges for dogs. The board helps dogs develop and improve their core strength. It features a textured, non-slip surface to provide traction for dogs and comes in two sizes, 20 inches or 36 inches. The smaller version has a 2.5-inch fulcrum (the ball underneath the board), while the larger version has three interchangeable fulcrums and can accommodate medium to large dogs. Capacity-wise, the balance board can hold up to 500 pounds.
20-inch or 36-inch wobble board
Small size weighs 9 pounds, large size weighs 21 pounds
Can support dogs up 500 pounds
2.5-inch fulcrum (small), 3 interchangeable fulcrums (large)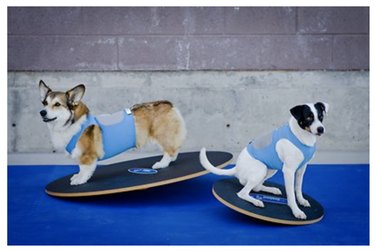 Jump Start Practice Dog Agility Jump
Ideal for backyard play, this practice agility jump is great for introducing your dog to the kinds of jumps they will encounter in actual agility courses. This 4-foot-wide bar jump is made from durable, UV-stable polypropylene. It has two clips on jump cups that can be easily adjusted to all jump heights. The jump bar sits on the cups but will fall off if your dog hits the bar—albeit without tipping the entire jump to avoid frightening your dog. The 1-inch pipe is made from furniture-grade PVC, and the jump uprights are three feet high. This jump is available with blue, purple, and red accents with white bars.
Uprights measure 3 feet high
Jump bases are 14 inches wide
PVC pipes are 1.4 inches in diameter
The Best Home Agility Set
Better Sporting Dogs Deluxe Agility Equipment Set
This kit has everything you need to create a dynamic, interactive agility course for your dog at home. The seven-piece kit includes a tire jump that is 24 inches in diameter (competition size); a set of six weave poles; a 10-foot tunnel that's 24 inches in diameter (standard competition size) and can be positioned in a straight line or bent into a U-shape; a chute tunnel; a pause box; and two adjustable jumps. The kit also comes with three tunnel support bags, which can be filled with sand to provide stability to the tunnels as your dog runs through them. The kit is collapsible and can be broken down into the included carrying case for storage or travel. This agility set is ideal for use inside or outside.
Tire jump is 13 inches in diameter
10-foot tunnel
Adjustable bar jumps are 26 inches wide
Fully collapsible, includes carrying case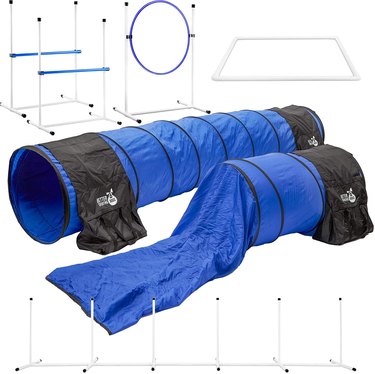 Affordable Agility Mini Travel Teeter
Designed for dogs under 60 pounds, this travel-sized teeter is perfect for dog owners wanting to take their at-home agility course to the next level. The teeter comes apart into four pieces for easy storage, and the sections lock together with pins for stability while in use. It's built with PVC plastic boards that resist warping over time. The teeter is equipped with an anti-slip surface and is 8 feet long, 11 inches wide, and 13 inches high.
Intended for dogs under 60 pounds
Anti-slip surface
8 feet long by 11 inches wide and 13 inches high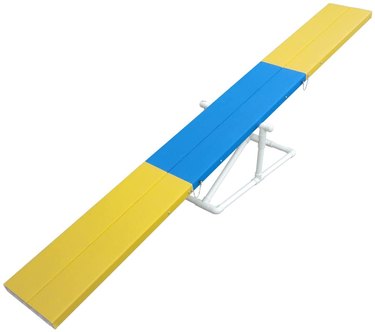 The Best Agility Tilt Board
Cato Plank with Tilt Stand
If you're looking to add a teeter-like activity into your home agility course but don't have a lot of space, this catio plank and tilt stand is a compact option. The tilt stand allows you to make the incline steeper as your dog grows more confident with the movement under their feet. The tilt has 2-inch, 5-inch, and 10-inch height options. The plank's non-skid surface gives dogs some traction and helps to prevent slipping. You can also remove the tilt stand and use the catio board as a pause table in your home agility course.
2-, 5-, and 10-inch tilt options
Catio plank is 12 inches wide, 36 inches long, 3.5 inches high
Non-skid surface, high-grip rubber feet
The Best Agility Jump Set
PawHut 6 Piece Dog Agility Equipment
This six-jump set is a great way to quickly construct an agility course at home. The lightweight jumps have moveable jump cups, allowing you to adjust their heights with ease. The top bar sits on the jump cups and will fall if your dog hits it while jumping—this is intended to prevent your dog from toppling the whole jump. The jumps are orange and white striped and can be set up inside or outside. They can be broken down quickly and put into a portable carrying case for easy storage when not in use.
DIMENSION: High Jumper Dimension: 38.5"L x 26.5"W x 36.5"H, Adjustable Bar Height: 6"-33.5".
Fully collapsible
Jumps are adjustable, ranging from 6 to 33.5 inches high
Each jump measures 38.5 inches long, 26.5 inches wide, and 36.5 inches high