For dog owners looking to give their dogs the best and freshest food, it's possible to purchase meals that are made with human-grade ingredients. Fresh dog food is cooked, often using simple ingredients like meat, fruits, and vegetables, unlike raw dog food which is uncooked. Many brands of fresh dog foods need to be refrigerated between feedings. These fresh foods can be used as entire meals for dogs, or as a topper on your dog's kibble to encourage eating. Fresh food can also be used as a high-value treat to use while training, to stuff into a hollow chewy toy, or to spread on a lick mat for enrichment. Fresh dog food is enticing to many dogs because of the fresh smells and flavors, which can be helpful if you've got a reluctant eater on your hands.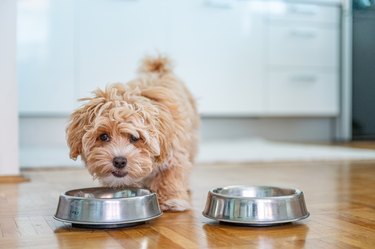 What to Consider When Purchasing Fresh Dog Food
‌Ingredients:‌ When browsing different brands of fresh dog food, consider your dog's allergies or sensitivities. Make sure to read the list of ingredients carefully to ensure the formula doesn't include any ingredients your dog is allergic to or struggles to digest.
‌Storage Instructions:‌ Before making a purchase, check the storage instruction for the fresh food you're considering for your dog. Many fresh dog foods need to be refrigerated, so before introducing your dog to their new food, make sure you will be able to store it in a refrigerated place and have a plan to manage the fresh food while traveling with your dog. There are mini-refrigerators that you can buy for your car and well-insulated coolers that can hold ice for several days.
‌Nutritional Value:‌ If you're looking to give your dog fresh food on a daily basis, not just as an occasional treat, ensure the nutritional makeup of the food is appropriate for your dog's size and age. With fresh dog food, the volume of food your dog is eating may look different than what you're used to with kibble. If you have any questions about the nutrients your dog needs, talk to your veterinarian about what type of fresh food is right for your dog.
‌Transition Slowly:‌ It's important to move slowly when changing your dog's food from kibble to fresh, or even when you're switching formulas within the same type of food. Changing your dog's diet too quickly can result in gastrointestinal upset, including diarrhea, vomiting, and excess gas. Instead of abruptly switching from one food to another, mix the new food in with the older food—gradually increasing the percentage of new food and lowering the percentage of old food—over a period of five days to a week.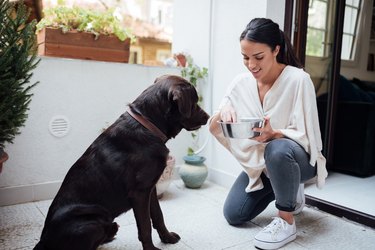 The Best Home Delivery Fresh Dog Food
Created by a board-certified veterinary nutritionist, this fresh food is made with human-grade ingredients. The food is gently steamed to maintain maximum nutritional value and comes in personally portioned options made with chicken, beef, or turkey as the first ingredient. Cooked with whole muscle and organ meat alongside fresh vegetables, this food is high in protein and antioxidants. Whole vegetables like carrots and broccoli provide dogs with fiber that helps to maintain digestive health. These fresh meals are personally designed (your pup's name is even written on the packaging) and portioned for your dog's individual needs—and then delivered right to your doorstep via free shipping!
The Best Fresh Dog Food for Small Breeds
Freshpet® Vital™ Grain-Free Complete Meals Small Breed Chicken Adult Dog Food
Developed specifically for small breed dogs, this fresh food with bite-sized pieces is made from natural chicken. In addition to chicken, the gently-cooked formula includes antioxidant-rich sweet potatoes, as well as carrots and cranberries. The food is high in protein (with a minimum crude protein level of 16%) and free of any grain, soy, corn, by-product meals, or preservatives. This food should be kept refrigerated and each package must be used within 7 days of opening. It's designed to support digestion, excitement about mealtime, and the health of your dog's skin and coat. Freshpet Vital is suitable for small dogs at any life stage.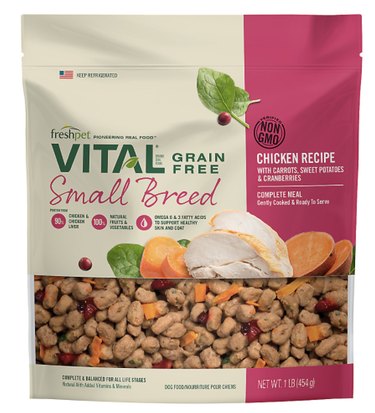 The Best Fresh Dog Food for Allergies
This fresh food is created specifically for your dog's unique dietary needs and delivered right to your home. The food can be frozen after arrival and will stay fresh in the freezer for up to six months if unopened. Your first box even comes with a 'pup-tainer' to keep meals fresh for up to three days in the refrigerator. There are four 'vet-crafted' recipes to choose from: beef, chicken, lamb, and turkey. Each recipe lists meat as the first ingredient, followed by delicious vegetables, fruits, herbs, and superfoods like chia seeds and lentils. The fresh food doesn't include any artificial flavors, soy, corn, or wheat. Ollie's products are made with minimal processing and utilize human-grade ingredients.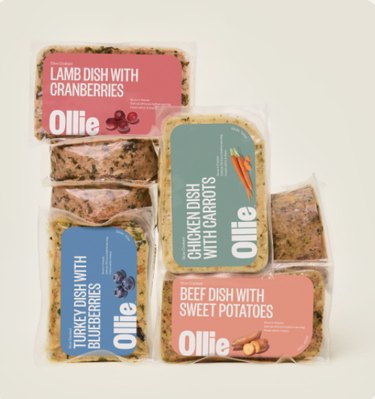 The Best Freeze-Dried Raw Dog Food
Nature's Diet Simply Raw Freeze-Dried Raw Whole Food Meal
This freeze-dried raw food is designed to be mixed with water, a safer and more practical raw food option for pet parents who travel often. It's not technically fresh food because the raw meat and fresh fruits and vegetables are not cooked prior to freeze-drying. However, this process helps to lock in flavor and nutrients, and each batch of the food is lab tested for safety to ensure it doesn't contain pathogens. Simply Raw is made with freeze-dried muscle and organ meat, combined with bone broth, whole eggs, fruits, nuts, vegetables, omega fatty acids, prebiotics, and probiotics. The 1/2-inch chunks of freeze-dried raw meat encourage dogs to eat. When rehydrated with water, each three-pound bag makes over 18 pounds of fresh raw food. Because the ingredients are freeze-dried, the food is shelf-stable in the dry form, making it easy to store and feed. In addition to the turkey and superfood recipe, there's also a beef and superfood option.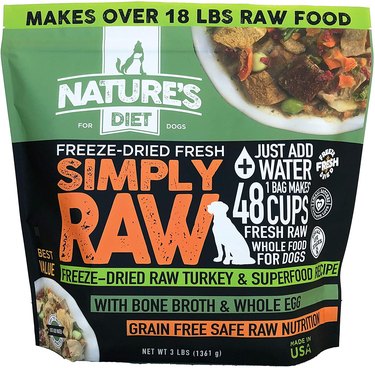 The Best Fresh Chicken Patties for Dogs
Freshpet Homestyle Creations Chicken Patty Fresh Dog Food
This packaged fresh food is fully cooked and contains two chicken patties. Designed to be fed as a meal, or used as a high-protein food topper, these patties don't include grain, gluten, soy, corn, or filler. They're also free of preservatives, meat meals, or by-product meals. The patties are made in the U.S. and must be kept refrigerated. It's best to use them within 7 days of opening the package. This fresh food can be a good option for picky eaters, helping to improve digestion and promote fur and skin health.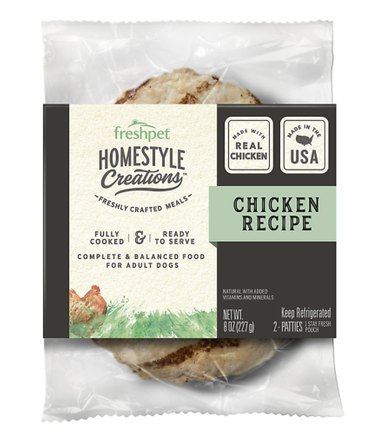 The Best Fresh Stew for Dogs
Now Fresh Grain-Free Pork Stew Wet Dog Food, 12.5 oz, case of 12
This fresh grain-free stew is made with minimally processed meat and nutrient-rich superfoods. Ideal for dogs with allergies, the recipe doesn't include any gluten, grain, corn, wheat, soy, or chicken. Deboned pork is the first ingredient, complemented by turkey bone broth, potatoes, peas, carrots, cranberries, apples, and other superfoods. This stew can be used as a meal, treat, or fresh topper over kibble. Each serving is packaged in resealable and recyclable BPA-free cartons. The inclusion of bone broth helps to improve hydration and encourages reluctant eaters to dig in.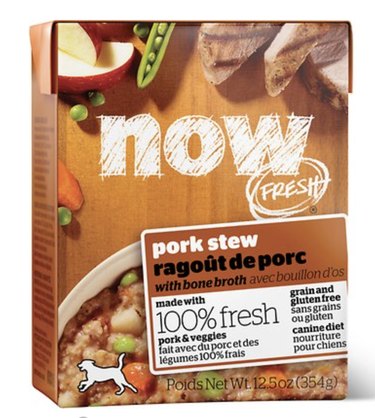 The Best Fresh 'Slice and Serve' Rolls for Dogs
Freshpet, Dog Beef Garden Vegetables Grains, 80 Ounce
Fresh slice and serve rolls can be used as a primary meal, or as training treats. Made with ethically-sourced ingredients including farm-raised beef and antibiotic-free chicken, these rolls should be kept refrigerated and used within 7 days of opening. The food is made in the U.S. without any by-products, meat meals, nitrates, or nitrites. Everything is cooked in small batches at low temperatures to preserve nutrients and flavor. This food is developed to provide balanced nutrition for all sizes of adult dogs. Because the rolls are so easy to slice, they make for great high-value training treats outside of mealtime.
The Best Fresh Dog Food for Picky Eaters
JustFoodForDogs PantryFresh Dog Food
There are four different varieties of this 'complete meal' fresh food: beef and russet potato, chicken and white rice, lamb and brown rice, and turkey and whole wheat macaroni. Every recipe is made with high-quality, whole-food ingredients and zero preservatives. The beef and russet potato version is gluten- and grain-free, containing human-edible ground beef, beef heart, russet potatoes, sweet potatoes, carrots, apples, green beans, and cod liver oil. It was developed with input from veterinarians and canine specialists. This fresh dog food is packaged in individual serving containers, making it convenient to travel with. They have a 2-year shelf life when unopened but should be refrigerated after opening. The 12.5-ounce containers are sold in a pack of 6 (linked above) or a pack of 12.