If you have a picky eater who is reluctant to eat, dog food toppers can be a great way to shake up mealtime. Intended to be added onto or mixed into your dog's regular meal, food toppers can make plain dry food more appetizing or provide additional nutrients to supplement your dog's regular diet. Some food toppers are designed to moisten your dog's meal for those who prefer or need their food soaked before eating.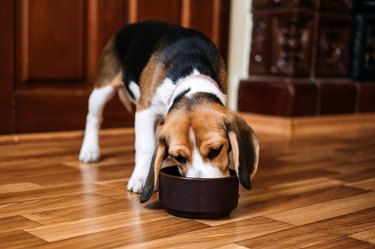 Before you add just any food topper to your dog's monthly auto-ship order, take these considerations into account:
What To Consider When Purchasing Dog Food Toppers
​Allergies:​ If your dog has known allergies, be sure those proteins or ingredients aren't included in the food topper before purchasing. Read the label carefully and look for products with a limited number of ingredients.
​Overall Health:​ If your dog has any ongoing medical conditions, especially diabetes, pancreatitis, or other conditions directly impacted by what your dog eats, consult your veterinarian before purchasing a food topper. Your vet may have recommendations for your dog's specific health conditions.
​Ingredients:​ When purchasing a topper for your dog's food, consider what the ingredients are. Some toppers are made of single protein freeze-dried meats, while others have multiple ingredients. When looking at ingredients, consider what flavors you know your dog likes and look for toppers that contain those proteins, as well as the source and quality of those ingredients.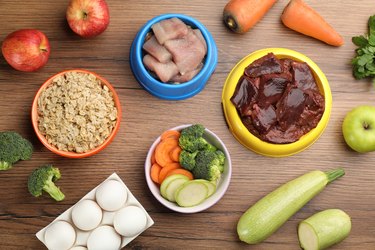 The Best Freeze-Dried Raw Food Topper
Stella & Chewy's Freeze-Dried Raw Food Topper
Available in seven different proteins, this freeze-dried raw dog food topper is made in the U.S. with minimally-processed ingredients sourced from reputable suppliers. All of the proteins used are grass-fed, cage-free or wild-caught, and the included fruits and vegetables are 100% organic certified. The Chicken Meal Mixer, for example, comprises 95% cage-free chicken meat, organs, and bone, fortified with vitamins and minerals as well as probiotics and antioxidants. In addition, the topper doesn't contain any grains or gluten. Designed to promote digestion, radiant skin and coat, as well as healthy teeth and gums, this tasty topper can be mixed into or added on top of your dog's regular meal. It can be fed dry or rehydrated by adding water.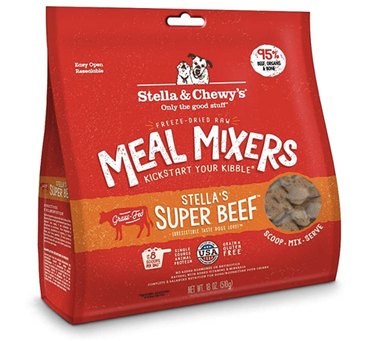 The Best Budget Freeze-Dried Raw Food Topper
Instinct Raw Boost Mixers Freeze-Dried Raw Dog Food Topper
If you're looking to save a few dollars, Instinct's raw freeze-dried dog food toppers are less expensive than Stella & Chewy's on a price per ounce basis. Made with grass-fed lamb or beef, or cage-free chicken, depending on your dog's preferences, the toppers are soft and easy to chew. Proteins are paired with whole fruits and vegetables, then freeze-dried to lock in flavors and nutrients. The toppers don't include any artificial colors or preservatives and are free of grains, potato, corn, wheat, soy, or by-product meal. They're made in the U.S. and help with digestive, skin, and coat health. Raw Boost is minimally processed and never cooked to preserve the nutrients of the high-quality ingredients.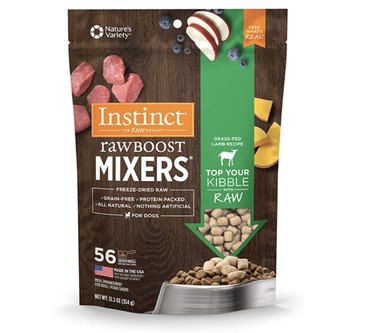 Blue Buffalo Delectables Chicken & Beef Dinner Variety Pack, Case of 12
This variety pack of single-serving meal toppers consists of grain-free, natural wet food. Each three-ounce pack contains chunks of chicken or beef protein mixed with savory broth and vegetables and then enhanced with minerals and vitamins. These wet food pouches can be added to the top of your dog's regular food or mixed in. The toppers do not contain chicken by-product meal, corn, soy, wheat, or artificial flavors and preservatives. The variety pack contains 12 pouches (6 beef and 6 chicken) and is suitable for dogs of all sizes.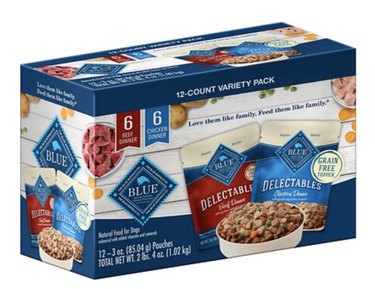 The Best Broth Food Topper
The Honest Kitchen Daily Boosters Beef Bone Broth with Turmeric
This powdered beef bone broth can be made in seconds by simply mixing it with warm water. It has a much longer shelf life and likely fewer ingredients than the bone broth you'd find at the grocery store. Once prepared, it can be poured onto your dog's food for a burst of flavor. It's made with 100% human-grade ingredients (there are only five of them and they're all whole foods) and manufactured in a human food facility to boot. The beef bone broth doesn't have any by-products, preservatives, fillers, corn, wheat, soy, or GMO ingredients. It's also made in the U.S., shelf-stable, and contains 30 servings per container.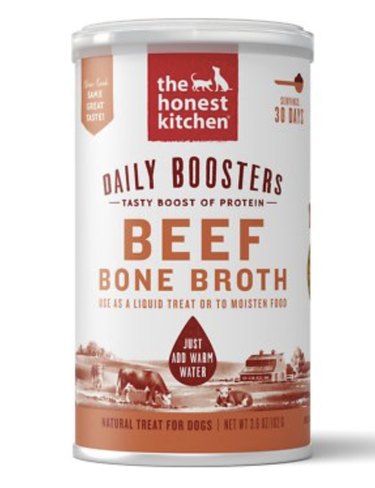 Zesty Paws Wild Alaskan Salmon Oil Liquid Skin & Coat Supplement
Fish oil is a great source of Omega-3 fatty acids, which can help with skin conditions, allergies, cognitive development, and more. This wild Alaskan salmon oil contains both Eicosatetraenoic acid (EPA) and Docosahexaenoic acid (DHA) Omega-3 fatty acids and can be pumped directly onto your dog's food as a topper. It's especially helpful for improving dry skin or restoring luster to your dog's coat. This topper comes in a convenient pump bottle—sold in an 8-ounce, 16-ounce, or 32-ounce size—that makes it easy to add to your dog's wet or dry food.
The Best Resealable Food Topper
Solid Gold Beef Bone Broth with Turmeric Dog Food Topper
Perfect for travel, this natural bone broth topper can be used to encourage eating, add moisture for hydration, or soften kibble for puppies and seniors with sensitive teeth. The 8-ounce pouches come in bundles of six or 12 and are resealable so they can be used over multiple meals. The bone broth is highly aromatic, which piques dogs' interest in eating. It's also grain-free, gluten-free, and doesn't include any soy, wheat, or corn. Rich in collagen, it aids with digestion and bone health, and consists of only six human-grade ingredients.
The Best Chunky Food Topper
Blue Buffalo Wilderness Trail Toppers Grain-Free Wild Cuts Dog Food Topper
This topper combines hearty chunks of meat and thick gravy. There are four protein options, including beef, chicken, duck, or salmon. It's made without any poultry by-product meal, wheat, soy, corn, or artificial colors, flavors, or preservatives. The topper comes in 3-ounce pouches, making it convenient to open and serve at home or while traveling. The stew-like texture of the topper is attractive to dogs. When poured over kibble, the topper will coat and soften the food, encouraging them to gobble it up.
The Best Shredded Food Topper
Wellness CORE Simply Shreds Dog Food Topper
These chicken, beef, and carrot shredded toppers come in 2.8-ounce, single-serve pouches. They're made with five natural ingredients—chicken, chicken broth, water for processing, beef, and carrots—and have only 47 calories per pouch. They're free of grains and fillers and are easy for dogs to chew. Top your pup's kibble with a pouch or give it to her as a well-deserved treat.