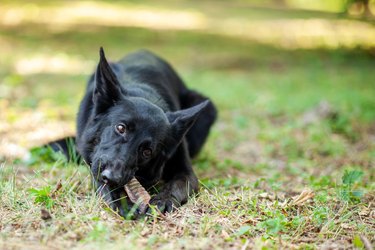 Dog chews come in endless flavors, shapes, and sizes, and choosing one to fit your dog's particular needs can be a daunting task. By now, most owners know not to give their dogs rawhides, which can cause choking or even intestinal blockages, but that does not mean that all other dog chews are safe or good options for your dog. That's why it's best to choose dog chews that are 100% digestible, especially if your dog is a tough chewer. Whether you want a long-lasting chew, something to give as an occasional treat, or a treat that will clean your dog's teeth as he chews, these seven digestible dog chews have you covered.
What to Consider When Buying Dog Chews
​Digestibility:​ If your dog manages to swallow the chew, will it pose a risk to him—either because it's made of materials that cannot be digested or because it can cause choking? If your dog is prone to ripping his toys to shreds, make sure you opt for a chew that will not harm your dog. Better yet, choose something that is ​made​ to be digested and may even give your dog some nutritional benefits.
​Toughness:​ Not all dogs chew the same. If your dog is large and/or a tough chewer, make sure you are spending your money on something that won't last just a few hours (or even minutes). Many dog chews are made for strong jaws, especially those made from bone or antler.
​Taste:​ If your dog doesn't go for just anything, opt for a chew that packs a lot of flavor. Antler chews, for example, do not have a strong flavor, so they may not be ideal for picky dogs. Chews that are made from soft tissues (I know, yuck) are usually a safe bet for dogs who like something with a bit more flavor.
​Odor:​ That said, the tastier the chew is to your dog, the more likely it is to smell pretty funky. If you are sensitive to smells or are worried about your dog leaving a smelly stain on the floor or couch, choose a chew that is not supposed to smell (companies will usually advertise this) and does not have a very high moisture content.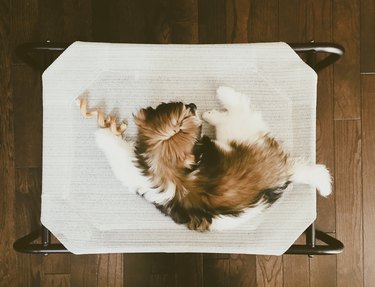 1. Amazing Dog Treats 6-Inch Beef Trachea Dog Chews, 5-Count
Beef Trachea Dog Chews are an excellent option for large dogs or tough chewers. These affordable chews will last a long time, but they are also fully digestible. They're an especially good option for large dogs who are prone to arthritis or other joint problems because they contain chondroitin and glucosamine, both of which are supplements beneficial to joint health. Beef tracheas are high in protein and low in fat, and their tubular shape means you can stuff them with peanut butter or another lickable treat. Their ribbed texture acts like a toothbrush, cleaning your dog's teeth as they chew, but these chews may not be the best for your dog's breath—they can be a bit waxy and smelly.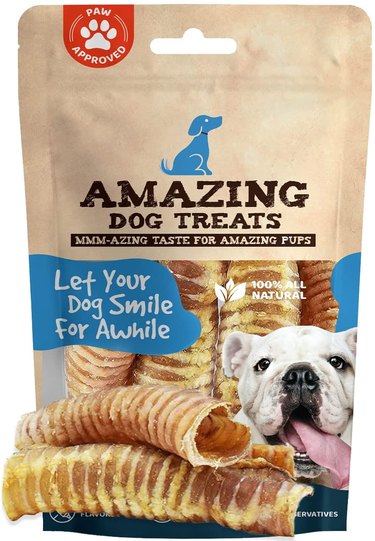 2. Heartland Antlers Deer Antler Dog Chews, 3-Count
Deer Antler Chews will last even the toughest chewer a long time. Depending on your dog, one of these antlers could even last years. Antlers contain a ton of minerals that are beneficial to tooth and bone health. These are untreated and 100% natural USA-deer antlers. Deer antlers are great for cleaning dogs' teeth as they gnaw on them. Perhaps best of all, unlike many digestible dog chews, these have no odor whatsoever and won't leave a gross stain behind. The downside of that is that they may be a bit bland for some dogs. Also, although the antlers are digestible, they occasionally splinter, which can be a choking hazard to dogs. If you notice that the antler has begun to splinter, take it away from your dog immediately and discard it.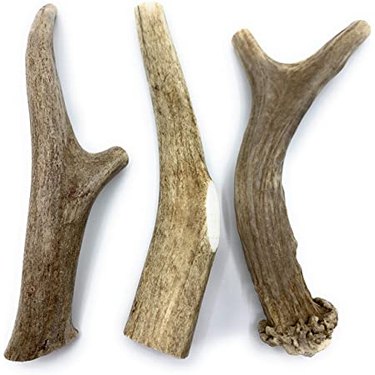 3. Redbarn Naturals Braided Bully Sticks 7" Dog Treats, 3-Count
Bully sticks have become well-known in recent years, both for their surprising makeup (bull penis) and because they are excellent and healthy dog treats. Although they can be a bit smelly for human sensibilities, dogs usually love them. These Redbarn Naturals Bully Sticks are a cut above the rest, however. They are braided, meaning they will last your dog much longer than an ordinary bully stick. They are 100% natural beef, sourced from grass-fed, free-range cattle. The chews don't include any artificial flavors, preservatives, or colors. Although they're a bit pricey, these bully sticks are long-lasting and great for tough chewers, including teething puppies.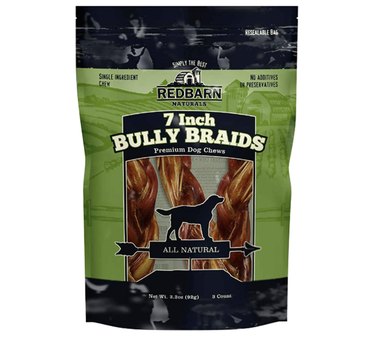 4. Greenies Regular Dental Dog Treats, 27-Count
Greenies are a classic dental chew with which many dog owners will already be familiar. Although they come in a variety of sizes, Greenies Regular Dental Dog Treats are best suited to small or medium-sized dogs. The texture that is ideal for removing plaque and tartar tends to become irrelevant for large dogs who can simply bite through the chew with ease. However, they contain a ton of vitamins and minerals, including calcium and vitamins E, B2, B5, and B12. Greenies contain wheat, so if your dog has a grain allergy you might want to avoid them, but they are completely soluble and easy to digest for most dogs.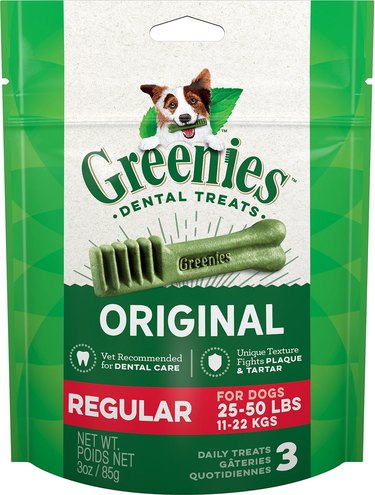 5. Deluxe Naturals Elk Antler Chews, 4-Count
These deluxe dog chews may seem a bit pricey, but they are guaranteed to last. The company that makes them, Deluxe Naturals, gives their products a lifetime guarantee. Deluxe Naturals also offers a complete breakdown of the nutritional makeup of each chew: 38.9% protein, 1.2% fat, 1.8% fiber, 9.9% moisture, 18.5% calcium, and 9.9% phosphorous. These chews come in a variety of sizes, from extra-small to extra-large, and you can choose to have the antlers arrive whole or split. Whole antlers are best for aggressive chewers, while split antlers are best for light to moderate chewers. These chews are 100% elk antler with no preservatives or added flavors, so there is no odor. However, like deer antlers, if your elk antler splinters, it may pose a choking hazard to your dog and you should discard it right away.
6. Himalayan Pet Supply Dog Chew, 3-Count
These treats are seriously gourmet. Made of 100% Himalayan yak's milk cheese, these are an unusual option but one that is guaranteed to be a hit with your dog. The cheese is cured with lime and salt only, so these are gluten-free, grain-free, lactose-free, soy-free, and corn-free. They also contain no artificial ingredients. Himalayan Dog Chews are ideal for small or medium dogs and won't last long with tough chewers, but they could still be a special treat for large dogs. Surprisingly, the company claims that they are not smelly or messy. Finally, these treats are actually two treats in one: Once your dog has chewed the cheese down to a small bit, you can soak what's left in water and pop it in the microwave to make a quick, puff-like snack.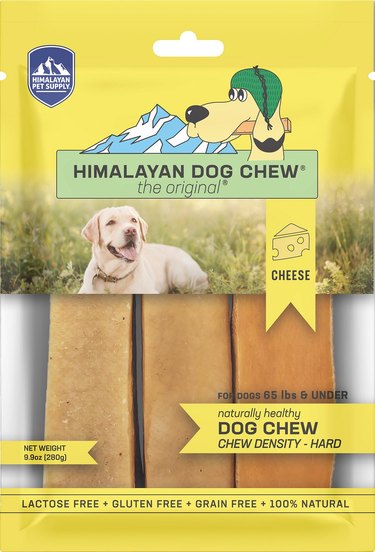 7. Bones & Chews ​​Turkey Tendon Dog Treats, 4-oz. Bag
Turkey tendons are a great option for small dogs or dogs who are light chewers. They are high in protein, low in fat, and guaranteed to taste delicious to any dog. They are made of nothing but slow-roasted, USA-raised turkey tendons, meaning they are free of grains, artificial flavors, added chemicals, and GMOs. Given that these are made to be chewed up quickly, the price is a bit high. But if you're looking for something gourmet that your dog will gobble up (pun intended), these are a fantastic option.