Have you either lost or broken your fair share of poop bag holders? It's an easy thing to overlook, but a quality holder can save a lot of time and make walking your dog much more pleasant. No one likes picking up dog poop, so you might as well make the experience as seamless as possible. If you want to purchase a poop bag holder that will last and make juggling an excitable pooch and picking up his mess as easy as possible, check out these 7 poop bag holders for every poop-scooping need.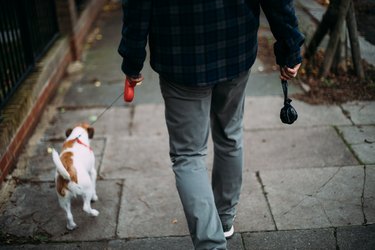 What to Consider When Purchasing a Poop Bag Holder
​Your Dog:​ Needless to say, not all dogs are the same. If you're trying to hold a puller (or several), a poop bag holder that is easy to use with one hand may be the way to go. If your dog is very large, you may want a dispenser that can hold large poop bags. Or maybe your dog doesn't usually poop on walks, in which case it may not be worth the hassle of carrying a holder with you, so a dispenser that can be left at home would be best.
​Type of Walk:​ Not all walks are the same either. If you like to go running with your dog, a holder that is hands-free and durable is a good choice. If you use walks to train your dog, a poop bag holder that can double as a treat dispenser could simplify training sessions. If you like to hike with your dog, a holder that can accommodate other essentials would be a great option.
​When You Walk:​ One important consideration is when and how often you walk your dog. For those of you who don't have yards, walks are the only way your dog is going to go number two. In that case, you probably want a dispenser that can hold as many bags as possible to avoid having to replace a single roll of bags constantly. If you only go on walks for exercise or just once a day, you may not need as many bags and can opt for a smaller holder. Finally, if you take your pup out at night, particularly if you live somewhere without a lot of street lighting, a dog waste bag holder that is either reflective or has other night-visibility features is probably a good idea.
Whatever your poop picking-up needs may be, you're sure to find something that will suit you and your dog within this list of the seven best dog poop bag holders.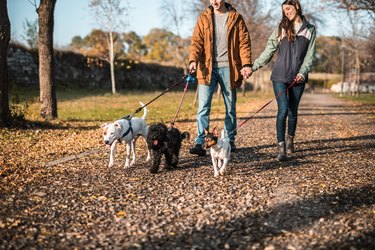 The Most Durable Poop Bag Holder
The Zapücci Dispenser is made of nylon, plastic, and stainless steel, and it's built to withstand a lot. You can clip it onto a belt loop, bag, or dog leash with a carabiner (sometimes called a D-ring) and then make sure it's snug with added velcro straps. Its sturdy design means that getting knocked around won't send your poop bag roll flying even if it's dropped. It also comes with a reflective safety zipper for increased visibility. It flips open for loading and even has a spindle that holds the roll in place. And it looks pretty snazzy too.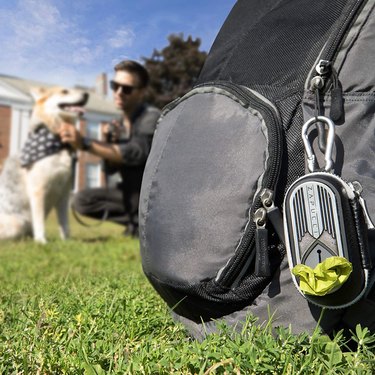 The Best Dog Walking Bag With Poop Bag Dispenser
Mobile Dog Gear Day/Night Dog Walking Bag
The Mobile Walking Bag is a dog waste bag dispenser, yes, but it also does a lot more. It can carry a water bottle, personal items, and some treats all in a convenient and accessible zippered pouch. It even comes with a flashlight, two reflective wrist straps, reflective trim, and a reflective body strap for nighttime visibility. It has a main pocket for personal items, treats, or other dog accessories, a mesh pocket for a water bottle, and a separate pocket with a dispenser for poop bags that allows you to pull the bags directly from the front of the pouch. It can be worn across the body, over the shoulder, around the waist like a fanny pack, or attached to a belt, so it would be great for hiking or long walks. Finally, it is made of a tough, water-resistant, and easy-to-clean polyester that comes in black or red.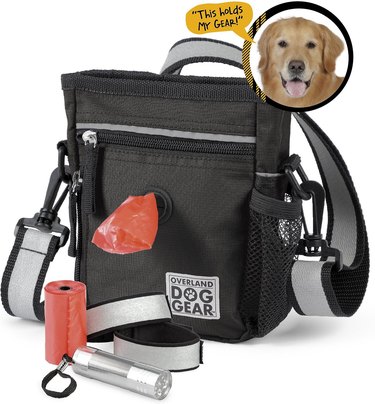 The Best Poop Bag Holder With Treat Compartment
TreatPod Leash Treat Holder & Poop Bag Dispenser
This two-in-one poop bag dispenser and treat pouch is a great choice for dog owners who are housetraining or who use treats to distract or reward their dog on walks. The TreatPod has two separate compartments: One for pet waste bags and another for treats. It is airtight and waterproof, so you don't have to worry about soggy dog treats or wet dog bags. It also has an elastic band that is a bit more reliable than carabiners for attaching the dispenser to a leash, belt, or bag. The TreatPod Dispenser comes in three colors—blue, navy, and pink—and includes a complimentary roll of 15 eco-friendly poop bags.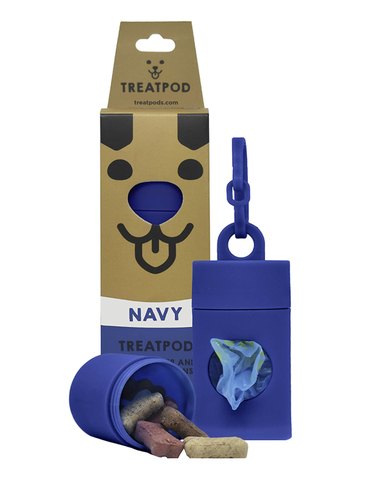 The Most Eco-Friendly Poop Bag Holder
Planet Bestie Biodegradable Dog Poop Bag Holder
The Planet Bestie Poop Bag Holder is shaped like a lot of dog poop bag holders, but unlike most, it is made of one solid piece of silicone that can bend or stretch to accommodate a new roll and will never break when dropped. It's completely biodegradable and dishwasher-safe and is overall a fantastic and simple design. It also comes with a carabiner to attach the holder to a leash, bag, or belt. Unfortunately, it will not fit the thick poop bag rolls made by Petco, PetSmart, or Costco. However, if you buy a poop bag holder made by Planet Bestie from Amazon, a portion of the cost will be donated to an organization of your choice through Amazon Smile.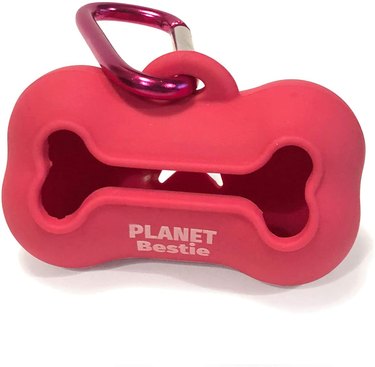 The Most Accessible Poop Bag Holder
The Neater Poop Bag Dispenser is not a typical dispenser—and it isn't made for typical poop bags. It dispenses the bags like tissues, so there is no rolling out and tearing. It's definitely easier to do one-handed, but the downside is that you are limited to Neater brand poop bags, which only come 15 to a case. If you have a large dog, however, Neater bags are very convenient. They have handles for easy tying and are 9 inches wide and 13 inches high, which is much larger than most poop bags. The Neater dispenser attaches to a leash with a zip cord and comes in black, blue, and pink. For owners who could use the extra hand or have big dogs who produce larger-than-usual messes, the Neater Dispenser is a solid choice that offers easy access.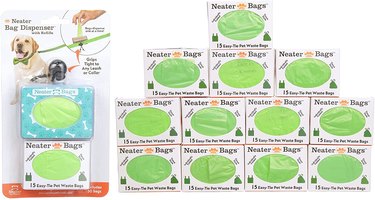 The Best Wall-Mounted Poop Bag Holder
Leashboss Wall Mount Dog Poop Bag Dispenser
The Leashboss Wall Mount Dispenser is a (you guessed it) wall-mounted dispenser that can hold eight rolls at a time. It's a simple design: You simply put the roll you want to use on the bottom and pull the bag through for easy dispensing. It has a chic hexagonal design that means you don't have to hide it away and can mount it on any wall in your home. You can use this holder on your walk or to clean up the cat litterbox. It comes with 8 rolls of 120 bags each, although it's compatible with any poop bag rolls—ideal if you prefer compostable versions. If you want to leave your dog poop bag holder at home, this is a great option.
The Best Poop Bag Holder with Flashlight
YUCHIYA Dog Poop Bag Holder with Flashlight
The Yuchiya dispenser is a traditional poop bag roll dispenser with a powerful LED flashlight built into the end. It attaches to a leash, bag, or belt with a thick carabiner that can be locked to prevent it from coming loose. It features a serrated opening for easy tearing, and since the flashlight is attached to the dispenser itself, it's a much more one-hand-friendly design than many other poop bag dispensers. It also comes with a loop that you can hook a used poop bag onto so that you don't have to carry it all the way home. This sleekly designed poop dispenser comes in five color options.