Love it or hate it, dog owners with backyards all have to face poop scooping day—when all those times they didn't have to pick up their dog's poop with a simple bag come back to haunt them. Trying to scoop up poop with a substandard pooper scooper is just going to leave you with an aching back and a dirty yard, so it's important to invest in one that makes the inherently unpleasant poop-scooping experience a bit easier.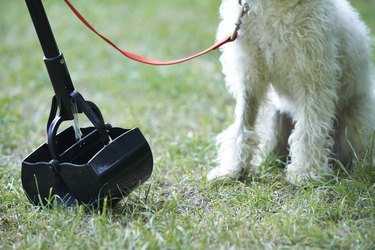 There are many types of pooper scoopers: jaw scoopers, rake-and-bin scoopers, portable scoopers, and simple rake scoopers. The style that will work best for a 6-foot-tall Yorkie owner with a few acres to keep clean will not be the same style that works best for a 5-foot-tall Great Dane owner who shares a backyard with roommates. That's why we've broken down the ins and outs of scooping poop for you to choose the style that will work best for you.
What to consider when purchasing a dog pooper scooper
‌Size and Number of Dogs:‌ Do you have a small or large dog? One dog or several? If you have a small dog, look for a scooper with close-together teeth and/or a small bin. If the teeth are spread out, your dog's poop can fall through the gaps, and a large bin capacity will probably be overkill and unnecessarily heavy. If your dog is large and/or you have several dogs, consider a scooper that has a large capacity so that you don't have to empty the scooper after every load. Rake-and-bin-style scoopers are often best for this.
‌Your Height:‌ One of the most annoying parts of picking up dog poop is the inevitable backache. Especially if you're tall, opt for a scooper with a long handle. Or, if you share scooping duties with someone else, consider a scooper that has an extendable handle to accommodate both of your heights.
‌Frequency:‌ If you walk your dogs regularly and only need to pick up the occasional poop from your yard, don't spend a ton of money on a heavy-duty scooper. Go for something lightweight and easy to store away. If your dog primarily uses the yard to go number two, you will undoubtedly be picking up a lot of poop, so consider a scooper that can handle a lot at once but is also lightweight enough to not tire you out too quickly.
‌Surface:‌ Consider the surface where you'll be scooping. For hard surfaces like concrete, scoopers with flat edges are best. We also recommend you avoid scoopers with only one piece if you are primarily scooping on a hard surface, as it can be difficult to maneuver the poop into the receptacle without a second piece for pushing it in. Scoopers with serrated edges or teeth do well in grass or vegetation. If you want to keep your grass intact, opt for something with wide teeth so that it doesn't rip it up. If you're going to be scooping on a variety of surfaces, choose a rake-and-bin style, as they tend to be the most versatile.
Now that you know what to look out for, here are the best dog pooper scoopers on the market.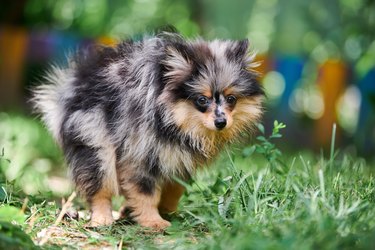 The best overall dog pooper scooper
Nature's Miracle Jaw Scooper
Nature's Miracle is best known for its extremely effective enzymatic pet stain remover, and its Jaw Scooper does not disappoint. You can choose between a medium, which is 27.5 inches long, and a jumbo, which is 32 inches long with a slightly wider jaw. Although the jumbo is better for larger dogs, it can be a bit unwieldy for small hands. Otherwise, the Jaw Scooper is pretty easy to use. It's made of lightweight, nonstick plastic, so your arm won't get tired from lugging it around. In addition to its nonstick coating, the spring-loaded jaws are treated with anti-microbial and anti-odor technology. They are serrated for easy clean-up and are effective at picking up poop from a variety of surfaces.
The best dog pooper scooper with bags
Arm & Hammer Swivel Bin and Rake
The Arm & Hammer Swivel Bin & Rake can be purchased with or without deodorizing plastic bags for the bin, but it also works just fine with leftover grocery bags or without bags at all. The design is simple: You line the bin up with your target and use the rake to scoop it in. It can easily carry more than one load (unless your dog is giant), so it's good for yards that get scooped less frequently or who host more than one dog. The handle extends to 32 inches, so unless you're very tall, it doesn't require too much bending. The bin also swivels, which makes it much easier to use than other rake-and-bin scoopers. Finally, the bin and rake snap together and can be hung up for easy storage once you're finished using them.
The best dog pooper scooper for owners with reduced mobility
Doody Digger Pooper Scooper
The Doody Digger is an unusual design that minimizes the scooper's contact with what they are scooping. The idea is to use the pointed end of the tube to scoop up the poop and then rotate that end up until gravity carries the poop down the tube and into the attached bag. It is made of all recyclable materials, and any garbage bag can be attached to the end. You can hose the doody digger off or run water down the tube to clean it—you'll want to do that occasionally to prevent clogging. Since it does not come with a rake, the Doody Digger does not work well on hard surfaces like packed dirt or rock landscaping as one must get below the doody in order to dig it. Finally, it is worth noting that, at 46 inches, the Doody Digger is much larger than most pictures make it seem, so, while it would probably be overkill for small dogs, it's a great choice for owners of large dogs.
The best adjustable dog pooper scooper
SUNLAX Adjustable Height Pet Pooper Scooper
The Sunlax pooper scooper is a solidly designed classic rake-and-bin scooper. It is made out of rust-resistant stainless steel that is easily hosed off. It comes in two sizes, medium (extends up to 36.5 inches) or large (extends up to 38 inches), making it suitable for users of various heights. The medium-size rake has nine prongs, while the large one has 11 and a wider tray. Both tools come in three sections that are easy to fit together using locking pins. Beyond dog waste, you can use the rake and tray for picking up cut grass or gravel.
The best dog pooper scooper for large breeds
Activedogs Best Ever Dog Poop Scooper
The Activedogs Best Ever Dog Poop Scoop is far pricier than most pooper scoopers, but its jaw design is as good as it gets for heavy-duty jobs. Designed initially to clean out large dog kennels, this all-aluminum scooper has a few design options: a flat edge (i.e., not a rake) for hard surfaces, a rake with teeth for grass or dirt, and a teeth option made of powder-coated aluminum for extra corrosion resistance. You can also buy an aluminum disposal bucket to match, but any bucket will do. What's great about the Activedogs Poop Scoop is that the jaws open as wide as you need them to for scooping. And the scoop and shovel have a deep capacity, so you won't run out of room when picking up larger loads. The handles are a comfortable 38 inches long, and they have easy-grip rubber molding. Finally, the company recently redesigned the Poop Scoop to fix an issue with a bolt coming loose, so the Activedogs Best Ever Poop Scoop is now as solid as it gets.
The best dog pooper scooper for small breeds
DogBuddy Portable Pooper Scooper
The DogBuddy Pooper Scooper is designed for scooping on the go. It comes in two sizes, medium and large, and it can be clipped to a leash. The medium is only 4.8 inches wide and 5.9 inches high, and the large is 5.9 inches wide and 7.1 inches high, so it's not intended for large dogs. It functions basically as a replacement for your hand in a bag: you first expand the scooper's silicone pouch, wrap a bag around the whole scooper and secure it with the silicone grip, and then press the bag back into the open jaws. Then you can just scoop up the poop, remove the bag, and tie it up for disposal. This scooper has a small waste bag compartment integrated into the side, so you don't need to bring a separate dispenser. The DogBuddy Pooper Scooper is great for small dog owners who don't like to feel what they're picking up, but its lack of teeth means that picking up poop from grass is a bit tricky.
The best dog pooper scooper for lawn grass
Four Paws Wire Dog Rake Scooper
The Four Paws Wire Dog Rake Scooper is as simple as it gets. It features a wide-toothed rake with a 30-inch handle. The rake is designed to pick up poop in the grass without ripping it up. Its teeth are thin and spaced out enough that it's easy to get under the poop without a separate rake to scoop it in. It does not work well for small dogs since the poops will probably fall between the teeth. The metal is rust-resistant and durable, and it's small and thin enough for easy storage. The handle has a comfortable rubber grip, and the rake is lightweight enough to not tire you out. If you're looking for something simple and effective, the Four Paws Wire Dog Rake Scooper is the way to go.