If you're looking for a new way to reward your cat for, well ... just being a great cat, look no further than lickable cat treats. Lickable cat treats are exactly what they sound like: A treat your cat gets to lick rather than chew. These types of treats are great for owners looking for an interactive experience with their cats or for owners of cats who have difficulty chewing crunchy treats. Not only that, but many of these lickable cat treats are great options for cats who need additional nutrients, whether to gain weight or to recover from illness. Lickable treats come in a variety of forms, from broths to purées to squeeze-ables, and a variety of flavors, from tuna and scallops to chicken and veggies. For your cat's new addiction, look no further than these 6 lickable cat treats.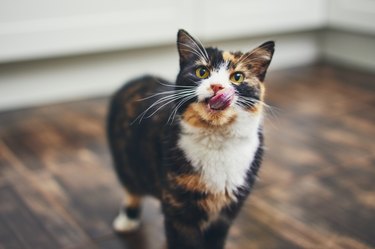 What to consider when purchasing lickable cat treats
‌Ingredients‌: Many treats marketed for cats and dogs are designed with taste first in mind, and the safety and health of your pets second. Lickable cat treats are no different. Check to make sure the treats don't have a bunch of ingredients you do not recognize. They should primarily be made up of high-protein natural ingredients, like chicken, fish, beef, or veggies. In addition, if your cat has not tried a particular ingredient before (say, scallops), consider starting them off slowly at first to ensure they don't have any sensitivities.
‌Benefits‌: Lickable cat treats are not your typical treat. They can be great for providing some bonding time between you and your cat since many allow you to hold and squeeze out the yummy lickable-ness while your cat laps away. They can also greatly benefit cats who are in need of additional nutrients or some added weight since you can mix them into their food to entice them to eat more. Depending on which is the case, make sure the treat you choose is either well-suited for hand-feeding or chockfull of the ingredients your cat needs.
‌Variety‌: We all know cats grow bored easily. Especially when you're introducing something new into your cat's life, it's important to not go all-in before first providing a variety of options to discern what your cat likes. So if your cat has never tried a particular ingredient before, consider buying a variety of lickable treats, some with more familiar ingredients, until you figure out what your cat likes best.
If you're looking for a new, fun treat for your cat, check out these six lickable cat treats.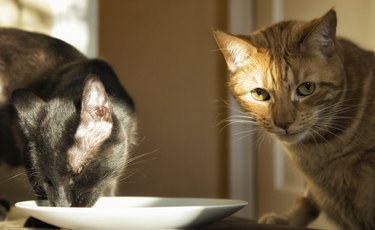 The best overall lickable cat treats
These are on the small side, but the variety and number of treats that come in each pack more than make up for it. You have a choice of tuna, chicken, tuna with scallops, chicken with scallops, and tuna with chicken, so you're bound to find something your cat will go nuts for. These treats are specially designed for cat owners who want some one-on-one time with their cat since they come in tubes that you can gradually squeeze out (although that doesn't preclude you from simply mixing them into your cat's food). If you're in it for the nutrition, these treats are made of high-protein, wild-caught tuna, and farm-raised chicken with an added dose of vitamin E. They contain no artificial ingredients or filling grains, as the back of each packet will show: 7% protein, 0.2% fat, and 91% moisture. In other words, these treats pack a heavy punch in terms of protein and hydration without being too fatty.
The best lickable cat treats in broth
Lil' Soups are made with no artificial flavors, colors, or preservatives and come in a variety of flavors: chicken and butternut squash, flaked chicken in broth, shrimp in chicken broth, skipjack tuna in broth, sockeye salmon in chicken broth, and tuna in chicken broth. We recommend the tuna in chicken broth simply for its taste, but you have plenty of options if your cat is a picky eater. These soups are intended to serve as a complement to your cat's meals, meaning you can mix them into their regular food, but they can also be given as a treat directly from the cup. Each cup is transparent about its ingredients: real chicken, shrimp, tuna, and salmon. Each Lil' Soup also comes with added B1, which is an essential ingredient for cats that helps with carbohydrate metabolization and brain functioning.
The best lickable cat treats for seafood lovers
These adult treats are certainly lickable but also have a flaky texture that is sure to appeal to most cats. They can be used as stand-alone treats or mixed in with food. Fancy Feast Appetizers contain no fillers, by-products, or grains, and the first three ingredients are fish broth, skipjack tuna, and sole. Each tray has a guaranteed minimum of 12% protein, 1% fiber, and 85% moisture with only 0.5% crude fat, so they provide a healthy dose of what your cat needs with very little fat. That means that these are not a great choice if you are looking for a lickable cat treat to add some weight to a malnourished or otherwise underweight cat. What makes these special are the high-quality seafood ingredients, so if your cat loves seafood, these are an excellent choice.
The best lickable purée cat treats
These squeezable cat treats are great for people who want some treat-induced bonding time with their cats. They come in chicken, salmon, and tuna flavors, so you should be able to find a flavor to satisfy any cat. Although the individual tubes are a bit small, they come in bulk, so you won't find yourself having to re-order them frequently. These cat treats are made to be irresistible, which means the focus is less on high-quality ingredients and more on flavor. That said, even though each of the three flavors contains chicken and pork byproducts, none of the ingredients are hard on a cat's stomach or pose any risk. They have less protein than many treats (3.5%) and slightly more fat (2.5%), so they are not suitable for cats who are overweight or require a high-protein diet. However, they are excellent for enticing a picky cat to eat their food or for fattening up an underweight cat.
The best lickable cat treats variety pack
These variety packs come with two tubes each of tuna, chicken, and tuna with shrimp. That's not as many flavors as many brands offer, but these flavors are guaranteed to be a hit with your cat. They are squeezable, meaning they are ideal for hand-feeding but can also be mixed into cat food. They contain real tuna, chicken, and shrimp and have a minimum of 8% protein with very little fat (minimum 0.1%), although they do contain some artificial ingredients. Overall, they are healthy and easy to digest, and the thickness of the purée in each tube makes them ideal for slow hand-feeding. If you want a variety of flavors but don't want to risk buying something your cat won't like, these are a safe bet.
The best lickable cat treats for seniors
These lickable cat treats are specifically designed to provide the nutrients older cats need. Hartz Delectables Stews come in a wide range of flavors, but we recommend this variety pack aimed at cats ages 10-15. They have a stew-like texture with a good mixture of liquids and bite-sized solids, so they shouldn't be difficult for older cats to swallow. This pack includes six chicken and tuna flavored treats and six tuna and whitefish flavored treats. What makes these treats especially suited for older cats are the added ingredients: vitamin E, vitamin B1 (thiamine), vitamin B6 (pyridoxine), and vitamin B12 (cobalamin). They could have a bit more protein, but they are non-fatty and contain plenty of moisture. Overall, these are a great option for cats who are getting on in years or who simply need more nutrients.