If you want your kitten to have the best possible start to life, selecting high-quality kitten food is essential. Many well-known cat food brands made a name for themselves by offering cheap kitten foods that seem healthy but in fact are full of ingredients that, at best, are unessential to a kitten's growth and, at worst, detrimental to it. Kittens need diets that contain lots of protein and even fat (they need the calories to grow) as well as a healthy blend of vitamins and minerals to support brain, eye, tooth, bone, and immune system development. They don't need corn and soy fillers, and brands whose only protein sources are by-products should also be avoided (although the issue with by-products is that you don't necessarily know what kind of meat you're getting, not that they are inherently bad). The specifics of what kitten food should contain can be kind of complicated, so it helps to narrow down the options and pinpoint exactly what you should be looking for—starting with these seven foods growing kittens.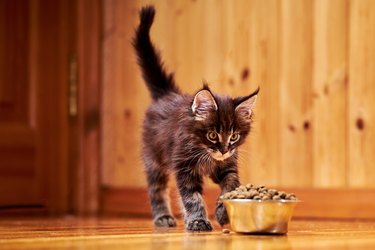 What to consider when purchasing kitten food
‌Ingredients:‌ The first and most obvious thing to consider when shopping for kitten food is the ingredients list. Look for options that contain real chicken, fish, or other meat proteins as the first ingredient. The more types of non-by-product meat sources, the better. Avoid foods that are chockfull of carbohydrate fillers, like soy and corn derivatives. Kittens need certain vitamins and minerals to support their growth and development, including DHA, taurine, calcium, vitamins E and A, and other antioxidants. The addition of fruits and veggies is great, but be sure that the fruits and veggies listed actually do something for cats and aren't just there for appearances. Finally, don't automatically assume you should avoid grains altogether. Some grains can be healthy sources of nutrition, but do look for grain-free foods if you know your cat is sensitive to them.
‌Wet Kitten Food Versus Dry:‌ Wet and dry kitten foods both come with their own upsides and downsides. Wet food is going to have a ton of moisture, which cats need, especially growing cats. However, wet food is not going to provide the same benefit to your kitten's teeth as dry food since chewing kibble is an effective means of getting rid of tartar. Dry food, however, often needs to be supplemented with wet food to provide enough moisture. Diets that combine both are often the best choice. Finally, make sure that the food you choose does not have large gravy chunks that your new kitten can't easily chew up or digest, or large kibble pieces that won't fit in small mouths.
‌Budget:‌ If you can afford to pay a premium, there are a ton of great foods that will meet or exceed your kitten's nutritional needs. If the cost of these premium foods is too high, however, don't think you have to compromise on quality. Plenty of more affordable but still nutritionally rich foods exist. It might just take a bit more leg-work to sort through the ingredients and nutritional information to make sure that the company making the food is cutting costs in ways that aren't detrimental to the food. The main way that is done is by including soy and corn fillers as well as animal by-products (which, again, can be fine but should not be the main source of protein). Don't despair—plenty of brands make affordable kitten food without compromising quality.
Without further ado, here's our roundup of the best kitten foods on the market.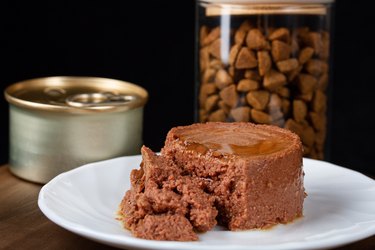 The best overall dry kitten food
Blue Buffalo Tastefuls Natural Chicken Dry Kitten Food
Blue Buffalo is a reliable brand for high-quality, non-processed pet foods, and their Healthy Growth Natural Dry Kitten Food does not disappoint in that regard. The first three ingredients in the chicken and brown rice recipe are all proteins: deboned chicken, chicken meal, and Menhaden fish meal. Kittens need plenty of protein to grow, and this food contains 36% protein. Blue Buffalo Healthy Growth Kitten Food also has a ton of fruits, vegetables, and healthy grains, including brown rice, sweet potatoes, blueberries, cranberries, flax, peas, and carrots. These ingredients provide an excellent nutritional blend on their own, but Blue Buffalo also adds what they call "Lifesource Bits," which include even more vitamins, antioxidant-rich ingredients, and minerals, as well as added DHA and ARA, which are both fatty acids that promote brain and eye development. The ingredients list is a long one, but it contains no artificial ingredients or by-products. This food comes at a high price point, but it's well worth it for ensuring your kitten gets all he or she needs for healthy growth.
The best overall kitten wet food
Wellness Complete Health Grain-Free Kitten Pâté, 3-oz Cans, 24-Count
Wellness is an affordable brand that consistently offers nutritionally rich pet foods. Their Complete Health Kitten Formula is a wet canned food that's packed with essential proteins, vitamins, and minerals. The first three ingredients are chicken, chicken liver, and chicken broth, and each can contains a minimum of 11% protein, which is not as high as some foods—but is a solid amount nonetheless. This is a grain-free recipe, so it is unlikely to bother sensitive kittens' stomachs. It contains DHA and taurine, (although not as much as other recipes), as well as a healthy helping of omega-3 fatty acids (from fish oil), vitamins, minerals, and antioxidants. This wet food contains no artificial ingredients, fillers, or by-products.
The best high-protein kitten food
Nature's Variety Instinct Original Grain-Free Dry Kitten Food, 4.5-lb. Bag
Instinct Original Dry Kitten Food comes at a high price, but its nutritional profile is about as good as it gets. The first three ingredients are (cage-free) chicken, turkey meal, and Menhaden fish meal, and a whopping 81% of this food is made up of animal ingredients and oils. Unsurprisingly, it is extremely high in protein (42.5%) and fat (22.5%), the latter being good for kittens who need as much as they can get for steady growth. The other ingredients are 100% natural, and the majority of vitamins and minerals in this dry kitten food are contained within these ingredients rather than added later. That makes it much easier for cats to digest and absorb what they need from them. It's grain-free and also contains ample amounts of DHA, taurine, and fatty acids to promote everything from brain and eye development to a healthy coat.
The best kitten food for picky eaters
Royal Canin Feline Health Nutrition Kitten Dry Cat Food
Royal Canin Dry Cat Food for Young Kittens is made for kittens between four months and a year, which is the second stage of kitten growth when adult teeth form and muscles and skeletal systems are established. This formula contains tons of essential nutrients for this stage in a kitten's growth. It's not the cheapest kitten food out there, and it does contain a chicken by-product, but it is easily digestible and has a taste that appeals to even the pickiest kittens. It also contains ample protein (34%) and fat (16%), as well as calcium, vitamins D and E, taurine, and antioxidants. Even though it does contain a chicken by-product, it also contains a broad range of protein sources. The vitamins and minerals in Royal Canin Dry Cat Food were chosen specifically for their importance to developing digestive systems. Even though it's a bit pricey, this is a solid choice, especially for picky eaters.
The best kitten food for sensitive stomachs
Purina ONE +Plus Healthy Kitten Formula Natural Dry Cat Food
Don't let the low price fool you. Purina ONE Healthy Kitten Formula is chockfull of protein, vitamins, and minerals. The first ingredient is chicken, and, although it also contains a chicken by-product, Purina ONE contains 40% protein and 18% fat. It also contains more moisture (12%) than many other dry kitten foods. This food also includes DHA, which is essential for brain development, vitamins E and A for immune system development, and added calcium for building strong teeth. Purina ONE is easy on sensitive stomachs, and it contains no artificial flavors or preservatives. It does contain corn and soy, however, which is no small part of why this kitten food is so affordable. Nonetheless, this dry kitten food contains a complete nutritional helping for growing cats.
The best value kitten food
Hill's Science Diet Kitten Chicken Recipe Dry Cat Food
Hill's Science Diet Dry Kitten Food is a good middle-ground in terms of price, and its ingredient and nutritional makeup give the more expensive brands a run for their money. The first ingredient is chicken, and its other ingredients are natural and chockfull of vitamins and minerals that kittens need. It contains plenty of DHA and taurine to support kittens' brain and eye development, and plenty of fruits and veggies, including apples, broccoli, carrots, cranberries, and green peas. It supports the immune system with added vitamin E and bone and tooth health with a balanced blend of minerals. The kibble is small, which is good for small mouths, but it may be a bit too small for older or larger kittens. The moisture content is not as high as it could be, so you may consider supplementing your kitten's diet with wet food.
The best variety pack of kitten wet food
Purina Pro Plan Focus Kitten Favorites Variety Pack Canned Cat Food
Purina Pro Plan wet food comes in three flavors: chicken and liver, salmon and ocean fish, and ocean whitefish and tuna. For kittens who love fish (and a little variety), this is a great option. Real chicken and fish make up the main ingredients in all three flavors, and, although there are also meat by-products, your kitten will get a solid helping of 12–13% protein. This is not as high as many brands, but it is certainly not lacking. Purina Pro Plan Kitten Favorites also contains taurine, DHA, and vitamin A for eye and brain development, as well as a healthy dose of antioxidants, including vitamin E, for immune system development. Since it's a wet kitten food, you can be sure your feline is getting plenty of moisture, which can be a problem for dry foods. While the protein content of Purina Pro Plan is not as high as other brands and contains by-products, it's still a solid and, most importantly, affordable option for kittens, especially if combined with protein-rich dry food.