Feline dental diseases, like gingivitis and periodontitis, affect over half of cats over the age of four, most of which are preventable through proactive oral health care practices. Brushing your cat's teeth, adding hygiene supplements to his food, and making routine dental care a part of his health regimen will all go a long way toward maintaining a happy mouth. Additionally, treats that are formulated to address dental issues, like plaque and tartar build-up, are a very easy way to add to your cat's oral health routine and offer some added enjoyment throughout the day. Dental treats for cats aren't intended to replace other health care protocols and work best when given in addition to your cat's hygiene routine, but they can help. Treats given the seal of approval from the Veterinary Oral Health Council meet criteria proven to reduce plaque and tartar in cats, so look for the VOHC label if you're unsure which treats to reach for.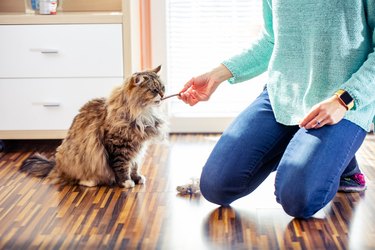 What to Consider When Purchasing Cat Dental Treats
​Medical History:​ First and foremost, before adding any new supplement, vitamin, or treat to your cat's diet, you'll want to consider his medical history and find out whether this new element is something that will add to his quality of life. Cats, especially as they get older, are prone to dental diseases and obesity. Adding dental treats is a good habit to instill as a preventative measure, but if your cat already has oral health issues you'll want to weigh whether soft or hard treats will be best for the comfort of his teeth and gums. If your cat is overweight or doesn't exercise much, low-calorie treats are a good option as they won't contribute to the condition.
​Diet:​ This touches on your cat's weight once again, but is important to reiterate as obesity is the most common preventable disease in cats in North America. Feeding your cat treats can be an effective and easy way to ensure that her teeth, gums, and mouth are healthy and clean, but if your cat is already on a high-calorie diet or gets very little exercise, it's important to look for treats that won't add too many more to her daily intake.
​Flavor:​ This is likely a no-brainer, but people can sometimes tend to reach for any old treat or supplement with the intention of improving a health issue for their cat, only to find that their feline won't eat it because he hates the taste of it. Not everything that's great for our health will taste great, but if you want to find a health regimen that's sustainable, making treats enjoyable is your best bet at getting your cat to cooperate.
The Best Overall Dental Treat for Cats
Greenies Feline Oven Roasted Chicken Flavor Adult Dental Cat Treats
Many pets already find this brand, Greenies, to be irresistible both for the substantial consistency and delicious flavor, and these treats for cats are no different. Flavored with chicken meal and containing vitamins, minerals, and healthy fats like flaxseed, these little treats contain only two calories a bite and contain no artificial flavors or preservatives. Even better, this treat is stamped with the Veterinary Oral Health Council (VOHC) seal of approval, which means it does meet pre-set standards for actually reducing the amount of tartar and plaque on your cat's teeth. These treats are crunchy, however, so if you have a cat who likes a soft bite, or if your cat has trouble chewing due to tooth or mouth pain, it might be wise to pass on these in favor of a chewy dental treat.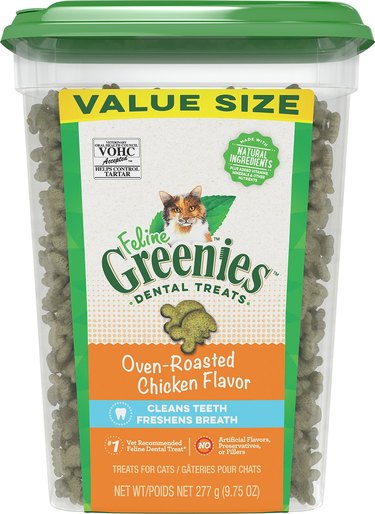 The Best Crunchy Dental Treats for Cats
Purina Pro Plan Veterinary Diets Crunchy Bites Crunchy Cat Treats
Some cats prefer chewy or softer bits, while others love nothing more than to sink their teeth into a crunchy little bite you can hear and taste. These tiny snacks are only two calories each and are flavored with chicken and liver to keep your cat's teeth clean and her gums stimulated and healthy. Thanks to the efficacy of these treats in preventing oral diseases (affirmed by the VOHC) and the low price tag, this option is definitely money well spent.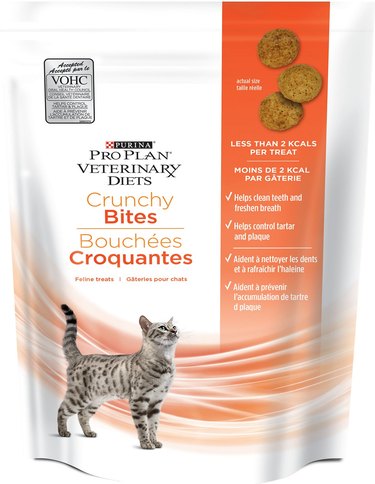 The Best Soft Dental Treats for Cats
Virbac C.E.T. IntelliDent Cat Dental Treats
These treats are a bit chewy but not at all mushy, offering excellent gum health stimulation, few calories, and a healthy source of protein for cats. It's recommended that these be fed to your cat three times per day, which only comes to eight calories total, making it a great option for cats of any age and size. No artificial ingredients are used to make them, but a delicious chicken flavor from chicken meal and chicken fat offer a taste most cats enjoy. As with all treats, these are not a meal substitute, and as with all dental supplements, these shouldn't be used in place of regular cleanings but they can keep your cat's gums in good shape at a price that's pretty affordable, in addition to his regular oral hygiene routine. It should be stated that these treats are not VOHC certified.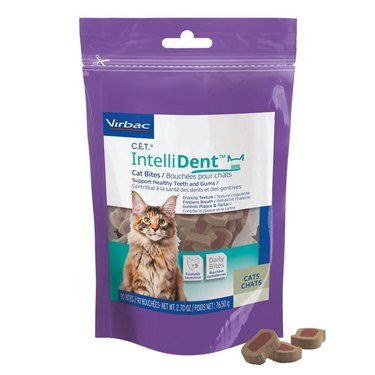 The Best Poultry-Flavored Dental Treats for Cats
Temptations Dentabites Oral Care Soft & Crunchy Cat Treats
Temptations are an old stand-by for many cat caretakers, and for good reason: They're tasty, available in a wide variety of flavor combinations and consistencies, and are just about the lowest-cost treats you can find in most stores. Their dental care formula is special as it's both a crunchy and soft treat in one—it's hard and crunchy on the outside, but soft and chewy on the inside, offering your cat the best of both worlds in every little bite. These do not contain artificial flavors, but they do contain grain, which can upset the stomach of some cats who are sensitive to it. Like the treats listed above, these are not certified by the VOHC, but they are an affordable option for anyone looking to add a little variety and gum stimulation to their cat's daily health care and eating routine.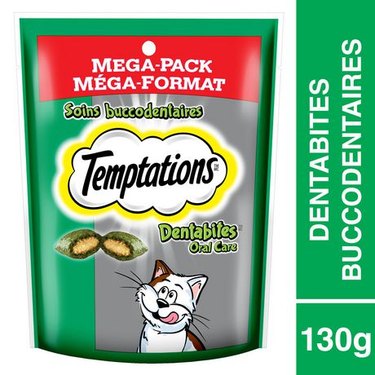 The Best Seafood-Flavored Dental Treats for Cats
DentaLife Savory Salmon Flavor Dental Cat Treats
Right after chicken and turkey, salmon clocks in as the most coveted food flavor for cats. While this treat is salmon flavored, its main ingredients are actually chicken products so keep that in mind if your cat's stomach reacts best to fish. That said, there are no artificial flavors or colors used in creating them, and they do contain added calcium, taurine, and probiotics to promote bone health, muscle development, and digestive wellness. These are crunchy treats designed to reduce the build-up of tartar and come in a resealable pouch to help keep them fresh. These treats are approved by the VOHC.
The Best Dental Supplement for Cats
ProDen PlaqueOff Dental Care for Dogs and Cats
Sometimes a treat comes in a tasty bite offered by hand, other times they need to get a little more creative, especially if you have a cat who is resistant to oral health care. This supplement is designed to be sprinkled over your cat's food and is made with seaweed, which gives it an ever-so-slight seafood flavor that most cats enjoy. This powder is VOHC-certified to reduce the appearance of tartar on your pet's teeth and is an excellent option for anyone who has a pet who refuses to have her mouth handled when it's time for a regular teeth cleaning.