Cats are carnivorous creatures who require a lot of protein to survive. Despite the ingredients found in commercial diets today, cats, who are obligate carnivores, don't exactly need items like grains and fruits to meet their nutritional needs. This is why many feline caretakers have looked to raw diets to feed their cats with. While creating a raw blend of food at home using natural ingredients can be done, it's not recommended as cats need a lot of hydration to stay healthy, and do-it-yourself diets can result in an imbalanced food for your pet. Freeze-dried raw foods, which reconstitute with water or broth, offer cat owners the opportunity to feed their cats raw protein sources without the guesswork, and are offered in a wide range of flavors and price points.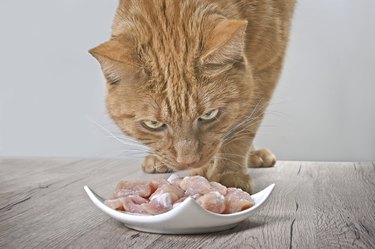 What to Consider When Purchasing Freeze-Dried Raw Cat Food
​Raw Versus Limited-Ingredient:​ Before you transition your cat to a raw food diet, or go shopping for new food after you've made the decision to go raw, it's important to understand the language you'll be seeing on food packaging and labels. Sometimes, along with the raw food diets a store or website offers, you might find food labeled "grain-free," or "limited-ingredient." While good options, these are not raw foods. Raw foods are those made with real meat, bones, and organs that have not been processed with heat. If a formula is made from raw ingredients it will say so on the packaging, so keep an eye out for this when shopping for raw food for your cat.
​Budget:​ We all want to give our pets the best of the best when it comes to medical care and upkeep, which includes food, but sometimes our budgets may limit us. It's important to remember that that's OK! If you're thinking of moving to a raw food diet but simply cannot afford to keep feeding your feline exclusively raw food, you can always look to toppers or treats that can be added to your pet's existing diet. This will still give them the benefits of that raw food without breaking the bank and may allow for a small change to be made over the long-term, which is preferred over an unsustainable lifestyle choice that doesn't last.
​Medical History:​ Raw diets have been shown to improve a number of issues in cats and dogs, including dietary allergies, skin and coat problems, digestive health, and urinary tract health, to name a few. However, a raw diet may not be for all cats as it is a very high protein formula, which can be hard for cats with kidney problems to digest easily and completely. As with any change to your cat's lifestyle, always check with your veterinarian before making a decision like going raw, because even the dehydrated, freeze-dried varieties can cause complications for some cats depending on their health and medical history.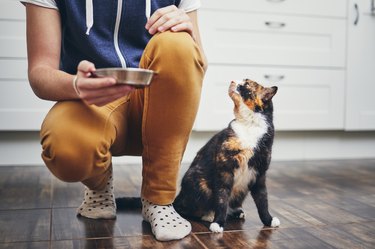 The Best Overall Freeze-Dried Raw Cat Food
Stella & Chewy's Freeze-Dried Raw Duck Duck Goose Dinner Morsels Cat Food
The appeal of raw food is that it isn't made with processed ingredients, but raw, whole foods from clean protein sources that are easy for cats to digest. This food is an excellent choice all-around as it contains food made with 98% animal protein from meat, organs, and bone. All of those nutritious vitamins and minerals stay in your pet's food, and it's fortified with additional vitamins and minerals, as well as taurine and probiotics. Available in a variety of sizes and prices, this food also comes in a number of other flavors, including chicken, rabbit, turkey, salmon and cod, and salmon and chicken, so your cat will be sure to find one that works for him.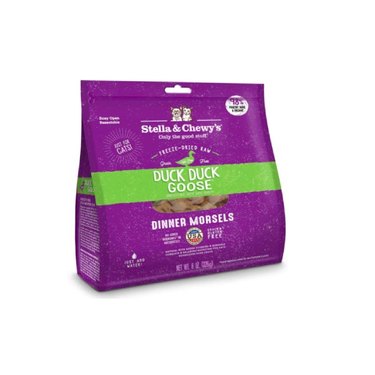 The Best Budget Freeze-Dried Raw Cat Food
Primal Freeze-Dried Cat Food Nuggets, Beef & Salmon Formula
OK, this isn't the absolute cheapest food on this list, but it's listed as a budget option for its style. Rather than kibble-like pieces, this food comes packaged as nuggets which you can crumble apart and rehydrate with warm water, broth, or, as the company recommends, raw goat's milk. This allows you to include as much or as little of this food as you like, which may be especially helpful for anyone looking to experiment with raw food, or who wants to add just a bit to their cat's existing diet. The main ingredients here are beef and wild-caught salmon, which are ground up along with the bones, and added to organic produce to deliver a protein-rich food source full of vitamins and minerals.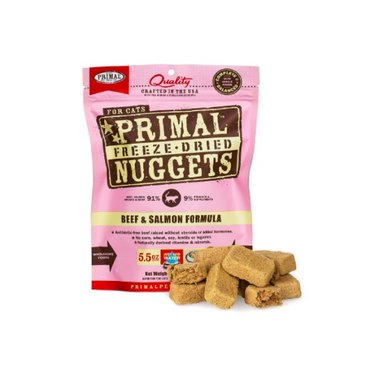 The Best Chicken Formula Freeze-Dried Raw Cat Food
Instinct Freeze-Dried Raw Meals Grain-Free Cage-Free Chicken Recipe Cat Food
Chicken is one of the most common cat food flavors, so it won't be hard to find one if that's what your cat prefers. Made with chicken, chicken livers, chicken hearts, and chicken bones, this food is a high source of protein at 85%, as well as fat thanks to flaxseed and salmon oil. In addition to fresh vegetables like butternut squash, carrots, and spinach, this one also contains fruits like blueberries and apples to keep that diet balanced and nutritious. Like all raw food, this formula contains no grain, corn, wheat, legumes, or soy, so the chances that it will upset your cat's stomach or result in a food allergy are low.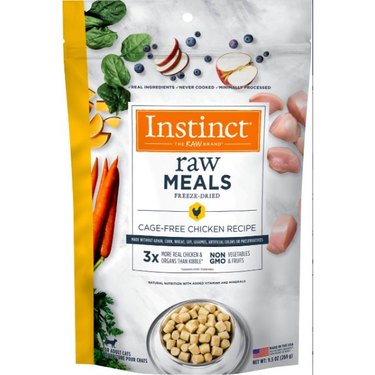 The Best Salmon Formula Freeze-Dried Raw Cat Food
Stella & Chewy's Sea-licious Salmon & Cod Dinner Morsels Freeze-Dried Raw Cat Food
Some cats enjoy poultry, while other cats love a fishy flavor that's rich in "good" fat—omega-3. This variety contains two types of fish, salmon, and cod, both of which are wild-caught and ground up, bones, organs, and all to make up 98% of its protein sources. Not only is this food a great source of protein and fat, but it's also packed with several probiotic strains, like Pediococcus acidilactici and Lactobacillus acidophilus. This formula will get your cat's gut health in top working order, and you won't need to feed them any additional supplements.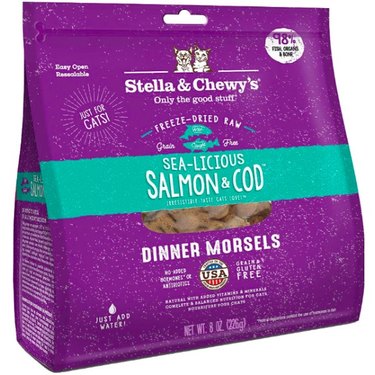 The Best Venison Formula Air-Dried Raw Cat Food
ZiwiPeak Air-Dried Venison Recipe Cat Food
If your cat likes venison, you're in luck—this food contains just about every part of the deer that's fit to eat, including meat, tripe, heart, lungs, and kidneys to create a food that's 96% meat, organ, and bones, all sourced from New Zealand. In addition to venison, this food also contains kelp and green mussels and contains no added carbs or fillers, so your feline friend is only getting what the animals have to offer. The great thing about this food, along with other freeze-dried options, is that the drying process preserves the natural ingredients while simultaneously getting rid of harmful bacteria to create a food that's not only great for your cat's health but is also safe and tasty.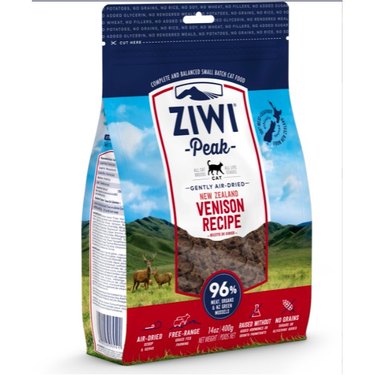 The Best Freeze-Dried Raw Cat Food Topper
Nulo Medal Series™ Freeze-Dried Raw Cat Food Topper
This one may not be considered food, technically, as it's meant to be a topper to add to your cat's meals or to be offered as a treat, but it's included here for its excellent ingredients and modest price point. An impressive 83% to 90% of the protein in this topper comes from animal sources, namely beef ground with bones, as well as beef liver, tripe, heart, and collagen. Additionally, the natural carbohydrate sources in this formula stem from sweet potatoes and chickpeas to create a low-glycemic food that tastes great.