We fully support a happy cat, and sometimes, less is more when it comes to staying in optimal health. In fact, obesity is the number one preventable disease among cats in North America, with an incredible 30% of cats being obese, and nearly half of adult cats weighing more than what's ideal according to medical experts. How do cats get up there in weight so commonly? This can be attributed to a number of reasons and will vary from cat to cat, but usually, lack of exercise seen in indoor cats is a common culprit, as is overeating thanks to untimed meals, or grazing. Having to restrict our cats from something they enjoy is never fun or easy, but keeping their diets regimented and healthy for them will go a long way in preventing obesity-related diseases, including diabetes, osteoarthritis, and even bladder stones.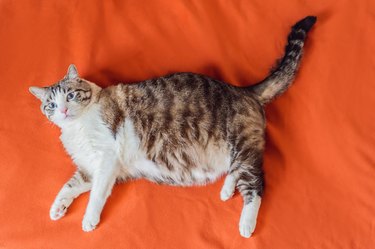 What to Consider When Purchasing Cat Food for Weight Loss
​Flavor:​ Having to change or restrict your cat's daily food intake can be hard enough, and maintaining a healthy regimen won't be any easier if they don't like the new food they're eating. Always be sure to keep your cat's flavor preferences in mind when shopping for food, especially when initiating a lifestyle change such as dieting, as it will incline him to eat regularly, making weight loss goals more sustainable.
​Consistency:​ As with flavor, the type of food you feed your cat with a weight loss goal in mind will go a long way in helping you both see the results you're striving for. So, if you have a cat who absolutely will not eat dry food regularly, changing to a low-fat dry diet will only leave him frustrated and miserable. Work with your cat's existing appetite, and don't set them up to fail by introducing unrealistic measures.
​Age:​ Food formulated to help cats lose weight is no different from any other type of food, and keeping your cat's life stage in mind when shopping will ensure the best results. Losing weight is generally not an issue for kittens or very old cats, who need extra fat to keep them healthy throughout those stages in life. Senior cats, however, may need tweaks made to their diet, especially if they have other health issues to attend to, so always talk to your veterinarian before making changes to an older cat's meal plan.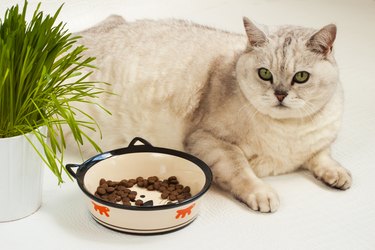 The Best Dry Cat Food for Weight Loss
Blue Buffalo True Solutions Fit & Healthy Weight Control Formula Recipe Dry Cat Food
Kibble that doesn't have real meat as the first ingredient probably contains more fillers than a cat on a weight loss journey needs, which makes this formula a great choice for cats who prefer dry food. Made with real chicken, fruits, and vegetables, this dry food does not contain preservatives, corn, wheat, soy, or other ingredients that are common food allergens for some cats. Each one-cup serving contains 360 calories and L-carnitine, which helps the body convert fat to energy and promotes weight loss.
​Calories:​ 360 calories/cup
​Main Ingredient:​ Deboned chicken
​Added Benefits:​ Fiber-rich
​Prescription Requirements:​ None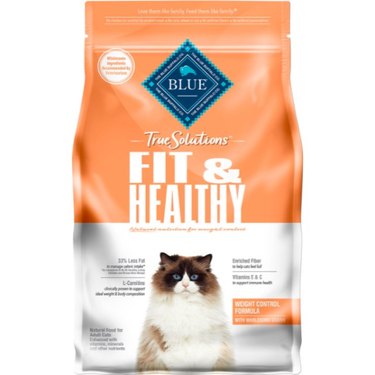 The Best Wet Cat Food for Weight Loss
Hill's® Science Diet® Perfect Weight Adult Cat Food
If your cat will only eat wet food before her diet, you'll want to keep her eating a consistency she enjoys if you want to see results. This high-protein wet food is made with chicken broth and pork liver to support lean muscle growth. This wet formula does contain less fiber than a traditional dry kibble diet, but fortunately, cats don't need fiber in their diets and shouldn't have too much as it can impede them from absorbing other crucial nutrients from their food. According to Science Diet, over 70% of cats fed this diet lost weight over 10 weeks.
​Calories:​ 62 calories/2.9 ounces can
​Main Ingredients:​ Pork liver, chicken broth
​Added Benefits:​ None
​Prescription Requirements:​ None
The Best Wet Cat Food for Senior Cats
Hill's® Science Diet® Adult Senior 7+ Wet Cat Food
Most people can't get away with eating the way they did when they were teens or young adults, and our pets are no different. Generally, cats are considered to have reached "senior" status around seven years of age, which is when their energy levels start to slow down, their immune systems are less strong than they once were, and their vision, hearing, and senses of smell start to dwindle. Often, cats will eat less in their later years, but that doesn't mean they will lose weight if they are eating the wrong foods. This wet formula is easy to eat and designed to build lean muscle in cats over the age of seven. It's made with all-natural ingredients and is flavored to appeal to picky eaters, which older cats can sometimes be.
​Calories:​ 72 calories/2.8 ounce pouch
​Main Ingredients:​ Tuna, chicken, pork liver
​Added Benefits:​ Designed for older cats
​Prescription Requirements:​ None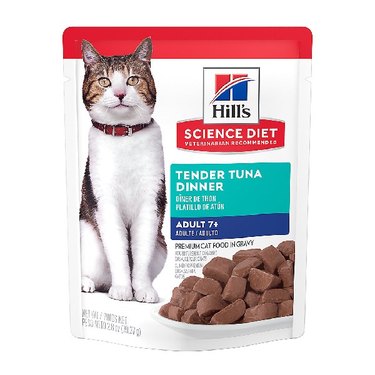 The Best Raw Cat Food for Weight Loss
Stella & Chewy's Chick Chick Chicken Dinner Morsels Freeze-Dried Raw Cat Food
If your cat has been on a raw diet, you don't have to sacrifice her meals to help her lose weight. This freeze-dried variety is brought to life with a bit of warm water and is made with cage-free poultry whose bones and organs are all found in the food, listed as the main ingredient. This food is free of artificial color and preservatives, as well as grains, making it gluten-free and easy on the stomach for just about any cat. Like most weight loss formulas, this formula is high in lean protein but low in calories with just 182 calories per cup, so it's best to consult your veterinarian before putting your cat on this diet.
​Calories:​ 182 calories/cup
​Main Ingredient:​ Chicken
​Added Benefits:​ Immune health, teeth and gum improvement, allergy relief in some pets
​Prescription Requirements:​ None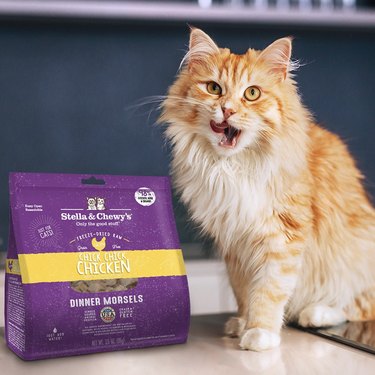 The Best Poultry Formula for Cat Weight Loss
Purina ONE Natural, Low Fat, Weight Control, Indoor Dry Cat Food
High in protein and 10 percent lower in fat than their Tender Selects cat food, this affordable option in a generally well-liked flavor among cats is a great choice for indoor cats especially. This is a dry food that offers a crunchy texture to its bites and is also designed to limit hairballs thanks to its high fiber content. It does not contain any preservatives or fillers and is rich in omega-6 fatty acids to promote healthy skin and fur.
​Calories:​ 415 calories/cup
​Main Ingredient:​ Turkey
​Added Benefits:​ Antioxidants for immune health, fatty acids for healthy skin and coat
​Prescription Requirements:​ None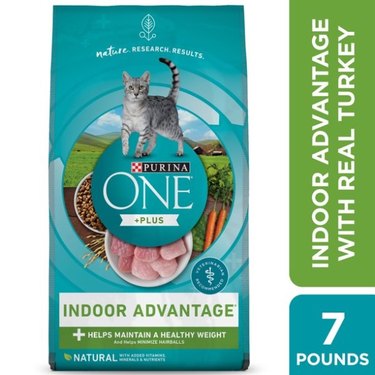 The Best Fish Formula for Cat Weight Loss
Blue Buffalo Indoor Health Salmon & Brown Rice Recipe Adult Dry Cat Food
Seafood is a flavor favorite among many felines, and fortunately, this lean protein is a great option when looking to help your cat maintain a healthy weight. Featuring deboned salmon, chicken meal, and brown rice, this food is designed specifically for indoor cats who may not burn as many calories as their outdoor counterparts. Containing 415 calories per cup, this food is also rich in omega-3 fatty acids, as well as antioxidants from pumpkin, spinach, cranberries, and blueberries.
​Calories:​ 415 calories/cup
​Main Ingredient:​ Deboned salmon
​Added Benefits:​ Antioxidants for immune health, fatty acids for healthy skin and coat
​Prescription Requirements:​ None