Keeping a clean scalp and hair is an important part of a hygiene ritual, and many people look to shampoos and conditioners to do that. Sometimes, our dogs need a little help keeping their skin and hair clean as well, and adding these same types of products to their pet care routine can address some common concerns, like flakiness, matted fur, and even fungal or bacterial overgrowth. Finding the right conditioner for your dog can go a long way in keeping a dog's skin healthy and his coat shiny, soft, and free from matting or tangles, which can be painful if left untreated for too long. Petting our dogs has been proven to be beneficial not only in building a bond between us, but also produces more of the hormone oxytocin, which generates loving feelings and improves our quality of life. Keeping dogs conditioned is a small part of a regular grooming routine, but goes a long way in keeping them looking and feeling great, and staying healthy and happy as well.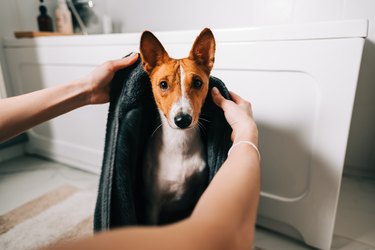 What to Consider When Purchasing Conditioner for Your Dog
​Treatment:​ Many people tailor their shampoo and conditioner to address their personal hair and skin concerns. Dry or damaged hair might benefit from a hydrating conditioner, while sensitive scalps may do better with soothing ingredients. The products we use on our dogs are no different. Many dogs can do completely fine with a run-of-the-mill conditioner, but some dogs might need more specialized formulas to meet their needs. For example, a dog with a heavy undercoat will probably do best with a de-shedding formula, while a long or fine-haired dog may need a detangling product.
​Delivery:​ Do you have a wiggly dog on your hands and don't usually have time to uncap a bottle? Then you may need a pump-dispenser for your dog's conditioner. If your dog doesn't really love a bath, or if bathtime is scary or traumatic for him, a spray-on leave-in conditioner or conditioning wipe may be the better option. In most cases, dogs prefer baths that are short and sweet, so finding the right bathing method can help make bathtime a less stressful ordeal for everyone.
​Fragrance:​ One of the most common reasons why a dog, or even a person for that matter, may experience dry, itchy, or flakiness on their skin is because of the ingredients used in their bath products. Added fragrance, which is commonly found in their skin and hair care treatments, can leave canines with skin discomfort. Some dogs won't notice a difference either way, so it'll be up to you whether you opt for a scentless conditioner, or would prefer your dog to smell a little sweeter or more floral than normal. Other dogs, however, cannot tolerate fragrance in their conditioner, and being exposed to it can lead to flaky skin, hot spots, and allergies. If your dog seems irritated after a bath, check the ingredients for fragrance and try a fragrance-free product next time to see if it improves the experience.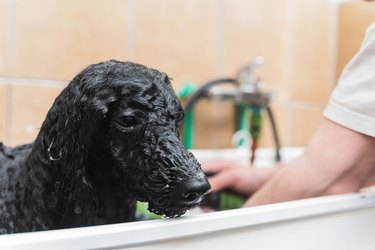 The Best Overall Dog Conditioner
Burt's Bees for Dogs Oatmeal Conditioner
If you're not sure where to start on your dog's fur conditioning journey, this is a great option for just about any dog, hair type, condition, or concern. Made with all-natural ingredients, this conditioner is pH balanced to work with every dog's skin barrier, including puppies. Like any good baby conditioner, this is a tear-free formula that doesn't include skin-irritating fragrances, drying sulfates, or harsh chemicals. Even if your dog doesn't have sensitive skin, the main ingredients of this conditioner—colloidal oatmeal, honey, and beeswax—will help keep fur soft, smooth, and moisturized at an affordable price.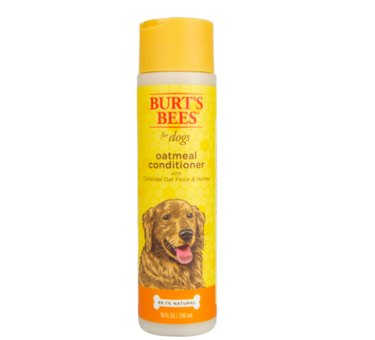 The Best Budget Dog Conditioner
Arm & Hammer 2-in-1 Shampoo and Conditioner for Pets
You don't have to spend a lot of money to give your dog, and her fur, the pampering it deserves. Long-celebrated as a name in household cleaners that are not only low-cost but effective at keeping things fresh and clean, this Arm & Hammer conditioner actually shampoos as it conditions. This makes it not only economical in price but efficient on time and storage. Coconut-based surfactants clean the fur without damaging it, and aloe rounds things out to keep that mane healthy and hydrated. This product does contain fragrance, so that should be kept in mind if your dog has sensitive skin or experiences irritation from artificial scents.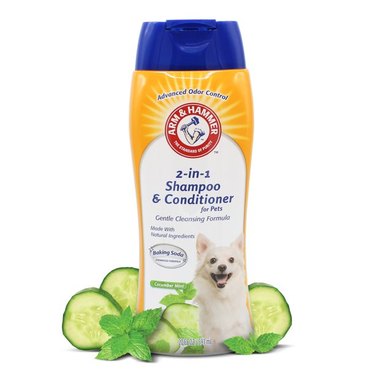 The Best Skin-Soothing Dog Conditioner
Earthbath Oatmeal & Aloe Fragrance-Free Dog & Cat Conditioner
If your canine friend suffers from itchy skin, dryness, seasonal irritation, allergies, or just can't seem to be subjected to ingredients without having some type of adverse reaction, a gentle conditioner formulated to soothe the skin is your best bet. Made with colloidal oatmeal to soothe dryness, as well as shea butter and aloe to keep skin and hair hydrated, this conditioner is an excellent choice for dogs who might usually leave a bath feeling dry and itchy. Better yet, this conditioner doesn't contain any fragrance, which is one of the most common sources of skin irritation in both dogs and people. It's even gentle enough that it won't wash away topical flea medication and even detangles long and curly coats.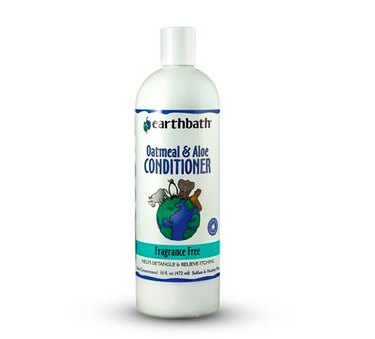 The Best Leave-In Dog Conditioner
Zymox Enzymatic Dogs & Cat Leave-on Conditioner
We all need a little extra skin and hair care from time to time, and our dogs are no different. Sometimes, a leave-in conditioner is just what our furry friends need to keep coats soft and skin moisturized, which can prevent itching and flaking from dryness or irritation. This conditioner not only keeps fur from becoming matted but also protects the skin from possible infections due to bacterial or fungal overgrowth thanks to its enzyme-rich formula. All-natural and safe for pets of all ages, this conditioner is easily applied to the skin and fur and is meant to be left in, reducing itchiness all day and leaving your pet feeling comfortable.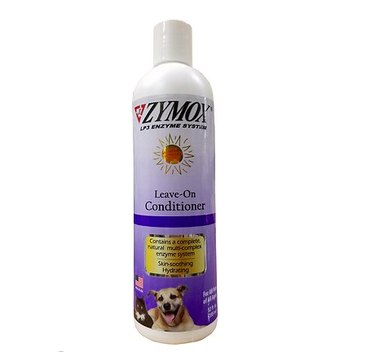 The Best 2-in-1 Dog Conditioner
CHI® for Dogs Gentle Formula 2-in-1 Shampoo & Conditioner
If this name and label look familiar, that's probably because you may have seen it in the hair care aisle in your local drug store or beauty supply outlet. This company understands what people need to keep their hair shiny and healthy, and has extended that knowledge to include a line just for dogs. Keeping things simple, this 2-in-1 uses a sulfate and paraben-free formula to remove dirt and debris from the fur while simultaneously strengthening strands with an effective conditioner. To help keep furry coats soft, this conditioner uses silk protein, milk, and aloe vera.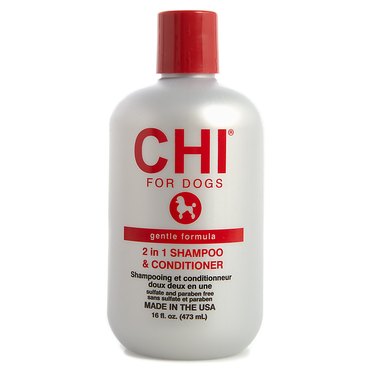 The Best Deshedding Dog Conditioner
For the thick-coated dogs in the world, a de-shedding shampoo can work wonders at preventing tufts and excess hair from collecting around the house. Deshedding conditioners are also an important part of the hair maintenance process in these cases, and this one is packed with ingredients that will knock out that thick undercoat. Made with aloe vera and chamomile extracts, this formula is also enriched with Omega 3 and 6 fatty acids, all of which work to release the undercoat to prevent shedding during the bathing process. Despite its ability to pack a punch against loose fur, this gentle formula is free of parabens and harsh chemicals, which can irritate a dog's skin. It's best used with the deShedding shampoo from the same line during monthly bath times.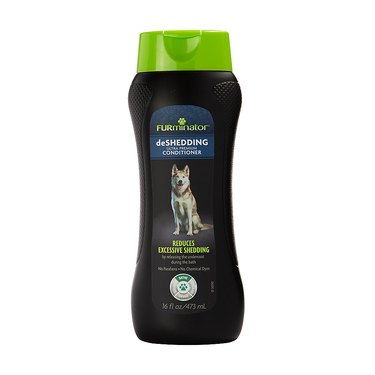 The Best On-the-Go Conditioner
Petkin Petwipes Dog & Cat Wipes
OK, this one isn't entirely a conditioner, but it does include conditioning ingredients like aloe and vitamin E to help keep your dog's skin and fur moisturized. Not all dogs enjoy bath time, and if that sounds like your canine, the idea of having her sit for an extra 10 minutes while a conditioner works its magic on her fur may just be unrealistic. In this case, you can still clean and condition the fur with wipes. These won't get rid of heavy dirt and debris, and if your dog has a serious skin condition then additional measures will need to be taken, but if you just need to freshen up your pet with minimal time and effort, having these on hand can help get the job done in seconds.