Ear cleaning is important for all dogs regardless of size and breed. Dogs with floppy ears are predisposed to their ears getting dirty, itchy, and even infected. These dogs will need their ears cleaned more frequently. Dogs whose ears are dirty and in need of cleaning may scratch more, rub their ears, or shake their heads frequently. Regularly cleaning your dog's ears as part of your grooming routine can prevent ear infections from developing. When using ear cleaner be sure to follow the manufacturer's instructions on how much cleaner to use and how frequently.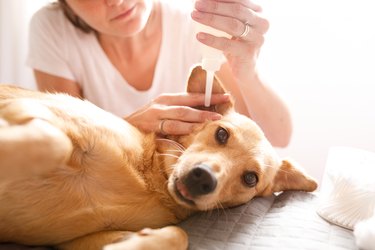 What To Consider When Purchasing Dog Ear Cleaner
​Current Infection:​ If your dog's ears are sensitive, red, smelly, or seem painful, it's important to schedule an appointment with your veterinarian. Ear cleaners can help prevent ear infections, but if your dog has an active ear infection, they will need to be seen by a veterinarian who will likely prescribe medication to treat the ailment.
​History of Infections:​ If your dog has a history of ear infections, it's important to talk with your dog's veterinarian about what type of ear cleaner is going to be best for your dog's specific conditions. Using the right cleaner may be able to help prevent ear infections in the future.
​Lifestyle:​ When picking an ear cleaner for your dog, consider the activities that you regularly do together. If you have a dog who loves swimming, and your dog spends a lot of time in the water, it's a good idea to select an ear cleaner that specifically helps to dry the ears. Keeping your dog's ears dry can prevent future infections.
​Frequency:​ How often you'll clean your dog's ears will depend on the instructions for each ear cleaning product. All dogs should have their ears cleaned at least monthly. For dogs with floppy ears, or those who are predisposed to ear infections, you may need to clean the ears every other week, or even weekly to keep them clean.
Now that we've gone over the basics, here are the best dog ear cleaners on the market for treating some of the most common ailments.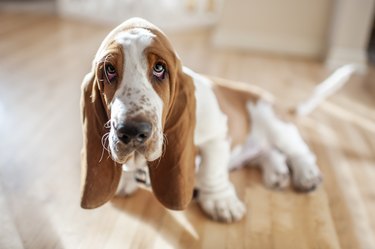 The Best After-Swim Dog Ear Cleaner
OtiRinse Ear Cleansing/Drying Solution for Dogs & Cats, 8-oz Bottle
Ideal for dogs who spend a lot of time in the water, this ear cleaner not only cleans ears but it dries them as well. The drying properties make this ear cleaner ideal for dogs with flopped and droopy ears that tend to trap moisture. This acidifying cleaner includes cerumenolytic, which helps to dislodge and break up any debris in your dog's ears. The ear wash is made with aloe vera to soothe sensitive ears as you clean. It also has a floral scent to remove any bad ear odor.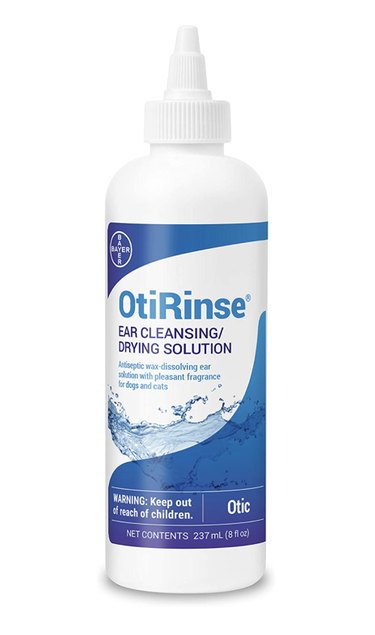 The Best Dog Ear Cleaner for Itchy Ears
VetWELL Ear Cleaner for Dogs and Cats, 8-oz Bottle
Gently formulated for sensitive dog ears, this solution was developed to acidify, dry, and clean. The ear cleaner will help to eliminate any buildup of wax, dirt, and debris from within your dog's ears. Intended to make dogs more comfortable, it provides some much-needed relief from itching, scratching, and head shaking. This ear cleaner is made in the United States and the cleansing formula includes aloe vera, which soothes ears as they are cleaned. As an added bonus, it also helps to reduce unpleasant ear odors.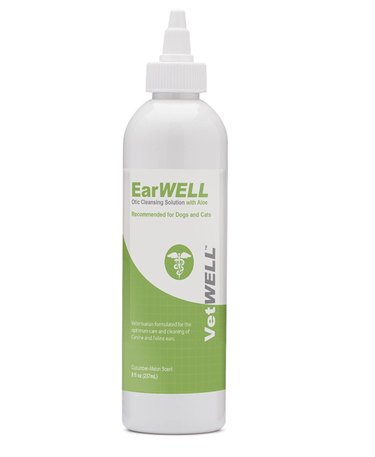 The Best Dog Ear Cleaner for Minor Injuries
MicrocynAH® Ear & Eye Pet Wash, 3-oz Bottle
If you often go for walks in the woods, this solution is perfect for dogs who run through underbrush and get minor ear injuries. This multipurpose wash was developed to provide soothing support for pets with irritated or wounded ears or eyes. The nontoxic formula is made without alcohol, antibiotics, or steroids. It's intended for flushing irritations out of the outer ear or eye (as long as the cornea is intact), but should not be used to treat an inner ear infection.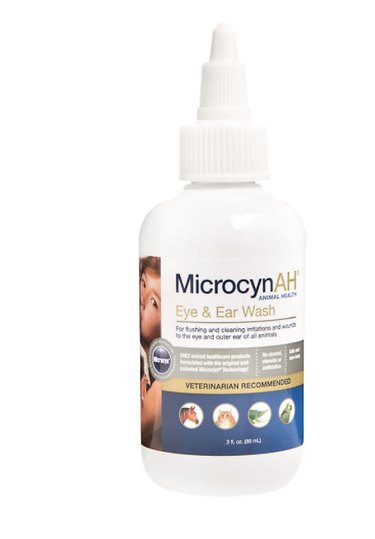 The Best Dog Ear Cleaner for Wax Buildup
Virbac EPIOTIC Advanced Ear Cleanser, 8-oz Bottle
This non-irritating formula is an ideal cleaner to use on dogs with sensitive ears. The ear cleaner helps to remove wax buildup and any debris from your dog's ear canal. It's specifically formulated to support dogs who have chronic otitis externa (inflammation of the external ear canal), which can be quite painful if left untreated. This ear cleaning formula has low-pH to support overall ear health. It's particularly helpful for dogs with floppy ears or those who swim often. This gentle formula works by soothing irritated ears and drying out the inner ear.
The Best Dog Ear Cleaning Wipes
Pet MD Dog Ear Cleaner Wipes, 100-Count
Designed to be safe for regular use, this ear cleaner comes on alcohol-free, disposable wipes. It can prevent ear infections, remove debris from around the ear, and reduce the build-up of wax. The wipes are made in the United States and are safe for dogs over 12 weeks old. The product is easy to use and perfect for traveling or taking with you on-the-go. The wipes contain aloe vera and eucalyptus oil to clean and freshen smelly ears. These gentle ear wipes can also ward off yeast infections.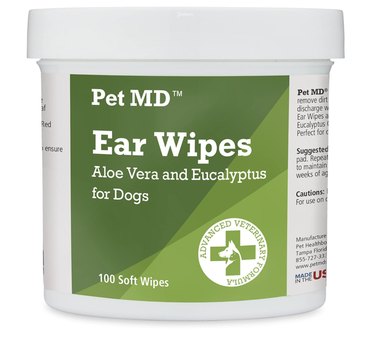 The Best Nautral Dog Ear Cleaner
Vet Organics EcoEars Dog Ear Cleaner, 8-oz Bottle
Developed specifically to soothe uncomfortable and itchy ears, this cleaner contains 100% natural ingredients and doesn't include any chemicals, cortisone, steroids, or enzymes. This ear wash is formulated to provide fast relief for dogs with chronic itchy ears. It can help to prevent fungus, yeast, and bacteria growth in the ears, which can lead to ear infections. This ear wash is made in the United States at an FDA-registered facility.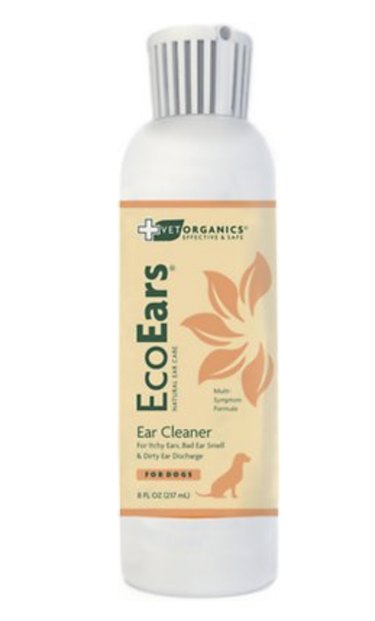 The Best Dog Ear Cleaner for Inflammation
Virbac Epi-Otic Advanced Ear Cleaner, 4-oz Bottle
This ear cleaner is recommended for dogs who suffer from chronic inflammation of the external ear canal (also known as otitis externa).While it looks similar to our pick for the 'Best Dog Ear Cleaner for Wax Buildup,' the formulas are different, with this version containing 0.2% salicylic acid. It's gentle and designed to soothe and cleanse sensitive ears. The patented anti-odor technology also reduces ear canal odor with a mild citrus scent. This low-pH formula is created with 'anti-adhesive glycotechnology,' which prevents microbial attachment. It removes excess wax and debris while drying the ear canal to avert any further irritation.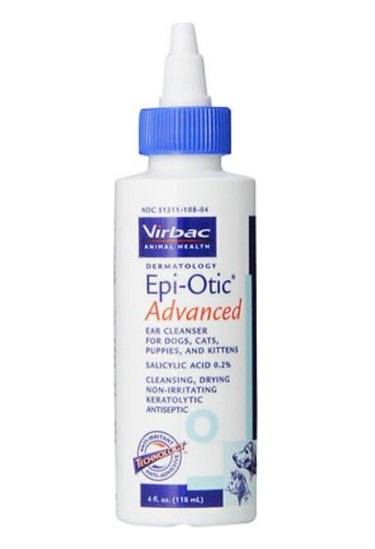 The Best Gentle Dog Ear Cleaner
Burt's Bees® Cleansing Ear Dog Wash
Made with charcoal, coconut oil, and witch hazel, this natural cleansing ear wash is ultra-gentle. The product removes moisture and debris from your dog's ears, even reaching the inner ear canal. It's free of fragrances, sulfates, colorants, parabens, and harsh chemicals, making it ideal for sensitive skin. The formula is 99.7% natural, and the soothing ingredients clean without causing any stinging. The pH-balanced ear wash is designed for dogs and puppies, and also helps to eliminate unpleasant odors.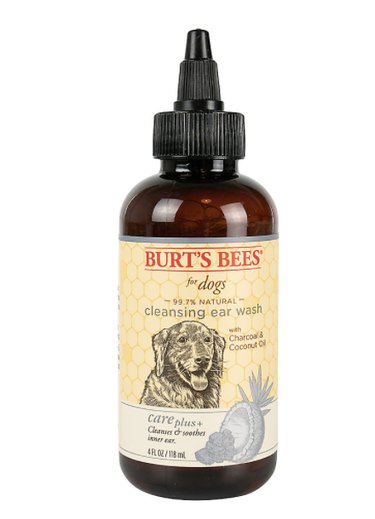 The Best Dog Ear Cleaner for Odor
TropiClean® Alcohol-Free Ear Wash, 4-oz Bottle
Does your dog have smelly ears? This alcohol- and soap-free ear wash is developed to reduce odor while gently removing wax and debris. It's made from 97.4% natural ingredients and has a cocoa butter scent that will leave your dog's ears smelling fresh. Recommended for use after a bath, this cruelty-free product is made in the U.S. It cleans without causing stinging or irritation to your dog's ears. This ear cleaner can be used on dogs 12 weeks and older.