Unfortunately, Urinary Tract Infections (UTIs) and other bladder ailments like struvite crystals can be common in cats. Cats who are prone to UTIs, struvite crystals, and other urinary tract conditions can benefit from being on a special diet that supports urinary health. Cat food formulated for urinary tract health can help prevent such conditions from occurring again in the future. Some urinary support foods require a prescription to purchase, so you may need approval from your veteran to order new food for your cat.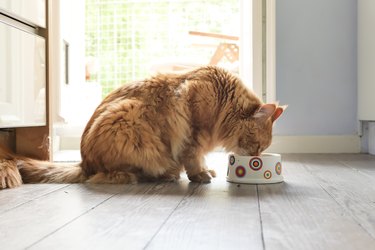 What to Consider When Purchasing Urinary Health Cat Food
​Veterinary Consultation:​ If you notice that your cat is struggling with urinary tract issues or seems to be in pain or uncomfortable when using the litter box, it's important to have your cat seen by a veterinarian right away. Your vet will determine if your cat has a current infection or condition in need of treatment and may have recommendations for a urinary tract health formula.
​Preferences:​ If you know that your cat has a preference or sensitivity to certain proteins (fish, poultry, lamb, etc.) keep that in mind when determining which food is right for her. Read the label carefully to avoid any ingredients that your cat might be allergic or sensitive to. Additionally, some cats have strong preferences for wet or dry food. When selecting urinary tract health food, be sure to consider which texture your cat favors.
​Transition Slowly:​ If you're wanting to change your cat's food to a diet that supports urine health, it's important to transition him to the new diet slowly. Suddenly changing your cat's food can lead to stomach issues, including diarrhea and vomiting, so it's best to slowly add the new food to your cat's old food. Increase the percentage of the new food while decreasing the percentage of the old food over a one-week period until your cat has fully transitioned.
Now that we've discussed what to look for, here are the best cat food options for improving urinary tract health.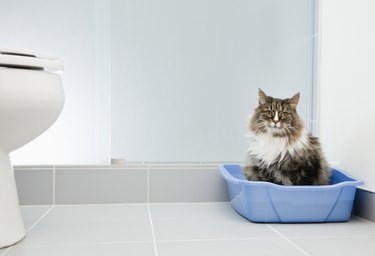 The Best Hairball and Urinary Health Cat Food
Hill's Science Diet Dry Cat Food, Urinary & Hairball Control, 7-lb. Bag
Developed to support cats' entire urinary systems, this cat food provides ideal levels of magnesium for health. Low-magnesium cat food is known to help with struvite crystals. This dry cat food includes omega-6 fats and vitamin E to improve skin and coat health, as well as high-quality protein (real chicken) to help cats maintain muscle mass. This cat food is made in the United States using quality ingredients that are sourced internationally. In addition to supporting urinary health, it also provides cats with natural fiber to naturally help reduce incidents of hairballs.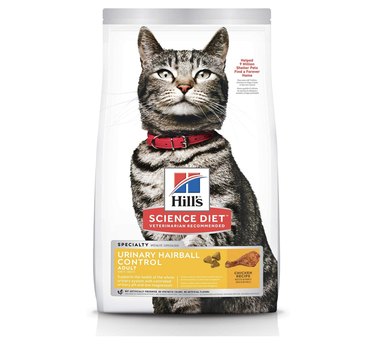 The Best High-Protein Urinary Health Cat Food
Wysong Uretic - Dry Natural Food for Cats, 5-lb. Bag
Nutritionally dense, this cat food includes prebiotics, probiotics, enzymes, and antioxidants for overall health. This dry food is developed for cats of all ages and is formulated specifically for urinary health. The high-protein diet naturally acidifies urinary pH (thus lowering the urine pH level). High pH in the urine can lead to the development of struvite crystals and obstructions. This food is high in protein with fresh/frozen and dried meat content without any fillers or non-nutritional additives.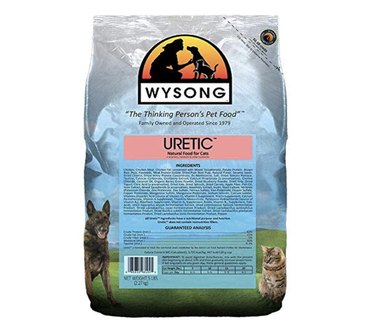 The Best Budget Urinary Health Cat Food
Iams ProActive Health Urinary Tract Health, 16-lb. Bag
Specifically formulated to help reduce the pH level in a cat's urine, this food is an ideal choice for cats with ongoing urinary health issues. The chicken-flavored dry food is designed to support overall urinary tract health and also includes vitamin E to help cats maintain a healthy immune system. It's packed with essential nutrients including calcium and potassium, which are important for a healthy heart. This diet is pea-free, lists chicken as the first ingredient, and is made without fillers. It's also made in the United States.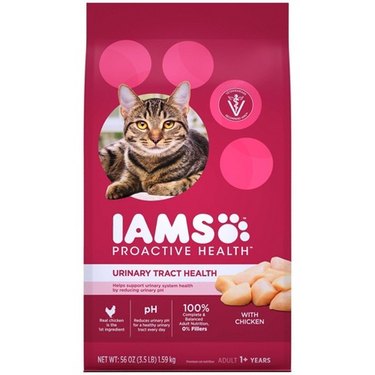 The Best Prescription Wet Cat Food for Urinary Health
Royal Canin Veterinary Diet Adult Cat Food - Urinary SO Moderate Calorie, 3-oz. Cans, 24-Count
This prescription wet cat food was created to support a cat's urinary tract and bladder health. It's intended to increase the amount of urine your cat produces, helping to cut down on excess minerals that can lead to struvite crystals and bladder stones. This food also supports cats by lowering the ion concentration in their urine to decrease the chance of bladder stones. When fed to cats regularly, the wet food helps them maintain a healthy urinary environment. It's also a good pick for cats who are susceptible to weight gain.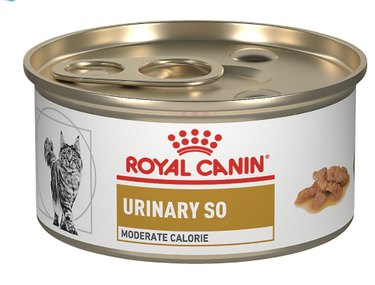 The Best Urine-Increasing Urinary Health Cat Food
Purina Pro Plan Veterinary Diets UR Urinary, 5.5-oz Cans, 24-Count
This veterinary prescription diet is intended to increase your cat's urine volume as well as fresh water intake. Cats that drink more water have healthier urine because it dilutes excess minerals that can contribute to struvite crystals and bladder stones. It can dissolve existing stones and prevent new ones from forming by "creating a urinary environment that's unfavorable to them." This 12-pack of wet food has a chunky texture and comes in two flavors—Salmon Recipe in Sauce and Turkey and Giblets Recipe in Sauce—the latter of which has fewer calories. It's a high-protein formula that also helps cats maintain lean body mass.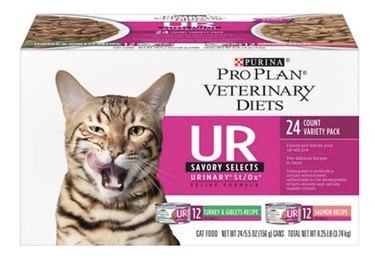 The Best Urinary Health Cat Food for Recurring Ailments
Forza10 Nutraceutic Active Urinary Dry Cat Food, 1-lb. Bag
Formulated specifically for cats with urinary issues, this dry food has a low magnesium content and is acidifying to support healthy urinary tract pH levels. Having a healthy pH balance can prevent the formation of struvite crystals. This food provides balanced nutrition and is formulated with herbal extracts like cranberry and dandelion, which are beneficial to cats who suffer from urinary tract disease, cystitis, and struvite crystals. Made with wild-caught fish and rice, this highly digestible food doesn't contain fillers, artificial colors, preservatives, or flavors.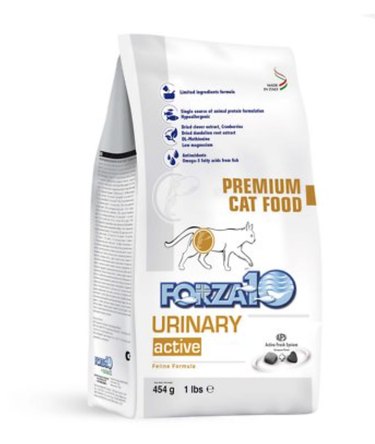 The Best Weight Management and Urinary Health Cat Food
Bundle: Blue Buffalo Natural Veterinary Diet W+U Weight Management + Urinary Care Canned + Dry Cat Food
A wet and dry food bundle, this prescription-only cat food is developed to support urinary health and weight management. The wet food is formulated with chicken broth to provide additional moisture, while the kibble touts increased fiber to keep your cat feeling fuller for longer. Both products are 100% grain-free, suitable for cats with allergies or sensitive stomachs. This veterinary diet was developed with controlled mineral levels to support a cat's overall urinary tract health. The bundle comes with 24 5.5-ounce cans of wet food and a 6.5-pound bag of kibble.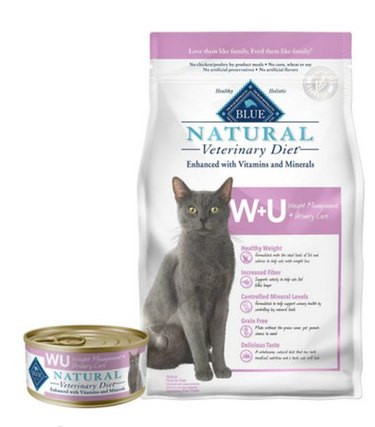 The Best Antioxidant Formula Urinary Health Cat Food
WholeHearted Urinary Support, Chicken Flavor Dry Cat Food, 5-lb. Bag
Developed to support a cat's healthy urinary tract, this dry food from Petco's in-house brand reduces a cat's urine pH levels. The food is an antioxidant formula that boosts your cat's immune system. Developed as a nutritionally balanced diet for adult cats, this food includes omega-3 and omega-6 fatty acids, which are vital for healthy skin and a shiny coat. Animal protein (chicken meal) is the first ingredient, followed by brown rice and brewers rice. There are no artificial flavors or colors included.