Dealing with your pet's poop isn't pleasant, but it's necessary. A garbage can designed specifically for pet waste can make it less unpleasant. Dog poop and cat litter contain a significant amount of bacteria that can be harmful to you and your family if not handled properly. Placing poop in a designated garbage can prevent odors and germs from escaping.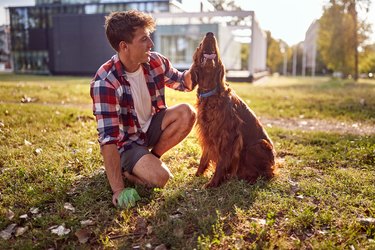 There are two ways to pick up your pet's poop—scoop it or use a plastic bag (preferably biodegradable). Whichever method you prefer, you need somewhere to put the poop. Simply placing it in your household trashcan isn't the most sanitary option, not to mention the odor you'd smell every time you lift the lid to throw something away. The best pet waste garbage cans have leakproof lids to prevent odors from seeping out, and they're convenient enough to use on a daily basis.
What to consider when purchasing a pet waste garbage can
‌Capacity:‌ The point of a pet waste garbage can is to make your life easier when picking up poop. The goal is to find one that can hold at least one week's worth of waste, otherwise, you'll be spending too much time and energy taking out the trash. If you have multiple dogs or one large one, a sizeable garbage can makes the most sense. If your dog or dogs are small, they aren't going to produce as much waste, so you can get away with a smaller can.
‌Material:‌ Just like regular trash cans, models made specifically for pet waste are available in different materials. Plastic is lightweight and won't rust, and stainless steel and aluminum are durable options that are long-lasting and great for outdoor usage.
‌Cost:‌ The cost of a pet waste garbage can largely depends on the material and special features. Plastic cans generally cost less than stainless steel and aluminum cans, but if you want one that gets the job done right, you'll likely need to spend somewhere in the $40 to $175 range.
‌Hygiene:‌ To make your pet waste garbage can as hygienic as possible, and to prevent germs and bacteria from hanging around, use a disposable or reusable liner. Some come with scented liners that perfectly fit around the garbage can so you don't have to struggle to get it on. Garbage cans that feature airtight lids and foot pedals also create a more hygienic atmosphere.
Below you'll find the best pet garbage cans at your disposal—sorry, we had to.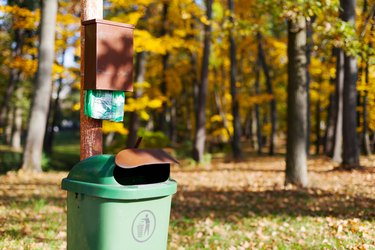 The best overall pet waste garbage can
This innovative garbage can for pets helps reduce waste and saves time. It's lightweight and has a top handle, making it easy to move around your yard as needed. An inner bucket securely holds a large waste bag and can easily be removed and washed. The can features a handle that locks down the lid (and the odor). Other perks: It comes with a universal poop bag holder, five waste bags, a deodorizer, and a 12-month warranty.
‌Dimensions:‌ 9.6" x 10" x 16.7"
The best value pet waste garbage can
There's nothing fancy about this plastic Petco bucket, but it's an inexpensive option for storing your pet's waste until you're ready to empty it. Of course, to keep things as sanitary as possible, you'll need to add a plastic liner and keep the lid on. This heavy-duty bucket can hold 5 gallons and features a sturdy metal handle with a plastic grip for carrying. The bucket isn't going to block out the odor when it's opened, but you really can't beat the price.
‌Dimensions:‌ 8.5" x 8.5" x 15"
The best compact pet waste garbage can
When it comes to design, this galvanized stainless steel trash can will at least not be an eyesore. It has a removable inner bucket, side handles for easy carrying, and a foot pedal that makes it hands-free. It's perfect for small spaces like bathrooms, laundry rooms, backyard sheds, or wherever else you want to place a trash can full of poop. This trash can holds 5 liters.
‌Dimensions:‌ 8" x 8" x 12"
The best smart design pet waste garbage can
This smart trash bin is going to make your life as a pet parent a little easier. It has a motion-activated top barrel that lets you easily dispose of your dog's poop or your cat's litter box contents. It's lightweight with a large capacity, has an anti-slip base, and is water- and splash-resistant. By simply touching a button, the bag is sealed, and just in case the bin is too full, an overload feature prevents excess trash from getting stuck during sealing, When you remove the full bag, a new one automatically takes its place. This 4.4-gallon trash can has a rechargeable battery that requires charging via a USB charging port every 30 days or so.
‌Dimensions:‌ 13.1" x 10.3" x 11.1"
The best pet waste garbage can for outdoor use
This large-capacity pet waste can is ideal for the outdoors. It's made of durable, rust-proof aluminum to withstand outdoor elements and comes with hardware to mount to any pole or post if desired. It can hold 10 to 12 gallons, which means you only need to switch out the bags when the can is full or when it starts to stink. The lid keeps water out, and it includes clamps to hold can liners in place. The trash can comes in green and black.
The best pet waste garbage can for odor control
If you're serious about disposing of your pet's waste in the most sanitary way without smelling any odors, check out PawPail's Pet Waste Station. Yes, it's an actual station. This plastic trash can is made of weather-resistant materials, so it works well outside or inside. It discreetly stores and dispenses the included thick leakproof poop bags, and the company's DualVent technology controls odors and eliminates the need for liner bags. A carbon air filter inside also helps reduce odors. You can purchase a mounting system if you want to keep it out of the way of curious animals.
‌Dimensions:‌ 19.5" x 13" x 9"
The best pet waste garbage can for composting
This is not your average trash can. In fact, it's not a trash can at all. The Doggie Dooley is an in-ground pet waste disposal system that works like a septic tank. It's an environmentally safe way to dispose of your pet's waste without all the plastic bags. It has a large enough capacity for two large dogs or four small dogs. Since dog poop isn't biodegradable, you'll need to use water and digester tablets to safely break it down. A starter pack of tablets is included, and you can purchase more here.
‌Dimensions:‌ 16" x 16" x 8.5"
The best pet waste garbage can with a pooper scooper
Cut back on the plastic poop bags by using this pooper scooper/garbage can combo. The can itself can hold a week's worth of waste for one to two dogs, and the pooper scooper's claw design has a large capacity and is easy to operate. Made from ABS plastic, the can has a foot pedal and a removable inner bin.
‌Dimensions:‌ 12.75" x 10.25" x 14.5"