Finding the right toothpaste for your dog is an important part of being a pet owner. Not only will it freshen their breath and remove plaque and tartar, but it'll also help them live longer. Veterinarians recommend brushing a dog's teeth daily, just like you would your own, but since life often gets in the way, a few times a week is good, too. Brushing is so important because plaque build-up on the gum line can cause dogs to develop gingivitis and periodontal disease, which often requires teeth to be pulled, and can lead to even more serious health problems like heart, kidney, and liver disease. Periodontal disease is the most common clinical condition in adult dogs, according to the AKC Canine Health Foundation. Scrubbing your pup's teeth with toothpaste formulated specifically for them can help tremendously.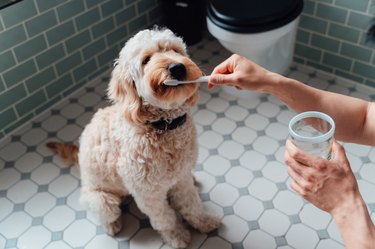 Toothpaste can help improve your dog's breath, but the reality is, your dog's breath is going to smell like dog breath no matter how often you brush their teeth. But that's part of what makes them so lovable, right? If you've never brushed your dog's teeth, it might take a few tries to get them used to it, but if the toothpaste flavor is one they love, they should eventually come around.
What to Consider When Purchasing Toothpaste For Your Dog
​Ingredients:​ Since dogs can't rinse and spit like humans, dog toothpaste is made to be swallowed. Because there's a 100% chance it'll be ingested, it's important that dog toothpaste doesn't include ingredients like fluoride or a foaming agent like Xylitol, which are both toxic to dogs. Just like any other product you buy for your dog, look for a toothpaste that's made with safe ingredients. Of course, the best option for anything ingestible will always be organic, natural ingredients without preservatives, alcohol, artificial sweeteners, and chemicals.
Enzymatic toothpaste is a good option to consider as well, as it contains enzymes (a type of protein) that interact with particles of food and bacteria in the mouth and work to quickly break them down. Enzymes can prevent the food particles from settling on teeth, causing tartar and plaque build-up, and ultimately gum disease.
​Flavor:​ Perhaps the most important consideration in finding the right dog toothpaste is the flavor. The goal is for your dog to actually let you use the toothpaste to clean their teeth, which will certainly be a lot easier if they enjoy the taste. Toothpaste comes in a variety of flavors, including poultry, beef, peanut butter, and mint. While mint may sound appealing to you and like a great way to freshen your dog's breath, many dogs don't like it. Your best bet will be to choose a flavor you know your dog will enjoy—it'll ultimately make everyone's life easier.
​Size:​ If you aren't sure if your dog will be willing to get their teeth brushed, or if they'll like the toothpaste flavor you pick out, you might want to purchase a small bottle so it doesn't go to waste. However, if you know your dog enjoys toothpaste and you plan on brushing daily, a larger bottle makes the most sense. Most toothpaste tubes come in 2.5- to 4-ounce sizes.
To find a toothpaste your dog will love, check out our list of the best options below.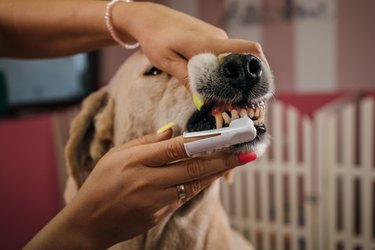 The Best Overall Dog Toothpaste
Sentry Petrodex Advanced Enzymatic Dog Toothpaste
Help control your dog's plaque and fight bad breath with regular use of this poultry-flavored toothpaste. It has a veterinary-strength enzymatic formula that provides effective cleaning power. You can buy this toothpaste in either a 2.5-ounce or 6.2-ounce tube.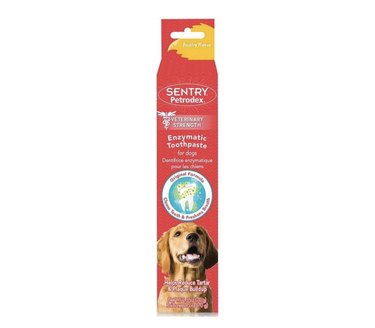 The Best Value Dog Toothpaste
Nutri-Vet Enzymatic Toothpaste for Dogs
Nutri-Vet's enzymatic chicken-flavored toothpaste isn't just affordable, it's also a safe and effective way to maintain healthy oral hygiene. Regular use can help prevent the buildup of tartar that can cause gum irritation and the loosening (or even loss) of teeth. Ingredients include glucose oxidase, which helps kill bacteria and break down plaque; hydrated silica to help remove plaque; and sodium benzoate, which inhibits the growth of micro-organisms. This 2.5-ounce tube is on the smaller side, so it's a good option for travel or a great way for your dog to try out the flavor before committing to a larger size.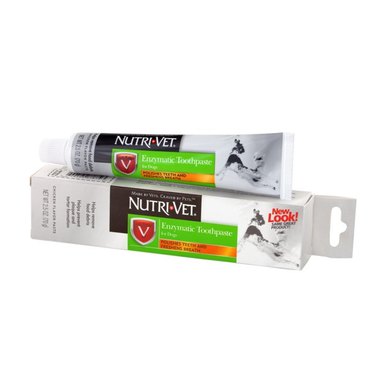 The Best Dog Toothpaste for Puppies
Burt's Bees for Puppies Natural Oral Care Kit
The best way to get your puppy comfortable with teeth brushing is to start doing it as soon as possible. This Burt's Bees kit for puppies and small dogs includes a 2.5-ounce natural, flavorless training toothpaste made with coconut oil, as well as a soft bamboo toothbrush. Before jumping in and using the dog toothbrush, the company recommends placing a small amount of toothpaste on your finger and letting your puppy lick it off before gradually progressing to rubbing it on their teeth.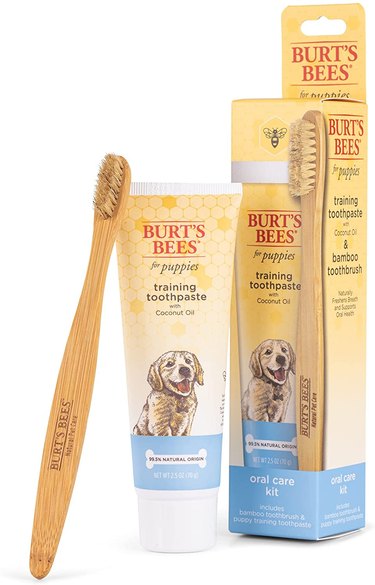 The Best Natural Dog Toothpaste
Radius Organic Toothpaste for Dogs
This 3-ounce tube of organic toothpaste is nontoxic and made with food-grade ingredients and zero harmful additives or synthetics. The main ingredients are sweet potato, cinnamon, and coconut oil, which naturally cleans and whitens teeth and reduces tooth decay and other oral health issues. The toothpaste is also designed to fight plaque and harmful bacteria and help maintain fresh breath.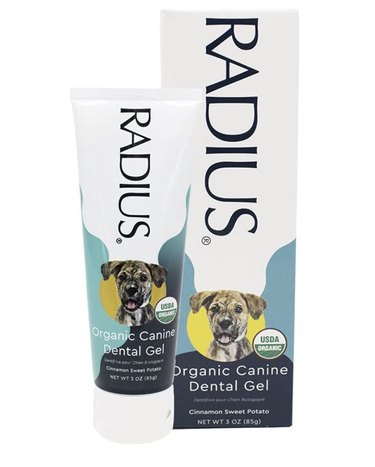 The Best Flavored Dog Toothpaste
Vetoquinol Enzadent Enzymatic Toothpaste
Vetoquinol's Enzadent Enzymatic Toothpaste promises to effectively and safely help remove tartar and plaque if used regularly. The triple enzyme system is also effective in polishing teeth. Available in a poultry flavor, this 3-ounce tube of toothpaste was developed specifically for dogs and cats of all sizes.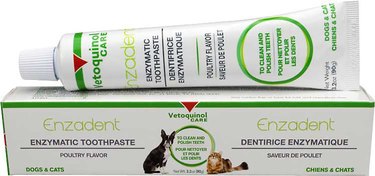 The Best Enzymatic Dog Toothpaste
Virbac CET Enzymatic Toothpaste
Designed for both dogs and cats, this dual enzyme system toothpaste will help reduce plaque, freshen breath, and keep your dog's mouth cleaner than it otherwise would have been. The formula is more abrasive than other kinds of toothpaste as it's intended for more aggressive cleaning, and it comes recommended by vets. The 2.5-ounce tube of toothpaste comes in three flavors: beef, poultry, and vanilla mint.

The Best Dog Dental Care Kit
Arm & Hammer Tartar Control Kit
If you're just getting started with brushing your dog's teeth, this Arm & Hammer dental health kit is a great option. The kit comes with a double-sided toothbrush, a toothbrush cover, a flexible finger brush, and a 2.5-ounce tube of toothpaste. The finger brush is a gentle way to introduce teeth brushing to a puppy or dog who might have reservations. The toothpaste is made with natural ingredients and infused with baking soda to act as a safe and effective way to care for your dog's teeth. The available flavors are beef and vanilla mint.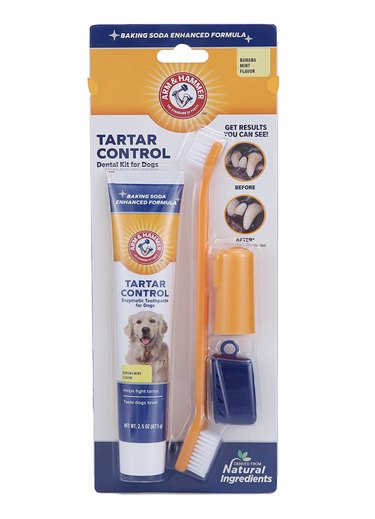 The Best Brushless Dog Toothpaste
TropiClean Fresh Breath Oral Care Gel
If your dog is hesitant or refuses to allow a toothbrush in his mouth, oral gel is a safe and effective alternative. To apply this gel, cut the tip off the applicator and squeeze two drops of gel to each side of your dog's mouth daily. Your dog will naturally lick their lips and teeth, allowing the gel to coat all surfaces of their teeth and gums. You can insert the 4-ounce bottle directly into your dog's mouth or dab drops onto your finger and rub it on their teeth. Speed up the removal of plaque and tartar by using the gel with a toothbrush.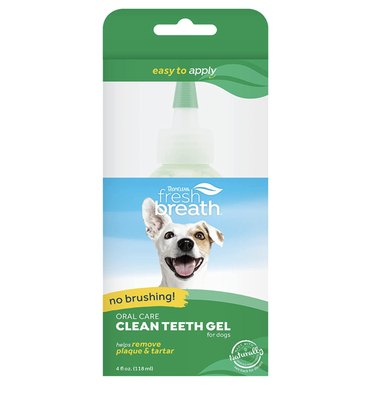 The Best Dog Toothpaste for Bad Breath
Vets Preferred Enzymatic Toothpaste
This 3-ounce tube of toothpaste works wonders at controlling bacteria that cause bad breath. Its peanut butter flavor is enticing to dogs and it doesn't leave them with even stinkier breath like some meat-flavored kinds of pet toothpaste might do. The formula helps with plaque and tartar build-up and helps prevent irreversible periodontal disease.