There isn't always time to give your dog a bath when they need it, nor do they always want one. Dog wipes can take the place of a bath (at least temporarily) and do a quick wipe down of your dirty dog. Think of the wipes as spot cleaning for your dog in between baths—something that can clean their paws, the goop from their eyes, skin folds, anal glands, teeth, and help lessen any odors they may have picked up while on a walk, playing outside, rolling in the mud ... or, you know, something that looks like mud but definitely isn't.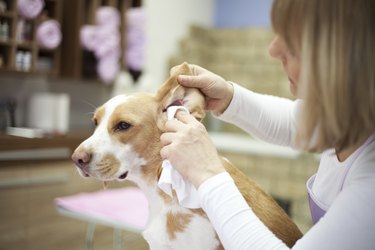 While baby wipes might seem like an easy go-to for dog wipes, especially if you happen to have plenty around your house, wipes made for humans aren't safe for dogs. Dogs often lick themselves, especially after getting wet, and baby wipes might include ingredients that aren't safe for consumption. Also, the pH of dog skin and human skin are different, so baby wipes can cause skin irritation, dryness, or itchiness. The safest route for a quick wipe down of your dog is to use dog grooming wipes.
What to Consider When Purchasing Dog Wipes
​Ingredients:​ It's always important to check out the ingredients of products you use on your dogs. Dog wipes are specially formulated for dogs, but not all dog wipes are created equal. Try to avoid wipes made with phthalates or parabens, as they are chemicals that are dangerous for dogs, and wipes that include an alcohol-based formula, which can cause dryness or irritation. It's best to look for wipes that are made with soothing ingredients like glycerine and aloe. If your dog has skin irritations, ingredients such as ketoconazole, an antifungal, and chlorhexidine, an antibacterial agent, can help.
​Scent:​ Many grooming wipes are scented to help mask odors, but since dogs have such a strong sense of smell, you might want to avoid scents that are highly fragrant as they can be bothersome. Overpowering scents can also cause irritation on the skin, so if your dog already deals with skin sensitivities, you might want to opt for unscented wipes.
​Type:​ While dog wipes are safe for dogs, make sure you're aware of their intended use. Some wipes are designed for spot treatment in specific areas like eyes, ears, paws, and anal glands, and some should be avoided near those areas. The package will offer instructions if the wipes aren't meant to be used on a dog's whole body. If your dog has skin sensitivities or allergies, you should consider purchasing hypoallergenic wipes.
​Quantity:​ As with any purchase, you want to make sure you're getting the best bang for your buck. Most packs come with 100 wipes, but some offer less and some offer more. If you plan to use wipes regularly, or if you have multiple dogs who will be using them, it makes the most sense to buy a pack that'll last the longest. But it's also important to remember that once the package is opened, the moisture doesn't last forever. So, if you aren't sure how many wipes you'll use in a week or a month, start small.
We narrowed down the options for the best dog wipes to make your search easier. Check them out below.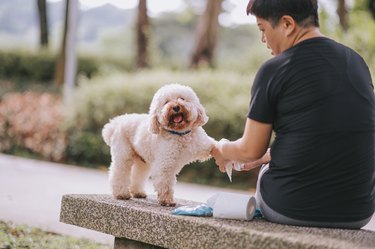 The Best Overall Dog Wipes
Earth Rated Compostable Dog Wipes, 100-Count
Not only are these plant-based dog wipes completely compostable, but they're also hypoallergenic, unscented, and deodorizing. These all-purpose wipes can be used on your dog's face, paws, and butt without leaving a wet residue or funky smell. The wipes are free of sulfates and alcohol, so they're safe for daily use. Ingredients include all-natural shea butter, aloe, and chamomile to keep hair soft and luxurious while smelling fresh. Choose from unscented wipes or lavender-scented in either a 100-pack or 400-pack.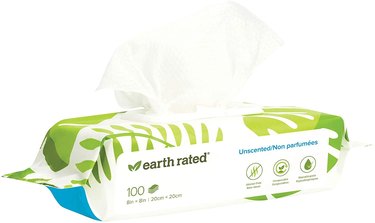 Wags & Wiggles Purify Wipes, 100-Count
Give your dog a quick grooming session with these gentle wipes. They are sodium laureth sulfate (SLS) and paraben-free, and they're made with natural ingredients including aloe and jojoba oil, which makes your dog's coat smooth and shiny. The wipes come in a pack of 50, 100, or 1,200. Choose from three types: hypoallergenic in a zesty grape scent, multipurpose in very berry, or deodorizing wipes in fresh strawberry.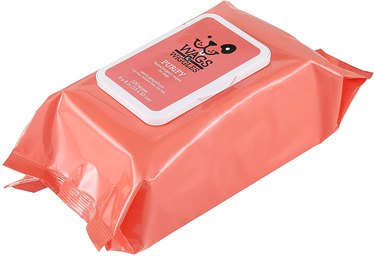 The Best Biodegradable Dog Wipes
Doggy Do Good Biodegradable Dog Wipes, 60-Count
There's a lot to appreciate about Doggy Do Good's Biodegradable Dog Wipes. The wipes are made from pure bamboo and all-natural extracts, they're hypoallergenic, unscented, and they're extra thick and soft. So, they're good for the earth and good for your dog. They can also condition and shine your dog's coat while helping to repel fleas and ticks. Doggy Do Good is a small company that donates a portion of every purchase to animal rescues and no-kill shelters. This pack comes with 60 extra-large wipes.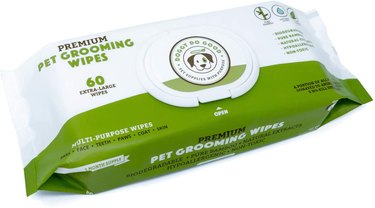 The Best Hypoallergenic Dog Wipes
Pogi's Pet Supplies Hypoallergenic Grooming Wipes, 100-Count
These wipes are made for dogs who have skin sensitivities or allergies. They are earth-friendly and made with 100% sustainably harvested bamboo fiber. The wipes are large enough for big dogs and thick enough for dogs with heavy coats. They are completely free of parabens, alcohol, and harsh chemicals. You can buy them in a pack of 100 or 400, as well as 120- or 240-count travel packs. They come in either fragrance-free or green tea leaf scented.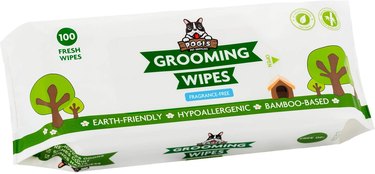 The Best Dog Wipes for Eyes
Optixcare Dog and Cat Eye Cleaning Wipes, 50-Count
If your dog frequently has goopy eyes, these eye cleaning wipes from Optixcare can be a gentle solution. The pre-moistened wipes don't have any harsh chemicals, alcohol, or peroxide, and their ultra-gentle formula has chamomile extract that can help reduce stains and soften debris below your dog's eyes. Since they're designed for the sensitive eye area, the wipes are lint-free, so you can be sure that they won't leave behind any residue that could irritate your dog's eyes. This pack has 50 wipes.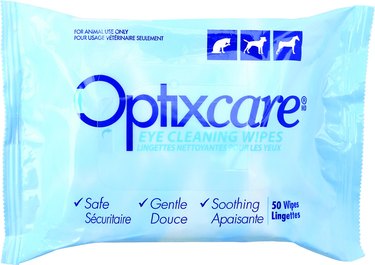 The Best Dog Wipes for Paws
Petkin Big n' Thick Paw Wipes, 100-Count
Designed to be thick enough to withstand your dog's paws and nails, these heavy-duty wipes won't easily rip. They will, however, remove dirt, odor, and germs. Each wipe contains vitamin E, lanolin, and aloe, as well as a specially formulated paw balm to soothe and protect rough, cracked paws. The wipes are paraben-free, so they're a safe and reliable way to clean your dog's paws. There are 100 wipes in this pack.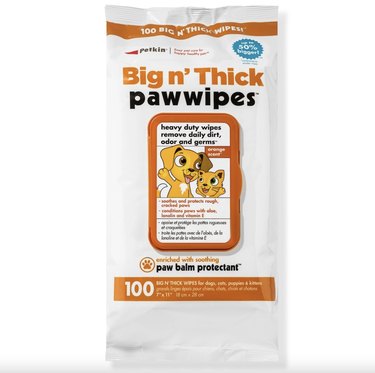 The Best Dog Wipes for Teeth
TrueBlue Dental Wipes, 50-Count
Just like humans, dogs need to have their teeth brushed. And just like humans, not all dogs enjoy it. You can avoid brushing altogether (for your dog, not you) with TrueBlue's Dental Wipes, as they are just as effective and much easier to use. Made with peppermint and parsley, these all-natural textured wipes fight plaque and bacteria while freshening breath. There are 50 wipes that come in this jar.
The Best Dog Wipes for Ears
Pet MD Aloe Vera and Eucalyptus Dog Ear Wipes, 100-Count
When used regularly, Pet MD's Ear Wipes can keep your dog's ears clean and prevent problems before they start. They are veterinarian-formulated to gently remove dirt and keep your dog's ears free of wax and discharge, which can cause infections and odor. The gentle, alcohol-free, sting-free formula keeps ears healthy and dry.
The Best Dog Wipes for Anal Glands
Vetnique Labs Glandex Wipes for Anal Glands
After your dog's anal glands are expressed, there can be some leakage and an awful odor for a bit. These rear-end wipes from Vetnique are specifically designed to assist in cleaning the anal area. They are formulated with a natural enzymatic deodorizer, vitamin E, aloe, moisturizers, and skin conditioners to help soothe and restore the area. The wipes are ultra-soft and durable, making them comfortable to use and long-lasting. The pack is sold in a 24-, 75-, or 100-count.