It's common for dogs to need eye wash to help with an injury, remove debris, or get rid of discharge. Eye infections are a serious health condition and require the attention of a veterinarian, but if your dog's eyes just need a good rinsing, a saline solution is a great option. Saline is a mild cleansing agent that helps flush away dirt, dust, allergens, and other debris that could cause an infection or trauma in your dog's eyes.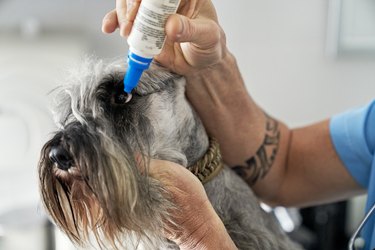 Certain dog breeds are more prone to eye problems, including flat-faced breeds such as Pugs, Shih Tzus, and Bulldogs, as well as dogs with long hair around their faces, like sheepdogs, poodles, and Maltese, according to American Kennel Club. Dogs who aren't prone to eye infections or diseases might also need an eye rinse if they have eye trauma or allergies.
Before you put eye wash solution into your dog's eyes, make sure your hands are clean to avoid the risk of causing an eye infection or a more serious problem. To drop the saline solution into your dog's eyes, open their eyelid using one hand with the solution in the other. You may need someone else to hold your dog while you apply it. Make sure you don't touch the tip of the bottle to the eye, as that could scratch the eye or expose it to bacteria. You can use as much of the eye wash as needed since it isn't a medication that must be limited.
What to Consider When Purchasing an Eye Wash Solution For Your Dog
​Ingredients:​ Most eye washes contain some of the same general ingredients that are safe and pH balanced for dogs, including boric acid, which disinfects eyes and reduces inflammation of the eyelid; taurine, which activates the process of eye restoration; and glycerin, sodium borate, and sodium chloride. Some formulas are antimicrobial, which kills microorganisms or stops their growth, while others contain just purified water or natural plant-based ingredients like goldenseal and echinacea.
​Use:​ The majority of dog eye washes do the same thing, but some offer more of a focus on specific needs, like eliminating tear stains and eye discharge, removing debris, or helping to soothe itchiness.
​Size:​ The majority of eye wash solutions for dogs come in a 3- to 4-ounce bottle, but you can find smaller or larger options as well. If your dog has frequent eye irritations, you might want to consider purchasing a larger bottle of eye wash or more than one. Since it might take quite a bit of solution to clear out the eyes, you want to make sure that you don't run out when you need it.
Below you'll find our list of the safest and most effective eye wash solutions for your dog.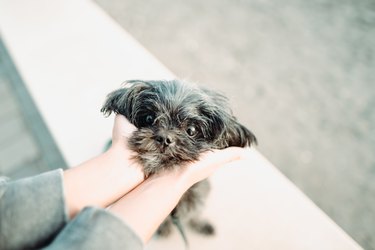 1. Beloved Pets Universal Tear Stain and Discharge Remover, 2-oz Bottle
Ideal for tear stain and discharge removal, this eye wash is also a good preventative against eye irritation and clogging. The cleaner contains silver ions, which have a bactericidal effect, as well as panthenol, which helps heal wounds and soften skin. For maintenance care, the company recommends applying the wash once or twice a week.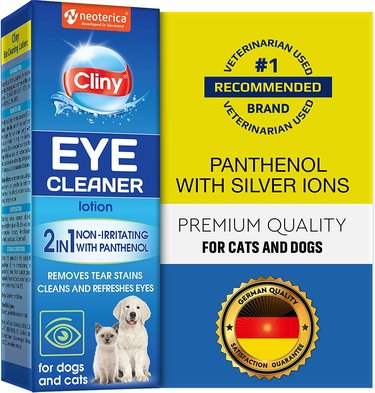 2. Burt's Bees Natural Dog Eye Wash Solution, 4-oz Bottle
This 4-ounce bottle of Burt's Bees Natural Dog Eye Wash is formulated without sulfates, parabens fragrances, or colorants, and it's pH balanced for dogs. It's a safe and effective way to flush out debris from the eyes by mimicking a dog's own tears. The saline solution is a natural and gentle liquid that can be used to treat dogs 8 weeks of age and older.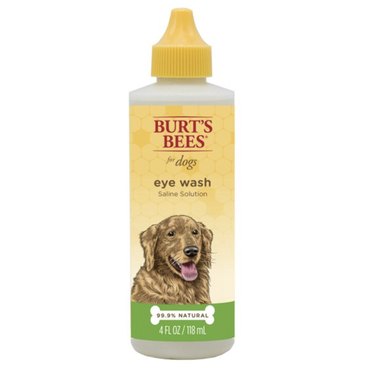 3. Vetericyn Plus All Animal Eye Wash, 3-oz Bottle
This is a good eye wash to have around if you have dogs and cats, as it can safely be used on both. The 3-ounce bottle of eye wash solution is formulated to clean and relieve eyes affected by burning, stinging, and itching from pollutants or contaminants. It's nontoxic and doesn't contain any alcohol, steroids, or antibiotics, so while it isn't recommended for ingestion, if a small amount does get consumed by your pet, it's safe.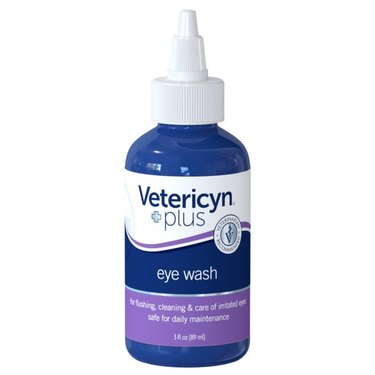 4. Vets Preferred Advanced Eye Wash, 4-oz Bottle
This advanced eye wash from Vets Preferred works well for dogs who are predisposed to eye infections, allergies, or occasional eye irritation. It's made with boric acid to gently flush out pollen and debris, and the wash also works to moisturize and soothe irritated eyes. By dabbing the solution onto a washcloth, you can also use it to remove eye crust and tear stains. This 4-ounce bottle can be used daily or for first-aid.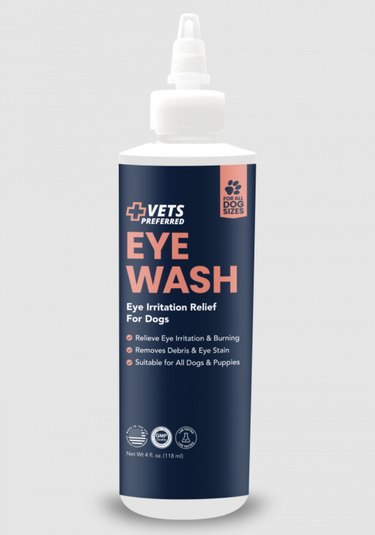 5. Nutri-Vet Eye Rinse Liquid, 4-oz Bottle
Nutri-Vet's Eye Rinse is a safe, efficient, and cost-effective way to provide eye support for your dog on an as-needed or regular basis. The wash is specially formulated to create an inhospitable environment in the eyes for germs and bacteria. Made with boric acid, this 4-ounce bottle of gentle solution fights infections and irritations.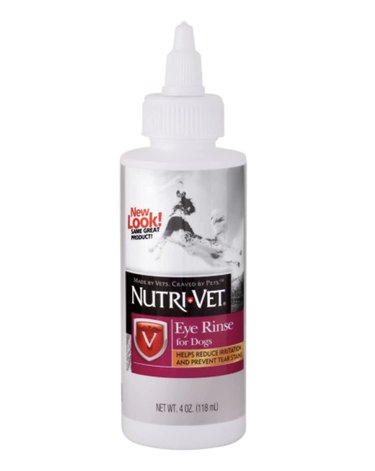 6. Akorn Opthamlic Pure Eye Wash, 4-oz Bottle
The only active ingredient in this eye wash is purified water. So, if you have concerns about putting any other ingredients in your dog's eyes, this wash is a sterile solution that won't cause any burning or other discomfort. It's safe to use daily to keep your dog's eyes clear of debris and tear stains and to provide relief from eye irritations caused by allergies.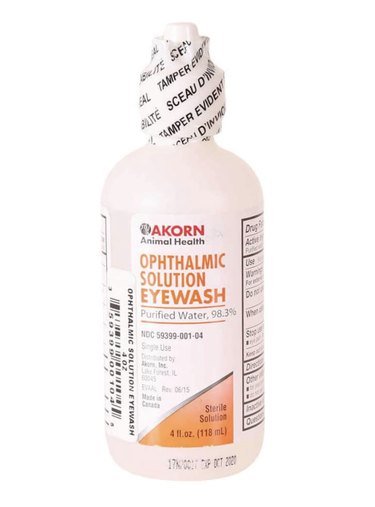 7. GNC Pet Wellness Advanced Sterile Eye Wash, 4-oz Bottle
When your dog needs quick eye relief, this sterile eye wash will do the trick. It can be used to irrigate dirt and debris from the eyes, and it helps to relieve eye discomfort and irritation. Made with high-quality purified water, this 4-ounce bottle of solution is safe for all dog breeds as well as cats.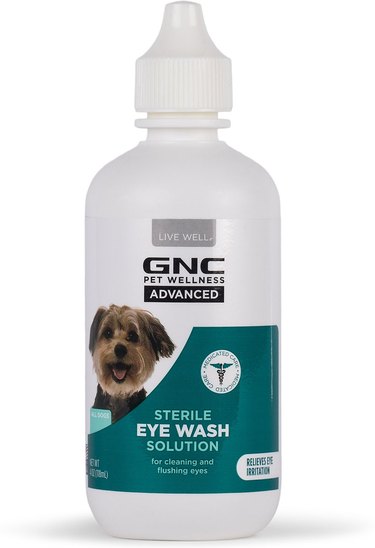 8. PetSilver Eye Wash Drops, 4-oz Bottle
The only ingredients in PetSilver's 100% natural formula are water and chelated silver. It's free from alcohol, artificial scents, and preservatives. The formula can safely be used on both dogs and cats. To administer these drops, gently secure your pet and hold their eyelid open. Place one drop in the inner corner of one or both eyes. Allow your pet to blink naturally to evenly distribute the wash across the eye, and try to prevent them from shaking their head. The process may require two people.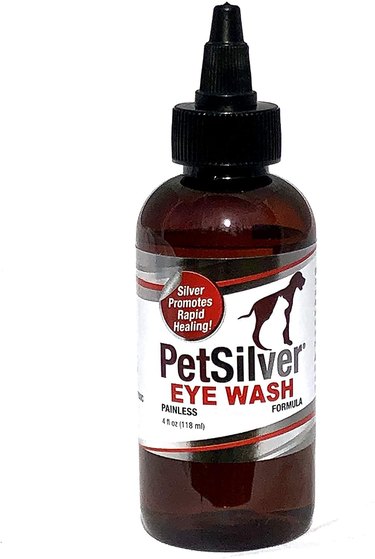 9. Ark Naturals Eyes So Bright Gentle Eye Wash, 4-oz Bottle
Safely wash out your dog or cat's eyes with Ark Naturals Eyes So Bright Gentle Eye Wash, formulated to reduce irritation, remove dirt, and promote healthy and clean eyes. The natural, botanical eye drops gently clean your pet's eyes without burning them, and goldenseal and echinacea ingredients work to soothe and maintain healthy eyes.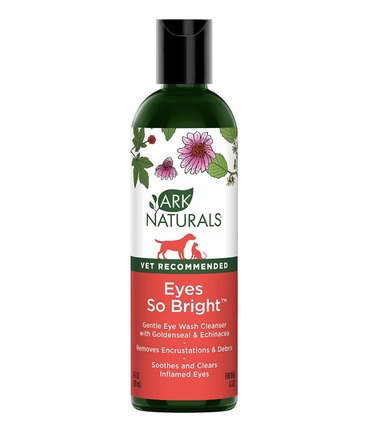 10. Angel's Eyes Gentle Tear Stain Wipes, 100-Count
Wipes are another option for removing tear stains and eye gunk. These gentle wipes are presoaked and texturized to remove dried mucus, secretions, and tear stains. You can use them as a preventative measure or when the gunk has started to pile up and needs removal. They can be used on dogs and cats over 6 weeks old. While they don't do quite the same job as a saline solution, they can be easier to use on pets who don't do well with drops. After application, there isn't any rinsing required. The container comes with 100 wipes.