If your dog has lots of tangles or dry, itchy skin, a leave-in conditioner can help. It's designed to be sprayed or lathered into your dog's coat and left there—no rinsing required. Leave-in conditioner has several benefits: It can restore moisture, remove loose fur, help prevent mats, and soothe itchy and dry skin. Dogs with long hair can benefit from a leave-in conditioner even if they don't have any skin irritations or dryness, as it can soften hair, making it easier to brush with fewer tangles. Your dog doesn't have to have tangly hair or skin irritations to benefit from a leave-in conditioner though—it's great for making any dog's hair softer and shinier for longer. It'll look like your dog is fresh from the groomer!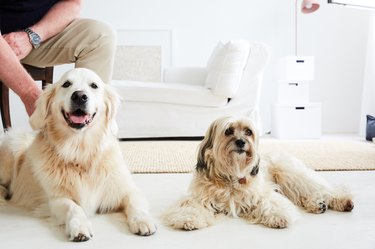 While it may be tempting to just use the conditioner you use on your own hair for your dog, it isn't safe. Human skincare and hair products are formulated to be pH balanced so they don't interfere with the thin layer of protective skin called the acid mantle. Every time we bathe, our acid mantle is washed away, so a product that restores our pH is helpful. A dog's skin is more alkaline, so a human conditioner won't restore the balance on their skin since the pH is different. That's why buying a formula designed specifically for dogs is important.
What to Consider When Purchasing Leave-In Conditioner For Your Dog
​Skin Type:​ Some leave-in conditioners are made specifically for certain types of skin issues, like dryness or itchiness. Ingredients like oatmeal can help gently soothe skin irritations, but dryness can sometimes stem from an underlying condition, so you might want to consult your veterinarian before diving in to treat it yourself.
​Ingredients:​ All-natural ingredients are always safer for pets, but they can be a bit more expensive. Some formulas include chemicals like parabens, which are a preservative mixed into haircare products that should be avoided if possible. It's always best to avoid getting shampoo or conditioner near your dog's eyes, but if you want to be extra sure that their eyes won't get irritated, shoot for a formula that's soap-free or tear-free.
​Application:​ A good time to apply leave-in conditioner is after a bath, but many formulas can be applied on a wet or dry coat. Most formulas are dispensed either via a spray bottle, pour bottle, or a pump nozzle.
​Scent:​ The obvious choice for a scent is going to be one that you enjoy, but it's also important to consider your dog's acute sense of smell. If you find yourself with a leave-in conditioner that seems to irritate your dog's nose, you might want to switch to a lighter scent or one that's unscented.
There are several leave-in conditioners on the market, so we did the research to find the best ones to keep your dog safe and their hair feeling great. Check them out below.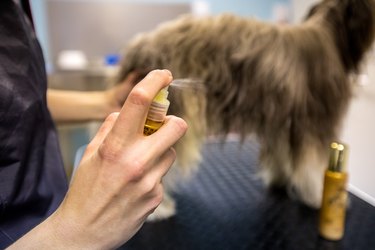 1. Warren London Hydrating Butter Leave-In Conditioner
This non-oily leave-in conditioner is hydrating and moisturizing without leaving your dog's coat feeling greasy or like they need to take a bath to wash it out. It detangles on long-haired dogs and softens on short-haired dogs. It's available in two aromatherapeutic fragrances that are ideal for people who enjoy a perfume scent on their dogs: guava and mango or pomegranate and acai. You can buy the conditioner in an 8-ounce bottle or a 1-gallon jug.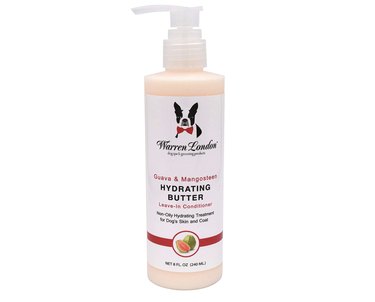 2. Burt's Bees Natural Nourishing Leave-In Conditioner
Brushing your dog's hair doesn't have to be such a challenge. A few spritzes of this natural leave-in conditioner with avocado and olive oil can make your dog's hair smoother, less matted, and a lot easier to get the tangles out of. Outside of the main ingredients, this product doesn't have a strong scent or a strong lather, because no chemicals or artificial fragrances are used. The 12-ounce bottle of leave-in conditioner is free of colorants and pH-balanced for dogs. As an added bonus, all of Burt's Bees' pet care products are made using 80% post-consumer recycled bottles.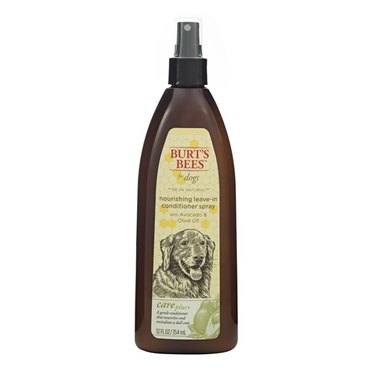 3. Pet Silk Rainforest Leave-In Conditioner
Simply spray this lightweight leave-in conditioner on your dog's coat, brush, and move on with your day. The remedy helps detangle your dog's hair while adding moisture, shine, and a rainforest-inspired fragrance. It comes in an 11.6-ounce spray bottle, and the formula can be slightly diluted if needed.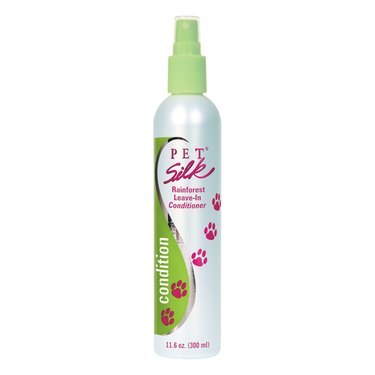 4. Davis Oatmeal Leave-In Conditioner
This leave-in oatmeal conditioner is designed to provide relief from dry, itchy, and irritated skin. Since it doesn't need to be rinsed out, the formula is long-lasting so you don't need to consistently reapply. The conditioner also promotes a more manageable coat that's fuller and tangle-free. It's made with a fresh apple scent and is suitable for dogs, puppies, cats, and kittens. It comes in a 12-ounce pour bottle.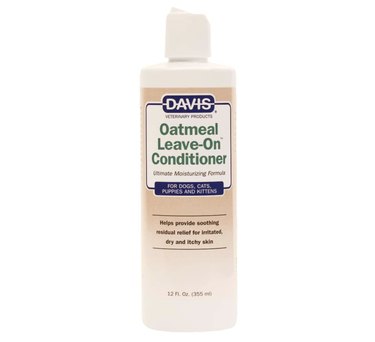 5. The Blissful Dog Shine-On + Sheen Coat Spray
Your dog will be left with a shinier, more vibrant coat after using this leave-in conditioner. The formula is all-natural, alcohol-free, and hypo-allergenic. It helps to loosen mats and eliminate static. It comes in a 4-ounce, 8-ounce, or 16-ounce spray bottle.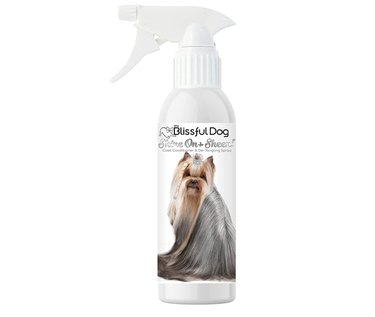 6. Zymox Veterinary Strength Enzymatic Leave-In Conditioner
This product is designed for dogs who need some veterinary-strength help with their skin irritations. Using the healing power of enzymes, which are naturally occurring proteins, this leave-in conditioner is very effective in warding off allergens, bacteria, and fungal microbes. It creates a protective barrier on the skin while the added vitamin D3 hydrates the skin. It can be used as a leave-in conditioner throughout your dog's coat or as a spot treatment for the most problematic areas. The ingredients don't include any harsh chemicals, and it has a mild fragrance, making it gentle enough for puppies. This one is available in a 12-ounce bottle or a gallon.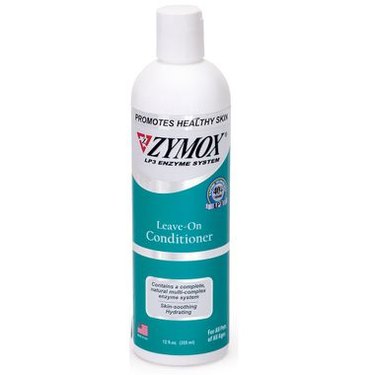 7. Nature's Specialties Non-Toxic Conditioner
This formula helps with static and frizz and makes brushing and detangling a lot easier. It restores moisture in your dog's coat and adds a non-oily sheen with no build-up or residue. Perhaps most notably, it promises to cut the drying and brushing time in half. While the company doesn't list the exact scent, you should know that the fragrance is somewhat strong. You can purchase this conditioner in a 16-ounce or 32-ounce spray bottle or a 1-gallon pour bottle.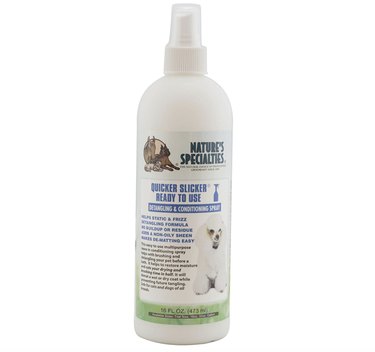 8. CHI Keratin Leave-In Conditioner Spray
Not to be confused with the CHI hair care products you may have used on your own hair, this keratin treatment is made specifically for dogs. The keratin amino acids protect your dog's hair and add moisture, and fancy ionic technology is used to seal the hair cuticle, leaving the coat soft and shiny. This paraben-free spray is ideal for dogs and puppies 8 weeks and older. It comes in an 8-ounce spray bottle.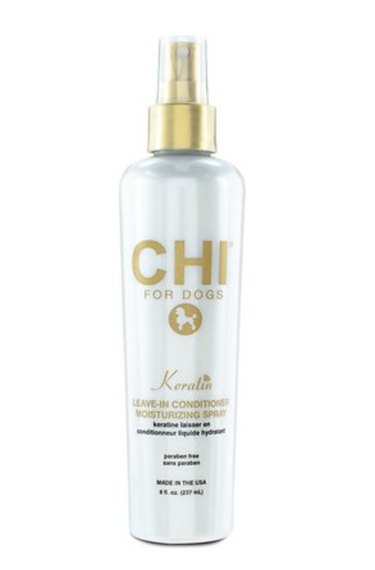 9. Warren London 10-In-1 Conditioning Spray
There are 10 reasons to try this conditioning spray for your dog. It conditions, softens, revitalizes, detangles, shines, cleans, is anti-itch and anti-flake, scented, and offers aromatherapy. The paraben- and soap-free formula is great for dry, itchy skin. It's made with natural, simple ingredients: green tea, licorice, aloe vera, pro-vitamin B5, silk amino acids, and keratin. With an essential oil scent, your dog will smell like they just left the spa. The bottle is only 3 ounces, so it's a great way to try a leave-in conditioner to see how it works for your dog before committing to buying a larger bottle.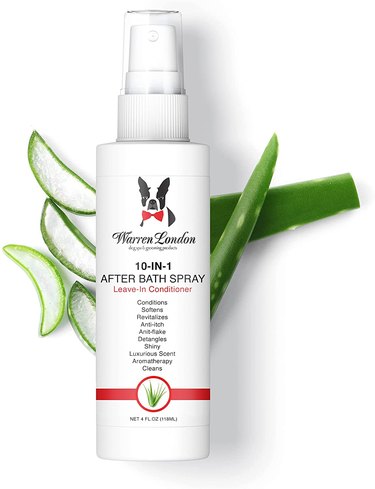 10. John Paul Pet Oatmeal Conditioning Spray
John Paul's botanical pet formula soothes, conditions, and moisturizes. While this 8-ounce bottle helps detangle your dog's hair, its main purpose is to soothe sensitive skin. The conditioner is loaded with 13 agents that aid with itchiness and dryness, and help revitalize hair, including aloe, chamomile, and panthenol. It's pH-balanced, cruelty-free, and paraben-free