Dealing with cat litter isn't exactly a good time, but the right cat litter scoop can make cleaning it go as smoothly as possible. The purpose of a cat litter scoop is to remove your cat's feces from the litter box while sifting the clean litter back into the box. The frequency you need to scoop clumps will depend on your cat's litter box habits and the type of litter you use. Some cats will only use their litter box if it's clean, while others might not be picky about cleanliness.
Scooping the clumps out of the litter box will help the litter last longer. In fact, if you use clumping litter and clean the box daily, you might only need to replace the litter every two to three weeks, according to The Humane Society. So, whether you scoop once a day, twice a week, or once a week, you're going to need a good scoop. The right scoop will be comfortable to use, lightweight, durable, and effective at scooping clumps and sifting clean litter.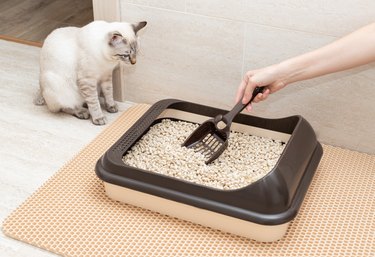 What to Consider When Purchasing a Cat Litter Scoop
​Type of Litter:​ There are many types of cat litter, and the scoop you need can differ depending on the type that you use. Here are the three most common types:
​Fine Litter:​ This type of litter consists of small, sand-like particles and is also known as clay clumping litter. It's easiest to clean with a scoop that has small slits (generally around 4 millimeters wide). If you use anything larger, the small clumps could potentially fall right back into the litter box.
​Coarse Litter:​ Also clay-based, coarse litter has medium-gauge granules, so you'll need a scoop around 5 to 6 millimeters wide.
​Crystal Litter:​ Crystal litter is typically rounder and made from silica gel. The best scoop will be one with large holes 8 millimeters wide or larger, which is also advisable for non-clumping pellet litter. It's recommended to scoop out the feces at least once a day and stir the litter to better absorb the urine.
​Material:​ Since cleaning the litter box is a pretty disgusting task, look for a scoop that will make your job more comfortable and won't get damaged. Metal shovels are the most durable and won't break or crack when you have to scrape the bottom of the litter box. If you're using crystal litter, it's generally easier to clean the mess, so a plastic scoop should work just fine. You'll find the most comfort using a scoop with an ergonomic or cushioned handle. As far as the cost of the material, plastic is going to be less expensive than metal.
​Handle Length:​ If your litter box isn't covered, a scoop with a short handle length should work well. Litter boxes that are covered will require a longer handle length, so consider buying one that's adjustable to the length you need. There are also full-length handles that allow you to stand up while scooping.
Now that you know what to look for in a cat litter scoop, here are our top picks for 2022.
The Best Overall Cat Litter Scoop
DuraScoop Jumbo Metal Cat Litter Scoop
This jumbo cat litter scoop is made from high-grade, rust-resistant aluminum for maximum durability and reliability. Its lightweight construction features a deep shovel and an ergonomic, nonslip handle that's coated with a phthalate-free plastic coating and won't bend as you scoop out even the toughest clumps. The color of the scoop will be randomly chosen in either mint green, watermelon pink, or sky blue. The dimensions are 13.25 inches long, 5.5 inches wide, and 1.75 inches high. It's intended for clumping litter and will not work with pellets as the gaps are too narrow.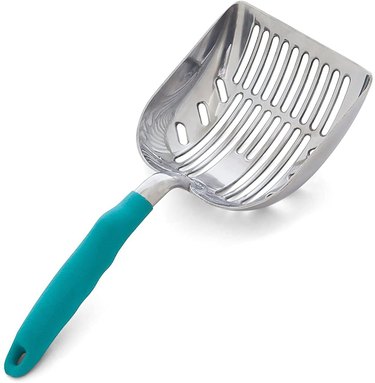 The Best Value Cat Litter Scoop
Nature's Miracle Non-Stick Scoop and Caddy
The price is right on this 2-in-1 scoop and caddy. Not only does the scoop include a caddy to make cleaning even easier, but it also attaches to the side of the litter pan for added convenience. The scoop is made of heavy plastic and features a nonstick surface to allow for the litter to pass through without any trouble. It measures 6.36 inches long, 4 inches wide, and 11 inches high. The gaps are approximately 3/16-inch wide, so it works with both clumping and non-clumping litter.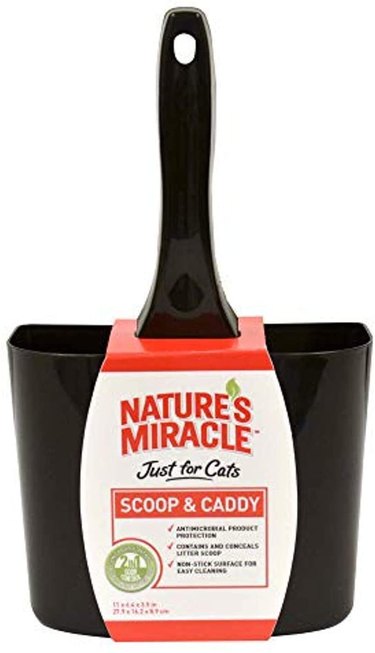 The Best Cat Litter Scoop With an Adjustable Handle
Amazon Basics Litter Scoop
The litter scoop you buy doesn't have to be fancy, but it should provide the necessary features you need to make scooping more efficient. This Amazon Basics scoop is made of easy-to-clean stainless steel and aluminum, and the ergonomic handle is retractable and adjustable with a comfortable plastic grip for the ultimate convenience. It's 5.5 inches long, 2.1 inches wide, and 21.9 inches high when fully extended. The gaps are on the larger size, but suitable for most litter types. You also have the option to purchase the litter scoop with a holder or a waste bag dispenser.

The Best Cat Litter Scoop for Multi-Cat Households
Vibrant Life Jumbo Melamine Cat Litter Scoop
Made of melamine material, this jumbo litter scoop is more durable than plastic, but not as heavy as metal. For added comfort, the handle has a slight indentation so your thumb has a place to rest while you're scooping. The large size of this scoop works well for a multi-cat litter box or one that you don't clean as often. It can be used with all litter types and is deep enough to contain even the largest clumps. The slots are just the right width to let clean litter sift through without sticking. It measures 5.7 inches long and 12.4 inches high.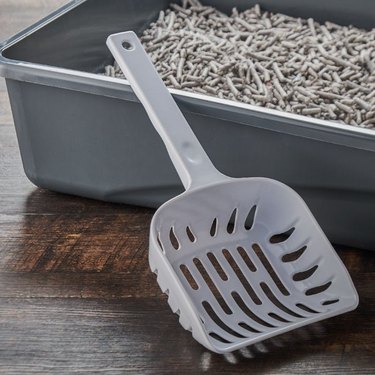 The Best Concealed Cat Litter Scoop
Petmate Scoop 'n Hide Cat Litter Scoop
Cat litter scoops don't really add to any decor, so if you prefer to keep your scoop hidden, the Scoop 'n Hide is a great option. Use the scoop to clean your cat's litter box then place it right back in the base for storage. It's made in the U.S. from durable plastic, and there are two color options: pearl and brushed nickel. The dimensions are 6.5 inches long, 5.5 inches wide, and 12 inches high. The gaps in the scoop are approximately 1/8-inch wide, so it's best suited for fine litter.
The Best Cat Litter Scoop With Caddy
ExquisiCat Cat Litter Scoop with Caddy
This handy caddy attaches to most standard litter pans so you can quickly complete your task of scooping all the clumps. The plastic scoop is durable, easy to grip, and fits perfectly inside the plastic caddy. It's easy-to-use, even while scooping the heavier clumps. It can be cleaned with soap and warm water, and measures 3.5 inches long, 6.5 inches wide, and 10.7 inches high. The width of the gaps was not disclosed online.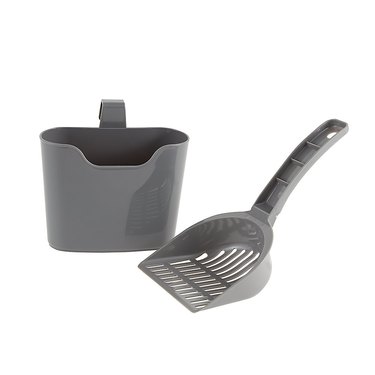 The Best Heavy-Duty Cat Litter Scoop
Imperial Heavy Duty Cat Litter Scoop
Stay as far away from your cat's stinky litter box as possible when using this heavy-duty scoop that's made in the U.S. The handle is extra long (18 inches) and allows you to literally keep the feces at an arm's length. If you have back problems or have a hard time bending over, this is the one to get. It's made of chrome-plated, heavy gauge wire that traps the clumps and sifts the clean litter. The edges of the scoop make it easy to reach the corners of the litter box. The square-shaped gaps in the basket measure 3/8-inch, while the overall dimensions of the product are 6.5 inches long, and 20 inches high.
The Best Standing Cat Litter Scoop
The Purrr-fect Scoop is more of a shovel than a scoop, but either way, it does its job well. It's 35 inches high, so while it does take up a bit more space than a smaller scoop, it's much easier on your back, especially if you're cleaning your cat's litter box on a daily basis. The shaft is made of steel and the polymer scoop head is extremely durable and won't corrode in the highly acidic environment of a litter box. It can effectively pick up both small and large clumps and can scrape messes from the bottom and corners of the litter box. It's designed to work with clumping litter as the gaps are about 1/4-inch wide, but its overall dimensions are 6 inches long, 5 inches wide, and 36 inches high.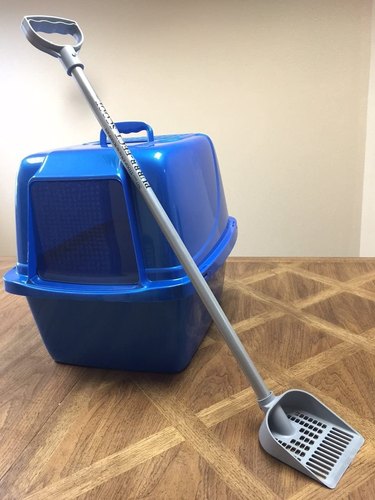 The Best Cat Litter Scoop for Crystal Litter
This scoop has a deep basket and large circular holes that will aid in sifting through chunks of litter, making it perfect for crystal litter or even pine pellets. Since litter made from crystals doesn't clump, this plastic scoop will be sturdy enough to hold a large amount of feces and litter. The scoop comes in four color options: black, pink, blue, and gray. It measures 2.8 inches long, 3 inches wide, and 12.6 inches high.
The Best Cat Litter Scoop for Fine Litter
IPRIMIO Cat Little Scooper
The narrow slots on this aluminum scoop are only 4 millimeters wide, making it a fantastic option for capturing smaller chunks or wet litter. A nonstick coating on the scoop allows clean litter to pass through without getting stuck. The sifter is ergonomically designed, and it's the perfect size for scraping corners and capturing large scoops of litter. It comes with a scoop holder that can be attached to a wall or the side of a litter box using the included 3M tape. The scoop measures 5 inches long, 1.75 inches wide, and 13.25 inches high.