If you have a young puppy, a small dog with an even smaller bladder, an incontinent dog, or you just aren't able to get your dog outside in time for her to relieve herself, a grass dog potty to keep inside the home may be for you. Grass dog potties come in a variety of sizes and are made with either real or artificial grass. Some potties come with a base attached to catch urine that seeps through the mat, while others are more like pee pads and soak messes up until it's time to clean the potty.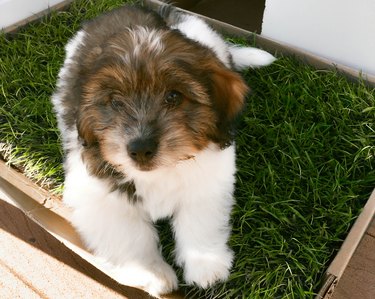 Many people prefer grass dog potties as they're more durable than plastic or cotton pee pads (if you have a puppy, you know just how shreddable those things are), and because they simply look nicer than pads. Grass dog potties can be kept outside on balconies or inside homes, and offer flexibility and freedom for both dogs and their guardians when it comes to bathroom habits.
What to consider when purchasing a grass dog potty
‌Size:‌ When shopping for any item for your dog to eliminate, especially if you're planning on using it inside of the home, choosing the right size grass dog potty for your dog will make or break your experience with it. If you have the room to accommodate it, going larger rather than smaller will help to ensure that fewer messes will make their way off of the potty and onto your flooring, deck, or any other surface you plan to keep it on. Because many people use these pads inside of an apartment, however, finding one that's just big enough for your dog to use without missing is ideal, and many potties start at around 16 to 20 inches long.
‌Real Versus Artificial:‌ This will ultimately be up to you and your dog, but generally, most dogs will use a potty made from either type of material. Some dogs prefer using real grass dog potties as they love the feel and smell of actual grass, and it's great for indoor spaces as it subdues the smell somewhat. Plus, real grass is the more eco-friendly option when compared to artificial as it's a completely natural substance. That said, some people prefer artificial grass because it lasts longer, making it more economical, and it's very easy to clean with just soap and water.
‌Cleanup:‌ This is perhaps the most important consideration, especially if you plan to use your grass dog potty in a small apartment, or if you have a young puppy or incontinent dog who will be using the bathroom indoors a lot. With real grass potties, you won't need to clean up pee as you would with artificial grass, but you can only reuse it so many times before you need to toss it. Most artificial potties rinse clean with soap and water and dry pretty quickly.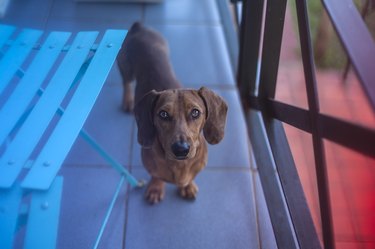 The best overall grass dog potty
DoggieLawn Natural Grass Puppy Pee Pads
If you'd prefer it if your dog used the bathroom in a grassy yard but either don't have access to one or need a pit stop in between bathroom breaks, this grass dog potty is the next best thing. Made with real grass, this self-contained bathroom comes in a box that's available in two sizes and is a great option for anyone training a puppy to use the bathroom on what might feel like a strange surface. To use, just open the box, set it where you'd like your dog to relieve themselves, and pick up poop messes as they collect. Thanks to nearly three inches of soil and grass, each box lasts a few weeks, depending on the amount of use, and when you're done you can just toss it in the trash and replace it with a new box.
‌Dimensions:‌ 20" x 24" x 2.75", 24" x 16" x 2.75"
‌Material:‌ Natural grass
‌Tray:‌ Yes, included (cardboard)
The best budget grass dog potty
Loytryal 39.4 x 31.5 in. Artificial Turf Rug
If you need a hand helping your dog use the bathroom but don't want to spend too much money to do so, you can always invest in a dog potty made with artificial grass. Don't worry, it's not the stiff, unforgiving Astroturf you may be thinking of—the "grass" for this potty is made of PE and PVC materials, offering a comfortable, grass-like look and feel. The nonslip rubber backing features drainage holes, preventing pooling and allowing the turf to dry quickly. Measuring 39.4 inches by 31.5 inches, this potty is ready to use as is—just drop it on the ground and let your dog do their thing. If you're worried about urine seeping onto the floor, you may want to buy a plastic tray or place pee pads underneath. You can clean the artificial grass very easily with just soap and water, which should be done regularly to avoid unpleasant smells inside the home.
‌Dimensions:‌ 39.4" x 31.5"
‌Material:‌ Artificial grass
‌Tray:‌ No
The best grass dog potty for small dogs
LOMANTOWN Fake Grass Dog Potty With Tray
Aside from senior dogs and those with incontinence issues, the little guys, like small dogs and puppies, have the most trouble holding it, so finding a potty for our small friends can be a game-changer. Although the dimensions of this potty are actually quite large when compared to most grass dog potties, it is recommended for small dogs and puppies, most likely as the mat alone is quite thin and not terribly absorbent. Thankfully, this version comes with a plastic collection tray that's easy to clean with soapy water (the grass pad can be sanitized in the same way). This is a lightweight, affordable, and compact option for anyone who needs something more substantial than a puppy pad for their dog to eliminate on.
‌Dimensions:‌ 30" x 20" x 2"
‌Material:‌ Artificial grass
‌Tray:‌ Yes, included (plastic)
The best grass dog potty for large dogs
PetSafe Pet Loo Portable Indoor & Outdoor Dog Potty
A patch of fake grass for a big dog must be designed to stand up to the bathroom habits that come with a big dog so that most likely looks like a thick pad, a tray, and proper drainage. This item is portable, so you can take it wherever you need to go, holds up to two liters of liquid, and it's easy to clean thanks to the removable tray that rinses clean with soap and water. It's recommended that you spray the grass pad with an enzyme cleaner about once a week to maintain the freshness and wash both the mat and tray once a week. To help you in the meantime, the tray is lined with a sponge containing enzyme technology to control odors. The grass mat should be rotated with another every so often to ensure evenness of wear, and the grass should be replaced every six to twelve months for the best results.
‌Dimensions:‌ 20.75" x 17" x 4.5", 24.5" x 24.5" x 5.25", 32.5" x 32.5" x 5.25"
‌Material:‌ Artificial grass
‌Tray:‌ Yes, included (plastic)
The best grass-alternative dog potty
Bark Potty Natural Disposable Dog Potty Pad
If your dog doesn't take well to peeing on real or artificial grass, try this option made from natural tree bark. All natural and recyclable, the potty features a cardboard base, an inner plastic tray, proprietary bark, and a mesh overlay to prevent kick-up. The bark is naturally deodorizing, and there's a built-in roll of poop bags. Choose from two sizes: standard (24 by 16 inches) or large (30 by 20 inches). One bark potty can last up to a month, making it a great alternative to wasteful pee pads. We wouldn't recommend this potty for aggressive chewers, as some dogs may try to dig out the bark to chew on it.
‌Dimensions:‌ 24" x 16", 30" x 20"
‌Material:‌ Tree bark, plastic, cardboard, mesh
‌Tray:‌ Yes, included (cardboard)
The best grass dog potty with fast delivery
Fresh Patch Disposable Dog Potty with Real Grass
For many people, real grass is the better option as most dogs are naturally drawn toward it, it doesn't tend to trap smells, and it just looks nicer than fake grass does. Available in four sizes, ranging from small to extra-large, the potty includes a mat of sod and real grass tucked neatly inside of a thick cardboard box for your dog to relieve herself on. It's recommended that you toss this after about a week or two, depending on how often your dog uses it, but orders typically arrive within a couple of days so it's easy to get a replacement. Be sure to take a look at the weight chart when deciding which size is right for your dog. As with all real grass dog potties, you should not water this product as you would your lawn; if the grass is looking wilted or dry, just mist it with a spray bottle and the blades should perk up without causing damage to your potty.
‌Dimensions:‌ 16" x 12" x 3", 24" x 16" x 3", 24" x 24" x 3", 24" x 48" x 3"
‌Material:‌ Natural grass
‌Tray:‌ Yes, included (cardboard)