Not much will make a pet owner happier than seeing their beloved canine romp and play outside in the elements. Exercise and regular outings are essential for a dog's health and well-being, and sometimes they might bring evidence of their exploits home with them, namely, on their fur. A routine bathing ritual is a good thing to implement in your dog's life, but if you don't have time to give yours a bath as often as you would like, you can look to deodorizing sprays to help eliminate unwanted odors from your dog's fur and skin. Some sprays neutralize odors while other sprays simply cover them up temporarily, so you'll have to find the right one for your needs. When shopping for deodorizing sprays, it's generally best to look for something that's hypoallergenic, pH balanced, and lightly scented.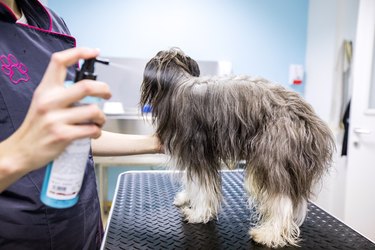 What to Consider When Purchasing a Deodorizing Spray For Your Dog
​Sensitivity:​ Dogs aren't supposed to be bathed all that often. Overbathing a dog can lead to dry, irritated skin, flakes, and itchiness, which can greatly affect her quality of life. Certain deodorizing sprays can also irritate a dog's skin if it's the wrong formula or if it's used too often, so if you see that your dog is having a negative reaction to a deodorizing spray, stop use immediately and consult your veterinarian or groomer to find better options. Some dogs may need medicated sprays if their skin is particularly sensitive.
​Scent:​ This is probably a no-brainer, but if you don't love the smell of the deodorizing spray you've purchased, you're not going to love the way your dog smells in it. Pleasant-sounding scent names, and even scents you may love in other situations, don't necessarily translate when in context to wet, smelly dog hair, so if you're not sure which scent will work for you and your dog, it's best to reach for something unscented, or test it out in the store before purchasing.
​Bathing Frequency:​ When it comes to dogs and their grooming habits, less is generally more. Dogs already bathe themselves by licking their skin and fur and rubbing their skin on exfoliating surfaces, like carpet and grass. If you have your dog on a frequent bathing schedule, chances are, you won't need to use a deodorizing spray very often. If you do have a particularly smelly dog on your hands and prefer to deodorize often, opt for soap-free formulas and sprays that don't contain surfactants, which may strip your dog's skin of necessary oils that the skin produces naturally.
Now without further ado, here's our roundup of the best dog deodorizing sprays in 2022.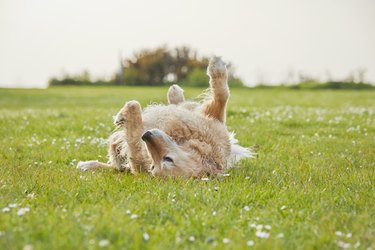 1. Skout's Honor Probiotic Unscented Daily-Use Dog Deodorizer, 8-oz. Bottle
Having an unscented deodorizer may sound useless, but if you or your dog is sensitive to artificial fragrances, or you just don't prefer a fragrance covering up the odor on your dirty dog, this one is an excellent option. Made primarily with probiotics, this deodorizer will not only neutralize odors on your dog, but also conditions the skin, creating a healthier environment for your dog's fur to grow, and hopefully leading to less of a need for baths over time. Additionally, this deodorizer conditions with aloe vera and avocado oil to produce a soft, shiny coat and skin that won't itch, flake, or become irritated.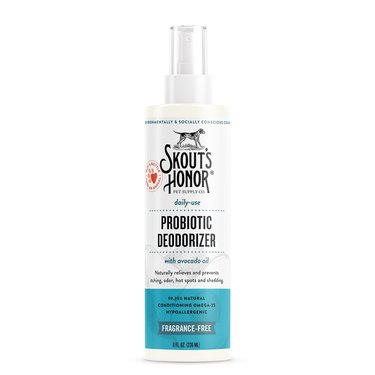 2. Nature's Miracle Odor Control Clean Breeze Dog Freshening Spray, 8-oz. Bottle
A name long-celebrated among pet owners looking to rid their homes of unwanted pet smells, Nature's Miracle uses enzymes to remove odors from surfaces, and also from dogs themselves. This formula is lightly scented to smell like spring water, and not only deodorizes but conditions as well, making it a great choice for spot-freshening in between baths. Better yet, this formula is soap-free, so you can use it while treating your dog with flea and tick medication without worrying that it will wash it away or render it useless, and is free of parabens and dyes.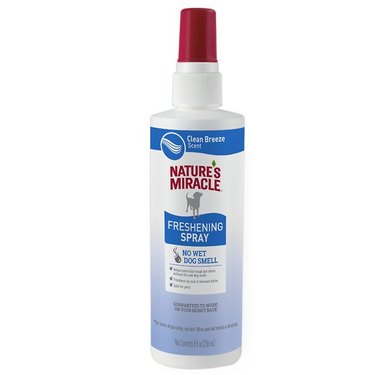 3. MiconaHex+Triz Spray for Dogs & Cats, 8-oz. Bottle
The only medicated spray of this bunch, this product is formulated with miconazole and chlorhexidine to treat and alleviate hot spots, which are often symptomatic of excess fungus or bacteria on a dog's skin. For this reason, this spray is marketed as a conditioning spray and not exclusively as a deodorizer, but is a great option for anyone who has a dog with sensitive skin who can't generally tolerate being sprayed down without having a reaction to it. This spray soothes skin and conditions hair thanks to ceramides and does offer a light fragrance from lavender oil and lemongrass oil ingredients.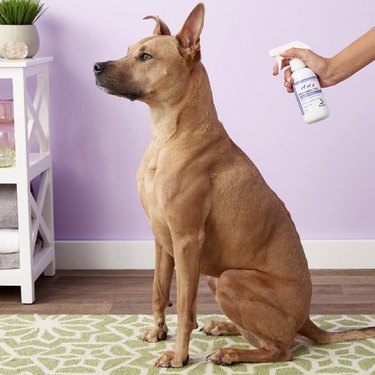 4. Arm & Hammer Super Deodorizing Spray For Pets, 8-oz. Bottle
If you need to deodorize anything in your home, chances are one of the first things you reach for is the box of baking soda in your fridge or cupboard. This spray by Arm & Hammer utilizes the power of baking soda to absorb awful odors in a combination deodorizer/dry shampoo that's intended to be used as a touch-up between baths. Free of irritating parabens and sulfates, this hypoallergenic formula is pH balanced to not cause irritation to your dog's skin, and conditions coats using coconut-based surfactants and yogurt extract. This product is Kiwi Blossom scented, and is gentle enough for use on puppies. For young pups and short-haired dogs, however, it is recommended that you spray the product onto your hands and wipe it onto your dog's fur rather than spray directly onto their coat.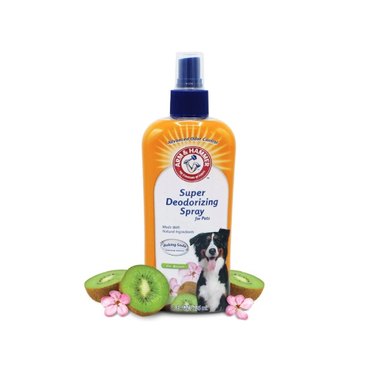 5. CHI® for Dogs Deodorizing Spray
This brand keeps human hair soft and conditioned and does the same for our canine friends with their line of pet skin and hair care products. This formula is incredibly softening and uses silk protein, oat protein, soy protein, and chamomile extract to condition your dog's fur while eliminating odors in a way that's not overwhelming or too artificial smelling. Like most bath products, this one should not be used on puppies under eight weeks old, but can be used from head to tail on older dogs with wet or dry fur.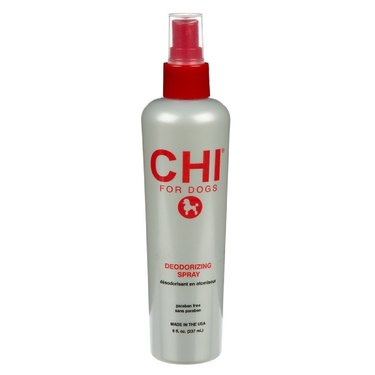 6. Earthbath 3-in-1 Deodorizing Vanilla Almond Spritz for Dogs
Pet owners love Earthbath for its clean ingredients and effective formulas, and they especially love this one for the sweet, vanilla almond scent it leaves on their dogs. It deodorizes using colloidal oatmeal and citric acid while conditioning the skin and hair with vitamin E, meadowfoam seed oil, and aloe vera for a soft coat. This formula is biodegradable, free of parabens and phosphates, and is gentle enough to use as a touch-up for your dog every day, but should not be used on puppies under six weeks of age.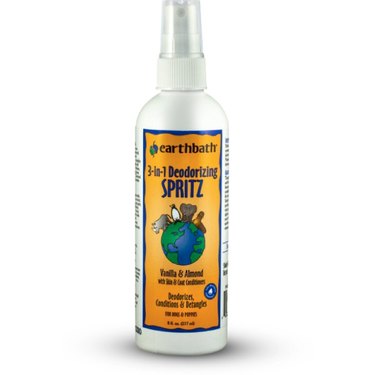 7. ECOS for Pets! Between Baths Plant-Powered Peppermint Scented Dog Grooming Spray
Affordable and effective, this natural formula uses plant-based surfactants, solvents, and conditioners to neutralize odors on smelly dogs while conditioning the skin and hair at the same time. It's pH-balanced to keep the acid mantle on your dog's skin in optimal working order and is not tested on animals. Like some other deodorizing sprays, this formula uses essential oils to offer a slight fragrance, namely, peppermint and tea tree oils. Essential oils, when ingested in large amounts, may be toxic to pets when they are ingested. It is very unlikely that your dog will become ill from licking a deodorizing product off his fur, especially if it's applied sparingly, but it is something to keep in mind when shopping for the right product if you worry that your pet might ingest it, or plan to use a product on a daily basis.