So many pet owners who share their homes with a canine or feline friend enjoy cuddling up on their favorite sofa, chair, or bed with their beloved companions. While sharing closeness with a pet is one of the best feelings, sitting in a thick layer of pet hair, dander, and dirt is less than desirable to even the most devoted pet parent. Fortunately, furniture protectors designed to keep pet hair, dirt, and even messes like urine allow us to continue to share space with our companion animals without having to compromise the structural integrity of our furniture. This can be especially helpful to cat guardians, who may be looking for a solution to a cat that scratches the armchair or the corners of the sofa. When seeking out a furniture protector, it's recommended to steer clear of sticky tapes, bitter sprays, or other deterrents that can stress out pets, and instead look to covers to keep those sofas clean.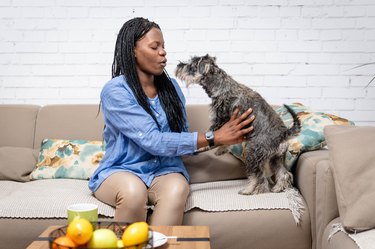 What to consider when purchasing a furniture protector
‌Durability:‌ When you're looking to protect any piece of furniture in your home, you'll likely want to do so with something at least as tough as the surface you're guarding. The strength of this material will all depend on the pet you're protecting your furniture from, and not every home will require the same thing. If you're just looking to keep pet hair and dander off of your sofa from an otherwise easygoing pet, a partial cover or throw made from a thin material should work just fine. If you have a pet with more destructive tendencies, however, like a puppy or a lively cat, you'll want to look for a thicker material, like elastic or polyester, that can better stand up to teeth and claws.
‌Reasoning:‌ People look to protect their furniture for a number of reasons, including scratching, pet hair, dirt, moisture from accidents or wet fur, and regular wear-and-tear. In order to best protect your furniture, you'll want to consider what it is you're protecting your sofa or armchair from for the best results. A waterproof sofa slip will certainly go a long way in keeping your sofa clean, but if you're looking to protect the arms of your sofa from a scratching cat, you'll be better off shopping for a product designed to handle that, specifically.
‌Washability:‌ Our sofas and chairs may be kept clean thanks to a sofa slip or cover, but if that surface is covered in dog hair and dirt, you'll still be sitting on a dirty surface. If you don't have easy access to a washer and dryer, it's best to look for a material that won't trap fur and dirt as easily, like sherpa or microfiber, in order to keep your sofa and home looking as clean as possible.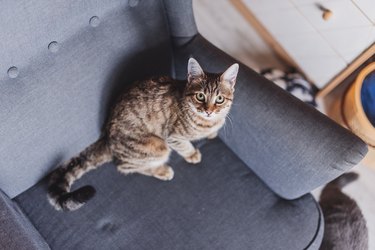 The best washable sofa slipcover
When you need to cover the whole entire sofa, a slipcover is a product you'll want to shop for. This machine-washable sofa cover is made of a polyester/spandex blend so it stretches to fit seats up to 90 inches wide, depending on the size you purchase. It stays on your sofa with non-slip foam anchors, as well as an elastic bottom that keeps it fitting snug around the ends of your sofa. This slipcover is not waterproof and won't hold up too well if you have a clawing cat or destructive dog to protect your furniture from, but if you need to keep your sofa free of pet hair, stains, and light damage, this is a great option at a reasonable price. As an added bonus, it comes in 20 different colors and five sizes.
The best water-resistant sofa cover
Some people may not need to keep the entire sofa or chair covered to protect them from their pets. Sometimes, just covering the most commonly used areas, like the arms, the seat, and the back, will do the trick. This cover is water-resistant and sits securely on your furniture thanks to cushion anchors that slide into the crevices. It's quilted using thread-free ultrasonic technology, which leaves no needle holes for water or other messes to leak through onto your sofa. Additionally, this one is reversible (offering two different looks in one piece), machine-washable, and available in six sizes to fit any piece of furniture in your home—including a chair, loveseat, recliner, sofa, large sofa, and extra-large sofa.
The best furniture scratch shield
Anyone sharing their home with a feline friend knows that there's not much that will protect their beloved furniture from cat claws when they start scratching. For anyone battling a cat who simply won't take to a scratching post to quell their clawing instincts, these plastic furniture shields will do the trick. The shields are clear to allow the look of your furniture to shine through and are easily bendable and flexible to fit around the curves of the parts of furniture you need protecting, like the arms or corners. To use, cut the shield to your desired size (each sheet measures 17 by 12 inches), peel off the paper, stick it onto the surface you want to protect, and lock it into place with the included upholstery pins. To keep your shield clean, just wipe it with a damp cloth—no removal is necessary. The shields come in a pack of six, 10, or 14.
The best furniture protector/scratching post
If you have a cat who loves to use his claws on the corner of your sofa and won't be deterred despite your efforts, it might be time to lean into his urges and fit your furniture with a scratching post for him to use. Designed to fit over the corners of sofas and chairs, this easy design simply slides over the legs of your sofa or under the corners, transforming the edge of your seat into a scratching post for your cat. To clean, just spot clean with a damp towel, and replace as needed. This item comes in six colors: beige, black, brown, charcoal, ivory, and moss, and should complement most sofas.
The best throw-style furniture cover
Thanks to easy-to-use anchors and clips, all furniture protectors are technically portable, but sometimes, you just need something that's easy to fold up and toss in your car or bag. Unlike slipcovers or partial sofa protectors, this one is a throw that just lays down on top of the surface you need to protect, be that in your home, car, office, or elsewhere. This microfiber blanket is machine-washable and doesn't wrinkle thanks to its single-layer design, giving a clean look. It's also waterproof, which makes it a great option for both incontinent pets, and people with dogs who enjoy a swim or romp in the rain and still like to keep their car clean after a wet outing. The throw comes in four mostly-neutral colors, and each style is reversible.
The best waterproof bed protector
Most protectors are designed for sofas, loveseats, and armchairs, but not all pets will stay confined to the living room when they rest themselves on furniture in the house. For anyone with a dog or cat who enjoys cuddling up in bed, this thick, waterproof blanket is offered in seven sizes, ranging from 30 inches wide by 70 inches high to 82 inches wide by 120 inches high. It's reversible and comes in 20 different colors, so you're sure to find something that complements your bedroom's design style. And if you don't love it for your bed, you can always lay it over your sofa, car seat, or any surface you need to keep free of pet hair and dander.