If you share your indoor space with a pet, you may notice hair, dirt, dust, and even dander resting on the surfaces of the things around your home. While our canine and feline friends come with endless amounts of love, attention, and undivided attention, they also bring with them fur, which can trap grime and allergens that dirty up our personal spaces. Many pet owners like to have an air purifier in the home to help them combat pet-related allergies, and improve the overall quality of the air they, and their pets, breathe. Good air purifiers are known to relieve asthma symptoms, neutralize odors in the home, and even improve our quality of sleep thanks to their ability to remove harmful chemicals, bacteria, and dust from the air. Finding the best air purifier for your home will depend on the size of the space you need to treat, as well as the symptoms you wish to address with it.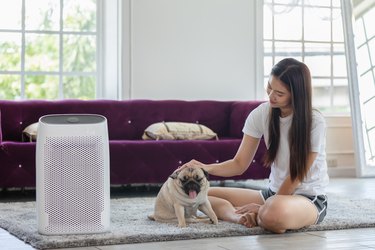 What to consider when purchasing an air purifier
‌Size:‌ Air purifiers come in a variety of sizes, and choosing the right size for your room needs will go a long way in achieving the results you want. While a small room can do with a smaller air purifier, rooms larger in size will need one that's built to handle that many particles floating through the air. An alternative to having one large air purifier in a room is to have two or more smaller air purifiers, depending on the size of your space.
‌Filter Type:‌ Different types of filters do different things and offer varying degrees of efficacy, so finding the best one for you is important when shopping for an air purifier. Generally, air purifiers use three types of filters: HEPA, carbon, and UVC light. HEPA filters, or high-efficiency particulate absorbing filters, trap particles by making them stick to a fiber. Carbon filters filter gas and volatile organic compounds (VOCs) through a bed of activated carbon, and UVC light uses UV light rays to break down the DNA or RNA in bacteria and fungus, rendering them inactive.
‌Portability:‌ For most people, the air purifier they purchase is intended for one room and will likely stay there the entire time. Some people, however, may wish to move their air purifier around with them or rotate it throughout different rooms in the home. Most air purifiers are not so large and heavy that they cannot be picked up and moved, but if you plan to keep yours on the go, you may want to search for one that's smaller in size or designed to move easily.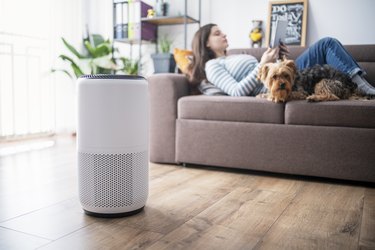 The best overall air purifier
Whether you have pet allergies, seasonal allergies, or just wish to keep dust and other irritants under control, this air purifier is our top choice for its ability to handle all of the above and more. This filter is particularly effective thanks to its three-filter system, which includes a pre-filter to collect large particulates like fur, a carbon filter for smaller particles like dust mites, and a HEPA filter to handle odors and VOCs. This company also offers several different filters, including a Pet Allergy Filter for anyone who has furry friends in the home. It's nearly silent at 24 decibels (dB), making it a great choice for anyone looking to run an air purifier at night, and is relatively affordable when compared with many other options. Additionally, this filter does not use UVC light to clean air, which has been shown to produce secondary pollution.
‌Square Footage Covered:‌ 537 sq. ft.
‌Particles Captured:‌ 99.97%
‌Filter Type:‌ HEPA, activated carbon
The best air purifier for allergies
If it's allergies in particular you're battling with, finding an air purifier that works for you can be a complete game-changer in terms of comfort and the quality of your respiratory health. If you suffer from pet allergies, this purifier may help as it uses three filters to remove dust, mites, dander, and other allergens associated with dogs and cats from the air. It's been AHAM-tested to circulate air up to one full time per hour in a 743 square foot room, and 4.8 times in a 153 square foot room, so large and small spaces can benefit from this model. This product uses a UV light filter in addition to HEPA and carbon filters, the former of which is extremely effective at eliminating bacteria, but has been linked to producing a harmful ozone atmosphere, so that's something to keep in mind if you plan to use this in small spaces.
‌Square Footage Covered:‌ 743 sq. ft.
‌Particles Captured:‌ 99.97%
‌Filter Type:‌ HEPA, carbon, UVC light
The best budget air purifier
If you need an air purifier to treat a small space for under $50, this is the one to get. The Alviera model can purify the air five times per hour in rooms up to 219 square feet, or three times per hour in rooms up to 397 square feet. It's sized perfectly to fit on a work desk or small side table, measuring 6.69 inches long, 6.69 inches wide, and 10.35 inches high. This purifier uses a three-step filtration process to capture 99.97% of airborne particles—including a pre-filter, a high-efficiency activated carbon filter, and an H13 True HEPA filter. It's ultra-quiet, emitting just 24dB of noise on the lowest setting. Plus, the replacement filters are relatively affordable.
‌Square Footage Covered:‌ 397 sq. ft.
‌Particles Captured:‌ 99.7%
‌Filter Type:‌ Pre-filter, carbon, HEPA
The best air purifier for large spaces
To purify the air in large rooms or open spaces inside of the home, you'll need an air purifier that's built to handle the number of particulates that come with them. Using three filters—a HEPA filter, an activated carbon charcoal filter, and UV light—this purifier captures nearly 100% of particles, including human coronaviruses and black mold. It uses washable filters and uses a variable-speed motor to cover an incredible amount of space without making a lot of noise. This product is not available to ship to California residents as it does come with a Prop 65 warning, which states that it can expose users to harmful chemicals due to the UV filter.
‌Square Footage Covered:‌ 3,000 sq. ft.
‌Particles Captured:‌ 99.99%
‌Filter Type:‌ HEPA, carbon, UV light
The best air purifier for small spaces
If you have a small space to work with, you can make do just fine with a small air purifier designed to treat only a limited area. Ninety-nine percent effective in spaces up to 85 square feet, this little air purifier still packs a punch and captures particulates 2 microns or larger, making it perfect for anyone with pet hair, dust mites, dander, or debris to filter. Because this item is so small, it's recommended that the filter be replaced about every four months if you plan to use it daily. Additionally, this air purifier has been AHAM-certified and tested to circulate the air in a room 4.8 times in one hour.
‌Square Footage Covered:‌ 85 sq. ft.
‌Particles Captured:‌ 99%
‌Filter Type:‌ HEPA
The best portable air purifier
If you travel a lot or need to move your air purifier from room to room, having one that's designed with portability in mind makes taking one on the go a lot easier. This portable device features a USB-powered, rechargeable lithium-ion battery, so you can even take it on a plane or in the car. It uses an activated carbon pre-filter and a True HEPA filter to capture up to 99.7% of particles as small as 0.3 microns, but it's built to treat small spaces in order for it to be effective—54 square feet, to be exact. This lightweight air purifier weighs under a pound and touts five fan speeds. Depending on which speed you choose, it can run for up to 12 hours on a single charge. It's very quiet on the lowest two settings and can be placed upright or on its side. Plus, the portable air purifier comes with a 5-year warranty. Choose from five colors: black, navy blue, blush, light blue, or white.
‌Square Footage Covered:‌ 54 sq. ft.
‌Particles Captured:‌ 99.7%
‌Filter Type:‌ Carbon, HEPA