The cliché is true: Your pet is the best friend you could ever ask for. You are absolutely in love with your fluff—maybe even obsessed—and you definitely aren't ashamed to admit it: You and your pet are attached at the hip and you want to spend every precious moment with them, even when you are away from home. It can be tough to leave your best friend behind when you go to work or enjoy a night out, and a pet camera can be a fantastic solution for you and your pet's separation anxiety. With a pet camera, you can keep a watchful eye on your pet and see what they are up to throughout the day. With certain cameras, you can even send your pet a voice greeting, train them to take a selfie, and give them a treat!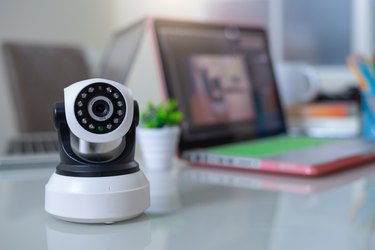 A pet camera can help you keep tabs on your pet and the household when you are away from home. If your pet is prone to destructive behavior or has been acting odd lately, a camera may even help you gain insight into your pet's behaviors and idiosyncrasies when you aren't around. Most importantly, if you're truly missing your dog or cat while you're out and about, you can check in on them from your smartphone and show them off to the other party guests. Behold, the ultimate ice-breaker!
What to consider when purchasing a pet camera
With so many pet cameras and indoor home security cameras on the market, you may feel overwhelmed and not know where to start. When buying a pet camera, there are many features to consider that may or may not be helpful to you and your pet. Interactivity, coverage, storage, and the recording capability of your camera are some of the many features that can impact your purchasing decision.
You may also want to consider the reason why you are purchasing a pet camera in the first place—for peace of mind, to reward them with treats throughout the day, to monitor their behavior—and how all of these great features could help you achieve your goal as a pet parent. Before purchasing a pet camera, take some of these factors into consideration:
‌Budget:‌ Pet cameras can vary widely in price point depending on features, size, and image quality. Depending on what you are looking for, some features may not even be relevant to your needs. Budget is certainly something to keep in mind when choosing your pet camera, especially if certain features vary in importance to you and your pet.
‌Interactivity:‌ Depending on the needs (and neediness) of you and your pet, you may want your pet camera to have some elements of interactivity. Pet camera interactivity can include treat-dispensing capabilities or two-way audio, allowing you to hear if your pet is barking or speak to them when they're in proximity to the camera.
‌Coverage:‌ In order to get the best view possible of your furry friend, you will want to consider the range of coverage provided by your pet camera. This can include the resolution, angle of view, night vision functionality, WiFi connectivity, or the ability to stream in high-definition. If you plan to position the camera outside, in a backyard, for example, you will want to opt for a weatherproof camera.
‌Storage:‌ With all the adorable videos of your pet you'll be recording, the storage capacity of your pet camera is something to consider before making a purchase. This can include recording capabilities (if you want to check out your videos later), access to cloud storage, and live-streaming capabilities (if you would like to be able to watch your pet in real-time).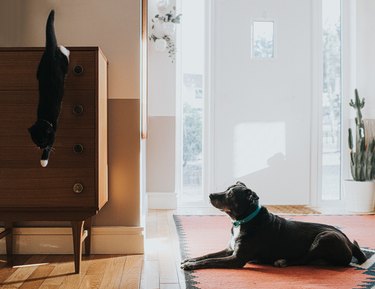 The best overall pet camera
This minimalistic waterproof camera can be installed both indoors and outdoors to monitor your pet in the yard or within the home. It's wired, so you will need an outlet nearby, and if you plan to install it outdoors, you must purchase the Wyze Outdoor Power Adapter, which is sold separately.
A special sensor enables color night vision, while two-way audio lets you talk to your pet. When motion or sound is detected, the camera will begin recording and send an alert to your phone—although these settings can be adjusted if you'd rather not receive 100 push notifications about your cat walking back and forth to the kitchen. It's also capable of continuous recording and uses a MicroSD card rather than the cloud for storage.
While there isn't a treat-dispensing feature, the versatile design and affordable price of this camera make it a great pick. It's also compatible with Google Home and Amazon Alexa for seamless smart home integration.
Two-way audio
Smart assistant compatible
Color night vision
Waterproof
The best panning pet camera
Who doesn't want to be swooning at their pet always and from all the best angles? If you're looking for ultimate visibility and coverage, this panning pet camera can live stream from anywhere in 1080p HD. It boasts pan, tilt, and zoom capabilities—the left/right pan offers a 360-degree rotation range, while the up/down pan has a 93-degree vertical range. If the camera detects motion, it will even track it in real-time. As an added bonus, the Wyze Cam Pan v2 camera features color night vision, so you can clearly see what your pet is up to no matter the light conditions. Like the Wyze Cam v3, this model features two-way audio through the Wyze app and is smart assistant-compatible. It's intended for indoor use only, so that's something to keep in mind if you are looking to install a camera in your backyard.
360-degree left/right rotation range
Motion tracking
1080p HD live stream
Color night vision
The best treat-dispensing pet camera
Furbo is an interactive dog camera with treat tossing technology, HD streaming, and barking alerts. Albeit pricier, it is a fan favorite for its interactivity, along with its basic features. The Furbo camera can take photos and videos, has two-way audio, offers a 360-degree wide-angle view, and can live stream in 1080p full HD. It offers color night vision and sends barking alert push notifications right to your smartphone.
This pet camera is a great choice for those who want to have fun with their pet, even while apart. It works best with round treats with a diameter of about 1 centimeter or 0.4 inches. Once the camera is plugged in and connected to your WiFi, all you have to do is download the free Furbo iOS/Android app to get started. You can also upgrade to Furbo Dog Nanny, an add-on service for an additional fee that provides activity alerts, fun videos, and cloud storage via an app.
Two-way audio
Amazon Alexa compatible
Treat tossing
Barking alerts
1080p full HD
Rotating 360-degree view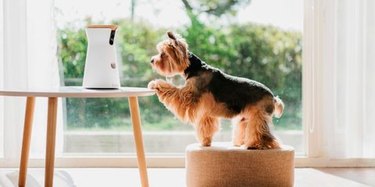 Pet cameras can be a great solution for pets and pet parents who don't want to say goodbye. If you are looking to purchase a pet camera to alleviate your separation anxiety, be sure to consider all the features that may benefit you and your pet. This can include interactive features such as two-way audio and treat dispensing, or visibility features like HD live streaming and adjustable camera angles. If you are keen on recording your pet, you will want to ensure that you have cloud service or a microSD card so you will be able to save your recordings for later viewing. All in all, it will be worth it to determine what features are important for you and your pet's well-being so you can make a worthwhile investment in the perfect pet camera.