Dogs are hardly boring, but they can get bored! Often, boredom can lead to anxiety or unwanted behaviors in your pet, including scratching furniture, looking for "food" around the house, excessive barking, or all the zoomies. If you have a dog at home who may need more entertainment, an interactive dog toy can be a great solution for dog boredom.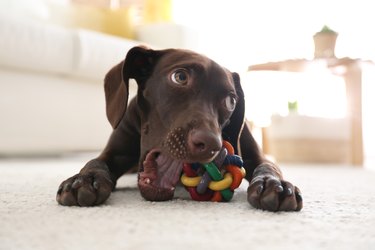 Interactive dog toys are toys that encourage your dog's sense of play and stimulate the senses. Some interactive dog toys can really get your dog active while soothing their cravings for hyper stimulation throughout the day. So, if you are looking for interactive toys for large dogs or small dogs, you've come to the right place. We've compiled the best interactive dog toys of 2022 to get you started on your search!
What to consider when purchasing an interactive dog toy
While the premise of an interactive dog toy is certainly exciting, there is a lot to consider before purchasing a new interactive dog toy for your pet. Here are a few important things to think about.
​Play style:​ Before getting your pet a brand new toy, you will want to be familiar with your dog's favorite ways to play. Some play preferences may include if your dog likes to dig, is a big licker or sniffer, is food motivated, or likes to chase toys around. If your dog is a strong chewer, or not much of one at all, this will likely all factor into the type of toys you buy them.
​Material:​ Dogs can be particular with the types of toys they play with, and every dog is different. Some dogs like soft toys, while others prefer squishy rubber toys. Some dogs won't play without having a treat thrown in the mix, while others may have absolutely no preference and will play with any toy that comes their way! Depending on the preferences, your dog may or may not play with their new interactive toy, so pay attention to the types of materials they like to interact with!
​Safety:​ Safety first! When you give your dog a new toy, you should always be supervising them during play time. You never know what mischief your dog can get into, or how they will react to certain toys. Some dogs can be strong chewers and will destroy a toy in seconds, and you don't want them to be eating certain materials if and when that happens. Supervising your pet during play time is a great way to avoid any issues.
​Durability:​ Some dogs play more rough than others. Whether it be a high level chewer, or a dog who likes to zoom around with their toys, this should all be taken into account when buying a new toy for your pet. You do not want your dog playing with a destroyed toy, which can be dangerous! Take your dog's tendencies into consideration when purchasing an interactive pet toy so that you can choose a toy that is durable enough for their play style.
1. Frisco Hide & Seek Plush Guacamole Dog Toy
Who doesn't love guacamole and hide and seek? If your dog likes to nuzzle, dig, and is a fan of plush toys, a hide and seek toy may be their new favorite choice for playtime! This guacamole-themed hide and seek toy from Frisco gives your dog a little challenge, all while being completely adorable. It includes a plush aguacate guacamole bowl and hideable lime, chip and avocado toys which all have their own squeakers for ultimate fun times. This toy is not recommended for heavy chewers, and supervision is advised when your dog is playing with their guacamole bowl!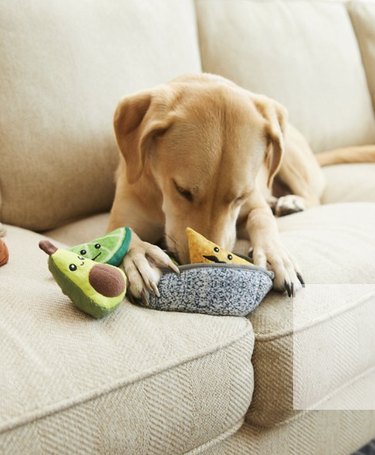 2. TRIXIE Mad Scientist Turn Around Activity Strategy Game Dog Toy
What dog wouldn't want to play mad scientist? This mad scientist play set is great for playful pups. The ultimate challenge? Your dog must flip the beakers upside down to get yummy treats. There are even different ways to make the game more difficult, in case your pup solves this one quickly. Another great feature: The beakers are dishwasher-safe for easy clean-up and sanitization. The set also has no-slip feet so the toy stays in place while your mad scientist experiments!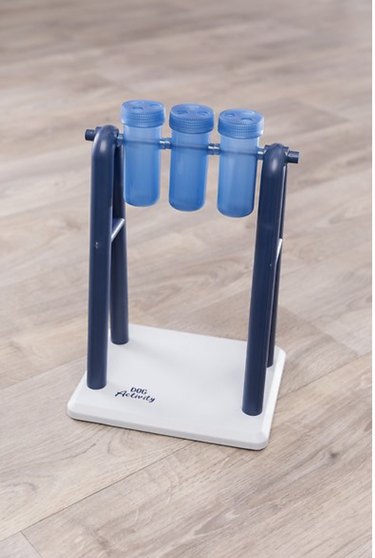 3. beetoy Dog Squeaky Caterpillar Snuffle Toy
A snuffle toy can help stimulate your dog by activating their foraging instincts, all while slowing down their eating speed and preventing bloat! There are places to hide treats and kibble for your dog to sniff out and enjoy. This Caterpillar Snuffle Toy is a three-in-one interactive dog toy: It folds up into a regular toy and is extendable, transforming into a snuffle mat and tug of war toy. You've been warned: it also comes with squeakers!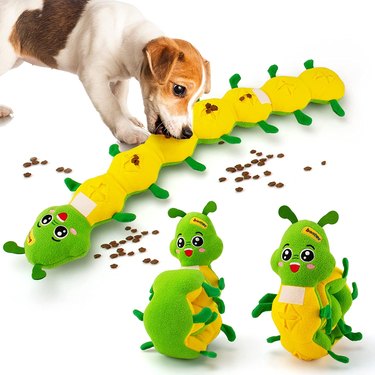 4. iDig Stay Digging Toy by iFetch
We totally dig the iDig! Certainly, if your puppy pal likes to dig, it can get messy when you're not at the beach! The iDig is an amazing interactive toy that allows your dog to do their thing safely and less destructively within your home. Simply load the under flaps with treats and toys, encourage your dog to dig and scavenge, and let the (tiring) fun commence! The iDig is also machine-washable and foldable, so you can take your pet's toy with you on the go and clean up any spit, slobber, or dirt with ease.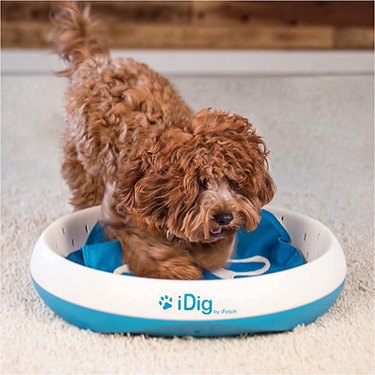 5. IOEN Interactive Floppy Shark Dog Toy for Large/Medium/Small Dogs
Who doesn't love some floppy fish fun? This toy is designed for small, medium, and large dogs (but not for aggressive chewers). This USB-rechargeable toy is made of cotton and is activated by a motion sensor triggered by your pet. The best part: the tail flaps! This squeaky and simulating dog toy can decrease your dog's boredom and activate their sense of play. Warning: This may become the favorite item of everyone in your household—not just your dog!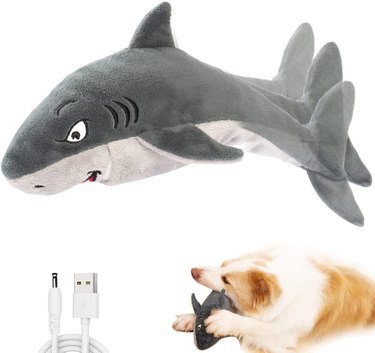 6. KONG - Classic Dog Toy
And of course, we couldn't forget this classic interactive dog toy! The Kong is an all time favorite for pet owners. Simply hide treats within the hole in the toy, and watch your dog go nuts trying to get their tasty treats! If your dog likes to lick, you can even spread a treat like peanut butter inside for them to go after. If your dog isn't in the mood for food, you can simply use this toy to play good old fetch. The Kong is also dishwasher safe, which makes for super easy clean up!