With seasonal weather change comes a happier and more eager pet: Time to go outside NOW! Surely your dog or cat is jumping for joy at a chance to saunter in the fresh air and sunshine at a moment's notice. If you want your pet to be able to let themselves in and out, consider installing a pet door. While standard pet doors get the job done and are less expensive, in order to keep your pets and home safe, you may want to upgrade to an electronic pet door instead. If you're worried about your pet's whereabouts—or unwanted visitors coming inside—an electronic or smart pet door can give you peace of mind.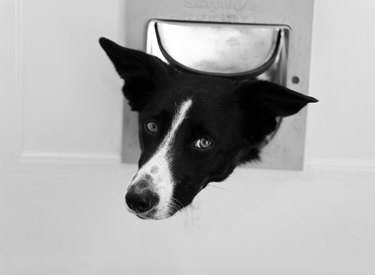 So, what is an electronic pet door? An electronic or smart pet door is an intelligent, automated pet door that is generally more secure than your standard pet door. It features technology that allows your pet to pass through while securing your home from unwanted visitors and the elements. This is usually enabled through radio frequency technology; technology that is generally triggered by a microchip or special tag on your pet's collar. It communicates through radio wave signals and ensures only your pet is going in and out of the door.
Many of these products allow you to lock and access the smart pet door through your smartphone over WiFi, allowing you to keep your pet inside and unwanted animals and people out at the click of a button. You may even be able to track your pet's habits and activities, and keep an eye on them from afar—a little "Big Brother," but also super cool!
What to consider when purchasing an electronic pet door
A smart pet door is supposed to make your and your pet's life easier, so when it comes to actually purchasing an electronic pet door, you'll want to consider all of your needs within your home. This may include factoring in the outdoor elements. For example, whether or not you live in a rainy, windy, or rustic environment and need to have a pet door that shields from, or is more sensitive to, the outdoor elements.
Here are some things you may want to think about before you make your purchase:
‌Power Source:‌ Remember, smart pet doors are electronic, and that requires a power source! Some pet doors are battery-powered, while others can be plugged into an outlet. Make sure you assess what power source may be needed for your smart pet door before making your purchase. One may or may not suit your needs or lifestyle better than the other.
‌Functions:‌ Some electronic pet doors register a smart key and can be programmed to register multiple smart keys for different pets. Others will use a microchip or electronic sensor. Some smart pet doors will function over WiFi and the use of a smartphone. It's also important to note that some smart pet doors can have limited bandwidth with sensor sensitivity, and can only function up to a certain distance away from their smart key, or remote control.
‌Size:‌ The size of your pet door depends on the size and quantity of your pets. If you have multiple pets, it's especially important that you make sure that your pet door is the proper size for all the pets in your home. Be sure to measure where you are planning to install your new pet door so that you can ensure it will properly fit within your home.
‌Installation:‌ Some pet doors are easier to install than others. It's important to remember to read instructions carefully so you can manage your own expectations with the installation before making your electronic pet door purchase.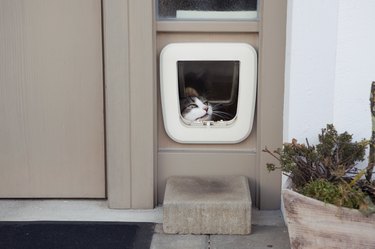 The best overall smart pet door
This battery-operated electronic pet door by PetSafe is a fantastic overall option for pet owners. Great for a household with multiple pets, this smart pet door can operate with up to five different smart keys. Only pets wearing the SmartKey can go inside and outside using the smart door. As your pet enters the range of the SmartDoor, it will detect your pet's smart key and unlock the door automatically for your pet. After your pet passes thru, the door locks automatically after your pet to keep unwanted visitors out, as well as keep house and indoor pets, such as cats, safely inside.
‌Sizes:‌ Small and large
‌Sensor:‌ Smart key (up to 5)
‌Power:‌ Battery
The best smart pet door for dogs
This smart pet door from High Tech Pet is fully operational from your smartphone. Controlled over WiFi and with an ultrasonic pet collar included, this model can be operated remotely via an iOS or Android app. Feel free to open and close the door, set timers and four-way access control, and the hold open time, all from your smartphone. If your pet is trying to come in or out through the door, this pet door will even send notifications to your phone. This model, called the PX-2-WIFI, accommodates pets up to 100 pounds and is intended for medium- and large-sized pets. For small pets up to 30 pounds, High Tech Pet recommends their smaller model, the PX-1-WIFI.
‌Sizes:‌ Medium and large
‌Sensor‌: Collar key
‌Power:‌ Battery or outlet
The best smart pet door for cats
Looking for a great pet door for your cat who loves the outdoors? The CatMate has selective entry technology, utilizing your cat's microchip to allow your cat easy access to your home through this microchip-activated pet door. The pet door is also easy to program at the touch of a button, and the LED indicator light flashes to indicate your cat's unique microchip or CatMate ID disc has been successfully registered. The flaps are made from a tough polymer and feature a magnetic closure that makes them draft-resistant, weather-proof, and energy-efficient. The door requires four AA batteries, which aren't included, but they offer up to 12 months of operation, so they're a tiny investment for long-lasting utility.
‌Sizes:‌ Small
‌Sensor:‌ Microchip
‌Power:‌ Battery (requires 4 AA batteries)
The best microchip-reading smart pet door
If you want to test the possibilities of smart pet door technology, no collar is required with this microchip-reading smart pet door by SureFlap. You can connect to the pet door remotely through the Sure Petcare app and unlock or lock the door at any time, from any place. DualScan technology also lets you set entry permission for each pet you have, making this a great microchip option for those with multiple pets or cats. The product is backed by a three-year warranty.
‌Sizes:‌ Small
‌Sensor‌: Microchip
‌Power:‌ Battery (requires 4 AA batteries)