Since cats spend so much of their time grooming themselves, you'd think they wouldn't need our assistance. Alas, cats of any hair length will need to be brushed at some point, whether to reduce shedding, keep their coats smooth, or detangle mats. Since sending your cat off to the groomer is not something most cats will tolerate, many cat owners inevitably find themselves doing it all themselves. If that's you, it's important to have the right brush for the cat and the job. Long-haired cats need different tools than short-haired cats, and dematting is vastly different from deshedding. If you're struggling to choose among the many cat brush options out there, check out this list covering every need.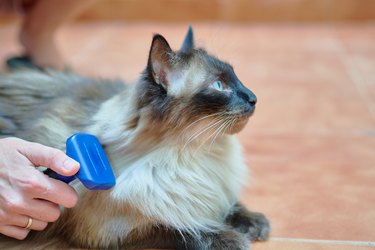 What to Consider When Purchasing a Cat Brush
​Hair Type:​ Long-haired cats need brushes with spaced-out bristles that are also long enough to penetrate their coats. Short-haired cats, on the other hand, don't benefit much from blades that aren't dense enough to grab onto the shorter hairs. Think of it in terms of density. Long hair has more room to move and tangle up, so it requires brushes that won't get caught up in every twist, while short hair tends to be denser and requires brushes with teeth that are close together to penetrate the coat.
​Function:​ Brushes that are made to detangle cat hair are different than brushes made to demat it and even more different than brushes made to remove loose hair (otherwise known as deshedding). If you simply want something to use regularly to keep your cat's coat clean, consider what type of coat your cat has (long or short) and buy a brush that's appropriate for that coat. If you are facing matted fur, a brush that can get through mats gradually is necessary. Strong blades that are spaced enough to not get stuck loosen mats, after which a normal brush can be used to fully detangle the mat. If your cat sheds heavily, you probably want a brush that snags onto loose hairs without getting caught up in the hair that's still fully attached. Something with smaller, dense teeth is ideal.
​Comfort Level:​ Some cats are more tolerant of grooming than others. If your cat has never been groomed before or has a history of disappearing at the sight of a brush, consider starting with a grooming glove (which can be used during baths). If you do opt for a brush, make sure its design is one that will not prick your cat's skin. Oftentimes, brushes will have plastic guards (kind of like electric razors) or curved blades to protect cats' skin. Finally, don't spend a ton of money on one brush until you're sure of what kind you need and what your cat will tolerate. Below are some great, affordable options.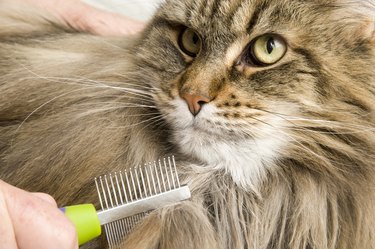 The Best Overall Cat Brush
Hertzko Self-Cleaning Slicker Brush
The Hertzko Self-Cleaning Slicker Brush is designed for both cats and dogs with short or long hair. The bristles are curved slightly so that they can penetrate the hair without pricking your pet's skin. They are spaced closely together, so you're guaranteed to pull out tangles and loose hair on the first brush-through. But since close-together bristles can be a pain to clean out, Hertzko designed this brush to retract its bristles for easy clean-up. The grip of the handle is designed to reduce wrist strain and prevent your hand from slipping, even if you are brushing your cat in the bath. The brush comes in two sizes depending on the size of your cat, but even the small size might be too large for very small cats.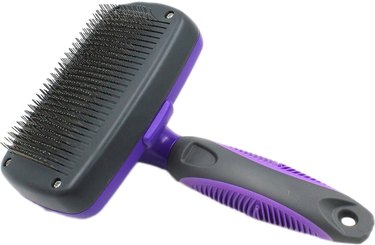 The Best Cat Brush for Long Hair
Safari Self-Cleaning Slicker Brush
Cats with long hair are prone to tangling, so having a brush that can reach and detangle those soon-to-be mats is crucial. The Safari Self-Cleaning Slicker Brush is a fantastic option for just that. The bristles are long enough to penetrate deep into the coat and spaced well for pulling out most snarls. Now, if your cat is heavily matted, this brush may not be enough. In those cases, it's usually best to opt for a dematting brush or let a professional groom your cat and cut out those mats. However, for dealing with everyday tangling, this brush is hard to beat. It has an ergonomic grip, and, like the Hertzko Brush, the bristles retract, allowing you to pull off the hair easily. Finally, it is a good size and shape for brushing hard-to-reach spots, like the underarms or chin.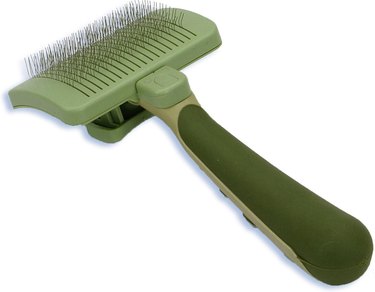 The Best Cat Brush for Short Hair
FURminator Short Hair Cat Deshedding Tool
The FURminator Short Hair Cat Deshedding Tool has a stainless steel edge that reaches through the topcoat to gently remove the loose undercoat. The edge is protected with a plastic guard, so you don't have to worry about scratching your cat since the brush is designed to glide over the skin. There is also an edge guard for storage. The edge is curved, which works much better than a flat edge for conforming to your cat's body shape. It's very effective, so you'll find that you have to clean out the bristles frequently, but they retract to make it easy enough to do so. The ergonomic, grippy handle makes holding onto the brush easy and prevents wrist strain. Finally, it comes in two sizes, one for cats under 10 pounds with a 1.75-inch blade and one for cats over 10 pounds with a 2.65-inch blade.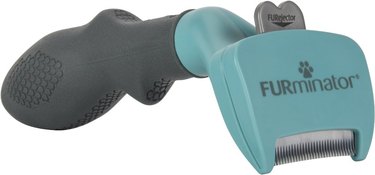 The Best Cat Brush for Deshedding
SleekEZ Deshedding Grooming Tool
The SleekEZ Deshedding Grooming Tool is designed with cats, dogs, and horses in mind, so it's up to just about any deshedding job. Its simple design is different than most deshedding tools: It has a stainless steel wavy blade with very small teeth. This allows it to penetrate the topcoat and gently snag up to 95% of loose fur, dander, and dirt. The handle is made of poplar wood and it's easy to hold, although perhaps not as ergonomic as other brushes. It is gentle enough to use on household fabrics for hair removal but remains an effective deshedding tool regardless. Finally, unlike other tools, the tiny teeth simply snag onto the hair and then let it fall, so you won't have to clean the brush while you're grooming. The 2.5-inch size is recommended for most cats.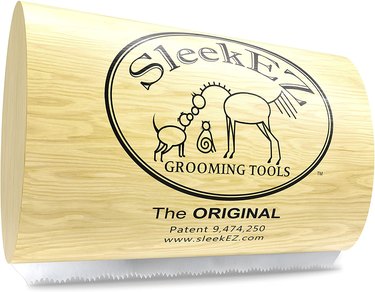 The Best Cat Brush for Dematting
Pat Your Pet Original Deshedding Brush
The Pat Your Pet Original Deshedding Brush is an adaptable and effective deshedding tool for short and long-haired cats. Begin with the side made up of 9 stainless steel blades for heavy-duty dematting, and then move onto the side with 17 blades for removing excess hair and smoothing out the coat. The blades are curved inward to prevent them from pricking your pet's skin, but they are also long enough to penetrate thick fur. The handle is grippy and designed for easy holding, and the blades are spaced enough that they won't pull uncomfortably at your cat's hair. However, it has no hair removal function, so you have to pull the hair off yourself. Since it's not made up of tightly packed bristles, that's easier than with other brushes.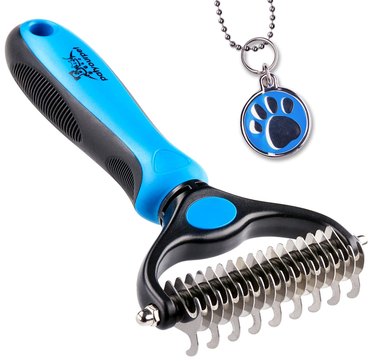 HandsOn All-In-One Pet Grooming Gloves
Grooming gloves are ideal for cats who do not like being groomed. If your cat runs at the sight of a brush, try the HandsOn All-In-One Pet Grooming Gloves. While gloves will never be as effective as a brush at detangling and deshedding, they are still useful and can be a great way to acclimate your cat to the feeling of being groomed. These gloves come in a wide variety of sizes, from junior to extra-large, which makes them all the more effective since your hands can fill them all the way, no matter how small they are. The gloves are covered in nonabrasive nodules that penetrate the hair while also massaging the skin and promoting circulation. Hair will not stick to them, and they are designed to be durable, so they won't crack or begin to smell like mildew if you use them in the bath anytime soon. They also come with a wrist strap, so you don't have to worry about them slipping off.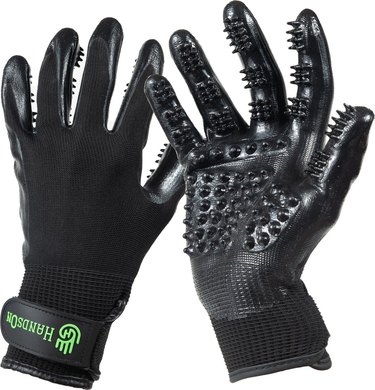 The Best Cat Brush for Bathing
Vetnique Labs Furbliss Pet Brush
The Vetnique Labs Furbliss Pet Brush is made out of 100% medical-grade silicone and has two sides for maximum adaptability. One side is made of rounded nubs that massage and clean simultaneously, and the other side has teeth that groom your cat's fur while also pulling out the loose excess. It's easy to hold and does not get slippery when wet. It's great for rubbing in shampoo and removing hair that comes loose in the bathing process. Hair sticks to it when it's dry, so it really is best used for baths. It's designed for use on short and long-haired cats, although it works better for the former since long hair can be difficult to penetrate. It's dishwasher-safe and can be used to remove hair from surfaces that are not your cat too!