Your cat may hate the water, but sometimes a good bath is just what he or she needs. Although cats are pretty good at cleaning themselves, they are not immune to mud, dirt, or skin conditions that necessitate a thorough cleansing. Like human shampoos, there is no product that works for every cat, so it's important to determine your needs and your cat's needs before grabbing any old pet shampoo off the shelf. There are shampoos for treating fleas and dandruff, shampoos specifically formulated for kittens, and shampoos for households with cat allergies. If you don't know where to start, look no further than these seven products.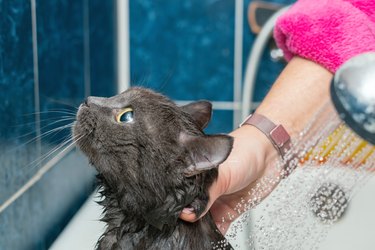 What to Consider When Purchasing Cat Shampoo
​Environmental Impact:​ The ingredients in your cat's shampoo are going to wash down the drain alongside all the dirt you wash off, so if environmental impact is a concern, look for shampoos that use plenty of or only natural ingredients—or, even better, claim to be biodegradable. Ingredients like sulfates, parabens, phthalates, and certain fragrances are not good for your cat or the ecosystems in which they inevitably wind up. Finally, although the irony of it is palpable, not all pet shampoos are cruelty-free, meaning that the very same shampoo you use on your cat may have been tested on cats living in abysmal conditions before ever reaching you. We do our best to select cruelty-free brands, but there are far more companies that rely on animal testing than there are that don't.
​Ingredients:​ Speaking of harmful ingredients, if it's bad for the environment, it's oftentimes bad for your cat. The ingredients listed above— sulfates, parabens, phthalates, and certain fragrances—can be extremely irritating to cats with any sensitivities. If you've never given your cat a bath before, it is best to play it safe and choose cleansers that contain none of those ingredients, are pH-balanced, and contain things like aloe vera, coconut derivatives, and vitamins. We also recommend avoiding fragrances. Remember that whatever goes on your cat's coat is going to come into contact with your own skin, so be mindful of your own sensitivities as well.
​Purpose:​ Cats are natural self-cleaners, meaning they do not need baths as frequently as dogs do. However, if you notice your cat developing dander, an oily coat, or red, itchy skin, it may be time for a bath. Similarly, there are shampoos specifically made to eradicate fleas and ticks and others that can reduce allergens or shedding. Before choosing a general-purpose shampoo (although if you simply want to give your cat a good cleanse, that is fine), determine your cat's skin and coat condition and look for a shampoo designed with that condition in mind.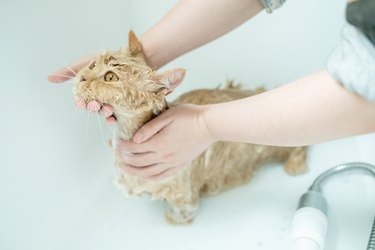 The Best Overall Cat Shampoo
Breezytail PetO'Cera Cat Shampoo, 10.1-oz. Bottle
Breezytail's shampoo for cats ticks all the boxes. The ingredients are clearly listed and are all safe for use on cats. They also get points for using more natural ingredients than many other shampoos. PetO'Cera Cat Shampoo contains a pH-balanced blend of botanicals that prevents and eases irritation, so it is safe for use on cats with sensitive skin. It will moisturize your cat's skin and coat and, best of all, reduce excess shedding. Breezytail does not test on animals, and, although light on details, follows eco-conscious standards in making its products. For a great general-use shampoo, you can't go wrong with this product.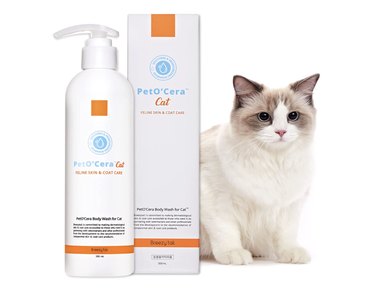 The Best Cat Shampoo for Fleas
Advantage Flea and Tick Treatment Shampoo for Cats and Kittens, 8-oz. Bottle
Advantage's parent company is Bayer, which is in part a veterinary pharmaceutical company, so they know what they're doing when it comes to fleas and ticks. Although you should always consult with a veterinarian before using a product like this, you can feel confident that this shampoo is safe for use on cats older than 12 weeks. It is unscented, so it shouldn't irritate cats who are sensitive to fragrances, and it foams up to make it easy to cover your cat's entire coat. Do not use it more frequently than every 7 days, and consider treating your home and/or yard for fleas as well for maximum effectiveness.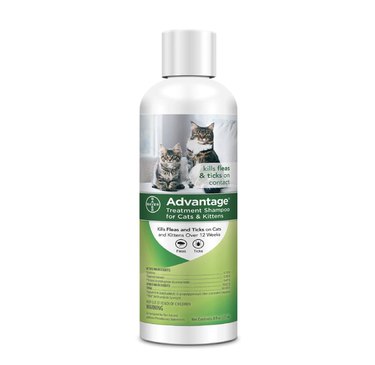 The Best Cat Shampoo for Dry Skin and Dandruff
Earthbath Oatmeal Cat Shampoo, 16-oz. Bottle
Earthbath Oatmeal Cat Shampoo is specifically formulated to treat dry, itchy, or dandruffy skin. It contains oatmeal, aloe, coconut-derived ingredients, and vitamins A, B, D, and E to create an extremely moisturizing blend, which is the best treatment for cats who suffer from dandruff. It is unscented and contains no soaps, sulfates, parabens, dyes, or phosphates. All of the ingredients are biodegradable. However, it will burn your cat's eyes if you're not careful when washing around the face, and you must leave it on for 90 seconds for it to do its thing.
The Best Shampoo for Kittens
Frisco Hypoallergenic Kitten Shampoo, 1-gal.
When it comes to choosing a shampoo to use on a kitten, you want something that will be as gentle as possible. Frisco Hypoallergenic Kitten Shampoo only contains ingredients that are plant-based and hypoallergenic, so it is guaranteed to not irritate sensitive skin. Coconut derivatives, aloe vera, and vitamins B5, E, and A promote a healthy, moisturized coat. It is also unscented and contains no dyes or parabens. Another positive is that Frisco does not test its products on animals. The only negative is that it is not eye-friendly, so be careful when washing around your kitten's face.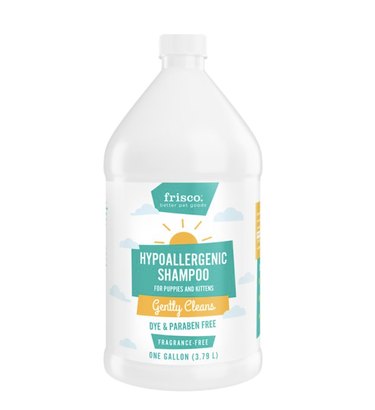 The Best Cat Shampoo for Human Allergies
Nature's Miracle Allergen Neutralizing Foaming Shampoo, 8.5-oz. Bottle
If someone in your household is allergic to cats, consider trying an allergen-reducing shampoo. Nature's Miracle is a company we are already familiar with for its stain and odor removal products, and its pet shampoo is similarly formulated to reduce odor and allergens. It uses an enzymatic blocker that neutralizes (by breaking down) inanimate dander proteins on your cat's skin and coat. It also claims to deodorize with a "fresh scent," so it's probably not appropriate for cats who are sensitive to fragrances. You should also note that cats have dander in their saliva, so this will not eradicate your cat's dander altogether. However, if you regularly (every two weeks) use this shampoo on your cat, you should begin to feel at least some relief from your cat allergies.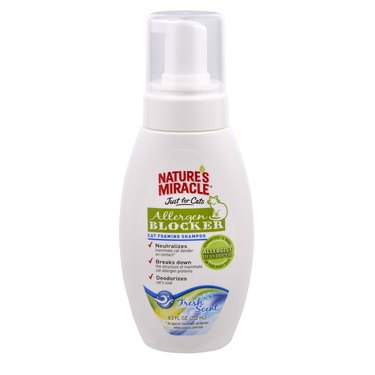 The Best Cat Shampoo for Sensitive Skin
Veterinary Formula Clinical Care Hypoallergenic Shampoo for Dogs and Cats, 16-oz. Bottle
This veterinarian-recommended shampoo is your best bet if all other shampoos have left your cat's sensitive skin in even worse condition. It contains vitamin E to promote blood circulation, lactic acid for gentle exfoliation, and allantoin to soften dead skin cells, causing them to fall off and leaving skin moisturized and soft. It is pH-balanced and contains no dyes or parabens. An added benefit is that it will not wash off topical flea or tick medications. Do not use this shampoo on kittens younger than 12 weeks.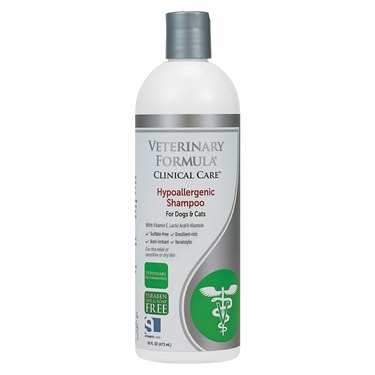 The Best Cat Shampoo for Shedding
earthbath Shed Control Green Tea & Awapuhi Shampoo, 16-oz. Bottle
This eco-friendly shampoo is completely safe and extremely effective. It contains shea butter and omega-6 fatty acids, which moisturize and detoxify your cat's skin and coat. Extracts of green tea, ginseng, and awapuhi reduce dander and shedding. It is pH-balanced, soap-free, paraben-free, and sulfate-free, and it can be used on any animal older than 6 weeks. It works best if used alongside earthbath's conditioner that's sold separately, so that adds to the expense.