Just like people, dogs can suffer from allergies. Some dogs have environmental allergies which may be seasonal. Other dogs may have allergic reactions to certain foods and ingredients in their diet. Allergies, if left untreated, can be very uncomfortable for dogs. Dogs may experience a variety of symptoms if they are struggling with allergies. Common symptoms include watery eyes, sneezing, itchy skin, dull coat, rashes, dandruff, and scaly skin—all of which can lead to dogs excessively licking, scratching, and/or chewing in an attempt to alleviate the itchiness. These skin allergies can lead to the development of hot spots and other sores. Daily supplements can provide anti-itch support to help relieve dermatitis skin conditions resulting from allergies.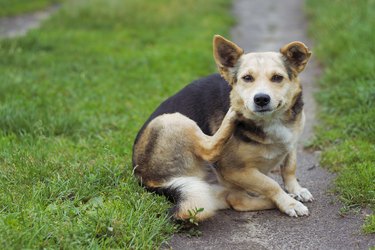 What to consider when purchasing allergy supplements for dogs
‌Allergy Testing:‌ If you think your dog is struggling with allergies it's a good idea to mention this at your dog's next vet appointment or schedule an appointment with your dog's veterinarian. Allergies can range from minor to severe and may require prescription oral and topical medication to treat. Your veterinarian may also determine that your dog should see a specialist who will be able to conduct allergy testing to determine what exactly your dog is allergic to.
‌Dog-Specific Products:‌ If you have a dog who has allergies, or you suspect your dog has allergies, it's important to use products that are safe for dogs. Some human medications like Benadryl are generally safe for most dogs, but it's best to use supplements and treatments specifically made for dogs.
‌Dosage:‌ When selecting an allergy supplement to add to your dog's diet, make sure to follow all recommended instructions for how much of the supplement to feed your dog based on their weight and age. In the event of an accidental overdose, or if your dog eats more than the recommended dose of an allergy supplement, contact your veterinarian or an emergency veterinary clinic for support.
Now that we've outlined what you need to know before purchasing dog allergy supplements, here are our top picks for 2022.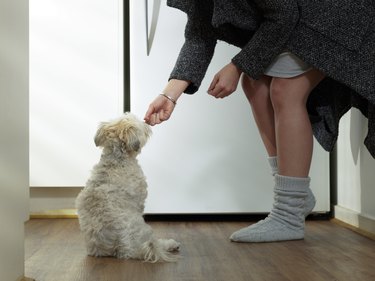 The best liquid allergy supplement
This liquid allergy support for dogs comes in chicken, bacon, plain, and pot roast flavor options to get your dog excited about taking her supplement. The formula brings together omega-3s, methylsulfonylmethane (MSM), and hyaluronic acid to help keep dogs with allergies comfortable. This supplement has a flavor that dogs enjoy but also comes in an unflavored version if you've got a picky eater and want to be sneaky about adding it to your dog's food. This supplement is designed to be less messy than chews, pills, or oils. It supports dogs with allergies by soothing skin-related issues connected to seasonal allergies.
The best seasonal allergy supplement
If the first signs of spring coincide with your pup biting her paws or having sneezing fits, there's a good chance she might be suffering from seasonal allergies. These seasonal allergy support supplements are made with natural ingredients and have a delicious hickory salmon flavor. They're made in the U.S. and are loaded with omega-3, -6, and -9 fatty acids, plus vitamins, quercetin, and bovine colostrum to maintain normal histamine levels. The supplements also include probiotics for better overall gut health. The soft chews are suitable for dogs of all sizes and life stages, although dosages vary according to weight.
The best allergy supplement for itchy skin
Made in the U.S., these soft chews are intended for dogs struggling with occasional or seasonal allergies. Ingredients such as colostrum, turmeric, vitamin C, and wild Alaskan salmon oil help soothe itchy skin, while probiotics provide digestive support. This supplement is made without GMOs, wheat, corn, soy, or harsh preservatives. The salmon flavor is attractive to most dogs, even fussy eaters. You can purchase these soft chews in a container of 90, 180, or a two-pack of 90-count containers to save some money by buying in bulk.
The best allergy supplement for senior dogs
For senior dogs (ages seven and older) struggling with seasonal allergies, these easy-to-give supplements are intended to provide quick relief to itchy discomfort. The supplements include quercetin, collagen, colostrum, as well as omega fatty acids to keep senior dogs comfortable, even during the height of allergy season. The supplements have a hickory salmon flavor, making them attractive treats for dogs to eat. These soft chews support a dog's normal inflammatory response to reduce seasonal allergy symptoms and allow senior dogs to feel their best.
The best allergy supplement for small dogs
These allergy supplements are suitable for small and medium-sized dogs. The product helps dogs feel less itchy when struggling with seasonal allergies. The supplements include quercetin and bromelain, helping dogs maintain healthy histamine levels and reduce inflammation. They also include turmeric root and grape seed extract, which offer anti-inflammatory, anti-histamine, and decongestant properties to keep allergy symptoms at bay. The soft chews are enriched with pumpkin powder, which includes vitamin A and zinc, to moisturize your pup's coat and skin.
The best grain-free allergy supplement
These grain-free supplements are soft chews that support the overall health of dogs struggling with seasonal and environmental allergies. They're good for dogs' digestive health and maintaining normal histamine levels. They include both prebiotics and probiotics to keep your dog regular. Infused with fish oil from wild Alaskan salmon, the supplements are rich in omega-3 fatty acids, as well as EPA and DHA fatty acids, which are beneficial for skin health, including allergy-related hot spots. The supplements also boast colostrum and apple cider vinegar to improve gut microflora and minimize allergy symptoms.
The best allergy and probiotic supplement
Made with colostrum, probiotics, fish oil, and quercetin, these supplements are suitable for dogs of all sizes who may be struggling with seasonal or environmental allergies. The supplements were created for adult and senior dogs, helping them to maintain normal histamine responses. They're also good for digestion and gut health. The included salmon oil contributes to healthy skin and fur, allowing dogs to look and feel their best. Made in the U.S. in a GMP-certified facility, these soft chews have a tasty bacon flavor.
The best allergy supplement for hot spots
Made with whole meats and vegetables, these allergy supplements provide relief from itching and hot spots. Containing wild Alaskan salmon oil for skin health and colostrum to curb allergic reactions, the soft chews were developed for dogs of all ages and sizes. The ingredients include salmon, sweet potatoes, carrots, and tomatoes, as well as apple cider vinegar, which is particularly helpful for itching and hot spots. These supplements are free of grain, corn, and soy and are made in the U.S.