Not just for senior dogs, hip and joint supplements can be beneficial preventatives for dogs of all ages—keeping your canine active and comfortable during any stage of life. The supplements help to preserve flexibility and joint health and often include ingredients like glucosamine and chondroitin to ward off age-related joint pain. They're an important part of joint care for dogs of all breeds and sizes but are especially important for large-breed and giant-breed dogs, as well as dogs who lead an active lifestyle that may leave them prone to orthopedic injuries and strains.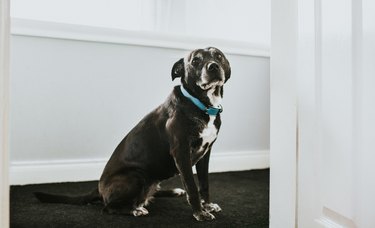 What to consider before purchasing hip and joint supplements for your dog
‌Painful Joints:‌ If you suspect your dog is in pain, it's important for your dog to be seen by a veterinarian. Hip and joint supplements can help prevent the deterioration of joints and improve overall joint health and movement, but they don't provide immediate pain relief. Dogs who are actively in pain from arthritis or other joint conditions may need additional medication. Your vet will be able to talk with you about dog joint health and exercises you can do to support your dog's overall quality of life.
‌Diagnostics Needed:‌ If your dog is constantly stiff or sore, your vet may want to run diagnostics, including X-rays, to determine the cause of the joint disease and check for conditions like hip dysplasia and osteoarthritis. For dogs with significant joint conditions, your veterinarian may refer your dog to an orthopedic specialist or veterinary physical therapist to provide ongoing treatment in addition to daily hip and joint supplements.
‌Consistency:‌ If you're wanting to add joint supplements to your dog's diet, it's important to be consistent with the dosage and regularity. Most joint supplements are designed to be given to your dog daily, and their effects are cumulative, meaning that in order to be most effective, they need to be given regularly in accordance with the feeding instructions.
‌Serving Size:‌ When giving your dog hip and joint supplements, be sure to read the feeding instructions on the back of the package. Dosage is often based on your dog's weight and size. Large dogs generally require larger doses of joint supplements than small-breed dogs. For example, a dog over 75 pounds might require three soft chews per day, while a dog under 25 pounds may only need one. If your dog gets into the supplements and eats more than he should, consult your veterinarian or an emergency clinic to determine if your pet needs immediate treatment.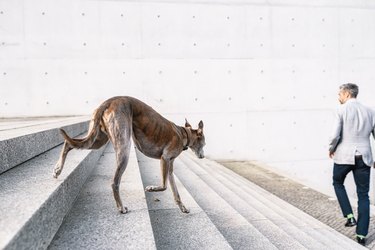 The best overall hip and joint supplement
These chewable tablets include glucosamine and chondroitin to support joint health. They promote cartilage production and protect existing cartilage from breaking down further. The formula includes glucosamine, chondroitin sulfate, and MSM, the latter of which reduces inflammation and serves as an antioxidant. Each chewable tablet is scored in the middle, which makes dosing easier for dogs of all sizes. They can also be broken up and crumbled over your dog's food if you've got a picky eater on your hands. These supplements are intended for dogs of all breeds, sizes, and life stages. They're sold in many different sizes, ranging from a bottle of 60 to 750.
The best hip and joint supplement food topper
Featuring live five-strain probiotics and a blend of prebiotics, these supplements support a dog's overall health. The supplements were developed by a veterinarian and canine nutritionist to help dogs maintain supple joints, regular mobility, and strong bones. The formula includes turmeric, Alaskan wild salmon oil, organic Icelandic seaweed, and omega-3 fatty acids. These bite-sized supplements look a lot like kibble and are meant to be a topper that you can add to your dog's daily meals. The product is made in the U.S. without any artificial colors, flavors, soy, or wheat. Choose from 21 scoops, 60 scoops, or 120 scoops.
The best hip and joint supplement soft chews
These tasty soft chews come in bacon, chicken, and duck flavors to entice even the pickiest eaters. The hip and joint supplements include a glucosamine chondroitin combo to support joint health for dog breeds of all sizes. Active ingredients in these supplements include OptiMSM, a "premium form" of MSM that claims to reduce joint and muscle pain. The soft chews have added Vitamin C, which is good for fighting inflammation, and Vitamin E, which helps with skin, coat, and eyesight health. The bites are available in a container of 90, 180, or 250.
The best hip and joint supplement for small dogs
Made specifically for small- and medium-sized dogs, these soft chews are easy to give to your dog once or twice a day. They're intended for dogs under 60 pounds, although the company also sells a version for large dogs. These supplements bring together glucosamine, chondroitin, and avocado/soybean unsaponifiables (ASUs), which help retain cartilage and bone volume in dogs. The formula also includes decaffeinated green tea, which is high in antioxidants. The soft chews are sold in a bag of 84, 150, or 168.
The best hip and joint supplement for large dogs
Designed to help dogs stay comfortably active, these daily supplements are chicken-flavored soft chews that are easy to feed. The supplements include glucosamine, MSM, and krill, a source of omega-3 fatty acids that also happens to be loaded with astaxanthin, a powerful antioxidant. The supplements are made in the U.S. and work by lubricating hips and joints for improved mobility. They're suitable for adult and senior dogs of all sizes, although larger dogs will require more soft chews per day. You can purchase this hip and joint supplement in a bag of 60, 90, or 180.
The best hip and joint supplement chew sticks
Perfect for picky eaters, these chew sticks make it easy to support your dog's joint and hip health because most dogs think of them as treats! The twists have glucosamine, chondroitin, and MSM to repair joints and connective tissue. The chew sticks are easy to break apart (small dogs under 20 pounds should only have half a chew per day) and are a great option for dogs who are resistant to taking traditional supplements like tablets or soft chews. The product is intended for adult dogs over a year old and helps build healthy ligaments and cartilage for better mobility. Each box contains 30 chews.
The best value hip and joint supplement
These poultry-flavored supplements provide comprehensive joint support. Beyond joint health, they benefit flexibility, muscle tone, and cartilage production. The soft chews are also rich in antioxidants to reduce inflammation. These supplements include creatine, glucosamine, MSM, turmeric, and boswellia serrata extract to help dogs stay active. They're intended for dogs of all sizes and ages. To prevent gastrointestinal upset, the supplements should be given to dogs during or after meals. If you have more than one dog or prefer to purchase supplements in bulk, these Synovi G4 soft chews come in a pack of 60, 120, or 240.
The best chicken-flavored hip and joint supplement
Developed to ease joint stiffness, these supplements are soft and chewable with a chicken flavor to encourage dogs to take them. They're made with natural ingredients including turmeric, glucosamine, MSM, and chondroitin sulfate, which aids with cartilage development. They're also full of antioxidants to combat inflammation. The product is manufactured in the U.S. using both U.S. and globally sourced ingredients. It does not contain any GMOs, wheat, corn, soy, or harsh preservatives. The yummy soft chews are suitable for dogs of all ages and sizes. Choose from a container of 90 or 180 chews.
The best beef-flavored hip and joint supplement
These soft, chewy squares are appropriate for dogs over 12 weeks of age and all breed sizes. They help with flexibility and range of motion and can decrease inflammation in your dog's joints. This natural formula contains glucosamine MSM, chondroitin, as well as sea cucumber, which is a powerful anti-inflammatory and aids with the absorption of active ingredients. Each chew is also loaded with natural sources of vitamins B5, B6, and B12. This product is made in the U.S. using quality ingredients and doesn't contain any corn, soy, wheat, or artificial colors and preservatives. If your pup isn't a fan of beef, the chews are also sold in chicken, venison, and lamb flavors. The 9-ounce bags are sold individually or in packs of two on Amazon.