Playpens offer dogs a safe space to play and explore when their people aren't around to keep an eye on them. Dog playpens are similar to child playpens and are typically larger than a dog crate. They are the perfect place for puppies or older dogs to rest and have some downtime. Whether your dog gets into trouble when left alone in the house, needs a cozy place to relax where they won't be bothered by kids or other animals, or you want them to have a contained area to play in, a dog playpen is a great option. Just remember that since your dog won't be able to come and go as they please, you'll want to make sure the exercise pen has plenty of space for food, water bowls, and toys, and allows your dog to comfortably move around.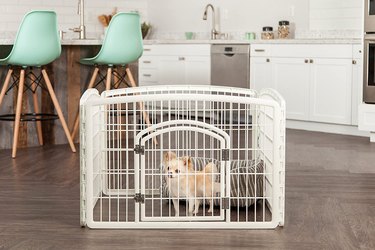 What to consider when purchasing a dog playpen
‌Size:‌ Pet playpens come in various shapes and sizes. If you have a medium-sized dog, an extra-large dog, a rowdy dog, or a rambunctious puppy, you should consider a playpen that offers plenty of space and tall sides. Most play yards aren't covered, so it's important to make sure the sides are tall enough so your dog isn't able to jump out. You can, however, find some playpens with removable tops made from netting or other materials that can keep climbers and jumpers from escaping. If the playpen has a dog gate, you might want to take your dog out that way so they don't think jumping is the way out. If you have a small dog, any standard-size kennel should work well.
‌Versatility:‌ There are several options when it comes to pet playpens. Some are made of plastic, some are canvas, some are made of metal wire, and fancier (and pricier) ones can be wooden. There are indoor playpens, outdoor dog exercise pens, and some that can be used both indoors and outdoors.
‌Portability:‌ If you plan on moving the pen around the house, taking it on trips, or need it to be portable for any reason, you'll want one that's collapsible, foldable, and lightweight. Some playpens aren't as easy to break down as others and can take longer to set up, which can be pretty frustrating on a daily basis, so do yourself a favor and purchase one that's easy to use.
‌Safety:‌ Safety is always the most important factor when choosing any product for your dog. Heavy-duty pens work best for bigger dogs or dogs that have a lot of playful energy. If your dog is a biter or an aggressive chewer, you'll want to avoid putting them in a canvas playpen, otherwise, they could chew pieces off and ingest them. Small dogs shouldn't be placed in a pen with wire bars where they could get their head stuck. Whichever dog playpen you choose should be a sturdy, safe, and comfortable area for them to spend time in.
Now you're ready to look through our top picks of dog playpens to find the best option for your dog. Check them out below.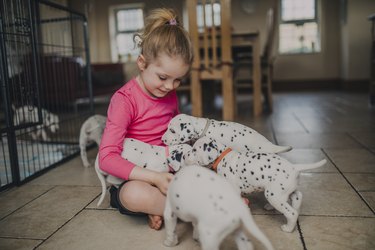 The best overall dog playpen
There's a lot to love about the MyPet Petyard. You can purchase six or eight panels to give your dog more room to play in this indoor or outdoor playpen. Two panels can be removed at a time to give your dog more of a cozy place to sleep or a smaller space for training a puppy. A swinging dog door lets them come and go as they please—whether they want to go outside to potty or to see what everyone else is up to—or it can be locked to keep them contained. The plastic playpen comes with durable, skid-resistant pads to prevent scratching or damage to floors. The panels are foldable, and the pen comes with a carrying strap for easy portability.
‌Size Options:‌ 6 panels, 8 panels
The best budget dog playpen
This indoor/outdoor Amazon Basics playpen is a bit less expensive than most other options, but it gets the job done just as well. It comes in six size options, a couple with some added height for larger dogs. There are eight panels included and eight ground anchors to keep it in place when it's being used outside. The pet fence can be set up in seconds by simply unfolding, shaping, and connecting the panels. No tools are necessary. Plus, it folds flat for compact storage when it's not in use. This playpen can also double as a dog fence to keep your dog contained on a porch or something similar. Choose from two models: with a door or without.
‌Size Options:‌ Extra-small, small, medium, large
The best durable dog playpen
Dog playpens don't exactly add much to your home decor, but this lightweight plastic playpen from IRIS definitely isn't an eyesore. The pen is made of durable, heavy-duty molded plastic. The panels securely interlock and non-skid rubber feet protect your floors. Designed for small dogs or other small animals, it's easy to assemble and is compact enough to move from room to room. This pen is available in three colors: white, black, and gray, so get it in whichever color works best with your style!
‌Size Options:‌ 4 panels, 8 panels, 2 add-on panels
The best outdoor dog playpen
When it comes to outdoor dog pens, the size of the pen will depend on how much room you have in your yard and how much of that room you want to dedicate to your dog. Of course, the bigger the exercise pen, the more room your dog will have to run around, which is inherently what most dogs love to do when they're outside. Yaheetech's Heavy-Duty Pet Playpen comes in three heights and four panel options—from as little as eight panels all the way to 32 panels. It's made of premium iron with a black finish, it's foldable for easy storage and portability, and it has a lockable pet gate for easy access. It's great for outdoor or indoor use and it can be set up in a rectangular, octagonal, or square shape.
‌Size Options:‌ 4 panels, 6 panels, 8 panels, 16 panels, 24 panels, 32 panels, 2 add-on panels
The best portable dog playpen
Designed for small and medium dogs, Zampa's water-resistant portable pet playpen offers easy portability. Whether you want to take it to the beach, a park, or on a trip, this pen is the perfect addition to any travel adventure with your dog. It comes with two mesh doors and mesh windows, along with a complete mesh roof to keep your dog safely inside and ease anxiety. Included are four stakes to keep it secure in the ground when it's placed outside. The corners and seams have been reinforced to hold up to tough chewers. It even has pockets on the outside for your personal belongings or items for your dog. It's easily collapsible and folds into a carrying bag. Color options include blue, brown, pink, and red.
‌Size Options:‌ Extra-small, small, medium, large, extra-large
The best dog playpen with warranty
Here's another portable pet pen option, but this one comes with a two-year warranty and a 100% money-back guarantee. This indoor/outdoor pen has a removable mesh top and a zip-off (and machine-washable!) floor mat. The playpen is made of lightweight, durable steel tubing and easy-to-clean polyester and hex mesh fabric. You can set this pen up in seconds, and you can even store extra water bottles, dog food, or other pet products in the outside pockets. For added convenience, the dog pen comes with a carrying case. Choose from six colors and six different sizes.
‌Size Options:‌ 8 sizes; ranges from 30" x 30" x 20" to 62" x 62" x 36"