A dog house can be a great thing to have for a petmate if you have the outdoor space for it. A pet house provides much-needed shade on hot days, a warm space to huddle up in when it's cold, and a safe place for dogs to retreat to whenever they need or want one. When most people imagine a dog house, they likely picture a wooden structure with a pitched roof and a curved opening, but dog houses today come in a wide variety of materials and designs. Generally, you will want your dog house to be weatherproof, bug-proof, ventilated, and insulated to keep your dog healthy and comfortable no matter what the weather outside looks like. While some people keep their dogs living in an outdoor dog house 24/7, dogs should never be chained to their house for that long, and any needed repairs should be handled immediately to prevent injury or other medical issues from occurring.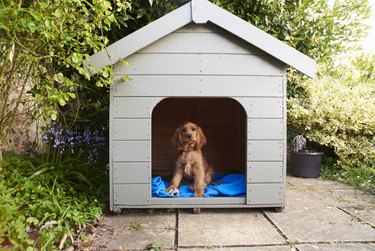 What to Consider When Purchasing a Dog House
​Climate:​ Because an outdoor dog house is intended for, well, the outdoors, the climate in your area is one of the most important aspects to consider when searching for one. Waterproof structures will most likely be necessary for any part of the country, unless you're planning to keep your dog's house under or inside of an existing structure that will protect it from the elements, like a porch, garage, or barn. Dogs who will be using their house in areas where it gets below freezing should have a lot of insulation, or even a heating element. As it warms up everywhere in the summer months, proper ventilation will ensure your dog's safety and can help manage odors inside and around the dog house.
​Size:​ Even the best dog house will only be worth the materials it's made with if the dog using it is too big or too small to enjoy the benefits of it. Obviously, being too big to fit inside of a house is more of a concern than being too small, but living in an oversized house can come with its own set of problems, like insufficient insulation. While there is no official formula, a good rule to live by when sizing a dog house is to make sure the entrance is about 75% of the dog's shoulder height. The height and depth of the house should be about one-and-a-half times the length and height of your dog, and the width should be a little less than the length of your dog.
​Intention:​ Finally, it's important to consider just what you intend to use this dog house for. Some people like to have a structure for their dogs to retreat to if they're hanging out in the yard for an extended period of time. Other people may intend to use a dog house as a full-time living structure for their dog. Whether you plan to have your dog use their house for a few minutes or a few years, it's best to find one that's weatherproof, easy to clean, and with a roof built to run rain and water down the back or along the sides of it as not to cause a wet mess right at the front door.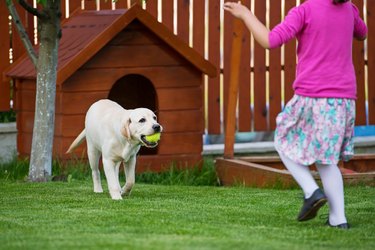 The Best Overall Dog House
When searching for a basic dog house to keep outdoors, three things tend to top the list of criteria for most shoppers: weatherproof, durable, and easy to clean. This one checks all three of those boxes, requires no tools to assemble, and is moderately priced, making it a great option for many dog owners and for most of the year. Made of UV stabilized plastic, this dog kennel is rustproof, weatherproof, and won't fade over time. This dog house is not insulated, however, so it will not be the ideal option if you're planning to use it for short-haired dogs who live in cold climates during the winter months, but it is available in two sizes and can accommodate a dog bed or insulated dog crate if necessary. It does feature an open doorway to provide ventilation and is easily cleanable with just soap and water.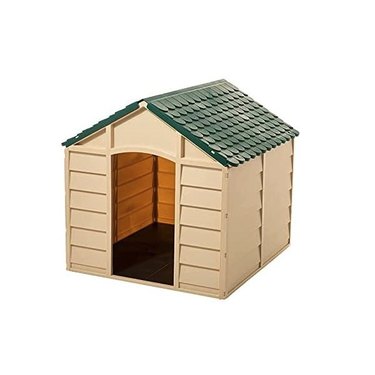 Best Pet Insulated Dog House
With three sizes available and the most expensive option topping out at around $100, this dog house is an excellent choice for anyone looking to keep their pet house expenses low. This house is built to last with PP (polypropylene) materials—a thermoplastic that's sunproof, waterproof, and heat-insulating (although it's recommended that you further insulate the home with materials like straw or bedding if you plan to use it in extremely cold weather). This outdoor dog house has a detachable lid, making cleanup easy, and snaps together easily using a clasp design and screw fixations. Additionally, this house sits on an elevated base, keeping it cooler in the summer and warm and dry during the wet, wintery months.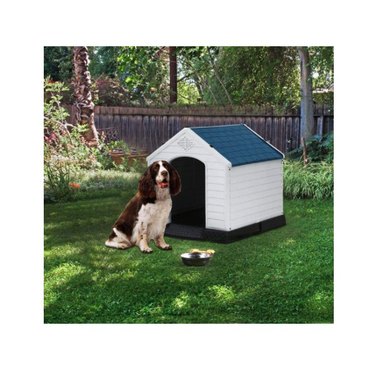 The Best Dog House for Small Dogs
Rimax Resin Dog House for Small Breeds
If you have a little dog, it only makes sense to have a little dog house. This not only keeps cleaning easy for you, but also helps to retain heat inside of the house, and creates a cozy, den-like atmosphere for a dog, which leads to a sense of safety that dogs naturally seek when winding down for a good rest. This small home measures 23 inches high, 24 inches wide, and 26 inches deep, and is made with PP resin material that resists moisture, rust, stains, and even scratches, so you know this house will last for years. Some assembly is required to put this together but all necessary hardware is included. This dog house is designed to stay dry with an elevated floor and pitched roof but will require additional insulation if used in below-freezing temperatures. It also comes in size medium/large, measuring 35 inches high, 35.4 inches wide, and 36.2 inches deep.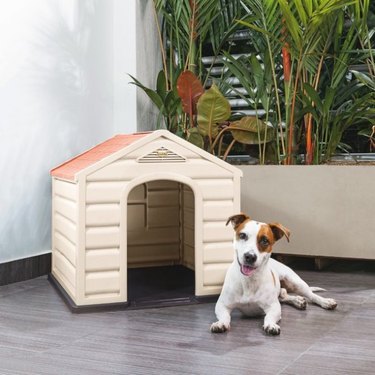 The Best Dog House for Large Dogs
Petmate® Indigo Igloo-Style Dog House
A large dog is going to require a large dog house, and this one is not only big, but it's built to keep your pup warm, safe, and comfortable. There are three size options available in this design, the largest measuring 30 inches high, 39.3 inches wide, and 51.5 inches deep. It's designed to support dogs who weigh between 90 and 125 pounds. This igloo-style large dog house features an off-set doorway that leads to a spacious living area farther back and is designed to keep your pet safe and comfortable inside. It is made with plastic and heavy-duty foam, insulating the home to stay warm in the winter and cooler in the summer. It also features a ventilated roof and requires no tools to assemble it. This house does lay flush on the ground and isn't elevated.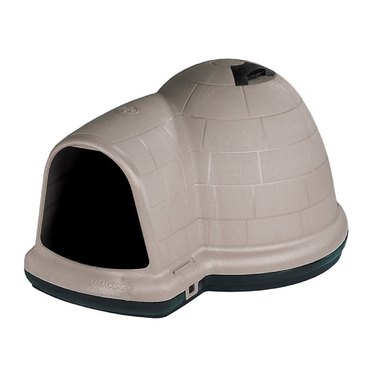 The Best Heated Dog House
Dog Palace Insulated Heated Dog House
Some dogs, like thick-coated varieties designed to withstand cold temperatures, wind, and moisture, may not need a heated element in their home. Others, however, especially those who live in parts of the country where the temperatures drop below freezing, may require a bit of assistance in order to keep warm in the winter. This aptly-named dog palace is intended for medium and large dogs with a shoulder height of 26.5 inches or less and is made of steel and plastic. This contains 2 to 4 inches of insulation on the sides, roof, and floor to keep your dog warm, and is built on a raised floor with built-in drainage to keep the space dry and the cleaning easy. Additionally, this house does contain a heater with settings between 55 and 75 degrees Fahrenheit. This house does require assembly, and a 2.5-amp circuit breaker to run the heating mechanism.
The Best Modern Dog House
Frisco Classic Wooden Outdoor Dog House
Looking for a dog house with a modern look? You can keep your dog protected from the elements and have that too! Available in medium and large sizes, this modern dog house is made with wood and metal hardware that's weather-resistant and features an A-frame roof to prevent moisture from leaking in. It's designed with adjustable feet so that it can rest evenly on a variety of surfaces and remain slightly elevated, and the bottom of the house slides out for easy cleaning to keep this space fresh. It does not contain a door flap but is designed with a front panel that slides open, and is not insulated but will still make for a comfortable space for a dog of the right size.