Whether your feline friend stays indoors or ventures outside, having a collar to wear can help keep your cat safe in the event that they become lost or found, or mistaken for a stray. Collars come in a number of styles and are made from a wide range of materials, the most popular of which include nylon and leather. Some people may opt to include a bell on their cat's collar, which can impede capturing prey when hunting, and may also work as a helpful indicator that your cat is close by, assuming you can hear it. If you have an outdoor cat, or if your cat tends to climb around the house, one aspect of the collar should be seriously considered to ensure their safety—a breakaway collar. This will prevent a cat from hanging or choking himself by popping itself undone thanks to a quick-release snap enclosure.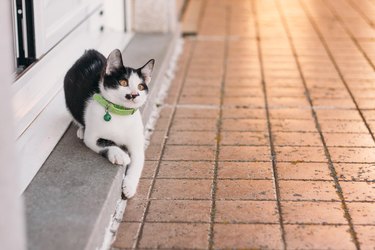 What to consider when purchasing a cat collar
‌Use:‌ Not all cat collars are built to do the same things. Some are kept on a cat strictly for identification, others are intended to work with leashes, and some are even intended purely for aesthetic reasons, like a classic bow tie collar. If you need a collar for outdoor safety reasons, a personalized collar or a reflective cat collar can be of great use. When shopping for a cat collar, be sure to weigh what you need it for and how it can best benefit your cat.
‌Indoor or Outdoor:‌ The collar needs of a cat who lives inside of a house 24/7 are going to be quite different from those of a cat who either lives outside full time or spends any time wandering around outside of the home. For an indoor cat, you can usually get away with a collar that's more lightweight, thinner, or even cute and decorative, like a bow tie or bandana design. A breakaway cat collar is always best, for safety's sake, but is less critical when shopping for an indoor cat. Collars for outdoor cats will generally need to be more durable, feature an identification element, like personalization or tags, and should feature a quick release breakaway function.
‌Size:‌ When shopping for a collar to keep on any pet, you'll want to make sure it's not too tight, but fitted enough that it won't slip off too easily. A general rule of thumb with collars is that you should be able to fit two fingers between the collar and your cat's neck—it shouldn't be so tight that your cat struggles to move or breathe. Collars and leashes are sold with their measurements in inches to help find the right fit depending on your cat's neck size, so if you're unsure, you can measure your cat's neck with a string or fabric tape measure.
‌Comfort:‌ This probably goes without saying, but if you buy your cat a collar that she's not comfortable in, you're going to end up with an unhappy cat, and possibly a broken collar. To keep your cat comfortable in a collar, be sure the size is right, the material isn't irritating, and the thickness of the band or any accessories, like name tags, don't get in the way of her walking, eating, or resting with ease.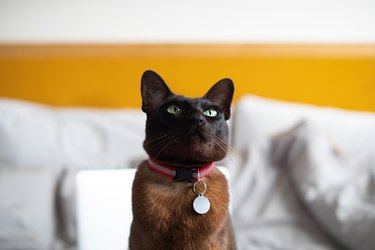 The best overall cat collar
If you're looking for a basic, all-purpose collar for your cat, keeping things simple with a classic design will help you find the best cat collars on the market. This one has just about anything a cat will need to stay safe and accounted for with personalized name and phone contact info, reflective material, non-snagging, durable nylon material, and a breakaway design for safety. Available in five colors, this collar comes with a removable bell, is machine-washable for long-term use, and adjusts in length from eight to 13 inches, fitting most adult cats.
The best budget cat collar
You don't need to spend a fortune to find a collar that will work for your cat, especially if you have an indoor feline or a cat who simply doesn't stray too far from the house. This nine-inch adjustable cat collar is thin in width while still holding up in the durability department thanks to tightly woven nylon webbing. This collar snaps together with plastic clasps that are not a breakaway design, so keep that in mind if you have an outdoor cat who tends to climb trees or houses. This does feature a metal D-ring with a bell attached, and can also hold ID tags if needed.
The best waterproof cat collar
A waterproof cat collar can greatly benefit any cat who spends a lot of time outdoors, crawling under and around bushes and trees, under porches, or anywhere that he may get wet. While a nylon collar can hold up to moisture for a long time, this waterproof option made from silicone is designed to withstand wetness, dirt, and snow, and won't cause irritation thanks to its hypoallergenic straps. Available in adult and kitten sizes, this is an excellent breakaway kitten collar option for any feline who needs to get used to the collared life. This adult collar adjusts from 7.7 inches to 10.4 inches, and the kitten collar adjusts from 5.7 inches to 7.3 inches.
The best cat collar with a bell
Cat collars that feature a bell are great for a couple of reasons—first, it allows you to hear when your cat is nearby, and second, it warns potential prey that your cat is nearby as well, making killing a little bit harder for the feline and life a little easier for small birds and rodents in the neighborhood. This is a handmade leather cat collar that's offered in 12 colors and two sizes: 6 to 7 inches or 9 to 11 inches. It should be noted that this bell collar does not have a breakaway design, so this bell may be a better option for someone with a cat who lives inside or stays close to home rather than one who tends to climb or scrap when out and about. Because it weighs a bit more than nylon or silicone, a leather cat collar may not be preferred by every cat, especially if they're smaller or older.
The best personalized cat collar
Having a collar personalized is a great option as it doesn't require additional ID tags that dangle, and will never break away or fall off. This personalized breakaway collar is great for outdoor cats as it will automatically unclasp if it snags on something, and is personalized with your cat's name and your phone number in two colors, making it easy to spot and read. Made from nylon, this is a durable collar that is 2.5 inches wide and adjusts from 6.7 inches to 10.6 inches long.
The best dress up cat collar
Sometimes, we just want our cats to look dapper and cute, and what easier way is there to make that happen than to apply a decorative collar? This pet collar is a bow tie design made from soft yet durable rayon and comes in three colors, all adorned with a Japanese kimono-style print. This collar adjusts from 8.2 inches to 13.7 inches, so it's made for cats on the larger side and comes with a gold bell charm to tie the look together. The best part? This is still considered a safety cat collar as it is designed with a breakaway clip, so cats can step outdoors looking their best without compromising their health.