Pet ID tags are one of the first things new pet owners buy—and for good reason. They are the only thing (besides microchips—get one!) that can return a lost pet to its owner, so they are extremely important. This importance is magnified tenfold for cats. Many live outdoors and many others are so unused to the outdoors that they become immediately disoriented after escaping. You might not think it, but pet ID tags come in a variety of options, and there is no one-tag-fits-all. If you're unsure about where to start, keep scrolling for top-recommended cat ID tags.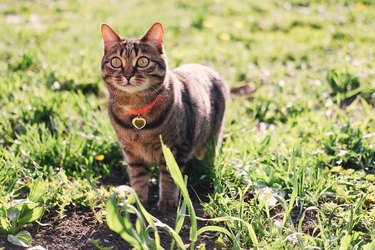 What To Consider When Purchasing a Cat ID Tag
​Durability:​ If you want an ID tag that will last a lifetime, invest in a stainless steel tag. These will not bend or break no matter what they are put through. But durability is about more than the strength of the material; the information conveyed on the tag needs to last as well. The longest-lasting method is laser engraving, but even this method fades eventually. If longevity is a serious concern, a tag that is laser engraved and then coated in some sort of enamel to protect the letters is the best option.
​Comfort:​ Some cats couldn't care less whether they have something around their necks, while others are driven mad by the weight and noise of a jingling tag. If your cat is of the latter category, invest in a small, lightweight tag ​or​ something that eliminates the problem altogether. Many ID tags are designed to fit snuggly against the collar to prevent dangling, and others are made of materials that make no noise. There are even collars that can be printed with the identifying information.
​Size:​ Consider what information you need to convey. If your cat has a medical condition that potential rescuers should know about or if you have a particularly long address, an ID tag that will allow ​at least​ four lines is the best option. But don't stop with the number of lines. A very small tag that fits six lines may not actually fit more characters than a larger tag that fits only four. Check dimensions and line capabilities before choosing a tag if space is an issue.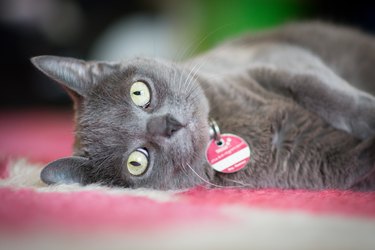 1. Red Dingo Stainless Steel Personalized Tag
The Red Dingo ID Tag comes in 11 colors and 3 sizes: small, medium, and large. Its stainless steel design is lightweight but tough, and an enamel coating prevents the text from fading over time. The smallest size is more than suitable for cats, measuring 0.8 inches by 0.9 inches, and it is light enough (weighing only 0.2 ounces) that cats should hardly notice it. Best of all, it can accommodate up to six lines of text, so it can fit a ton of information. The only negative is that the enamel paint is hand-mixed, meaning some variation in the colors can occur.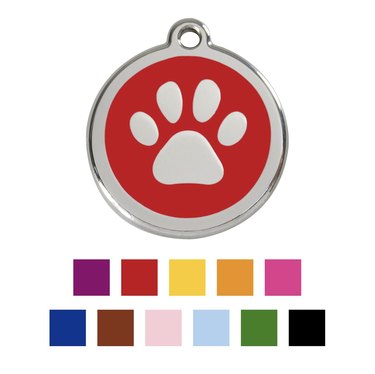 This tag is more expensive than most, but it's a worthwhile investment if your cat is sensitive to having things hanging from his neck. This tag slips over the collar to fit snuggly against it so that it makes no noise. It's designed to avoid snagging in bushes or whatever your cat decides to get into, so it is as unobtrusive of an option as you can get. It comes in three colors, and it can accommodate your cat's name and an additional three lines of laser-engraved text. Before purchasing, be sure your cat's collar will accommodate it. It works best with collars between 0.5 and 0.75 inches wide.
3. Dog Tag Art Custom ID Tag
Dog Tag Art Custom ID Tags are for cat owners who want their cats to make a statement. They come in various designs and themes, from a skull and crossbones to Charlie Brown to Captain America. They even have an option alerting to your cat's microchip. These tags come in two sizes, small (⅞-inch diameter) and large (1 ¼-inch diameter), so they will fit most cats. They can accommodate four lines of text, although the size may diminish how much information the tags can fit in the small. The only other negative is the price, which is a bit higher than other ID tags.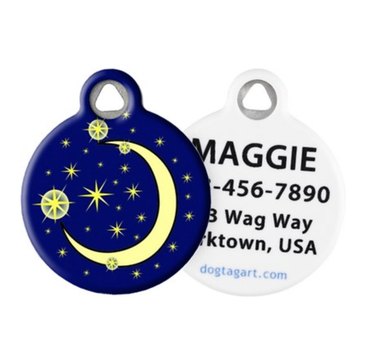 4. PawFurEver Hexagon Personalized ID Tag
These tags may be a bit pricey, but they are the most customizable option of them all. They come in three colors (rose gold, gold, and silver) and can be customized to feature one of nine designs with your choice between five fonts. It is difficult to find information on the size of these tags, but they appear to be about 1 inch across, which would work for most cats. The front of the tag is for your cat's name, and the back can fit five lines of text, so these are a great option for conveying a lot of information. They are crafted with stainless steel and laser engravings, which are durable but perhaps done with slightly too light of a touch, meaning it can be a bit difficult to read in direct sunlight, for example.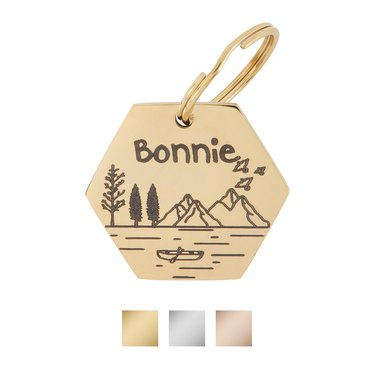 5. Frisco Stainless Steel ID Tag
The Frisco Stainless Steel ID Tag is a high-quality but affordable option. Despite its low price, its stainless steel design is built to last, and the laser engraving will not rub off with time. This product comes with a split ring for attaching it to your cat's collar, and it can fit up to four lines of text. It is designed to look like a cat's face, and its mirrored finish makes it an eye-catching accessory for your cat. This tag has a 1-inch diameter, which is a good size for a medium or large cat. If the cat design isn't your cup of tea, Frisco also makes a few other shapes and designs (listed separately).
6. Love Your Pets Silicone Tag
Love Your Pets Silicone Tags are a good option for cats who are bothered by the jangling of traditional metal ID tags. Their silicone construction means they are lightweight and unobtrusive. Best of all, you can choose between 18 different design and color options, featuring everything from a beach scene to a simple paw design to the U.S. flag. Your pet's name goes on the front of the tag with space for four lines of text on the back. These tags are deeply engraved with a guarantee that the engraving will last. The company is also a good one—not only did they recently reinforce the loop that attaches to the collar in response to consumer reviews, but they also donate a portion of their profits to charities that support pets.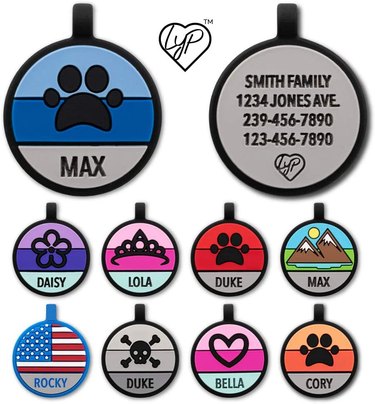 The GoTags Personalized Reflective Breakaway Collar is the best option for cats who are sensitive to wearing things around their necks. The ID tag is the collar itself, so it is as unobtrusive as possible. The collar comes in five colors and can be expanded from 8 to 13 inches. It is made of a soft nylon webbing that will not chafe, snag, or weigh your cat down. The GoTags Collar also features a reflective strip and an optional bell attachment if you want to ensure maximum visibility. It has a breakaway safety buckle for removal should your cat get stuck. The only negative is that it fits only 21 characters (including spaces), so it is not good for conveying much more than a name and phone number.